How to Sharpen Images Online for Free
"How can I sharpen images online? " - Ted Smith
If you're just getting started as a photographer, it might feel like there aren't many resources available to help you improve your skills. And while there are plenty of photography sites focused on more advanced photographers, most of them require a membership or subscription fee. Fortunately, there are free image-editing tools online that make it easy for anyone to sharpen photos and increase clarity and detail. Whether you're working with JPEG or PNG images, the following guide will show you how to sharpen images online in four easy steps using AI-based image processing tool like AVCLabs Photo Enhancer AI Online.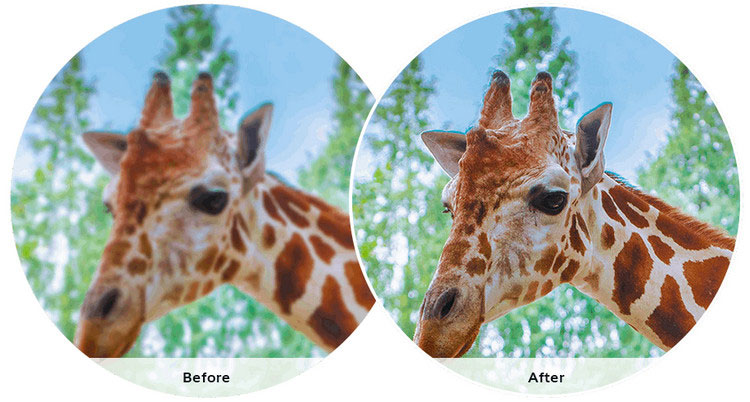 Part 1: What Is Image Sharpening
Before diving into how to sharpen images, it's important to understand what is actually happening during the sharpening process. When you take a photo, your camera sensor is capturing an image of what's in front of the lens. But the sensor isn't actually recording the image itself: it's recording the light that bounced off whatever was in the frame. When the light enters your camera and hits the sensor, some of it is absorbed, some are reflected, and some are scattered. The reflected rays of light are what create the image on your camera sensor. When you take a photo and decide to save the image as a JPEG, the photo-editing software that came with your camera automatically applies a certain amount of sharpening to your photo. The goal of this process is to increase the contrast between the light and dark areas of your photo, creating a more defined and detailed final image.
---
Part 2: How to Sharpen Images Online
With AI-powered image sharpener online - AVCLabs Photo Enhancer AI Online, you can easily sharpen the edges of photos/portraits as well as enhance the details to make images clearer, and deblur images online and restore details without causing artifacts or halos. No Photoshop skills are needed.
Powered by AI blur removal technology, you are able to sharpen blurry images online by removing blur from images, restoring photos with blurry faces, and converting low-resolution images to high-resolution.
Photo Enhancer AI
Upscale images with super-resolution.
Sharpen images online 100% automatically.
Fix blurry photos by removing noise & grain.
Face Retouching tool to make portraits beautiful.
Naturally turn B&W photos into colors.
Calibrate and fix the color issue of photos.
Make the images' backgrounds transparent.
No editing skills are needed.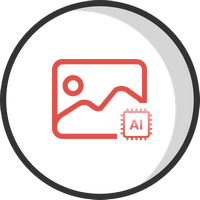 Here is the step-by-step guide to sharpen blurry images online. Let's check it out.
Step 1
Upload A Blurred Image to AVCLabs Photos Enhancer AI
Go to the free online AI image sharpening tool with any browser (such as Google Chrome, Firefox, Safari). Drag and drop images to this online tool to fix blurry images. You can also click on the Upload Image button to browse and import the images you want to sharpen from your computer.
Note: The supported input formats are: *.png, *.jpg, *.jpeg, *.bmp, *.jfif and *.webp.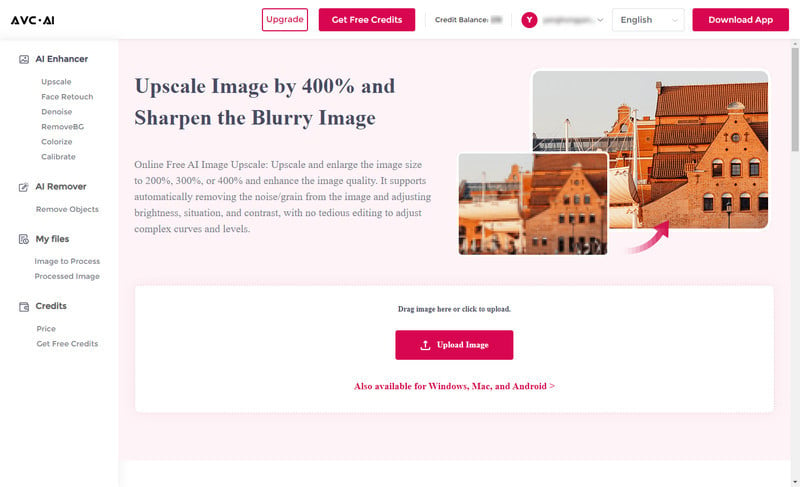 Step 2
Choose the AI Model And Scale Value to Sharpen Blurry Photos
Here, we recommend you to choose the Upscale model.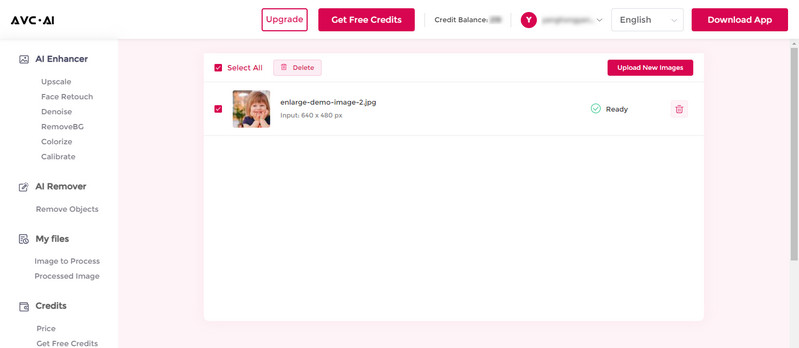 There are four scale options (from 100% to 400%) available. You can choose the image upscaling size according to your need. For the portraits photos, you are allowed to turn on the Face Refinement option to detect and sharpen facial details.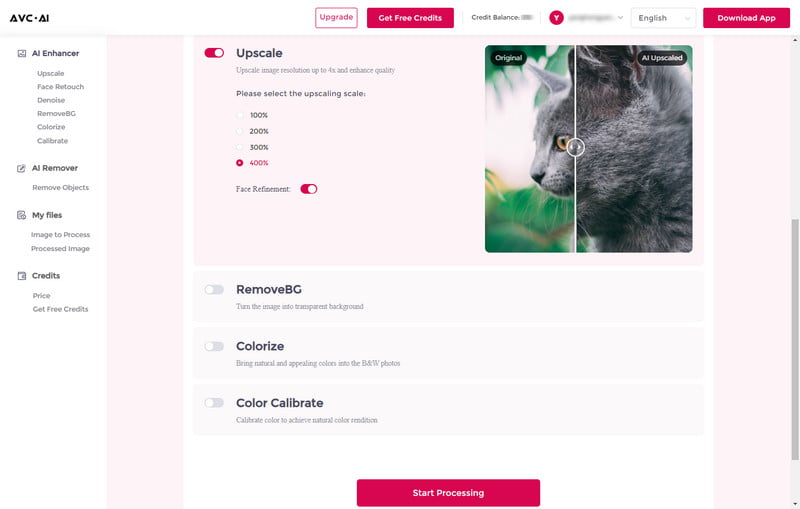 Now, click on the Start Processing button to start sharpening the blurry photo. It will take about several seconds, please wait patiently.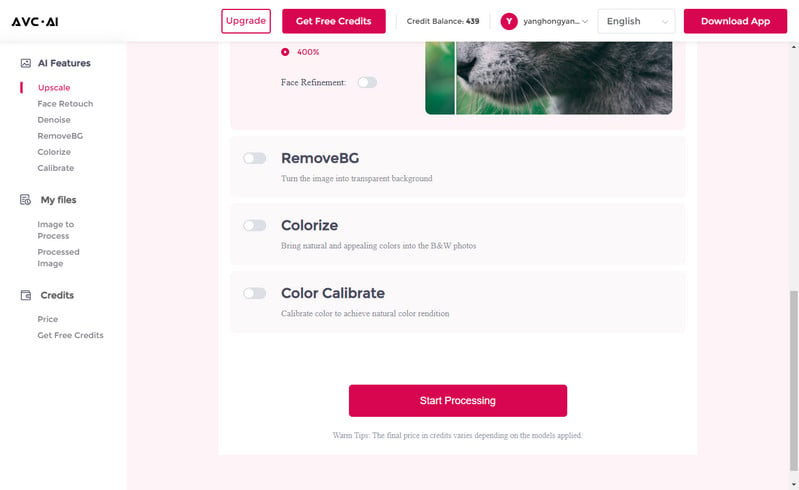 Step 3
Preview the Result And Download the Sharpened Images to Your Computer
Once the image deblurring process is done, simply switch to the Processed Image tab and click on the Eye icon to preview the original and sharpened image. The result as you can see here is pretty good.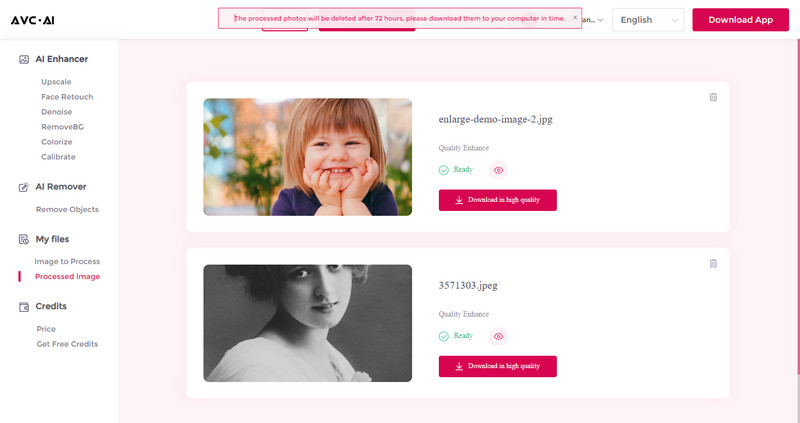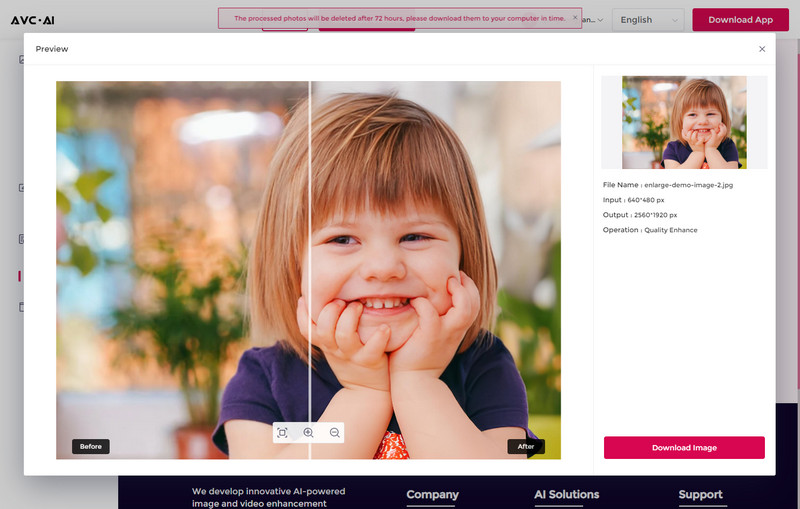 Simply click on the Download Image to download the sharpened image to your computer if you are satisfied with the sharpened result. The output format is *.jpg.
Tips: The processed photos will be deleted after 72 hours, please download them to your computer in time.
---
Conclusion:
Now that you've learned how to sharpen images online, it's time to share your new skills with the world! Whether you decide to upload your edited photos to your website or post them to Instagram, you'll find that your images look crisper and more detailed than ever before. And you can do all of this for free with a simple online photo-editing tool! Whether you're uploading images to your website or posting them on social media, you'll find that a little extra sharpening goes a long way. Your images will look brighter, bolder, and more professional. And best of all, doing this kind of image editing online is quick and easy, making it a great skill for beginner photographers to learn.
---
Highly Recommended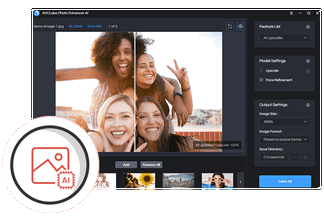 AVCLabs Photo Enhancer AI
If you wanna get better-quality pictures, process multiple photos more stably at the same time or crop photos, the desktop AI Photo Enhancement tool - AVCLabs Photo Enhancer AI is highly recommended. It comes with advanced features, such as adjusting the brightness, contrast, and saturation of photos.
Learn More

---

Video Converter

DVD Converter

Video Editor

Enhance Video Quality

Enhance Image Quality

Remove Objects