AI Image Enhancer Tools to Enhance Image Quality Automatically
"What is the best way to enhance images for free? What are the best tools and programs for AI-based image enhancement? Any good suggestions? Thanks." - Frederick Beutler
Generally, image enhancement requires many aspects and steps, such as contrast and light-adjusting, color boosting, filters applying, and many more. Fortunately, with the development of artificial intelligence technology in recent years, everything becomes easy. There are numerous AI image enhancement software and AI free online image enhancer tools that allow users to enhance image quality automatically without fine-tuning. Let's follow this post to check out the best possible ways to enhance image quality online or offline for free.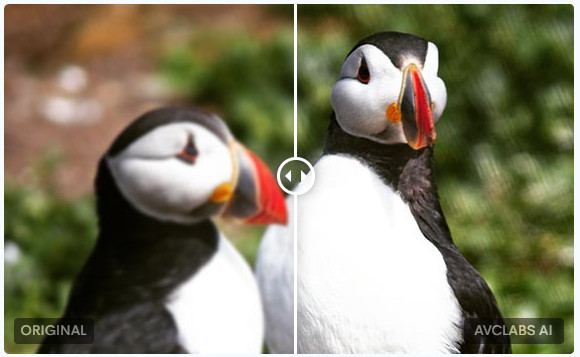 Part 1: AI Image Enhancement Software
AVCLabs Photo Enhancer AI is one of the best AI image enhancer software that enables users to automatically improve the quality of the images in batch for personal and business needs. Even you are just a photography beginner, you can still use it to enhance photos like a Pro! It helps users to fix and improve the colors of images, and give images the right tone and color balance, enlarge images losslessly, even reduce noise and enhance the focus of the images, etc.
It also supports cropping unwanted parts before improving the image quality. JPG, JPEG, PNG, BMP, JFIF, WEBP formats are all supported. If you need to add colors to the black and white images, AVCLabs Photo Enhancer AI can make that possible, no Photoshop skills are required.
Photo Enhancer AI
Enlarge and upscale image without losing quality.
Sharpen image edges and deblur image online 100% automatically.
Upscale low-definition photos to HD.
Enhance color and contrast with only one click.
Remove backgrounds from a batch of images automatically in one click.
No editing skills are needed.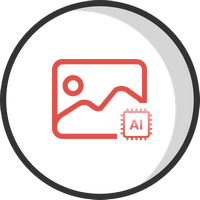 Enhance Images Using AVCLabs Photo Enhancer AI
Here are the simple steps to improve image color, contrast and quality using AVCLabs Photo Enhancer AI.
Step 1
Install and Run AVCLabs Photos Enhancer AI
Download AVCLabs Photo Enhancer AI from the link given above and then run it after the installation is completed.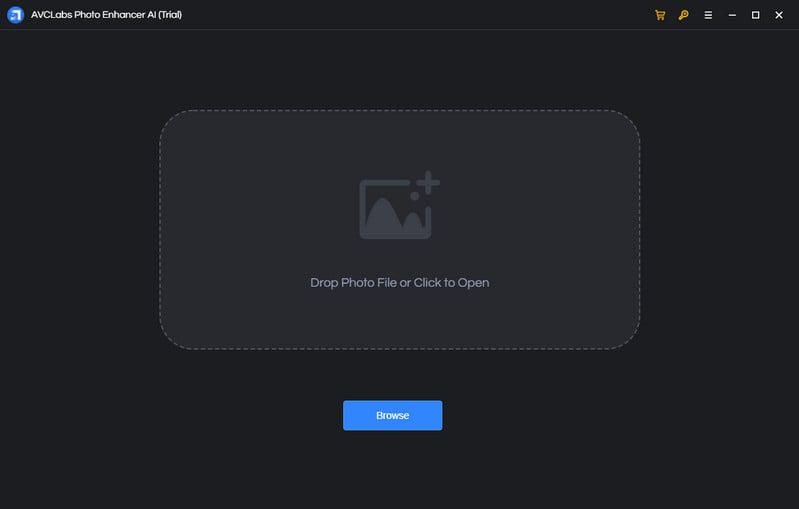 Step 2
Add One or Multiple Poor-Quality Images to AVCLabs Photos Enhancer AI
Click on the Browse button in the middle of the software to add one image or a batch of images to the program. You can also directly drag and drop the images you need to enhance from the computer to the program.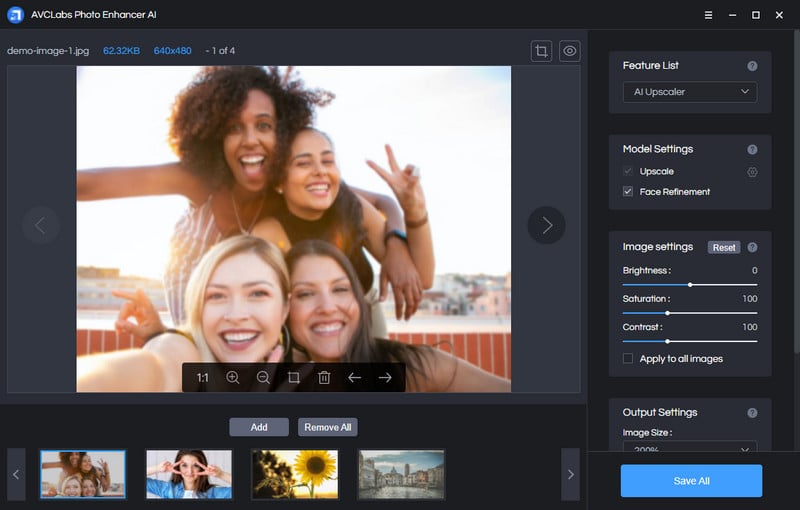 Step 3
Select the Processing AI Model or Create Workflow.
In the upper-right panel of the software, you can choose the AI Model you need or click "New Workflow" to create workflow. There are 5 AI models for your option: AI Upscaler, AI Denoiser, AI Color Calibration, AI BG Removal or AI Colorizer model.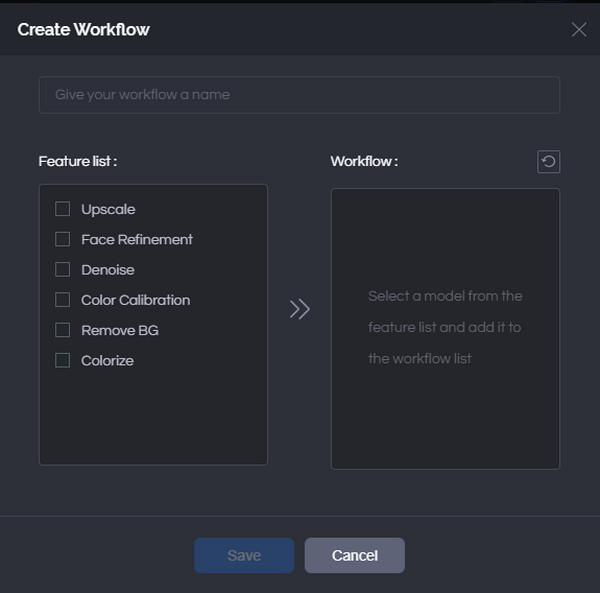 To enhance the quality of the image, simply select the AI Upscaler or AI Denoiser model. The AI Upscaler model helps you easily convert any low-quality and blurry image into amazingly high-resolution and the AI Denoiser mode will reduce image noise and recover real details to images and make images clear and crisp by reducing all sorts of noise.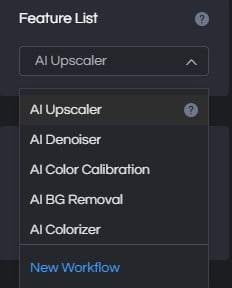 You are able to click on Image Size to select to upscale image size to 100%, 300%, and 400%.
For the portraits photos, you can also turn on Face Refinement to detect and enhance every detail to make your subject look great.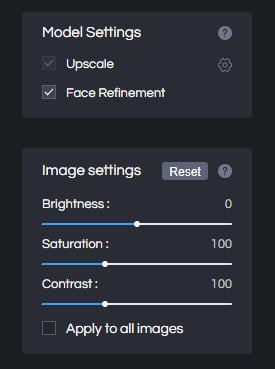 Step 4
Crop and Preview the Photo Effect before Enhancing the Image Quality
There are two little icons in the top right corner of the main interface. You can click on the left little square icon to crop an image.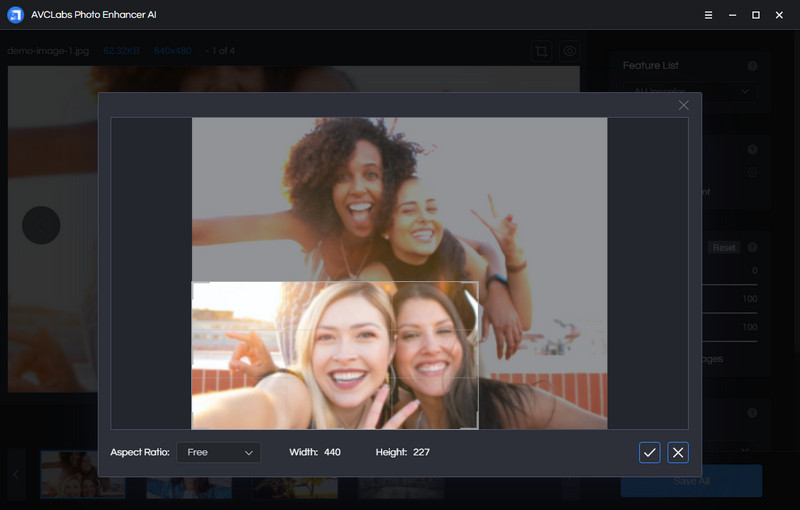 You can also click on the right little eye icon to preview the effect before processing the images.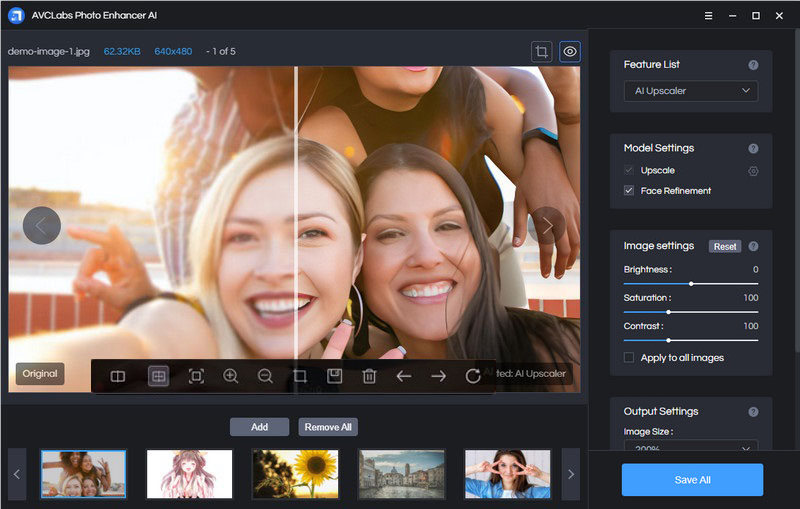 Step 5
Start to Enhance Images
Click on the Save All button to start to enhance the image quality. All you need to do is wait for the AVCLabs Photo Enhancer AI to enhance the image quality and color automatically.
Once the image enhancement process is done, you can click on the Open Output Directory button to find and check the improved images.
---
Pros:
• Automatic photo enhancement
• Support enlarging the images losslessly by 2X, 4X
• Batch processing and cropping the image are supported
• Colorize black and white images automatically
• Offer free trial service
Cons:
• Add watermark to result in the free trial version
---
Part 2: Online AI Image Enhancer
You don't want to install any third-party image enhancement application, neither you need to use any premium service to enhance the quality of your images. Instead, you can use some web-based image enhancers to enhance picture quality in a few steps. AVCLabs Online AI Image Enhancement is one of the great online AI Image Enhancer tools to enhance images free online. It helps correct the color, saturation and cleans noise from an image 100% automatically. What's more, it helps enhance image resolution by 2X or 4X, enhance real detail.
Enhance Image Online Free via AVCLabs Online AI Image Enhancement
Now let's follow the simple steps below to learn about how to enhance images free online using AVCLabs Online AI Image Enhancement.
Step 1
Visit AVCLabs Online AI Image Enhancer And Upload An Image to This Online Tool
Navigate to the free online photo enhancer with any browser (such as Google Chrome, Firefox, Safari). Drag and drop an image that you need to enhance to this online tool. Please keep a good network condition during the whole enhancing process.
Step 2
Choose the AI Model and Parameter to Enhance the Photo
There are 8 AI models for your option: AI Image Upscale, AI Anime Upscale, AI Image Enlarge, AI Photo Denoise, AI Image Sharpen, AI Background Remove, AI Photo Colorize, AI Photo Calibrate. Just select the model according to your need.
There are four scale options for you to choose from. You are able to remove the blur while increasing the photo's resolution. If needed, you can choose more scales available from this tool, like 200%, 300% and even 400%.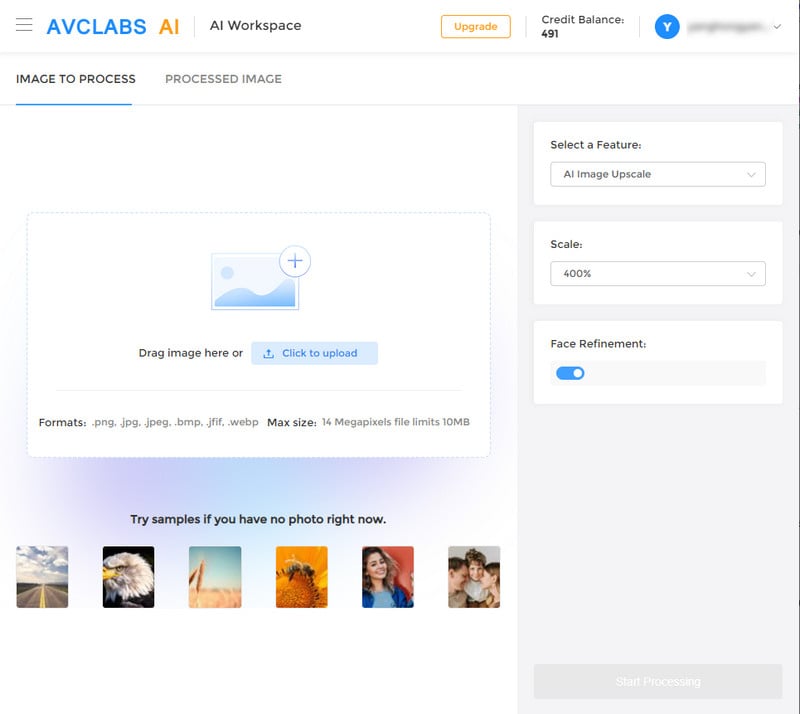 Step 3
Click on the Start Processing Button to Enhance the Photo
Now, just click on the Start Processing button to start improving the image quality automatically. Wait about 15 to 30 seconds and you will get high-quality images.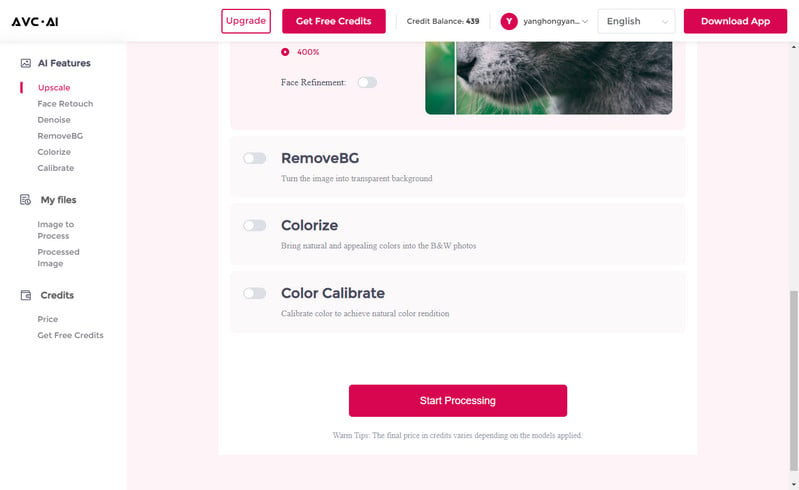 Step 4
Preview the Result And Download the Enhanced Image to Your Computer
Once the upscaled process is done, simply switch to the Processed Image tab. You'll see 3 buttons beside the image. You can preview, download and deleted the upscaled image. Before you decide to save the enhanced image to your computer, you can preview the result. You can drag the slider bar and preview the original and enhanced image.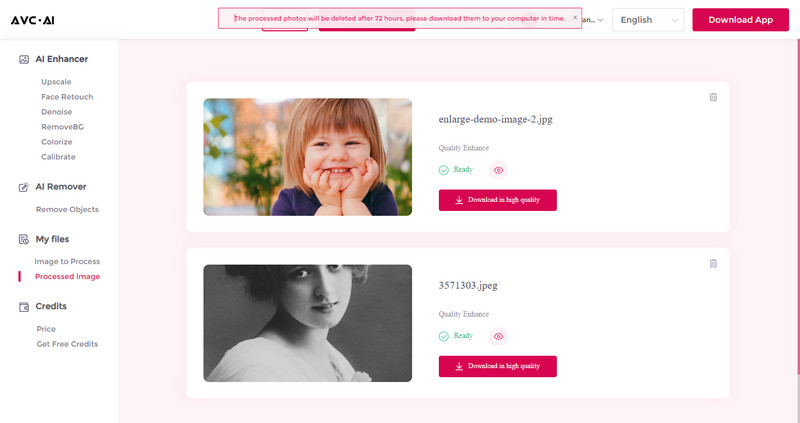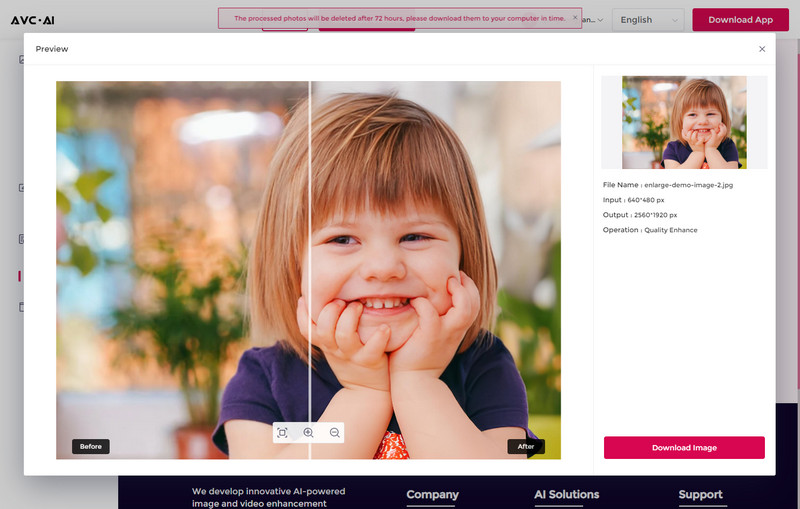 If you are satisfied with the result, just click on the Download Image button to save the improved image to your computer.
---
Pros:
• Improve image quality in one click using AI technology
• Enhance blurry or old images online free
• Fast to use and user-friendly
Cons:
• Limited output format, do not support selecting the output image format
• Cropping the image is not supported
• A good network condition should be always kept during the whole process
---
Part 3: 4 Ways to Use AI Image Enhancer
AI image enhancers can take care of all your editing in just a couple of clicks. This means better images on your social media, website, print campaigns, and everywhere else you use them. Let's learn how to use AI Image Enhancer to enhance the old images, blurry images, or grainy images.
1. Upscale/Resize Images
One of the best functions of AI image enhancers is upscaling. If you have some small images with low quality, AVCLabs AI Image Enhancer will help you increase image resolution and improve the image quality. It allows you to enlarge images up to 2x, 4x. It can reduce noise and blur in images while increasing their resolution. This process increases the number of pixels in the image, meaning you can zoom in on certain parts of the image without losing image quality.
2. Remove Noise from Images, Fix Grainy Images
If you have grainy images, you can remove all sorts of noise and improve image quality with AVCLabs AI Image Enhancer. Powered by deep learning, AVCLabs AI Image Enhancer allows you to eliminate image noise 100% automatically without any hassle, remove grain and noise from images effortlessly and create impactful and high-quality images with faster speed. It helps remove noise and enhance details so that your images become clearer and crisper. No matter if you are a web designer, blogger, or photographer, you can always count on these two AI Image Enhancers. No experience or skills in photo editing are required.
3. Deblur and Sharpen Image Intelligently
AVCLabs AI Image Enhancer also serves as a powerful image sharpener. It allows you to deblur images, including motion blur or out-of-focus blur, without artifacts. The most attractive part of this tool is that it deblurs and sharpens images automatically. Based on machine learning technology, this image sharpener is able to distinguish real details and blur or noise. Save your time and efforts with AI.
4. Colorize Old, Black and White Images
If you wanna turn old, black and white images into colorful ones, you can also use AI Image Enhancer to colorize black and white images instantly, including classic movie screenshots or black and white landscapes.
---
Conclusion:
Images will always be an essential part of marketing. With the help of an AI image enhancer tool, you can get high-quality images. From Facebook posts to product images, you can make sure you have professional-looking assets—and it couldn't be easier to achieve. Some old and blurry images carry your precious memory. If you want to bring them back to life, AVCLabs AI image enhancer can help you out. If you prefer light-weight tool, you can choose AVCLabs Online AI Image Enhancement. If you need more advanced features and enhance the images in batch more stably, the AI Image Enhancement Software - AVCLabs Photo Enhancer AI is a perfect option.
Try AVCLabs Photo Enhancer AI to breathe new life into your old photos!
---

Video Converter

DVD Converter

Video Editor

Enhance Video Quality

Enhance Image Quality

Remove Objects