Best Anime Image Upscaler: Upscale Anime Images without Losing Quality
"Is any good tool that lets me upscale old anime images to a bigger size with high-resolution? As an anime lover, I'd like to live in a quadratic element. I love collecting anime images and using them as wallpapers or posters. Thanks." - Sienna Hugh
Many anime lovers like Sienna Hugh directly download the anime images from the internet as posters and wallpapers. But, these downloaded anime images become blurry when you use them as a wallpaper or poster. Fortunately, there are many anime image upscaler solutions for you to enlarge anime images online, increase anime images size online free, upscale anime art using artificial intelligence, even reduce image noise in anime artwork or images when upscaling images.
Here we just collected a couple of the most popular image upscalers on the market and summed up three recommend products: AI Anime Upscaler, Online AI Image Enhancement, Waifu2x. Simply follow this guide to learn how to upscale anime images with Waifu2x and how to resize Anime images with Waifu2x alternative as well as upscale anime images free online with Avclabs AI Anime Upscaler.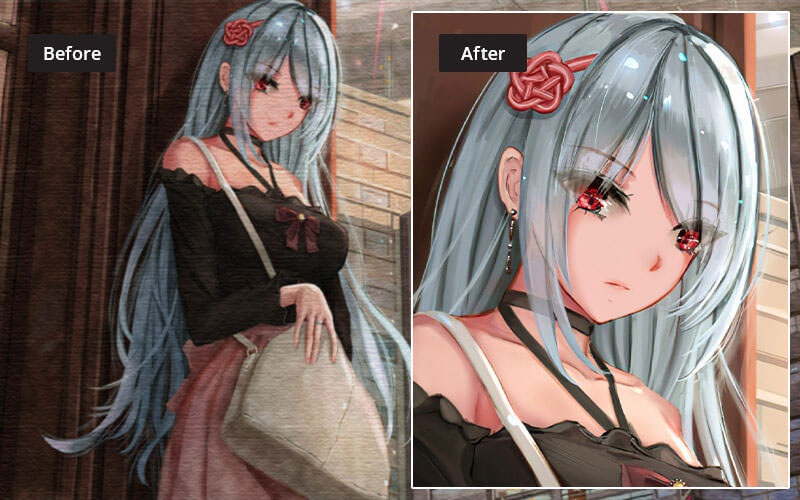 Part 1: What Are the Anime Characters
Animation produced in Japan, anime has become popular worldwide since the modern twentieth century, bringing fans of all backgrounds and tastes.
Some countries have even produced anime-inspired cartoons. While anime does similar production methods, the catch-all term represents diverse shows in genres like action-adventure, comedy, horror, drama, and more.
Protagonists usually have relatable stories to draw in fans. They have to face their fears, overcome new challenges, and often mature completely in the series.
---
Part 2: Does AI Upscaling Work on Anime
AI-powered image upscaler software that can help you to enhance images quality, scale up photos to 200%, 300%, and 400% without losing their quality in a smart way. AI Anime Upscaler always comes with the ability to upscale anime and cartoons pictures by 2x, 4x, 8x and even up to 16x intelligently thanks to Waifu 2x AI algorithms. With the advanced algorithms, AI tools help users to upscale the quality of anime pictures while reducing noise and blur. Creating gigapixel waifu and anime photos to fit a modern screen is possible with AI anime upscaler.
---
Part 3: Best Anime Image Upscaler to Enlarge Anime Image Easily
In this part, we would like to introduce the online AI Anime Image Enlargers and desktop AI Anime Image Upscaler Software for you to resize anime images effortlessly and losslessly. We will list the pros and cons of each one and find out which is the best one for you!
Method 1: Upscale Anime Images with AVCLabs AI Anime Upscaler
Compared to the online AI Anime Image Upscaler, the desktop Anime Upscaling Software always work more stably on image-upscaling and supports batch processing. If you have hundreds of Anime or cartoon pictures to upscale, AVCLabs Photo Enhancer AI is a perfect option for you. It uses a perfect combination of AI technology and machine learning algorithm to create a perfectly enlarged anime image. It allows users to upscale Anime images to 200%, 300%, and 400% of the original size in a natural way without quality loss, which makes images bigger without making them blurry and saves their quality at the same time. No complicated photo editing skills are needed, user-friendly for beginners.
With AVCLabs AI Anime Upscaler, you can easily convert any low-quality and blurry anime photos into amazingly high-resolution anime posters or wallpapers. It can remove noise and blur from the blurry anime pictures automatically, and optimize photo color, contrast for better visual effect while keeping the quality and real details. What's more, JPG, JPEG, PNG, BMP, JFIF, WEBP formats are all supported.
Photo Enhancer AI
Enlarge and upscale image without losing quality.
Sharpen image edges and deblur image online 100% automatically.
Upscale low-definition photos to HD.
Enhance color and contrast with only one click.
Remove backgrounds from a batch of images automatically in one click.
No editing skills are needed.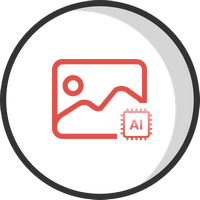 Upscale Anime Images in Batch Using AVCLabs Photo Enhancer AI
Follow the simple steps below to enlarge anime images easily free in batch.
Step 1
Install and Run AVCLabs AI Anime Upscaler
Download the AI Anime Upscaler from the link given above and then double-click the icon to launch it after the installation is completed.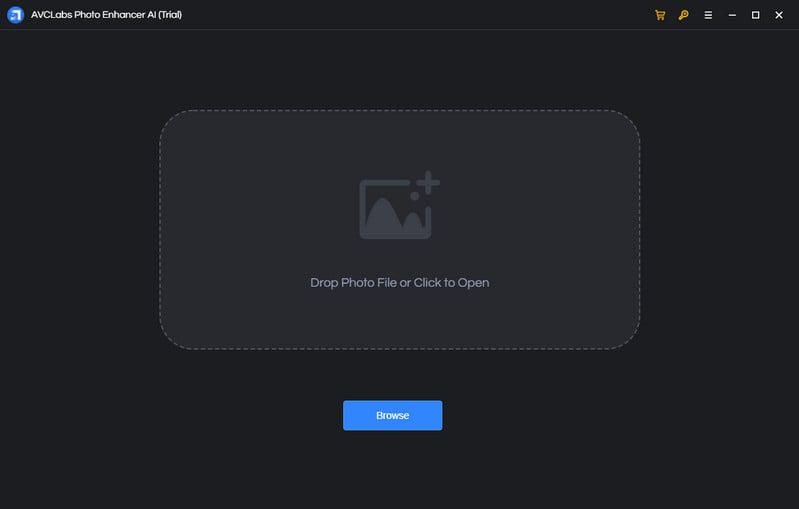 Step 2
Add One or Multiple Old Photos to This AI Anime Upscaler
Click on the Browse button in the middle of the software to add one anime or a batch of cartoon photos to the program. You can also directly drag and drop the small and blurry anime pictures you need to enlarge from the computer to the program.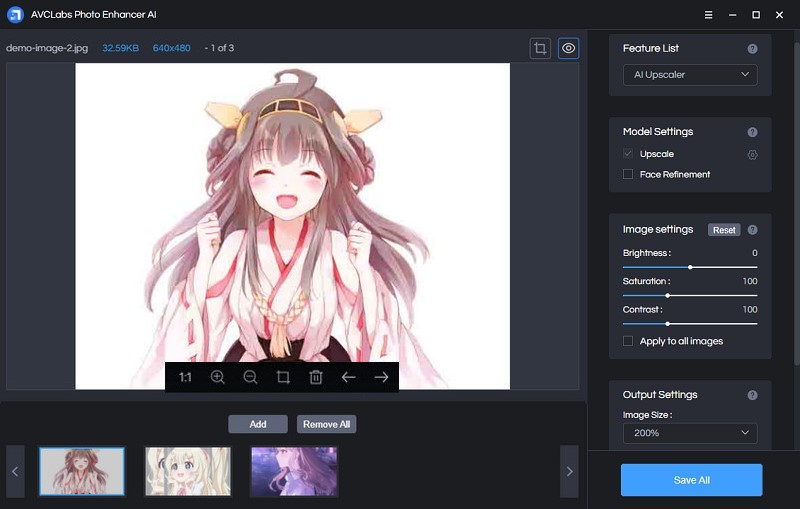 Step 3
Select the Processing AI Models and Photo Scale Value
In the upper-right panel of the software, you can choose the AI Model you prefer. There are 5 AI models for your option: AI Upscaler, AI Denoiser, AI Color Calibration, AI BG Removal or AI Colorizer model.
To enlarge and enhance the anime images, the AI Upscaler model is recommended. The AI Upscaler model takes less time to improve the low-quality anime pictures and get better quality anime images.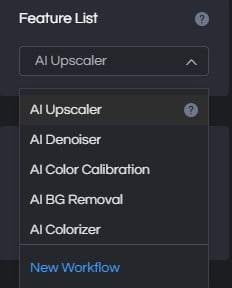 The default scale value is 400%. You are able to click on Image Size to select to upscale anime images size to 100%, 300%, and 400% according to your need.
For the portraits images, you can also turn on Face Refinement to detect and enhance every detail to make your subject look great.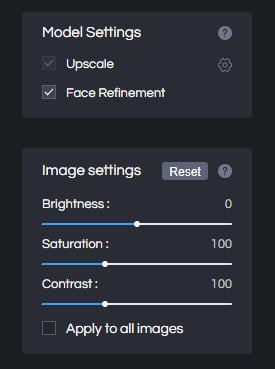 Step 4
Crop and Preview the Anime Upscaling Effect before Enlarging the Anime Images
There are two little icons in the top right corner of the main interface. You can simply click on the left little square icon to crop a photo.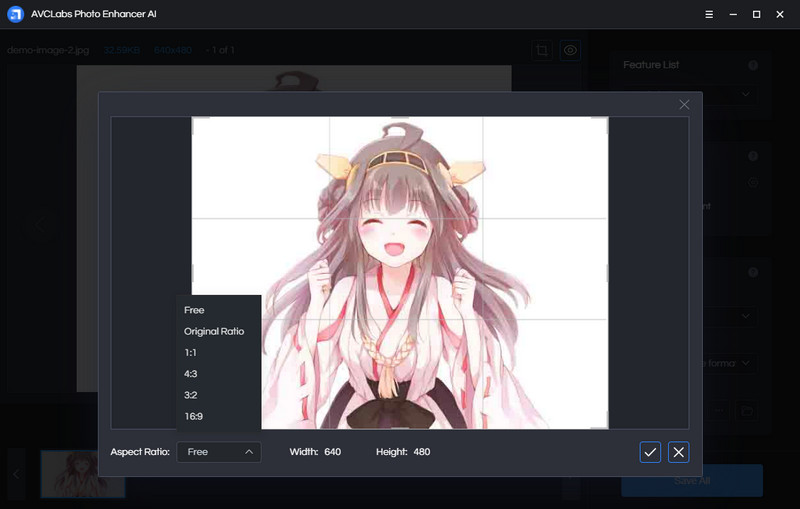 You can also click on the right little eye icon to preview the effect before processing the anime images.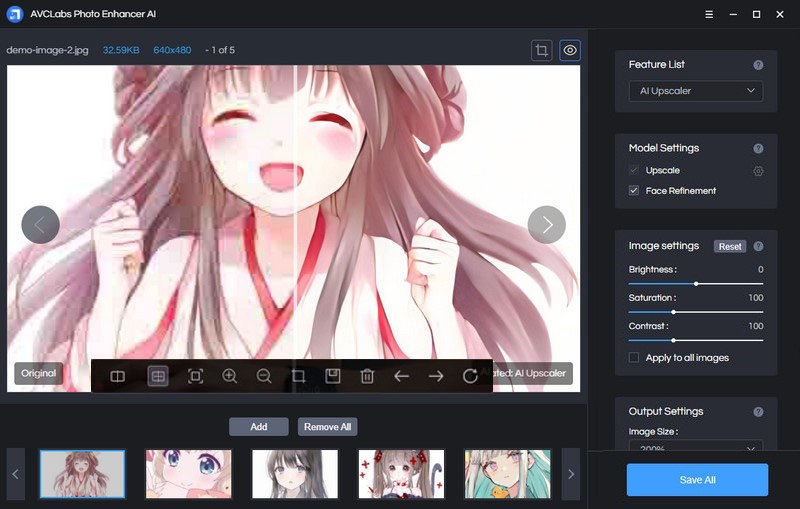 Step 5
Start Upscaling Anime Images to A Bigger Size
Click on the Save All button to start to resize the anime images. All you need to do is wait for the AI Anime Upscaler to upscale anime images and improve the anime images quality automatically.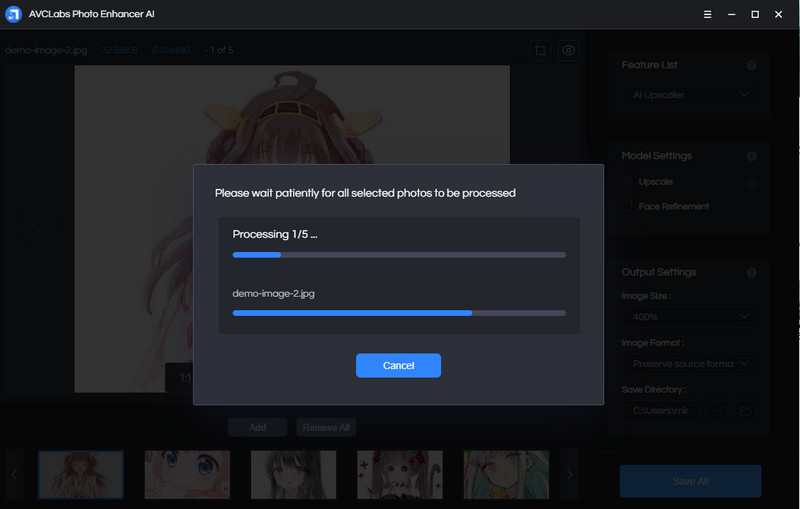 Once the anime upscaling process is done, you can click on the Open Output Directory button to find and check the upscaled anime images.
---
Pros:
• Support batch anime images upscaling, can process multiple anime pictures at one time
• High-resolution result, the original image quality and details is retained
• Rich advanced image enhancement features
• Support cropping pictures before processing the photos
• If needed, automatic background detection feature helps to remove the anime images background easily
• Intuitive UI
Cons:
• Show watermark in results if you are using the free trial version
---
Video Tutorial: Upscale Animes and Cartoons by 2X, 4X in Batch without Losing Quality
---
Method 2: Upscale Anime Images Free Online via AVCLabs Online AI Image Enhancement
If you would like to enlarge the anime image to 2X, even up to 4X online for free other than installing the third-party software, AVCLabs Online AI Image Enhancement is another good choice. This free tool that can be used to upscale or enhance amines or waifu images without losing quality online. The best part is that it allows you to customize and use 3 different enlargement factors and you can use it freely on any browser. Powered by AI noise reduction technology, it helps users to enhance and fix the blurry anime image 100% automatically. Lossless anime image enlargement is made possible with advanced algorithms, which learned how to identify and preserve details of your anime image. No Photoshop skills are required to scale up the anime image, increase anime image resolution.
But there are some limitations for this free online AI Anime Upscaler: you can not crop a necessary part of the photo before upscaling the anime image or cartoon picture or you can not fix multiple anime images all at once. And you need a good network condition to turn a small 480p anime pictures into something super HD.
Here are the simple steps to upscale anime images by 2x, 4x online for free.
Step 1
Visit AVCLabs Online AI Anime Image Upscaling Tool
Simply go to the free online photo enhancer with any browser (such as Google Chrome, Firefox, Safari). Please make sure the network condition is always kept well during the whole process.
Step 2
Upload One or Multiple Small Blurry Anime Images to AVCLabs Online AI Image Enhancement
Simply drag and drop a small blurry anime image to the online tool or click on the Click to upload button, browse and choose the cartoon image you need to upscale from your computer and then click on the Open button to upload the image to get started.
Note: The supported input formats are: *.png, *.jpg, *.jpeg, *.bmp, *.jfif and *.webp.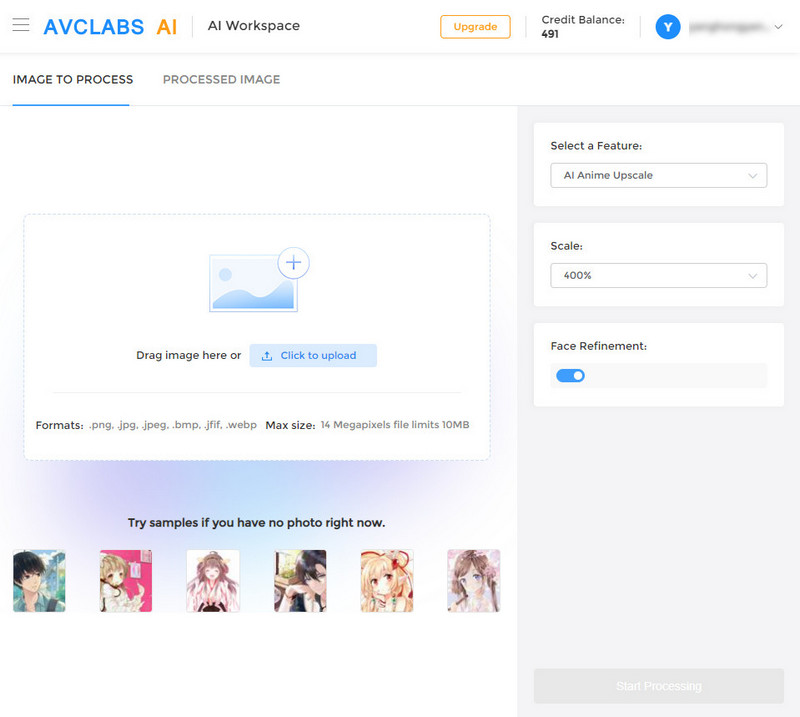 Step 3
Choose the AI Model and Select the Enlargement Factors
Once the anime image is uploaded to the online tool successfully, you can see the image is displayed as the ready state. You are able to choose the AI Model, scale size, face refinement, etc. Here, you're suggested to choose AI Anime Upscale model. It provides 100% to 400% options for scale size, just choose the size according to your need. If necessary, you can also switch on the Face Refinement option to beautify portrait images.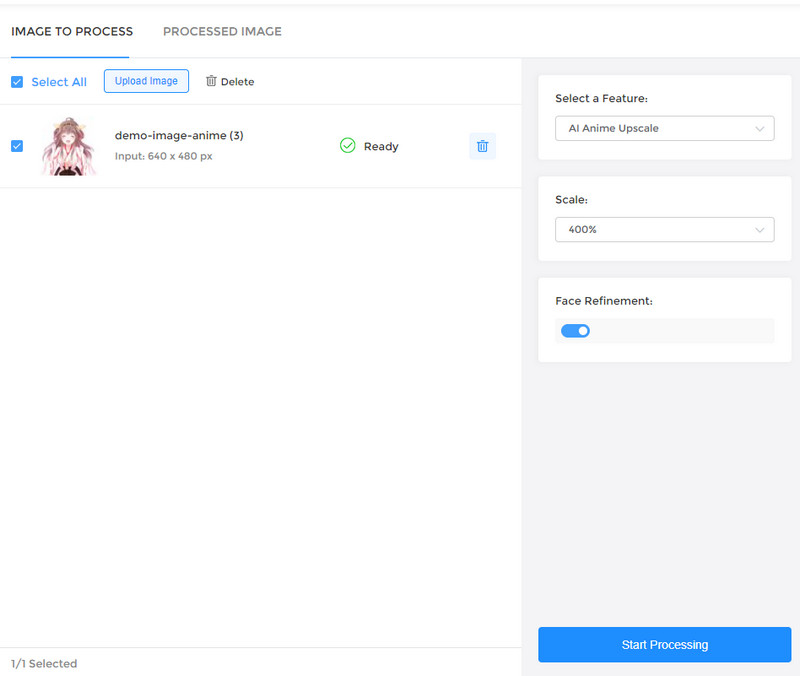 After all the preparation works are completed, click on the Start Processing button to start upscaling the anime/cartoon images.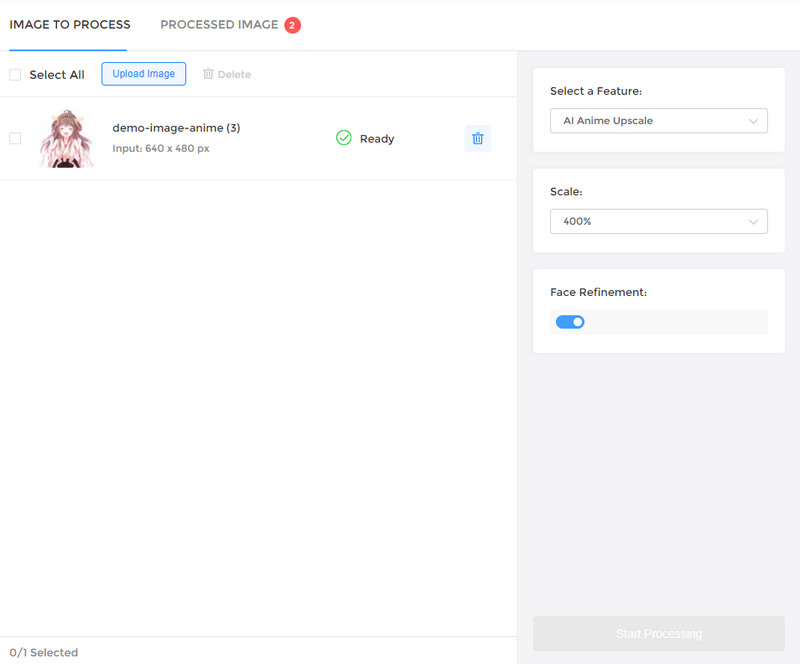 Step 4
Preview the Result And Download the Upscaled Anime Image to Your Computer
Once the anime upscaled process finished, simply switch to the Processed Image tab. You'll see 3 buttons beside the image. You can preview, download and deleted the upscaled anime image. Before saving the enlarged anime image, you are able to preview the result by dragging the slider bar. If you are satisfied with the result, just click on the Download Image button to download the upscaled anime image to the computer. The output format is *.jpg. Then, you can set it as wallpaper or print them as poster.
Note: The processed photos will be deleted after 72 hours, please download them to your computer in time.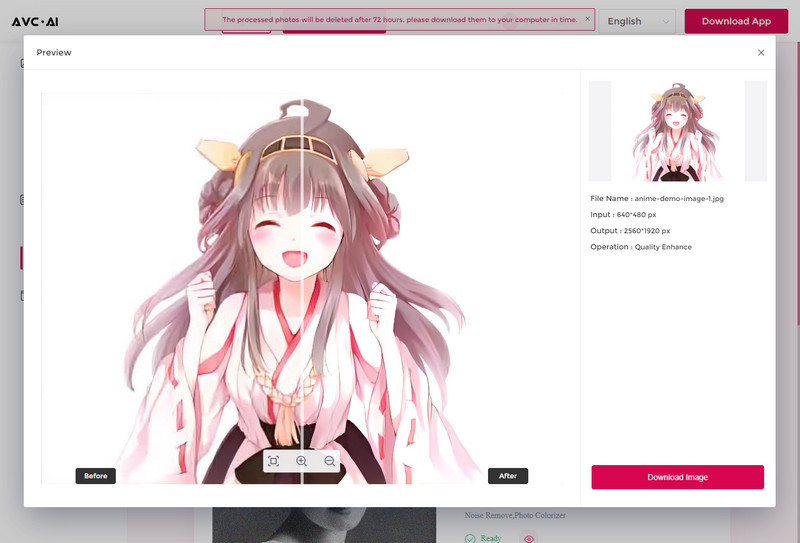 ---
Pros:
• Secure, convenient-to-use, and online tool
• Free to use
• Enlarge images up to 4x online free automatically
• Images quality enhancement is supported
Cons:
• A good network condition is needed during the whole process
• Cropping the anime image is not supported
• Limited output format, do not support setting the output format
---
Method 3: Upscale Anime Images with Waifu2x
Waifu2x is also a free online anime enlarger that allows you to enlarge anime images by 2x without any cost and it offers fewer options for noise reduction and scale that you can use it to reduce image noise in anime artwork or images. It is an algorithm that can enlarge the anime image while reducing the noise in the image. Driven by deep learning and using a deep neural convolutional network, Waifu2x comes with an intuitive interface that simplifies the process of anime enlargement.Even though Waifus constitutes most of the training data, this waifu2x API still performs well on photos and other types of images.
Here is how to upscale anime images by 2X online for free with Waifu2x.
Step 1
Upload A Desired Anime Image to this Waifu2x
Visit the website of http://waifu2x.udp.jp/ and upload the desired anime image.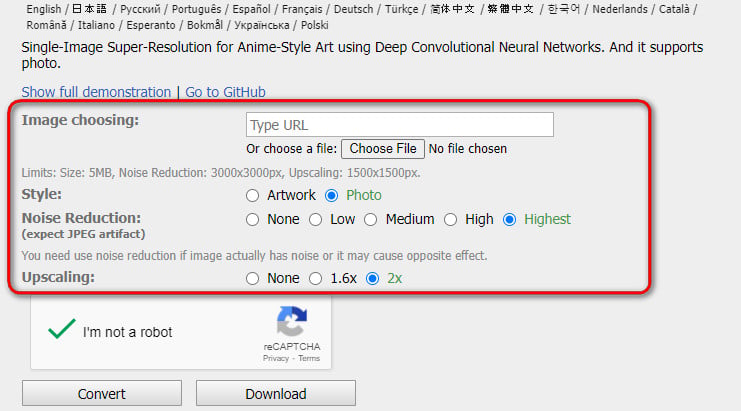 You'll be asked to specify the following factors, such as style, noise reduction, upscaling factor, and more. There are four levels for noise reduction: Low, Medium, High, Highest.
Step 3
Converting and Download the Upscaled Anime Image
Choose these factors and click on the Convert button. The tool will process and convert your anime image and you can download it as soon as the conversion is processed.
---
Pros:
• Easy to use
• Free tool
• Support reducing the noise of the image
• Support API
Cons:
• The max ratio is 2x, only supports zooming anime size to double
• No batch access, you can enlarge only a single anime image at a time
---
Part 4: Choose the Right Anime Upscaler:
Here is a summary table to give a clear comparison between these online and offline anime image enlargers. Just choose the tool you prefer.
| | | | |
| --- | --- | --- | --- |
| Features | AVCLabs AI Anime Upscaler | AVCLabs Online AI Image Enhancement | Waifu2x |
| Running Speed | Fast | Depend on the network | Fast |
| Bulk Resizing | ✔ | ✔ | |
| Cropping Images | ✔ | | |
| Image Enhancement | ✔ | ✔ | ✔ |
| User-friendly | ✔ | ✔ | ✔ |
| Remove Background | ✔ | ✔ | |
---
Conclusion:
As you can see, upscaling anime image is no longer tough work to do now. The online anime image enlargers mentioned in this article do not support batch processing or choose the format for the output. But the products listed in this article would do really well in just resizing anime images and increasing the anime images resolution without losing quality. If you wanna upscale the anime image by 2x, 4x online for free, AVCLabs Online AI Image Enhancement and Waifu2x are recommended, but Waifu2x only supports to scale-up the anime image to 2x, AVCLabs Online AI Image Enhancement can upscale the anime image to 2x and even up to 4x. But if you want to process multiple files at the same time, or need some other advanced features such as removing the image background, cropping images, AVCLabs AI Anime Upscaler is more suitable.
Try AVCLabs Photo Enhancer AI to breathe new life into your old photos!
---

Video Converter

DVD Converter

Video Editor

Enhance Video Quality

Enhance Image Quality

Remove Objects