How to Fix Old Photos Online & Offline for Free without Photoshop?
"How can I fix old photos online? Adobe Photoshop is a little bit complicated for me. Or is there any other simple app that can fix old photos easily? " - Ronald Andrews
Old historic, antique, vintage and family photographs capture valuable memories and moments in history. However, the old photos might be blurry, low quality, low resolution. All these unpleasant marks call for high-level digital restoration. Then can an old photo restoration be done online? How to fix old photos offline without Photoshop. The answer is yes. Here is how to fix old photos online & offline for free using Artificial Intelligence without Adobe Photoshop.
The free online old photo fix solution and offline photo restoration tool are introduced in this article. Keep on reading to find out how to fix old pictures hassle-free!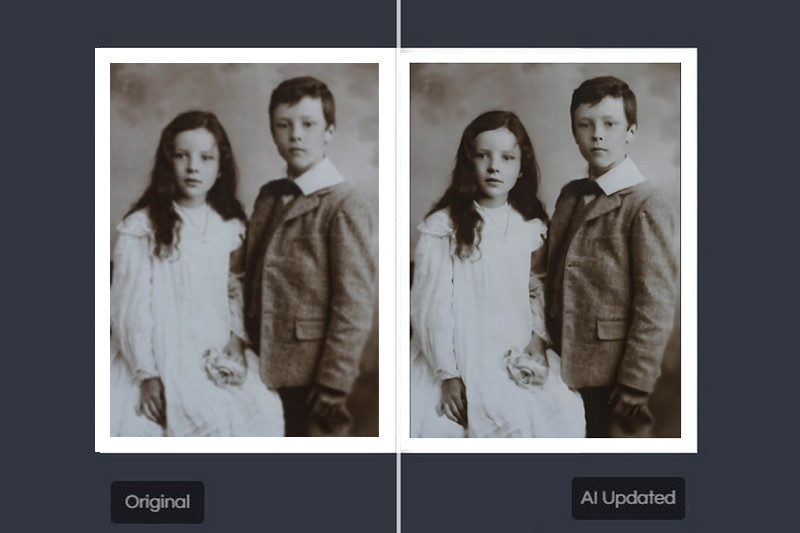 Part 1: Fix Old Photos with AVCLabs Photo Enhancer AI
Compared to the online AI photo fix solution, the desktop software will have more functions and work more stably. If you want to take less time to fix old photographs such as family photos without the complicated Adobe Photoshop, AVCLabs Photo Enhancer AI is a perfect solution for you. It is a professional and user-friendly desktop software that fixes old photos by implementing the new Artificial Intelligence technology. It can fix and repair old photos, restore photos with blurry faces, improve the old photo quality automatically with a few simple clicks thanks to its AI power. No prior skills are needed to enhance the old pictures.
It can remove noise and blur from the old photos automatically, and optimize photo color, contrast for better visual effect while keeping the quality and real details. If necessary, it also allows users to upscale images to 200%, 300%, and 400% of the original size in a natural way without quality loss. The most attractive point is that it supports fixing old photos in batch and cropping unwanted parts before processing the photos. What's more, JPG, JPEG, PNG, BMP, JFIF, WEBP formats are supported.
Photo Enhancer AI
Enlarge and upscale image without losing quality.
Sharpen image edges and deblur image online 100% automatically.
Upscale low-definition photos to HD.
Enhance color and contrast with only one click.
Remove backgrounds from a batch of images automatically in one click.
No editing skills are needed.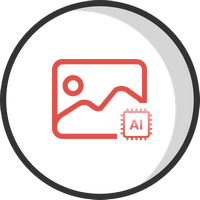 How to Fix Old Photos Using AVCLabs Photo Enhancer AI
Follow the simple steps below to bring old photos back to life and the result will surely amaze you.
Step 1
Install and Run AVCLabs Photos Enhancer AI
Download AVCLabs Photo Enhancer AI from the link given above and then run it after the installation is completed.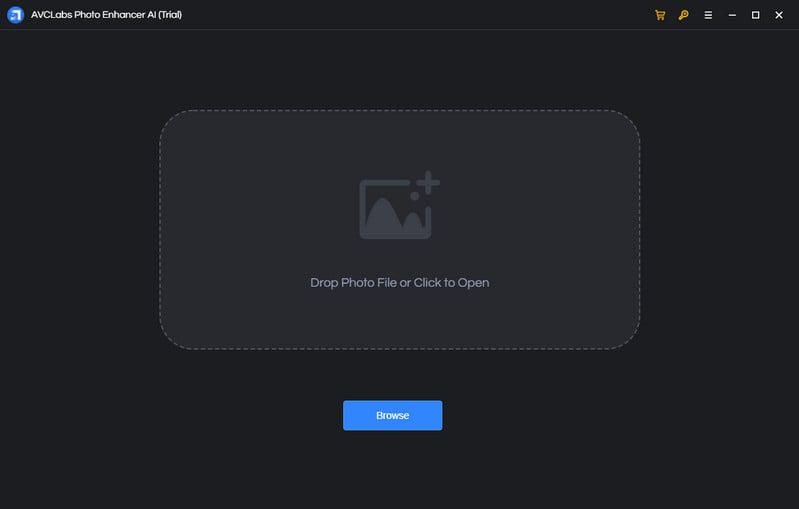 Step 2
Add One or Multiple Old Photos to AVCLabs Photos Enhancer AI
Click on the Browse button in the middle of the software to add one old photo or a batch of old photos to the program. You can also directly drag and drop the old photos you need from the computer to the program.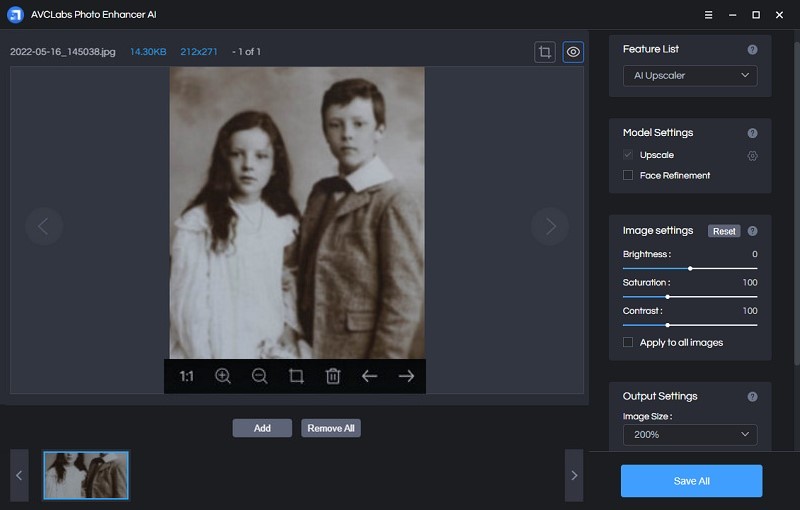 Step 3
Select the Processing AI Model
In the upper-right panel of the software, you can choose the AI Model you prefer. To fix low-quality old photos, the AI Upscaler or AI Denoiser model is recommended. The AI Upscaler model helps you easily convert any low-quality and blurry image into amazingly high-resolution and the AI Denoiser mode will reduce image noise and recover real details to images and make images clear and crisp by reducing all sorts of noise.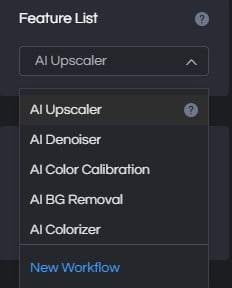 You are able to click on Image Size to select to upscale photo size to 100%, 200%, 300%, and 400%.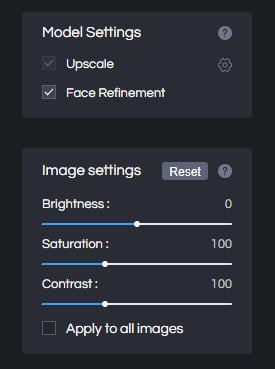 Step 4
Crop and Preview the Photo Effect before Enhancing the Photos
There are two little icons in the top right corner of the main interface. You can click on the left little square icon to crop a photo.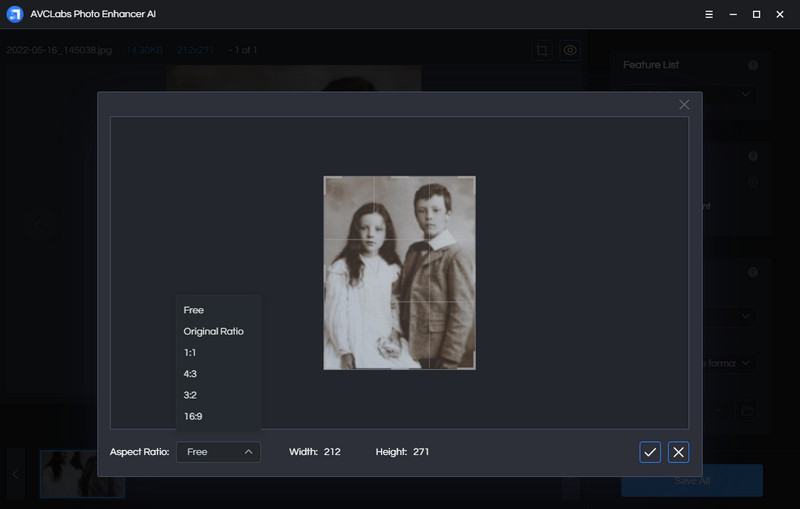 You can also click on the right little eye icon to preview the effect before processing the photos.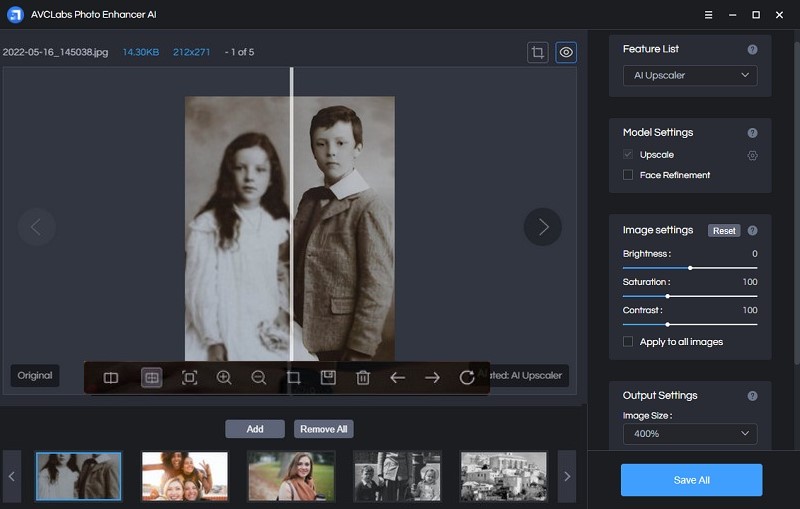 Step 5
Start Fixing Low-quality Old Photos
Click on the Save All button to start to enhance the old photos. All you need to do is wait for the AVCLabs Photo Enhancer AI to improve the photo quality automatically.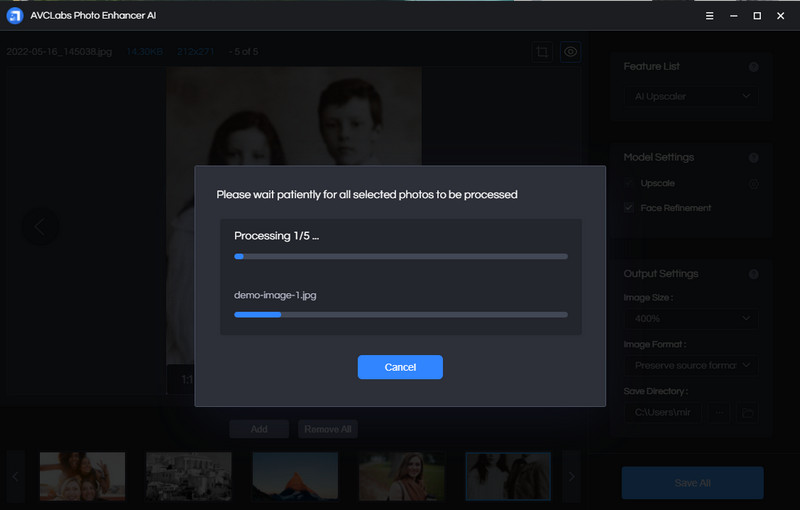 Once the old photo fix process is done, you can click on the Open Output Directory button to find and check the restored photos.
---
Video Tutorial: How to Fix Old Photos Using Artificial Intelligence without Photoshop
---
Part 2: Fix Old Photos Online for Free
If you do not want to install the third-party software and prefer using the lightweight tool to fix old photos online for free, AVCLabs Online AI Image Enhancement is a good choice. This free tool is one of the most popular online photo restorers that you can use freely on any browser. It helps users to enhance and fix old photos 100% automatically in a smart way losslessly. Powered by AI noise reduction technology, you can get rid of noise and blur from old photographs taken by a digital camera. No Photoshop skills are required to improve old photos, and increase resolution.
But there are some limitations to this online photo repair tool: you can not crop a necessary part of the photo before processing the photos and you need a good network condition.
Here are the simple steps to fix old photos online for free.
Step 1
Upload An Old Photo to AVCLabs Photos Enhancer AI
Simply navigate to the free online photo fixing tool with any browser (such as Google Chrome, Firefox, Safari), then directly drag and drop a photo to this online tool to fix the old picture. Also, you can click on the Click to upload button to add an old blurry, low-res or small image that you want to restore to this online AI image restoration tool.
Note: The supported input formats are: *.png, *.jpg, *.jpeg, *.bmp, *.jfif and *.webp.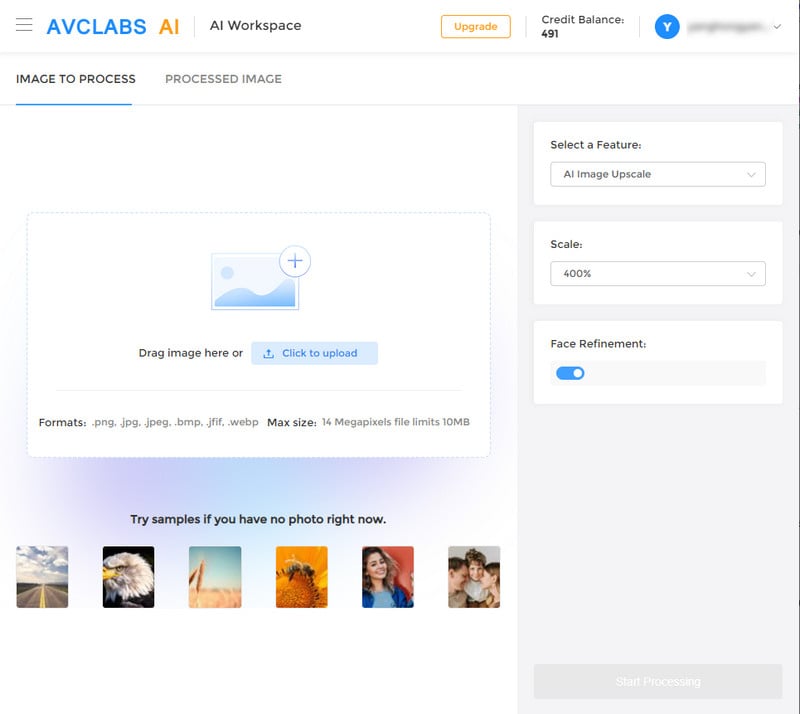 Step 2
Choose the AI Model And Parameter to Enhance An Old Photo
There are 8 AI models for your option: AI Image Upscale, AI Anime Upscale, AI Image Enlarge, AI Photo Denoise, AI Image Sharpen, AI Background Remove, AI Photo Colorize, AI Photo Calibrate. Here, you're suggested to choose AI Image Upscale model.
Four scale options are available for you to choose from. You are able to remove the blur while increasing the photo's resolution. If needed, you can choose more scales available from this tool, like 200%, 300% and even 400%.
For portrait photos, you are able to turn on the Face Refinement option to retouch and beautify portrait photos.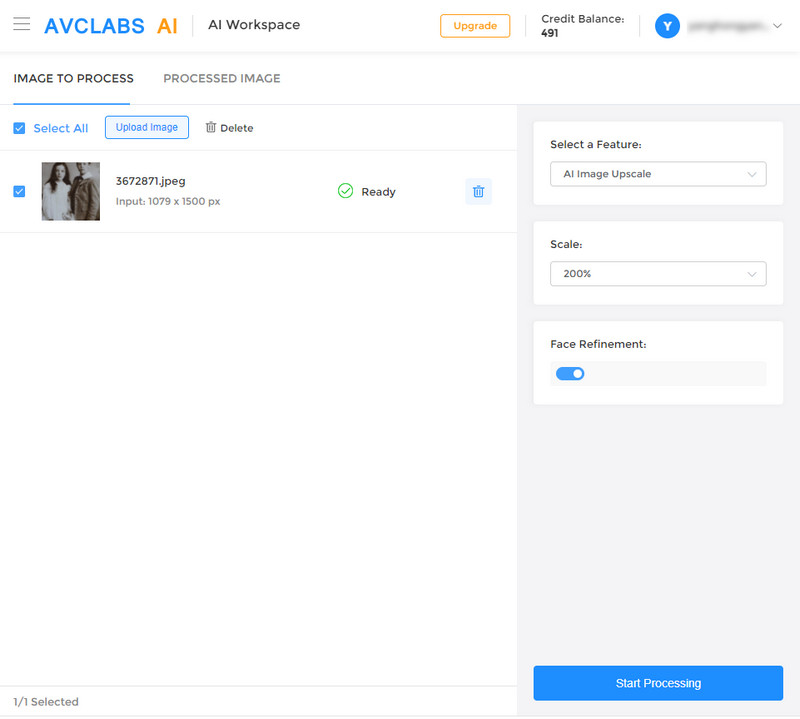 After all the preparation work is ready, click on the Start Processing button to start enhancing old photographs online automatically.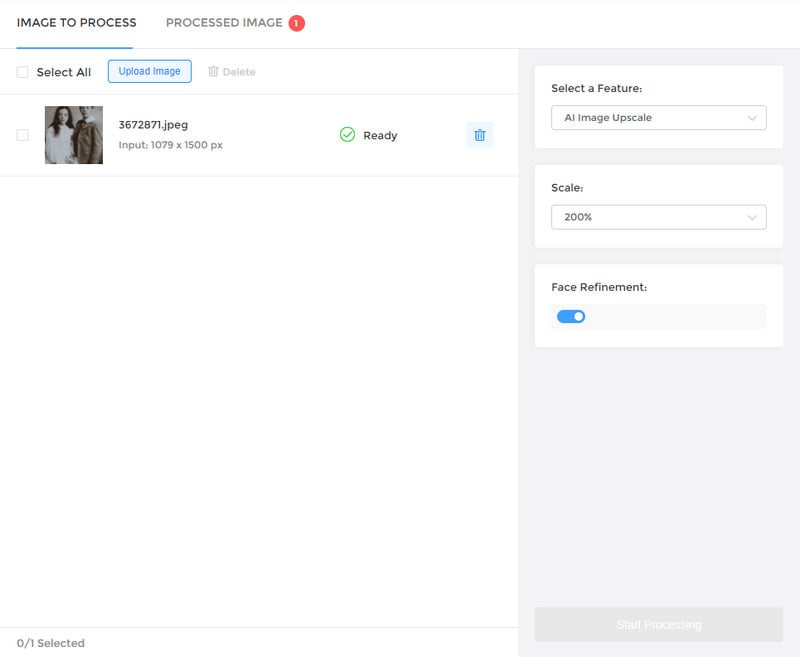 Step 3
Preview the Result And Download the Enhanced Old Photo to Your Computer
Once the old photo restoring process is completed, simply switch to the Processed Image tab. You'll see 3 buttons beside the image. You can preview, download and deleted the fixed old photo. Before saving the processed photos, you can preview the result by dragging the slider bar.
If the final result can meet your need, just click on the Download Image button to download the fixed photos to the computer.
Note: The processed photos will be deleted after 72 hours, please download them to your computer in time.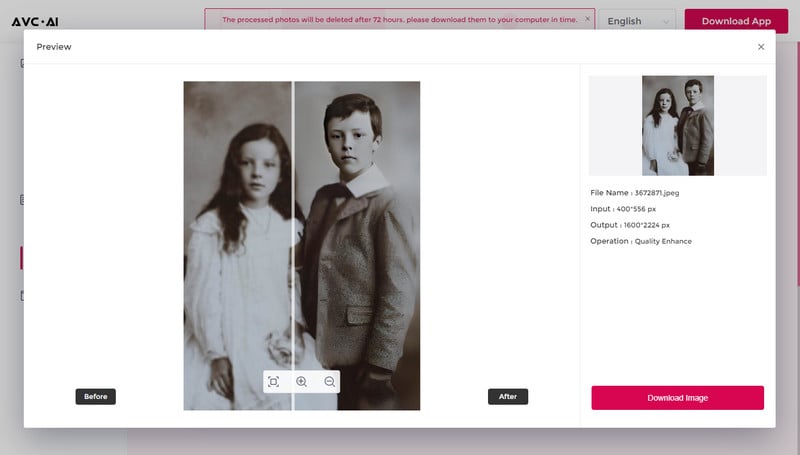 ---
Conclusion:
That's all easy solutions to fix old photos online free or offline using Artificial Intelligence without Adobe Photoshop. With the help of these AI photo fix solutions, fixing an old photo is not that difficult as you imagine, it can be quite easy, as long as you have found some tools like AVCLabs Photo Enhancer AI to do the job for you. If you don't want to install software and don't have too many pictures to optimize, you can choose AVCLabs Online AI Image Enhancement. If you wanna process multiple photos at the same time stably, or crop photos, select AVCLabs Photo Enhancer AI.
Try AVCLabs Photo Enhancer AI to breathe new life into your old photos!
---

Video Converter

DVD Converter

Video Editor

Enhance Video Quality

Enhance Image Quality

Remove Objects