How to Restore Old Photos Online for Free?
"How can I make old photos look new online? Old photos carry some of my most precious memories, but over time they can become blurry or fade away." - Anna
Only a decade ago, restoring an old photo was a complicated job. You had to have access to professional photo editing software, such as Adobe Photoshop. However, thanks to the development of AI today, you can easily restore old photos online for free with countless online AI photo restoration tools. In this article, we will introduce the best tool to fix and restore old photos online for free, and breathe new life into old images.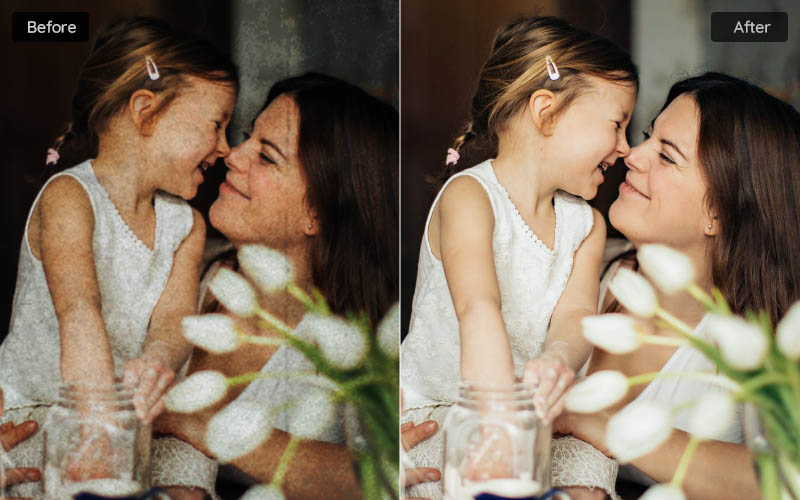 Part 1: Adobe Photoshop VS Online AI Photo Restoration
Adobe Photoshop
Adobe Photoshop is a perfect tool to restore old photos, however, it takes time and patience, also it requires that you need to master the advanced skills of using Adobe PhotoShop, while, most of us don't want to be bitten by Adobe PhotoShop. These steps apply to digital photo restoration using the latest version of Adobe Photoshop.
1. Digitize your old photo.
2. Open the image in Photoshop.
3. Crop, straighten, or rotate the image.
4. Review your photo for any corrections you want to make.
5. Make the necessary adjustments to your image.
6. Apply a filter to reduce noise.
7. Save the newly restored image.
As you can see, it is a little bit difficult to use Adobe Photoshop to fix old photos for beginners.
Online AI Photo Restoration
Repairing old photos can be tricky without advanced skills. The good news is AI photo restoration has challenged traditional methods of the job. It works as well as Adobe Photoshop, but makes it quite easy to fix old photos. With AI-based picture restorer, the blur, spots, noise would be automatically removed from your precious old photos. Using the AI Photo Restorer, your new photo is just 3 easy steps away.
1. Upload your photo to the website.
2. Select the AI model and enlargement factors.
3. Click on the Start button to get started. Once the restoration process is completed, you can get the new photo by tapping on the Download button.
In the next part, we would like to introduce you one of the best free online AI photo restoration tools: AVCLabs Photo Enhancer AI. Let's check it out.
---
Part 2: Free Restore Old Photos with Online AVCLabs Photo Enhancer AI
As an AI-based online photo restorer, AVCLabs Photo Enhancer AI allows users to free repair old blurry photos and pictures online in seconds. With constant training the AI photo restoration algorithms, it helps users to automatically and intelligently restore old photos such as photos with blurry faces in one click. All you need to do is upload an old digital photo to our web app. Then let AI bring old faded photos back to new life. No advanced PhotoShop skills are required during the whole restoration process.
Photo Enhancer AI
Enlarge and upscale image without losing quality.
Sharpen image edges and deblur image online 100% automatically.
Upscale low-definition photos to HD.
Enhance color and contrast with only one click.
No editing skills are needed.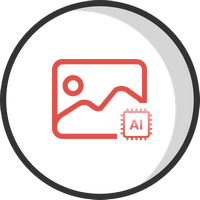 Here are the simple steps to restore old pictures.
Step 1
Upload A Old Image to AVCLabs Photos Enhancer AI
Simply navigate to the free online photo restoration tool with any browser (such as Google Chrome, Firefox, Safari), and then click on the Click to upload button to add an old photo that you need to restore to this online tool. Also, you are able to directly drag and drop old low-quality photos to the online old photo restoration tool.
Note: The supported input formats are: *.png, *.jpg, *.jpeg, *.bmp, *.jfif and *.webp.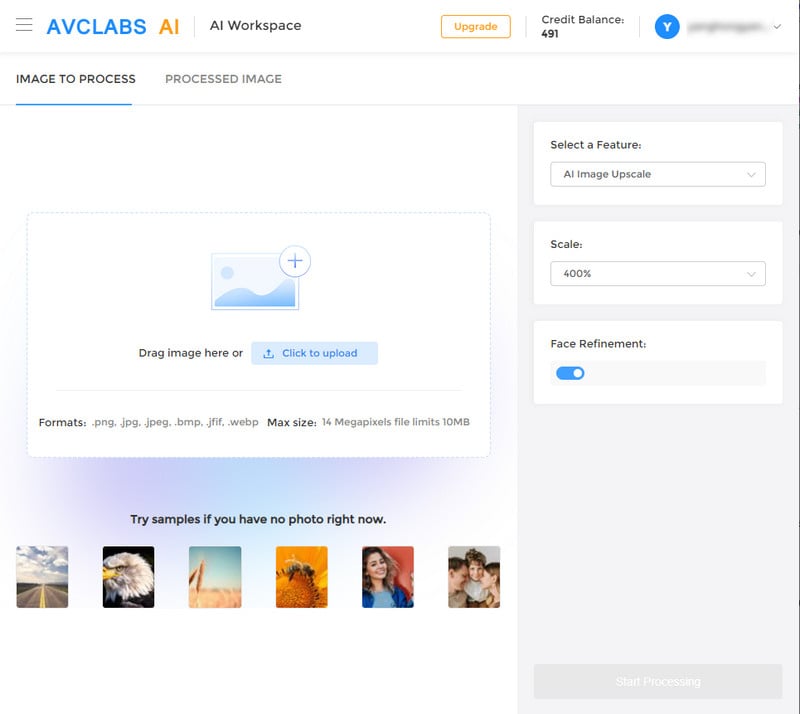 Step 2
Choose the AI Model and Parameter to Restore the Old Photo<
8 AI models are available: AI Image Upscale, AI Anime Upscale, AI Image Enlarge, AI Photo Denoise, AI Image Sharpen, AI Background Remove, AI Photo Colorize, AI Photo Calibrate. In order to restore the old photo, just select the AI Image Upscale model.
There are four scale options for you to choose from. You are able to remove the blur while increasing the photo's resolution. If needed, you can choose more scales available from this tool, like 200%, 300% and even 400%.
For portrait photos, you are able to turn on the Face Refinement option to retouch and beautify portrait photos.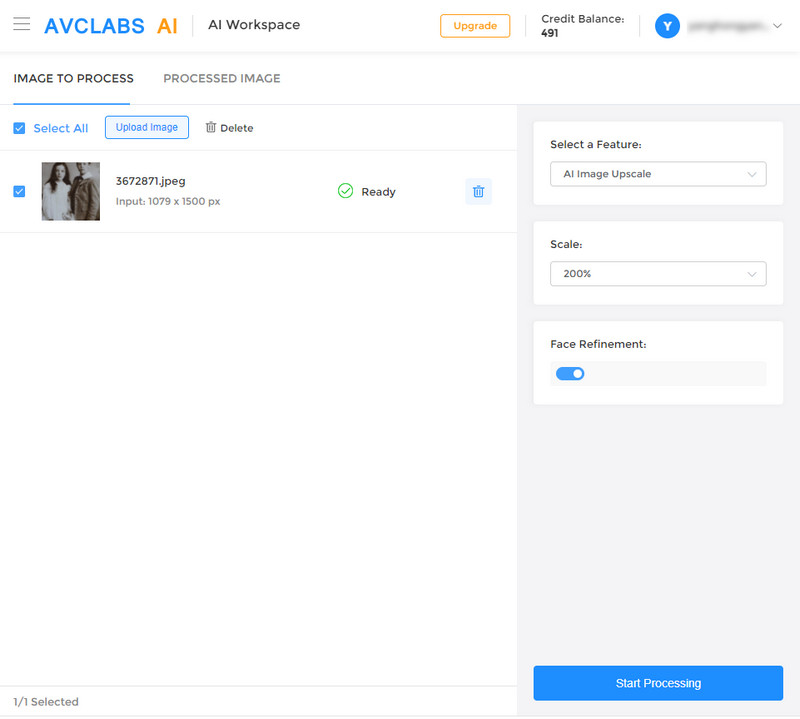 Once all the preparation work is ready, hit on the Start Processing button to start fixing the old photo automatically and wait about 15 to 30 seconds.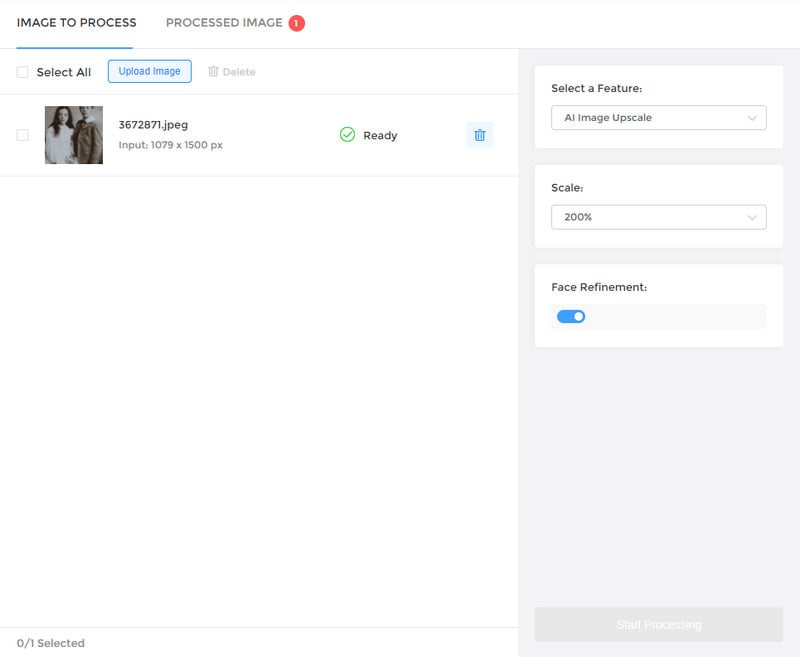 Step 3
Preview the Result And Download the Restored Photo to Your Computer
After the old photo restoring process finished, just navigate to the Processed Image tab. You'll see 3 buttons beside the image. You are allowed to preview, download, and deleted the fixed old photo. Before you decide to save the repaired photo to your computer, you can preview the result. You can drag the slider bar and preview the comparison image.
If the final restoration result can meet your demand, just click on the Download Image button to download the restored old photo to your computer.
Warm reminder: The processed photos will be deleted after 72 hours, please download them to your computer in time.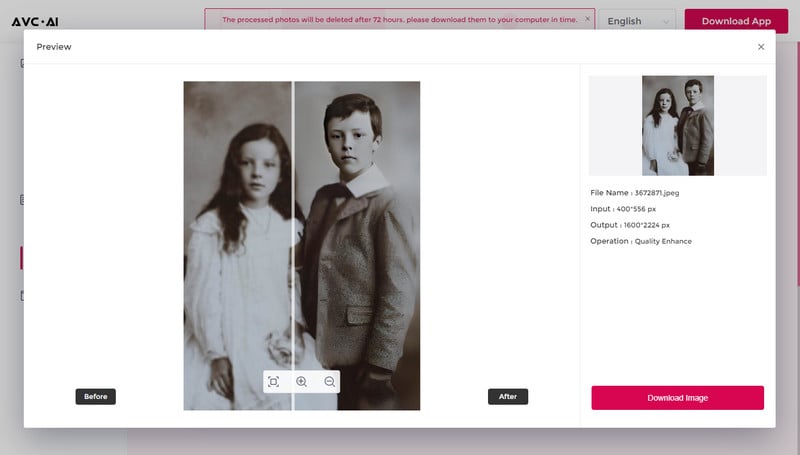 ---
Conclusion:
Thanks to AI technology, the old picture restoration process is now available for everyone. AVCLabs Photo Enhancer AI allows you to restore old photos 100% automatically using deep learning. If you want to restore old photos without Adobe Photoshop, you can use this free online photo enhancer.
---
Highly Recommended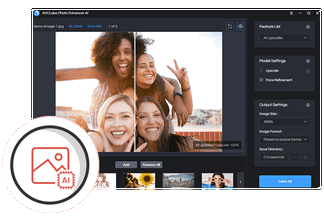 AVCLabs Photo Enhancer AI
If you wanna get better-quality pictures, process multiple photos at the same time or crop photos, the desktop AI Photo Enhancement Software - AVCLabs Photo Enhancer AI is highly recommended. It comes with advanced features, such as colorizing black and white photos, portrait photo enhancement.
Learn More

---

Video Converter

DVD Converter

Video Editor

Enhance Video Quality

Enhance Image Quality

Remove Objects