How to AI Upscale Images Online for Free
"How can I upscale images online without losing quality? What's the best image upscaler? Does upscaling improve picture quality?" - Joe Pepersack
If you are wondering how to upscale images online and how to increase image resolution online for free, you've come to the right place. Here we are going to introduce the most popular online AI Image Upscaler as well as how to use AI Image Upscaler to enlarge images & photos online for free.
Unlike traditional solutions which compromise quality, AI image enlarger can enlarge images without losing quality, which is made possible with machine learning and AI technology. Powered by AI noise reduction technology, you can get rid of noise from images and improve the image quality while upscaling image resolution.
Now, let's get started.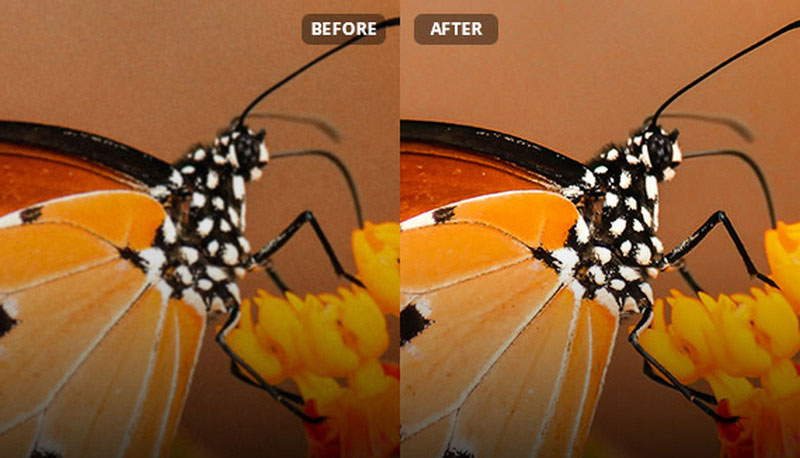 Part 1: AI Upscale Images Online for Free
If you are looking for a free way to make small images bigger online, then this free AI image enlarger - AVCLabs Online AI Image Enhancement is perfect for you. This AI Image Upscaler is able to enlarge image size by 2X, 4X and increase image resolution without quality loss. Powered by super-resolution AI technology, our Image Upscaler could upscale images automatically. It also can enhance the quality of your images by reducing noises and sharpening details. Most importantly, our AI Image Upscaler will make it quite simple and fast to upscale images, animes, cartoons online for free.
Photo Enhancer AI
Enlarge and upscale image without losing quality.
Sharpen image edges and deblur image online 100% automatically.
Upscale low-definition photos to HD.
Enhance color and contrast with only one click.
No editing skills are needed.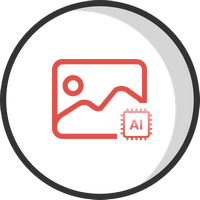 Upscale Images Online Free via AVCLabs Online AI Image Enhancement
It's super easy to AI upscale images. Just follow the steps below to upscale images online for free and boost its quality using best free AI image upscaler: AVCLabs Online AI Image Enhancement.
Step 1
Upload An Image to AVCLabs Online AI Image Enhancement
Simply go to the free online image upscaling tool with any browser (such as Google Chrome, Firefox, Safari). Just click on the Click to upload button to add a small and blurry image that you wanna upscale to this online AI image upscaling tool. You can also directly drag and drop low-res images to the online tool
Note: The supported input formats are: *.png, *.jpg, *.jpeg, *.bmp, *.jfif and *.webp.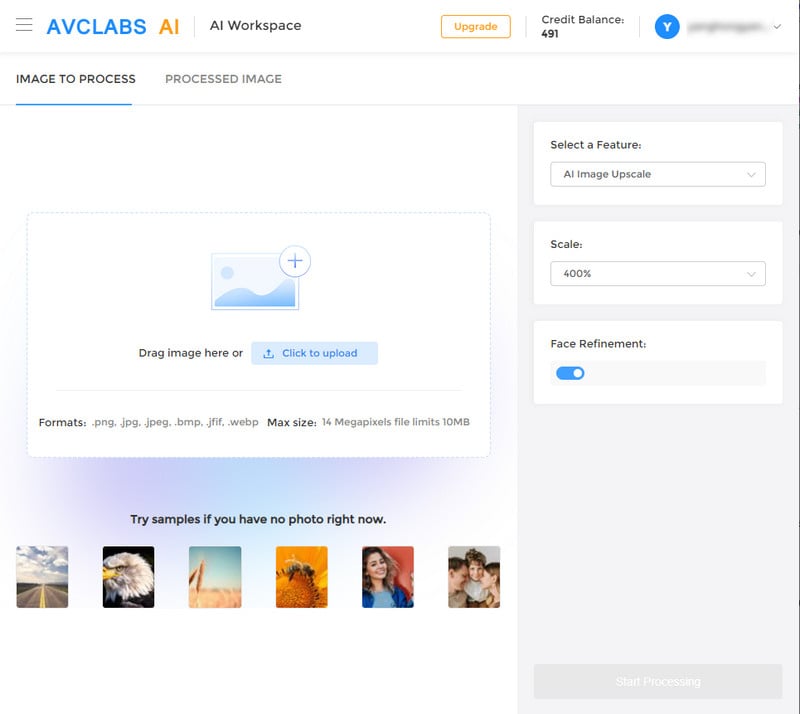 Step 2
Choose the AI Model and Select the Enlargement Factors to Upscale the Images online Automatically
To AI upscale images, just select the AI Image Upscale model to move on.
There are four scale options for you to choose from. By default, the tool will upscale the image by 100%. If necessary, you are allowed to choose more scales value, like 200%, 300% and even 400%. In addition, this free AI image upscaling tool can also unblur an image while increasing the image's resolution.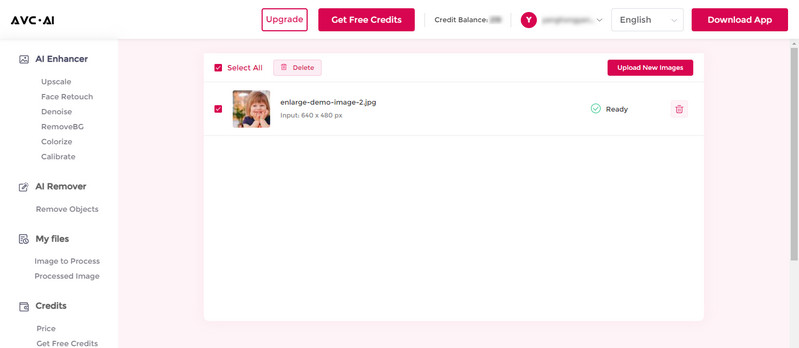 After all the settings are done, just click on the Start Processing button to start enlarging and enhancing the image automatically by using the latest AI technology.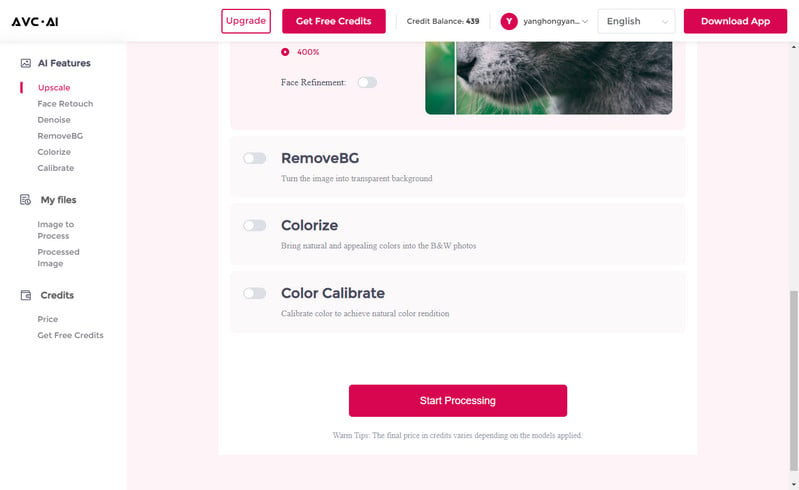 Step 3
Preview the Result And Download the Upscaled Image to Your Computer
Once the image upscaling process is completed, Simply switch to the Processed Image tab. You'll see 3 buttons beside the image. You can preview, download and deleted the upscaled image. Before saving the upscaled image to your computer, you are capable of previewing the original and enlarged image result by dragging the slider bar.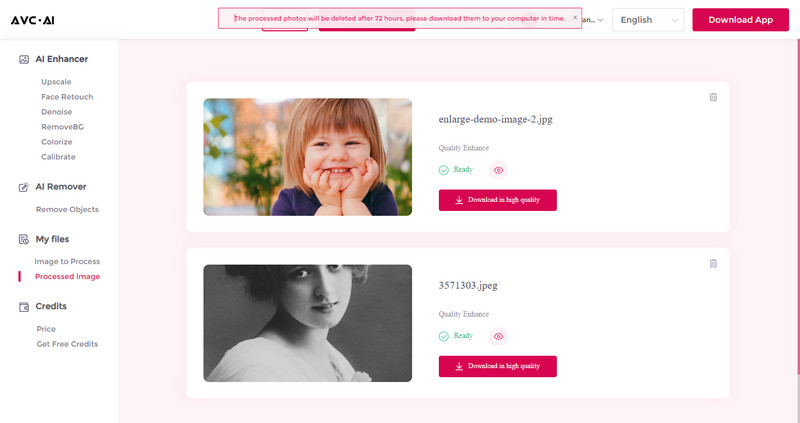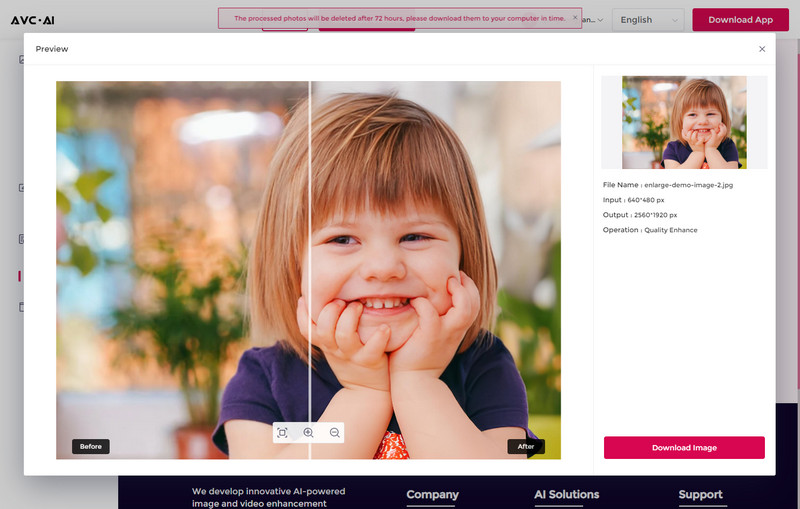 If you are satisfied with the final result, tap on the Download Image button to download the upscaled image to your computer. The output format is *.jpg.
Note: The processed photos will be deleted after 72 hours, please download them to your computer in time.
---
Pros:
• Powerful AI to upscale images without quality loss
• Upscale image online up to 400%
• Support unblurring images
Cons:
• Stable and fast network condition is required
• Cropping the image is not supported
---
Part 2: Performance of AI Upscaling Images Online
This AI Image Upscaler enables users to upscale different kinds of images from oil paintings to digital art, from portraits to landscapes, from logos to product images. Let's see how it works for personal or business needs.
1. Upscale Image without Losing Quality.
Increase image size, remove artifacts and enhance quality.
2. Enhance Images for eCommerce.
90% of online buyers claim that photo quality is the most important factor in the process of online shopping. Enhance product images to attract the attention of your customers and stay ahead of your competition. Improve your conversion rate and improve your sales.
3. Upscale Anime Images for Wallpapers or Posters.
Recover anime details and remove artifacts when upscaling Anime photos to 4K. You can use the enlarged and improved anime images as wallpapers or posters.
4. Improve Image Resolution for Printing.
High-resolution images guarantee better print results. Increase image resolution of your illustrations, photos or a posters to achieve great printing results. Restore compressed image files from your Google Photos.
---
Part 3: Extra Tips: Bulk Upscale Image Using AI
From part one, it is not difficult to see that online AI Image Upscaler does not allow users to crop the image or does not provide multiple output formats. If you are willing to crop the image and export the images to the format you prefer, you can try our another desktop upscaling tool: AVCLabs Photo Enhancer AI. It gives users the ability to crop unwanted parts and set the output image format to JPG, JPEG, PNG, BMP before upscaling the image. What's more, it will also automatically enhance the image quality and remove noise and blur in your images while increasing their resolution. More image formats are supported, including JPG, JPEG, PNG, BMP, JFIF, WEBP. It also supports colorizing the old, black and white images.
How to AI Upscale Multiple Images
Here are the simple steps to bulk upscale images using AI .
1. Download AVCLabs Photo Enhancer AI from the link given above and then run it after the installation is completed.
2. Click on the Browse button to add one or multiple low-resolution images.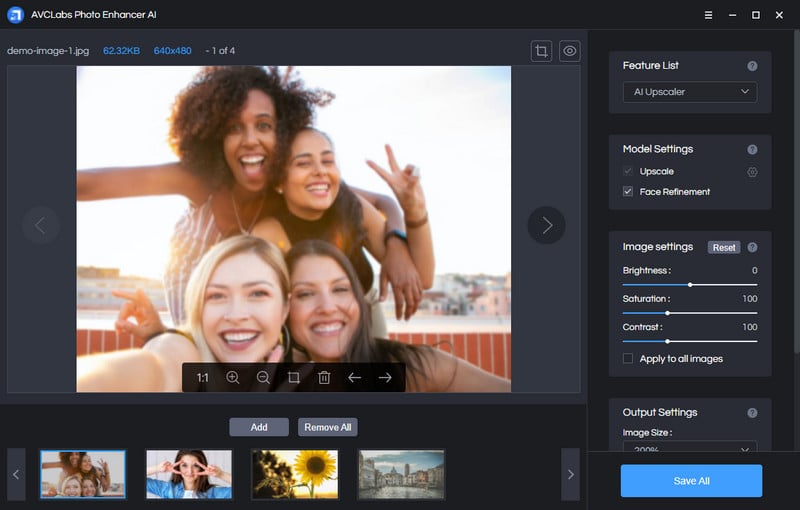 3. In the upper-right panel of the software, you are able to choose the AI Model: AI Upscaler, AI Denoiser, AI Color Calibration, AI BG Removal or AI Colorizer model you prefer. Here, just choose the AI Upscaler model. It automatically enhances the details, texture and removes blur in your images while increasing their resolution.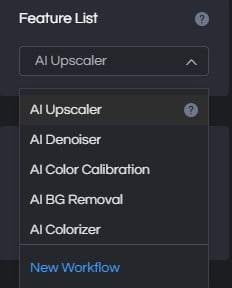 Or you can click "New Workflow" to create workflow.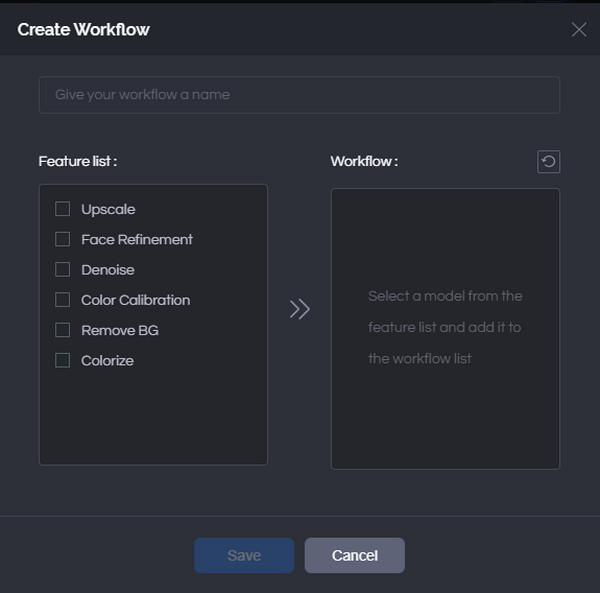 You can also click on Image Size to select to upscale image size to 100%, 300%, and 400%.
For the portraits photos, you can also turn on Face Refinement to detect and enhance every detail to make your subject look great.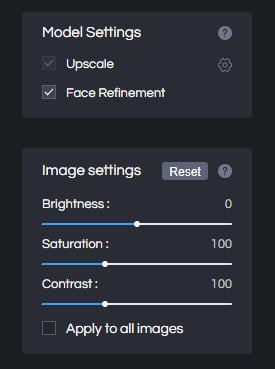 4. There are two little icons in the top right corner of the main interface. You can click on the left little square icon to crop an image.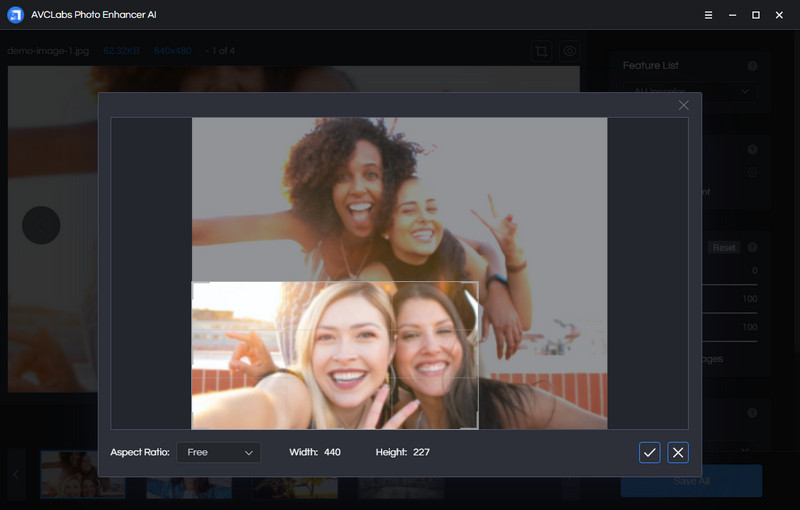 You can also click on the right little eye icon to preview the effect before enlarging the small images.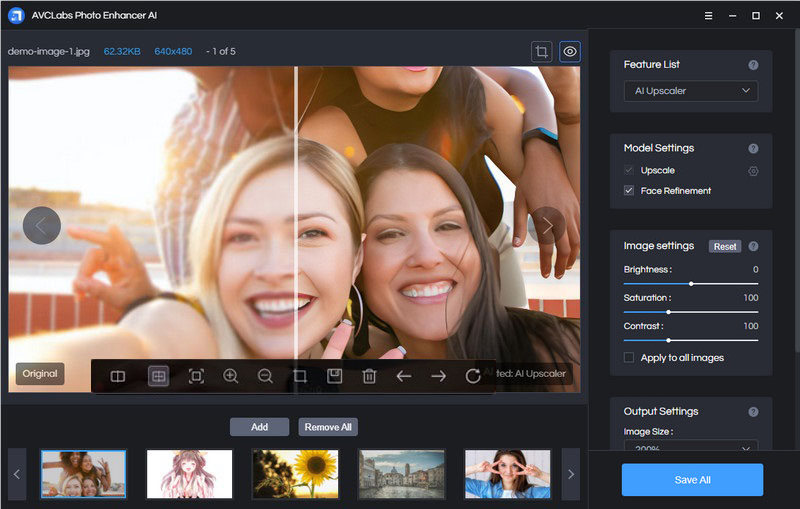 5. Tap on the Save All button to start to resize the image. All you need to do is let the AI upscale the image automatically. Once the image upscaling process is completed, you can click on the Open Output Directory button to find and check the upscaled images by AI.
---
Conclusion:
Upscaling images is essential to provide users with high-quality images that are appealing to look at, no matter what screen they're on. And thanks to helpful tools such as online AI Image Upscaler and AVCLabs Photo Enhancer AI, you can easily upscale the images according to your need. You can enjoy better image quality with one click with these AI image upscalers. With the help of AI image upscaling solutions now, you can generate enlarged images without losing resolution quality.
Try AVCLabs Photo Enhancer AI to breathe new life into your old photos!
---

Video Converter

DVD Converter

Video Editor

Enhance Video Quality

Enhance Image Quality

Remove Objects