How to Remove TikTok Watermark— Summary of the Most Comprehensive Methods Available to Remove Watermark from Videos and Photos
TikTok is one of the most popular social media platforms, with over 800 million active users worldwide. With its ever-growing user base, more people are using it to promote their businesses, create content, and share their ideas. However, when uploading videos, a watermark is automatically added to the video, which can be a distraction. Fortunately, there are a few methods available to help remove the watermark from TikTok.
This article will provide a summary of the most comprehensive methods available to remove watermarks from TikTok videos and photos. Each of these methods has its own advantages and drawbacks, so readers should review this guide carefully before selecting the best option for their needs.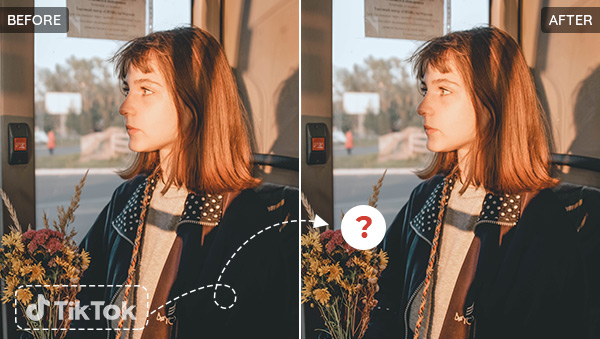 Disclaimer: Is it legal to remove TikTok Watermark?
The answer to this question depends on how and why you are doing so. If you are using someone else's video without their permission, then you are likely in violation of copyright law. However, if you have explicit permission to use the video or if it is your own content, then removing the watermark may be okay as long as it doesn't breach any other laws. It's important to make sure that whatever changes you make don't affect the original author's rights or reputation. This article aims to teach you how to remove the watermark from your own TikTok videos.
---
Frequently Asked About TikTok Watermark
What is a TikTok watermark and what's its function?
The TikTok watermark is a copyright notification that's added to all videos uploaded through the TikTok app. The TikTok watermark may not be the most aesthetically pleasing, but it serves a valuable purpose. Its primary purpose is to ensure that the creator of the video can be easily identified and ensure that any content taken from the platform without permission is easily traceable back to its original source. It also serves as a deterrent for people considering stealing or using other people's videos without their knowledge, helping to protect against copyright infringement.
Can I remove the TikTok watermark for free?
Yes, of course you can remove the TikTok watermark for free. The methods of removing watermark from TikTok videos can be divided into two categories: the first is to remove the watermark of videos that have been saved to the phone by using some video editors; the second is to download TikTok videos without watermark directly. Now let's dive into them one by one.
---
Methods to Remove TikTok Watermark
Method 1: Directly Crop the Video to Remove Watermark
One of the easiest ways to remove the TikTok watermark is to simply crop the video. The detailed steps are as follows:
Step 1: Save the Video. Open TikTok on your phone, and find the video you want to save. Click the Share button and choose Save Video. If you want to save the video you posted, click Profile firstly and choose a video. Then click the three dots button, and finally save it to the local.
Step 2: Crop the Video. Open your camera roll and find that saved TikTok video. Use the video editor that came with your phone or download a new one, import the video into it and crop it. You can also choose to use desktop software if you are not used to editing videos with your phone.
Here use the Any Video Converter Free to crop the downloaded video. It is a comprehensive tool that can be used to convert video to any format, crop video to remove unwanted portions, cut fragments, combine clips into one video with transitions, and download videos from online sites, etc. Click here to learn more about Any Video Converter Free.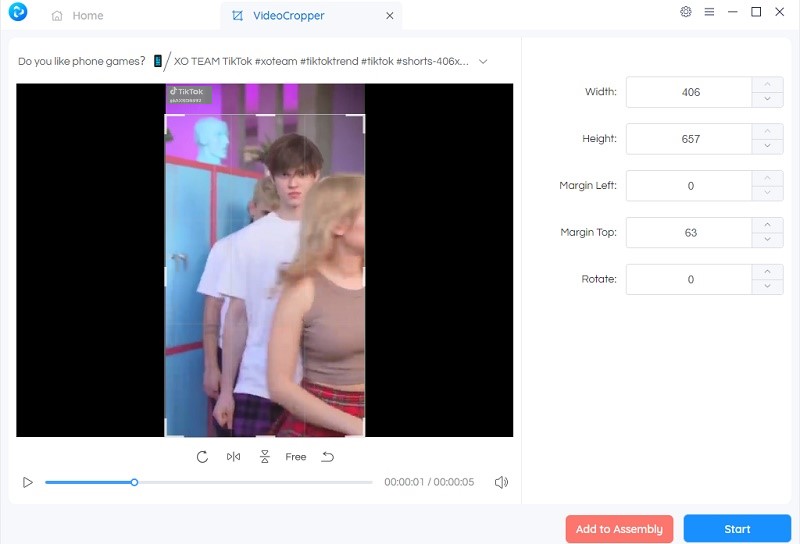 The Pros and Cons of Cropping to Remove TikTok Watermark
Pros: This method is very simple and straightforward. The watermark of TikTok is usually in the upper left corner or the lower right corner. Cropping to remove the TikTok watermark in these two positions does not have much impact on the integrity of the video, especially when there are blank positions on the top and bottom of the video.
Cons: However, it has many limitations and cannot be applied to every video. If there are important video elements near the edges of your video or the watermark is in the middle left of the video, the method of cropping the video to remove the watermark in these two cases is no longer applicable. Also, this method changes the aspect ratio of the video. If you want to repost it to another platform that uses the same video size specs as TikTok, it will leave a black border around the content.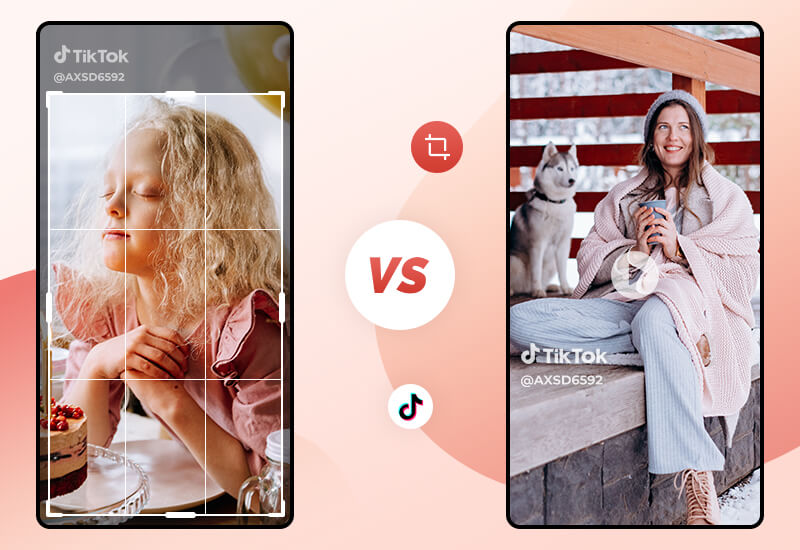 ---
Method 2: Save your TikTok Video without a Watermark in the First Place
1. Using Online Tools to Save TikTok without watermark
If you're looking for an easier way to remove the TikTok watermark from videos, this method is the most practical and recommended one. Instead of downloading a video with a watermark and then using other tools to remove it, it is better to directly download the video without the watermark. There are many tools on the market that help to do so. Most of them are presented as websites, although a few apps offer for mobile devices. It is recommended that you use these tools directly on your computer with your browser, as it is much more convenient.
Since most of these tools are pretty much the same procedure, this guide will just select one to show you how to remove TikTok watermarks directly with these downloaders.
SnapTik is one of the popular TikTok Downloaders available online to download video TikTok without a watermark. It provides an app for Android users now, which is also totally free but contains some ads.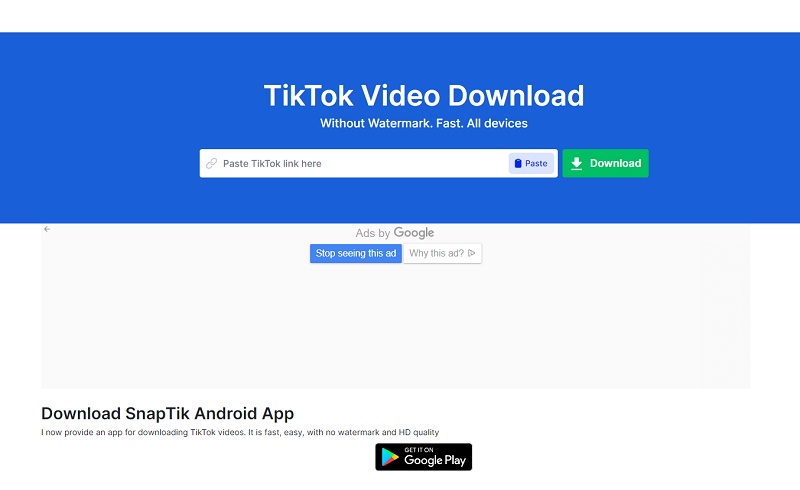 How to Use TikTok Downloader to Save TikTok without Watermark
Step 1: Launch the TikTok app on your phone or open it on your browser.
Step 2: Copy the link of the video you want to save. Just press the Share button in the lower right and then click the Copy Link button.
Step 3: Go to Snptik with your browser or download it from Google Play to your Android phone, whatever you prefer.
Step 4: Past the link to the search box of the video downloader. And then click the Download button. The server will finish its work in a few seconds and then save the video to your device.
2. Using Extensions to Save TikTok without Watermark
In addition to using online tools and mobile apps, there is another method that is very suitable for PC users, which is downloading through extensions. The essence is actually the same as the online tools. However, after reading many reviews of Google extensions, it is found that most of them are not work well.
The Pros and Cons of Using Video Downloader to Remove Watermark
Pros: Very convenient and quick, eliminating the need to download and edit videos and other redundant procedures.
Cons: There are very few useful tools and extensions, and many who claim to be able to download TikTok videos without watermarks are actually unable to do so. Most of these tools have a lot of advertisements, so you need to carefully identify them and be careful of viruses.
---
Method 3: Remove TikTok Watermark with Video Blur App or Video Editors
Another way is to automatically blur watermarks by using some video blur apps or video editors to remove TikTok watermarks. The basic principle of this method is to manually add a mosaic to the video to cover the watermark. The advantage is that it basically works for all kinds of videos, but the disadvantage is that TikTok's watermark bounces around, so you need to add the mosaic at different locations in the video and adjust the length of its appearance on the timeline. Although the length of the TikTok video is relatively short, the process is still more complicated.
If you choose to remove watermarks in this way, then try a professional video blurring software such as AVCLabs Video Blur AI. It can blur any object and offers several blur types to make the picture look more natural. If you need to blur multiple faces, this software can help you automatically identify faces.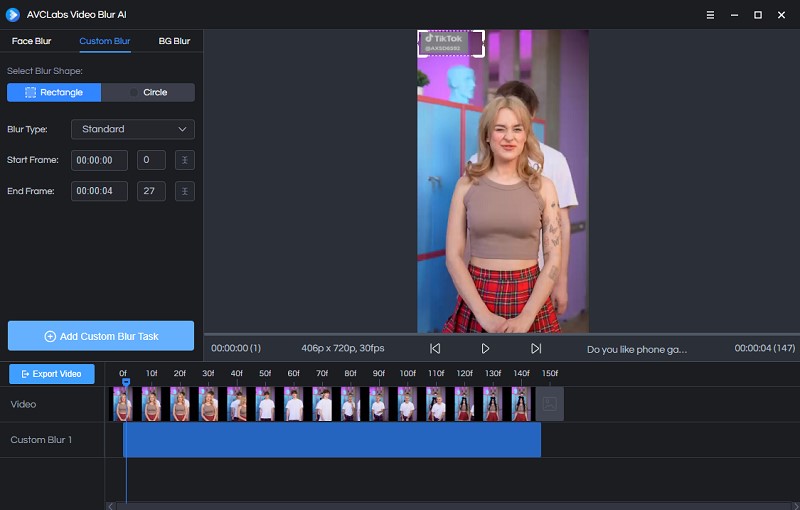 ---
How to Remove Watermark from Photos
In addition to posting videos to TikTok, people can also post videos that consisted of photos. Likewise, such images will be downloaded with a watermark. In fact, not only TikTok, but almost all social media will have a watermark of your ID after you post your own image to these platforms. This is actually quite annoying and distracting, especially if you have deleted the original image. But the good thing is, just like removing watermarks from videos, watermarks on images can be removed easily or even more simply.
AVC.AI is such an excellent online tool to help you remove watermarks from photos. It is an advanced online tool based on artificial intelligence (AI) which is specifically developed to improve images with a single click. It utilizes sophisticated algorithms and educated neural networks to identify image complications automatically. With the AI-based object removal tool, it is now much simpler and more precise to detect and discard these unnecessary elements. Watermarks, words, tags, logos, date stamps, stickers, and other undesired contents can be removed from pictures without any alteration to the background, expertly and automatically.
Visit AVC.AI with any browser you like. It is totally free to remove the object, and it doesn't require users to log in. But it is highly suggested to do so since you will be awarded some free credits for your first registration.
Step 2
Upload the Image with Watermark
Choose the 'Remove Objects' button and afterward press 'Upload Image' to add an image with watermarks. On the other hand, you can also drag the image and drop it straight into the workspace.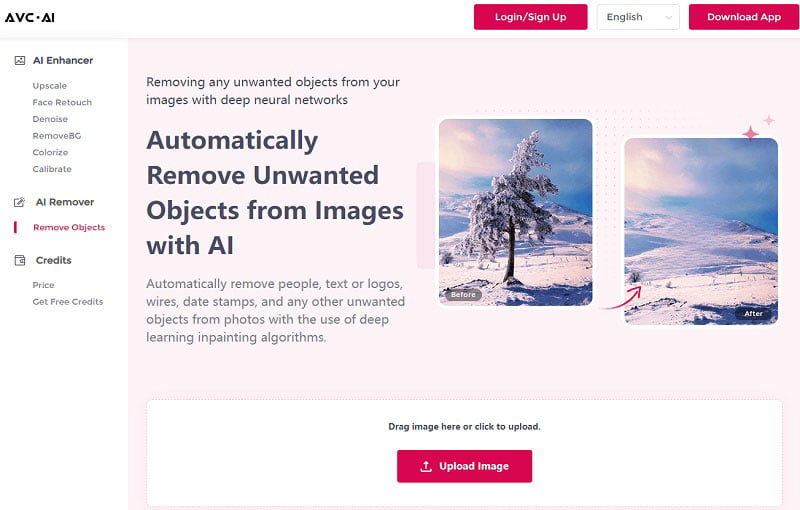 Step 3
Cover Watermarks with Brush Tool
Utilize the Brush to conceal objects or watermarks that you don't want visible. You can vary the dimensions of the brush to make it easier to paint the items more accurately. If you mistakenly paint a section, you can always hit the left arrow in the top left corner to reverse the action.
There are many kinds of watermarks, and this article will choose one of the more complicated ones to show you the effect of its watermark removal function.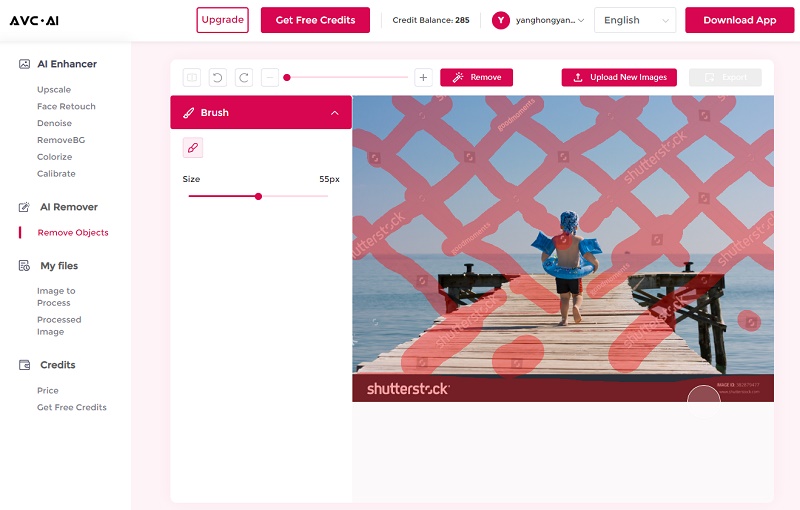 Step 4
Start Removing Watermark and Download the Processed Images
Once the watermarks on the image have been highlighted, click the Remove button to start the process. It will take a few seconds, and after it is finished, you can press the Contrast button located in the top left corner to compare the before and after. Finally, click on the Export button to download the image without any watermark.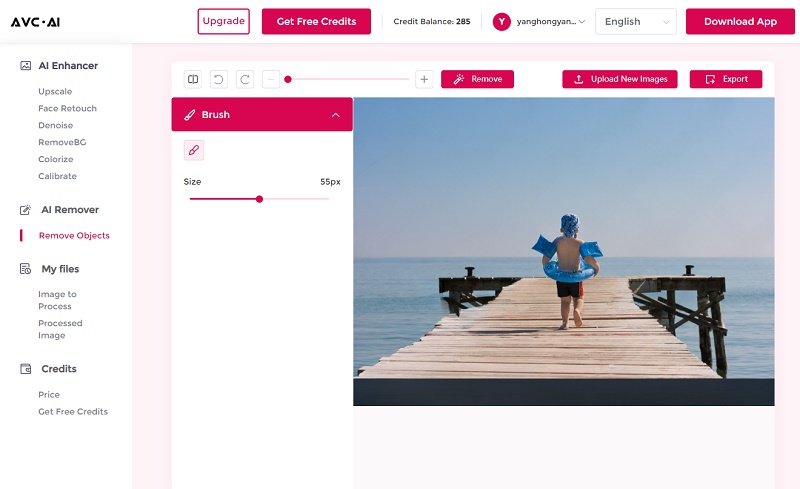 ---
Final Words
The above is a summary of methods on how to remove the TikTok watermark. In addition, this article also provides you with a method for how to remove watermarks from photos. All of the above methods have been tested and proven to work. Different methods have different advantages and disadvantages. After reading this article, you might have already made your own decision, so go ahead and try to remove the watermark of TikTok videos and photos.
---
Highly Recommended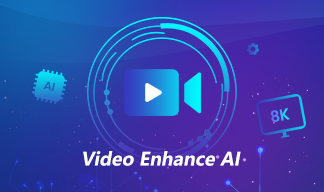 AVCLabs Video Enhancer AI
AVCLabs Video Enhancer AI is an AI-based video enhancement software to upscale video from 480p to 1080p, 1080p to 4K, and up to 8K. With AVCLabs Video Enhancer AI, you can upscale low-res videos to high resolution and bring your old videos a stunningly new look.
Learn More


Video Converter

DVD Converter

Video Editor

Enhance Video Quality

Enhance Image Quality

Remove Objects