Best Tools to Remove Backgrounds from Images Automatically
Are you looking for one of the best tools to remove backgrounds from photos easily to make images transparent? Having images with transparent backgrounds is really essential for several purposes, whether it's personal or business needs. There are so many use cases in business and marketing when you need to do it quickly and professionally — from making a transparent logo to optimizing a product image for eCommerce to creating eye-catching ads with photos of products placed in unexpected backgrounds. This straightforward operation is usually so time-consuming.
Thanks to the AI technology, a time-consuming process in the past, image background removal has become a breeze today. There are numerous AI photo background removal tools on the market that give users the capability to remove the background of images in one click using artificial intelligence. Here we have collected the 7 best AI Image Background Remover for you to remove backgrounds from images automatically in one simple click, including AI Image Background Remover Software and Online AI Photo Background Remover. Just read on and select the one you prefer. Never remove an image background manually ever again!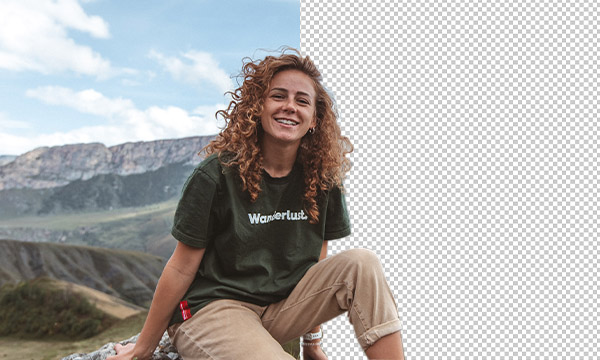 Part 1: Best AI Image Background Remover Software (Desktop)
A good photo background remover can always use the computing power to better and faster process photos. Compared to online AI photo background remover, AI Image Background Remover software will have more functions and work more stably. In addition, you can use them without an internet connection in case of an emergency.
According to the long time research and use, here we pick the 2 best AI Background Remover software for your further reference.
1. AVCLabs Photo Enhancer AI
AVCLabs Photo Enhancer AI tops most of its rivals. This background remover employs AI technology to automatically remove background from images in batch. This will help increase work efficiency for small businesses, designers, and individuals who want to remove background without any hassle. It is not only an image background remover but also a photo enhancement tool that allows users to fix old blurry pictures and upscale images to 200%, 300%, and 400%. JPG, JPEG, PNG, BMP, JFIF, WEBP formats are supported.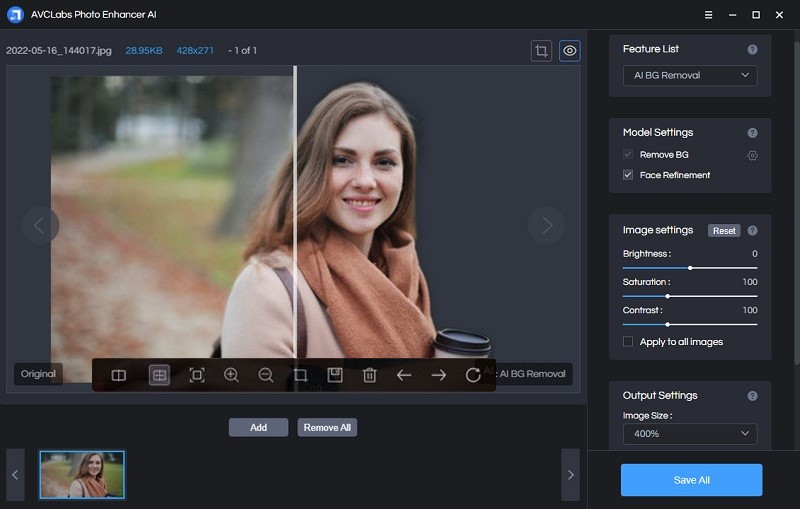 Photo Enhancer AI
Enlarge and upscale image without losing quality.
Sharpen image edges and deblur image online 100% automatically.
Upscale low-definition photos to HD.
Enhance color and contrast with only one click.
Remove backgrounds from a batch of images automatically in one click.
No editing skills are needed.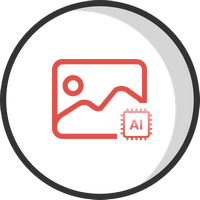 Pros:
• Support batch background removal, can process multiple pictures at one time
• Automatic background detection helps to remove the background easily
• Rich advanced photo enhancement features
• Support cropping pictures
• Intuitive UI
Cons:
• Show watermark in results if you are using the trial version
---
How to Remove Images Background Using AVCLabs Photo Enhancer AI
Step 1
Install and Run AVCLabs Photos Enhancer AI
Download AVCLabs Photo Enhancer AI from the link given above and then launch it after the installation is completed.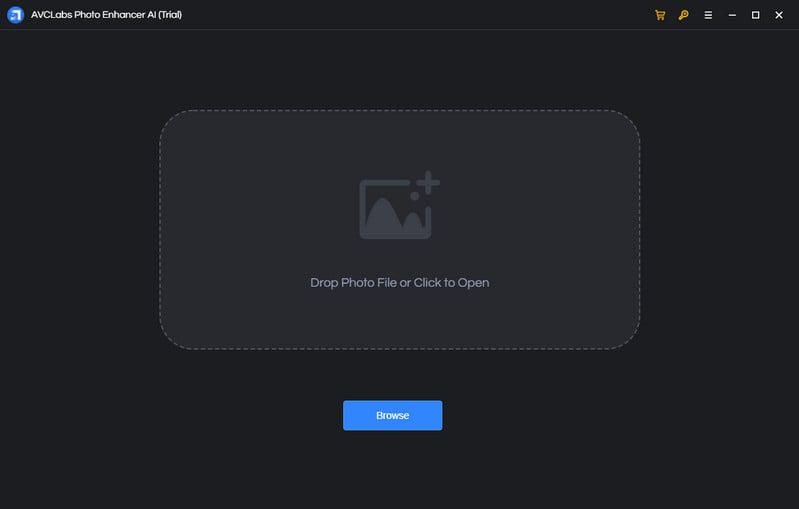 Step 2
Add One Image or Multiple Images to AVCLabs Photos Enhancer AI
Click on the Browse button in the middle of the software to add one image or a batch of images to the program. You can also directly drag and drop the photos you need from the computer to the program.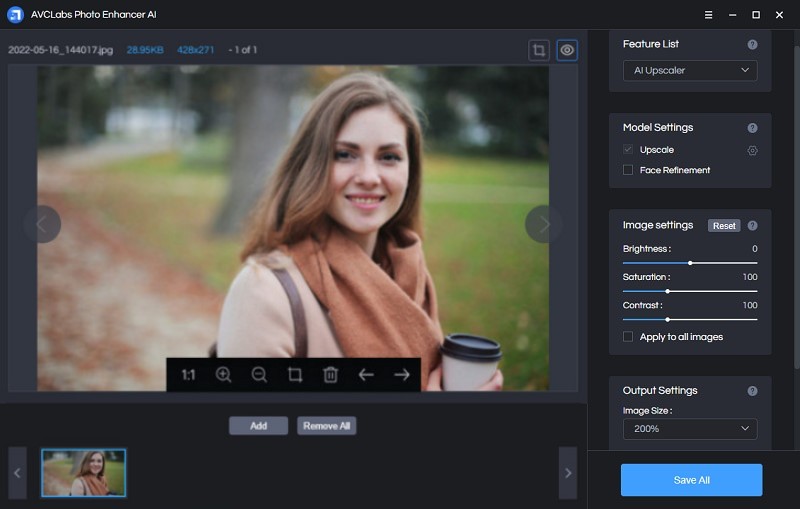 Step 3
Select the Remove BG Model
In the upper-right panel of the application, you can choose the AI Model you prefer. Here you are suggested to select the BG Removal model to get started.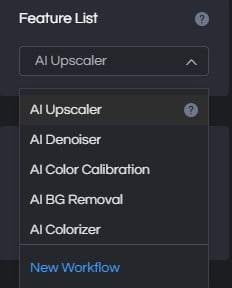 Step 4
Preview the Photos Effect before Processing the Photos
Click on the eye icon to preview the effect before processing the photos.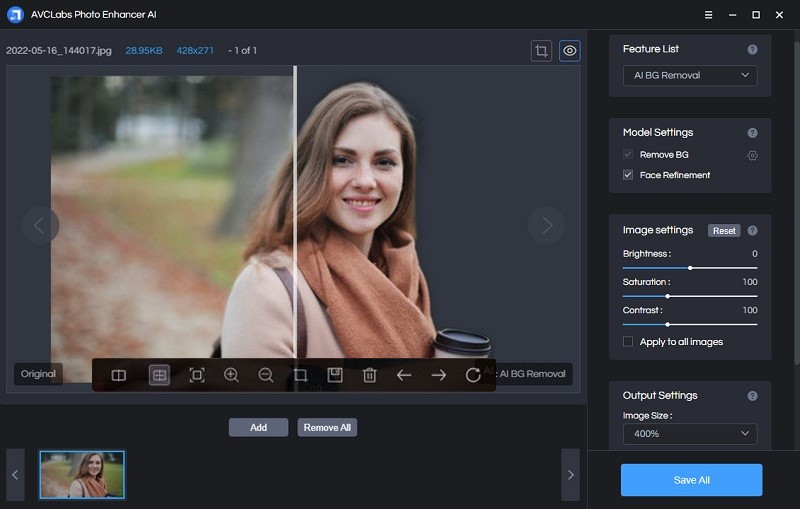 Step 5
Start Removing the Background from the Photo
Click on the Save All button to start to remove the background from the added pictures.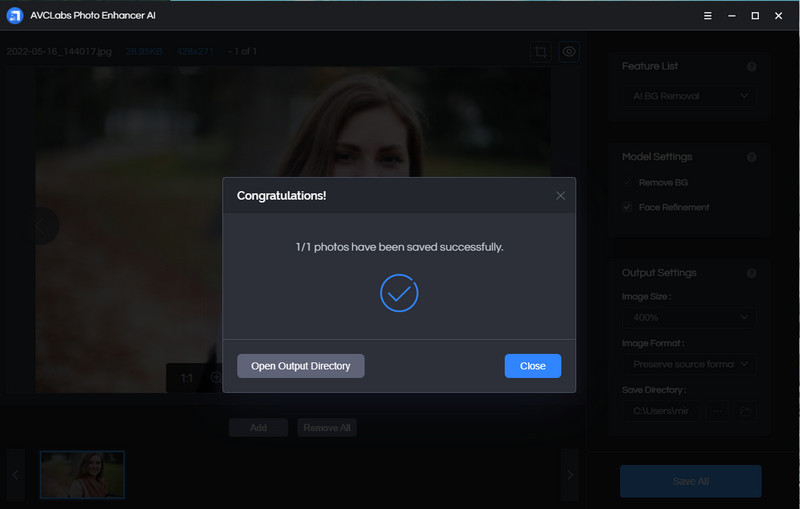 After the removal process is completed, you can click on the Open Output Directory button to find and check the images without background.
---
2. Topaz Mask AI
Another AI-powered background remover you can refer to is Topaz Mask AI. It uses machine learning and the tri-map technique. Besides, it has an intuitive interface, which is user-friendly for beginners. Things are much easier when you use Mask AI than photoshop. You will not see too many options or buttons.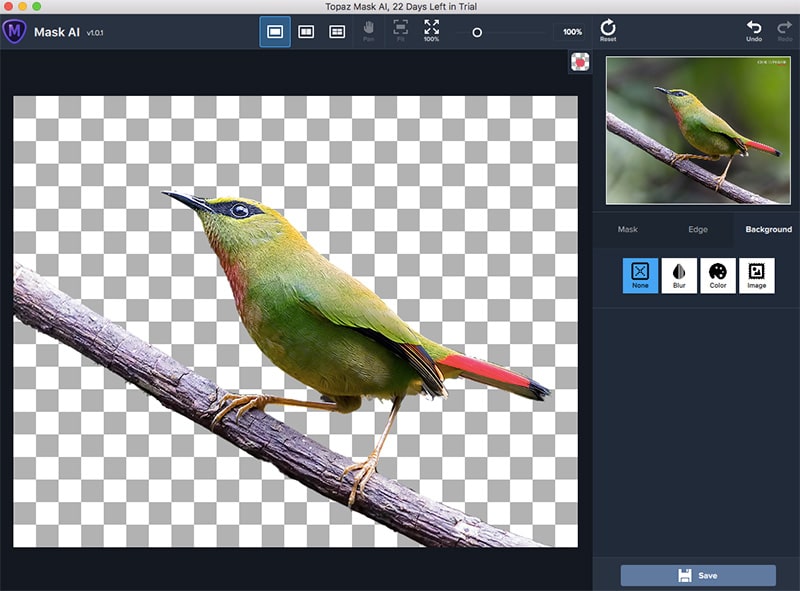 Pros:
• Easy to use
• Excel at handling edges
• Result is amazing
• User friendly
Cons:
• Quite expensive if you only use it for background removal
• High system requirement
---
How to Remove Background from Photos with Topaz Mask AI
Let's see how to remove background from an image with Topaz Mask AI.
Step 1
Upload an image to Topaz Mask AI.
Step 2
Use the Green button to keep the items in your image and Red button to cut.
Step 3
Click Apply to remove background.
Step 4
Download the result in one click.
---
Part 2: Best Online AI Image Background Remover
Compared with to-be-installed desktop software, online AI image background remover is more suitable for those users who prefer lightweight apps. However, due to the unstable network and lack of the ability to call full performance of the computer, you may need fine-tuning for better effect. Here we just listed the top 5 online AI photo background removers. Let's check it out.
1. AVCLabs Online AI Image Enhancement
AVCLabs Online AI Image Enhancement is a great online background removal tool that enables users to free remove backgrounds from images automatically in seconds.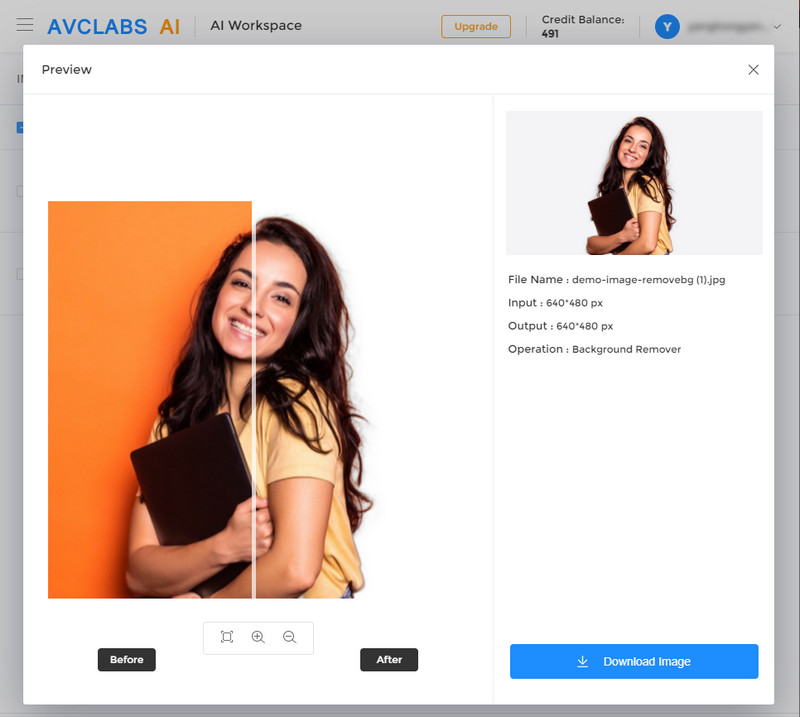 Pros:
• Free to use
• Remove the background from images automatically in seconds
• Access preview images for free
• Come with photo quality enhancement features
Cons:
• Stable and fast network condition is needed
• Can not crop photos
---
2. Remove.ai
Removal.ai is one of the best and most used innovative Artificial Intelligence technology used to remove background from images. It takes only a few seconds to process the image and return with a transparent version of it. With the free version, you'll get images that are 0.25 megapixels. To get the highest resolution results, you'd have to buy credits, which aren't pricey at all.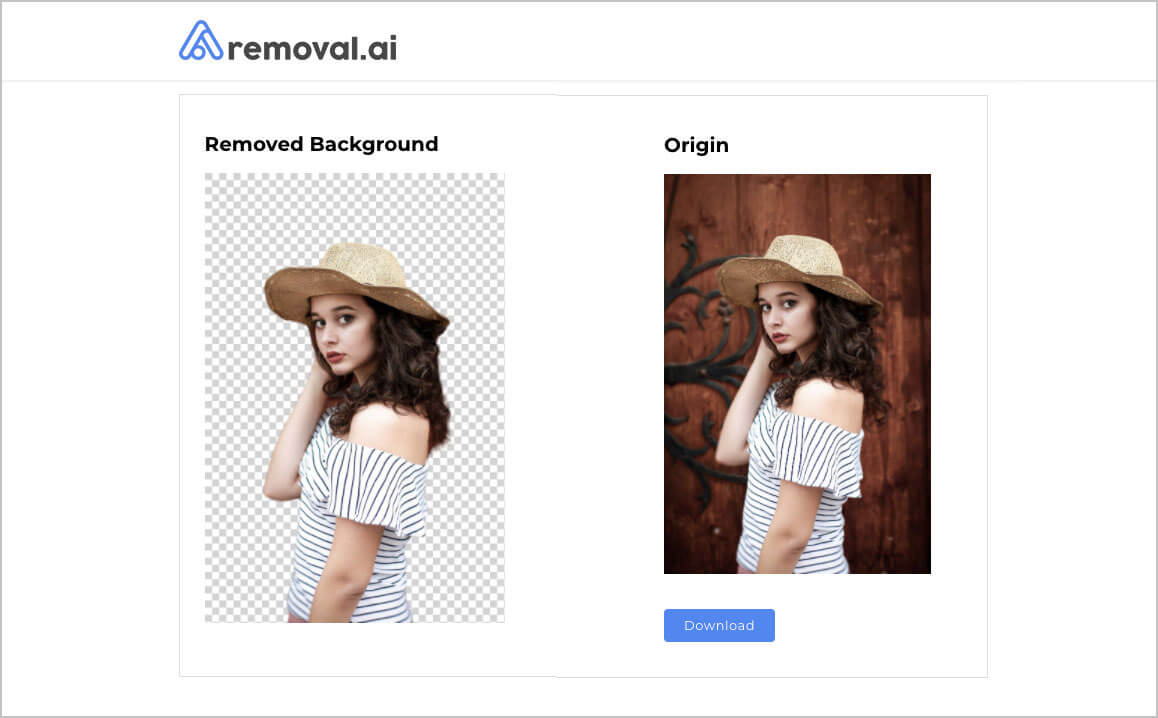 Pros:
• Easy to use
• Fast to use
• Remove background from images online free
Cons:
• To get higher resolution images, you need a paid subscription
• Can not bulk remove backgrounds
---
3. Clipping Magic
Clipping Magic is also a fully- automatic tool to remove photo backgrounds. By using the Scalpel option, you can easily cut out an object from a low-contrast part of a picture. Thanks to the Clipping Magic tool, you can separate hair from a basic background.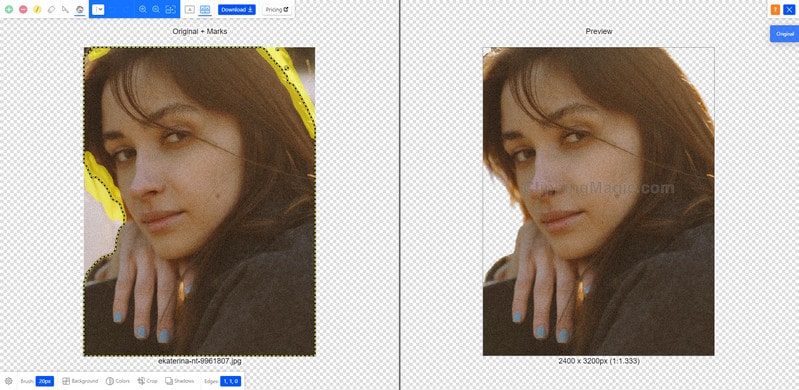 Pros:
• Easy and fast to use
• Handle edges perfectly
• Batch image processing
•Upgraded hair selection tool
Cons:
• Do not support a lot of formats
• Not free to use
---
4. FocoClipping
FocoClipping is a perfect online tool you need to erase unwanted objects and backgrounds from your images (portraits) and designs (graphics and products). This online background removal tool uses complete AI technology to remove backgrounds from images. It also supports the "Manual Remove" mode which you can switch to when you have complex photographs to edit.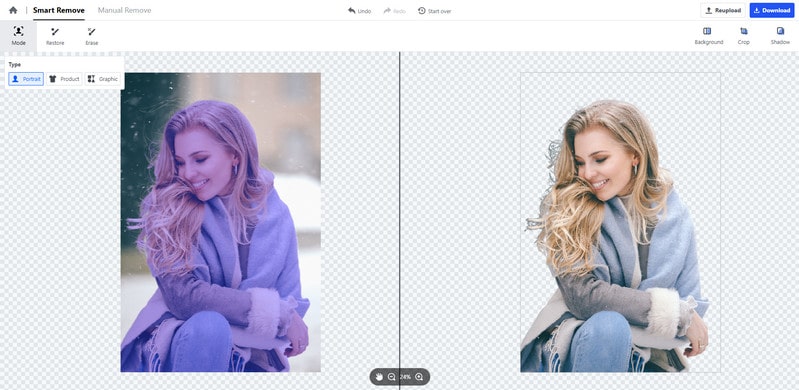 Pros:
• Two modes to erase unwanted backgrounds from images with no quality loss
• Designed with a smart AI feature, a powerful technique that it uses is executing all tasks including manual editing.
• Support multiple photo editor features to perfect photos with ease.
Cons:
• Can only process images with up to 12 MB file size or a maximum image resolution of 9 MPX
• FocoClipping's AI may not deliver the expected results. In this situation, you'll have to switch to the "Manual Mode" and manually mark the edges
---
5. Slazzer
Slazzer is another AI-based tool instantly removes any image background & creates a transparent background in just a few seconds. Its intuitive-AI converts any image you upload into a transparent background and gives you stunning design recommendations in seconds! 100% automatically! The advanced automatic tool lets you erase any type of background including product, people, and graphic elements.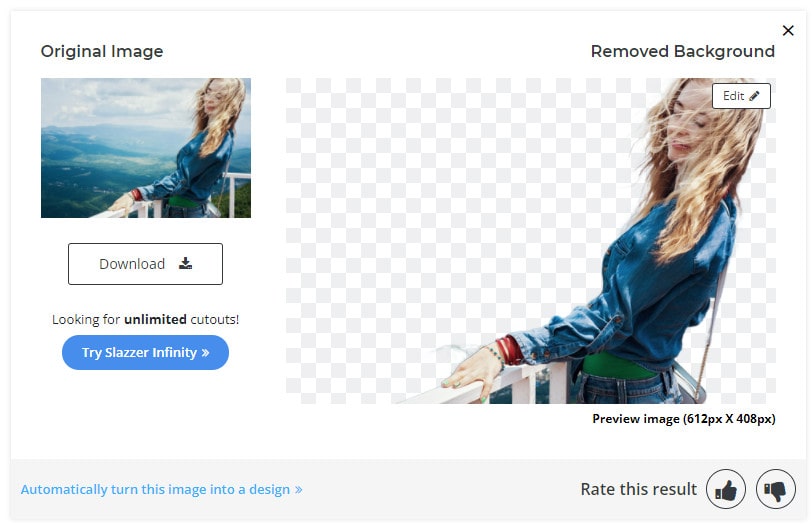 Pros:
• Easy to navigate and use for both professional and personal use
• Support adding stunning graphics, backgrounds & colours to your picture with the Slazzer's editor tool
• Offer their API as well, with which you can remove background with a single API call
Cons:
• Do not support processing images in bulk
• No option to undo wrong selection
---
Video Tutorial: Remove Background from Images Automatically in One Click
---
Conclusion:
Thanks to the latest AI technology, removing background from images is no longer a dreadful task. Online and desktop AI photo background removals are all introduced in this post. Among the top 7 AI image background remover tools listed above, select AVCLabs Online AI Image Enhancement and Remove.ai for efficiency and quality maintenance. Online background removal tool is time-saving, storage-saving, money-saving. These tools are free to use, no installation is required. However, if you wanna get better-quality pictures, process multiple photos at the same time or crop photos and use the process pictures for commercial use, desktop AI image background remover is highly recommended.
Try AVCLabs Photo Enhancer AI to breathe new life into your old photos!
---

Video Converter

DVD Converter

Video Editor

Enhance Video Quality

Enhance Image Quality

Remove Objects