Old Photo Restoration Online with AI
"Is there an online photo editing tool to restore old photos? Are there any old photo restoration online tools are recommended? How can I make my old photos look new again?" - Leon William
In this digital age, we have more photos than ever before. But as time goes on, those old images can start to look a little faded and worn. Fortunately, with the help of AI online photo editors, you can bring your old pictures back to life. An AI-powered old photo restoration online tool called AVCLabs Photo Enhancer AI Online is making it easier than ever to give your old photos a new lease on life. This article is all about how AI brings new life to old photos and how you can use AI to restore old photos online for free.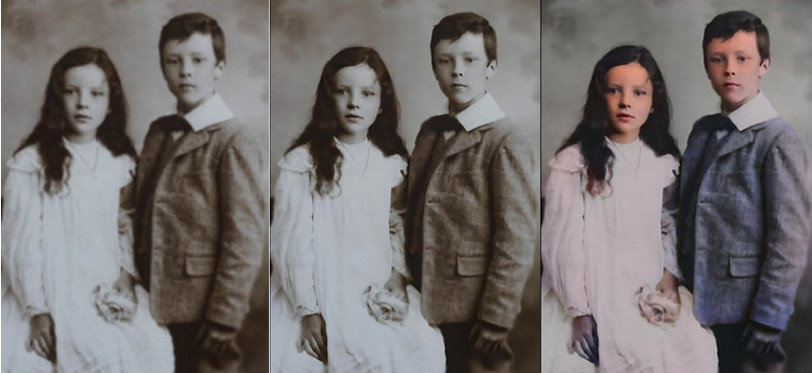 Part 1: Why Is Important for Old Photo Restoration
As we mentioned, most of us have a ton of old photos lying around. And, even if you're lucky enough to have a scanner, there's no guarantee you'll be able to make quality reproductions from them. Fortunately, breakthroughs in AI have made it easier than ever to restore old photos . This can be especially useful for older people who may have trouble making new prints from their old photos. Even if you still have your old photos, it can be a challenge to make high-quality reproductions with a home printer. Oftentimes, photo printers don't have the right paper or the right settings to make an accurate print. Plus, most of us don't have the time to learn how to make high-quality prints from old photos.
---
Part 2: How to Restore Old Photos Online for Free with AVCLabs Photos Enhancer AI Online
Thanks to AI, you can now use online photo editors to restore your old photos. As an AI-based online photo restorer, AVCLabs Photo Enhancer AI Online helps users restore old photos 100% automatically by using AI photo restoration technology. It also works pretty well in removing blur and noise from old photos online, as well as enhancing old photos by fixing color issues and improving quality with AI. With constant training the AI photo restoration algorithms, it allows users to restore old photos such as photos with blurry faces in one click automatically and intelligently. All you need to do is to upload an old digital photo to AVCLabs Photo Enhancer AI Online and then let AI breathe new life into old photos.
Photo Enhancer AI
Upscale images with super-resolution.
Sharpen images online 100% automatically.
Fix blurry photos by removing noise & grain.
Face Retouching tool to make portraits beautiful.
Naturally turn B&W photos into colors.
Calibrate and fix the color issue of photos.
Make the images' backgrounds transparent.
No editing skills are needed.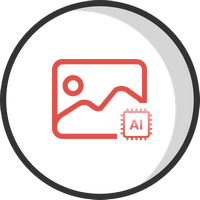 Let's follow the steps below to restore old photos online for free.
Step 1
Upload Old Photos to AVCLabs Photos Enhancer AI
Simply navigate to the free online photo restoration tool with any browser (such as Google Chrome, Firefox, Safari)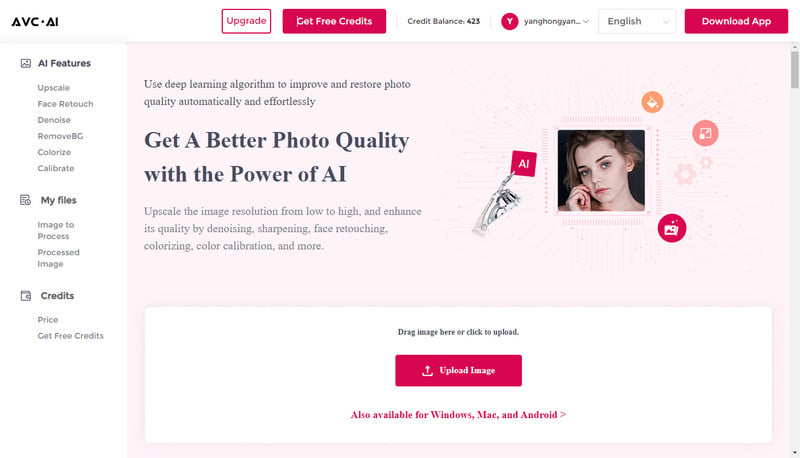 Click on the Upload Image button to add one or multiple old photo that you need to restore to this online tool. Also, you are able to directly drag and drop old photos to the online old photo restoration tool.
Note: The supported input formats are: *.png, *.jpg, *.jpeg, *.bmp, *.jfif and *.webp.
Step 2
Choose the AI Model and Parameter to Restore the Old Photo
In order to restore the old photo, just select the Upscale model to get started.
It offers 100% to 400% options for scale size, just choose the size according to your need. You are able to remove the blur while increasing the photo's resolution.
AVCLabs Photo Enhancer AI Online not only can you enhance the color and clarity in your old photos, but also the human faces in them automatically. It helps retouch and deblur face. If needed, you are able to turn on the Face Refinement option to retouch portrait photos.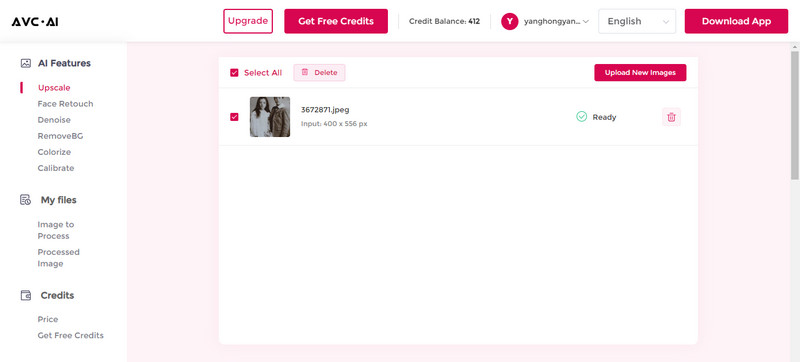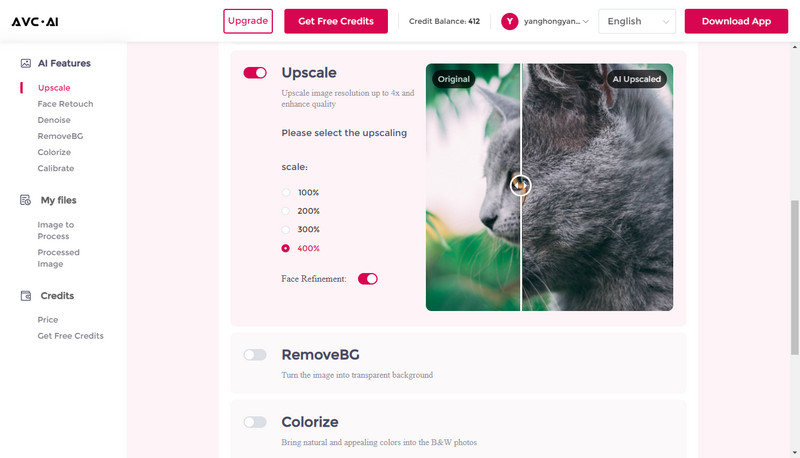 Once all the preparation work is ready, hit on the Start Processing button to start fixing the old photo automatically and wait about 15 to 30 seconds.
Step 3
Preview the Result And Download the Restored Photo to Your Computer
After the old photo restoring process is completed, just go to the Processed Image tab and click on the Eye icon to preview the original and restored photos. As you can see, the result is quite decent. You can click on the Download Image button to download the restored old photo to your computer.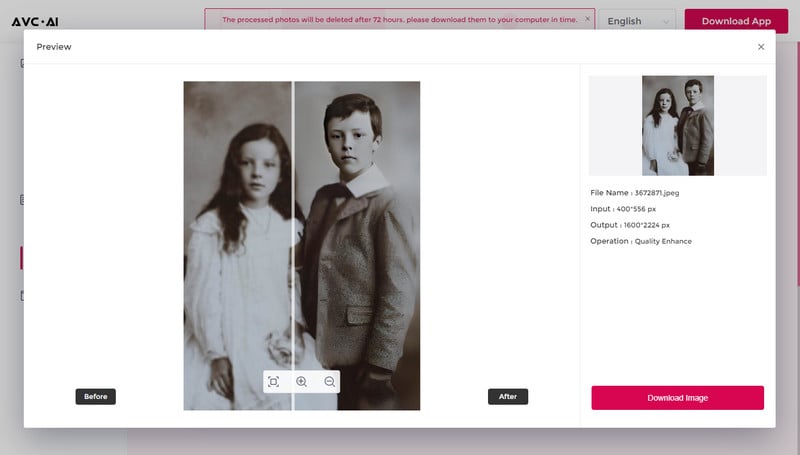 Note: The processed photos will be deleted after 72 hours, please download them to your computer in time.
---
Part 3: Performance of the AVCLabs AI Old Photo Restoration
AI photo restoration tool - AVCLabs Photo Enhancer AI Online helps repair old photos, enhance details, fix colors issues and reduce blur, by making old photos crisper. In addition to removing blur and noise from old photos, AI photo restoration could also involve color correction and face enhancement.
1. Enhance Old Photos
Enhance old photos by sharpening details and improving quality with AI.
2. Face Enhancement
Detect and enhance human faces in old photos with AI Face Enhancement, making them more appealing and focused.
3. Color correction
Fix colors issues of old photos and bring clarity and natural color to your old photos while repairing them.
4. Colorize Old Photos
With the built-in Al Photo Colorizer feature of AVCLabs Photo Enhancer AI Online, you can colorize old pictures of families, historical figures, ancestors, movies, etc. Reimagine the past by coloring pictures of ancestors and historical figures. Restore old images with stunning colors.
---
Conclusion:
While it's always wise to be careful with your expectations, using AI to restore old photos can be an amazing experience. Not only can it help you save money on printing new photos, but it can also be a great way to share memories with family members who may not be able to see your old photos. And, thanks to breakthroughs in AI, this process is easier than ever before. With the help of AI, we are not only able to restore photos but also able to perform this process in an automated way.
---
Highly Recommended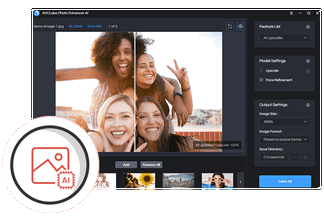 AVCLabs Photo Enhancer AI
If you wanna get better-quality pictures, process multiple photos more stably at the same time or crop photos, the desktop AI Photo Enhancement tool - AVCLabs Photo Enhancer AI is highly recommended. It comes with advanced features, such as adjusting the brightness, contrast, and saturation of photos.
Learn More

---

Video Converter

DVD Converter

Video Editor

Enhance Video Quality

Enhance Image Quality

Remove Objects