How to Use MyHeritage Photo Enhancer to Enhance Old Photos
"What is MyHeritage Photo Enhancer? Is MyHeritage Photo Enhancer free? How to enhance old photos for free using MyHeritage Photo Enhancer?" - Rose
Have you ever come across a photo of your great grandparents or other relatives that was just so perfect you wished it could be your profile picture on social media? We all have at some point. Old photographs are very precious to us, but they do not always look as good as we would like them to. The lighting is not always great, the exposure isn't perfect and parts of the photo might be too dark to see properly. That's where photo enhancer comes in handy! MyHeritage Photo Enhancer can help you make old photos look better than ever. You probably have old family photos stored in a box somewhere at home but how about bringing those memories back to life? With the help of MyHeritage Photo Enhancer, you can take dull and faded black-and-white images from the early 1900s and give them new life with a few taps. How awesome is that? Let's get started!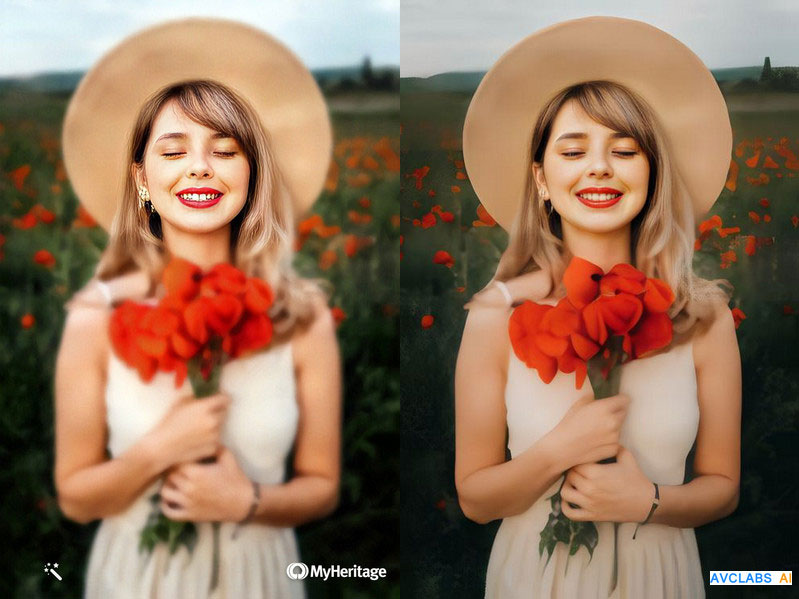 Part 1: Is the MyHeritage Photo Enhancer Free
MyHeritage is a free service that allows you to create a family tree, find your ancestors, and make family history discoveries. You can sign up with My Heritage photo enhancer free and enhance up to 10 images without making a payment. There is a limit to the number of photos you can enhance through a free MyHeritage account. That limit has changed over time. In fact, it has reduced from about ten photos down to a lower number. After that, you ill need to purchase a subscription to continue with enhancing the photos. People who buy the subscription will be able to enhance unlimited number of photos with the app. You have to pay $199 for the very first year. From there onwards, you will have to pay $299 per year for this app.
---
Part 2: How to Enhance And Restore Old Photos for Free Using MyHeritage Photo Enhancer
Introduction of MyHeritage Photo Enhancer
The MyHeritage Photo Enhancer is powered by deep learning technology that can enhance old photo by clearing out any sort of noise or blurriness that often accompanies old images. It is certainly one of the best old photo enhancer tool that you can find on the internet and it has been around for many years now. It makes use of AI-based image processing technology to produce stunning results.
Steps to Enhance Old Photos Using MyHeritage Photo Enhancer
Let's check out how to restore old photos automatically with MyHeritage Photo Enhancer.
Step 1
Go to the website of Myheritage Photo Enhancer and upload a photo to MyHeritage
Firstly go to the website Myheritage Photo Enhancer and click the upload photo button to choose a photo from your computer. The uploading process will take a few seconds, depending on the size and the number of faces in it.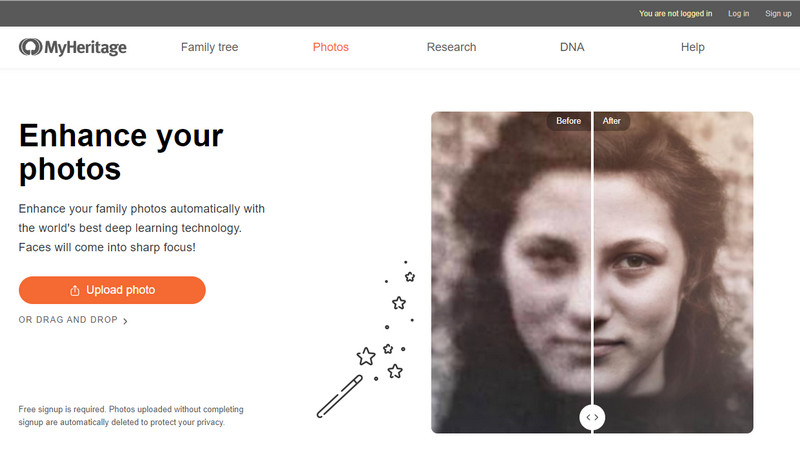 Step 2
Create an account for MyHeritage
After that, you will be required to create an account with your Email, Facebook, or Google account. You can use your Facebook or Google account for a faster process.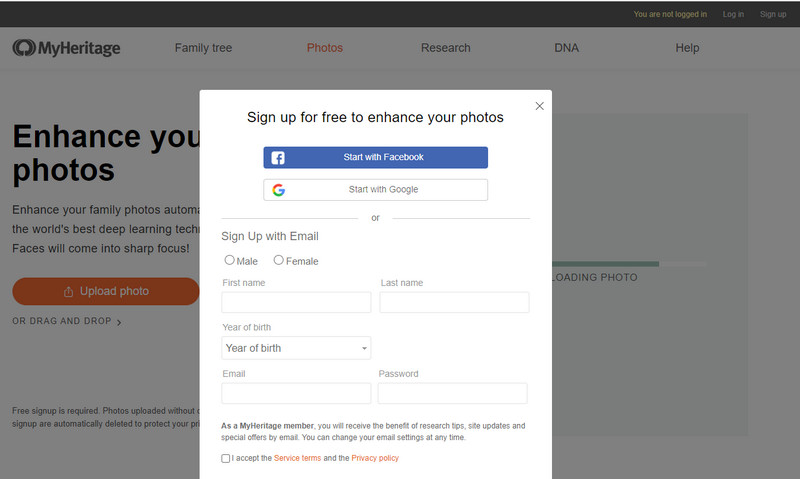 Step 3
Preview and download the enhanced photo
Now, Myheritage Photo Enhancer will then process your image and display an output shortly. You can move the slider to see the effects. Just click Download photo to save the enhanced photo if you are happy with the result.
Note: You can either click on Upload Another Photo to continue enhancing old photos with Myheritage Photo Enhancer. Additionally, you can use any of the social media plugins below to instantly share your photo.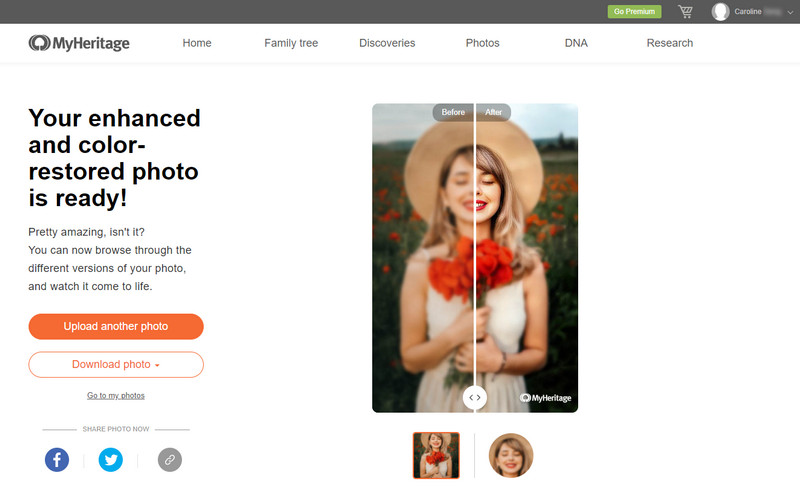 The Old Photo Enhanced by Myheritage Photo Enhancer
Let's see the comparison between the original photo (left) and enhanced photo (right). You'll find that the original low-quality photo with a blurry face has been brought into clear focus. But the details in the picture are not very clear except for the face.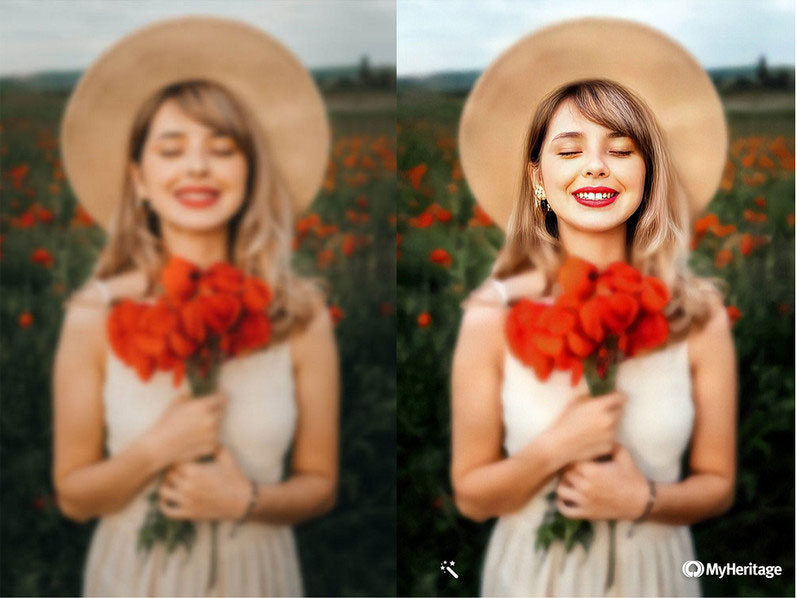 ---
Pros:
• Powered by deep learning technology and algorithms, it effectively improve the quality of images
• A staggeringly impressive and singular method of improving low-quality images
• No manual work needed to enhance photos
Cons:
• Not very good at removing blur from the overall photo except for the face
• There is a watermark showing on the bottom right of your results under the free version
• No dedicated desktop version
• Interface might be challenging
---
Part 3: Best MyHeritage Photo Enhancer Alternative
As you can see, you can end up with a clear and unblemished face using MyHeritage Photo Enhancer, while the clothing and background still remain slightly blurred and creased. That's why you need look for a My Heritage Photo Enhancer alternative. The best MyHeritage Photo Enhancer alternative we recommend to you is AVCLabs Photo Enhancer AI. Empowered by artificial intelligence, AVCLabs Photo Enhancer AI works perfectly in fixing blurry photos, enhancing and restoring old photos, upscaling low-res photos to high-res, etc.
It provides its users with 5 powerful AI models including AI Upscaler, AI Denoiser, AI Color Calibration, AI BG Removal, and AI Colorizer. Users can choose the appropriate model according the different needs. What's more, every AI model is built-in a face refinement function, which helps users to enhance facial details in a blurry photo and sharpen blurry face from a photo, as well as beautifying portraits photos by retouching skin, removing freckles, enhancing eyes, adjusting lighting and more, with only a few clicks.
Photo Enhancer AI
Enlarge and upscale image without losing quality.
Sharpen image edges and deblur image online 100% automatically.
Upscale low-definition photos to HD.
Enhance color and contrast with only one click.
Remove backgrounds from a batch of images automatically in one click.
No editing skills are needed.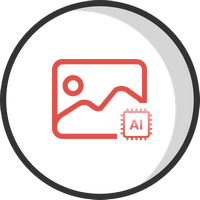 How to Use AVCLabs Photo Enhancer AI to Enhance Old Photos on Windows PC or Mac
Step 1
Download and run AVCLabs Photo Enhancer AI
Warm reminder: Before enhancing old photos, we recommend you click here to get more detailed information about the system requirements and check whether your CPU or GPU is capable of improving the old photo quality with AI.
Download AVCLabs Photo Enhancer from the link given above and run this AI photo enhancer after you have successfully installed it on your Windows PC or Mac, you will see that it has a simple and easy-navigation interface.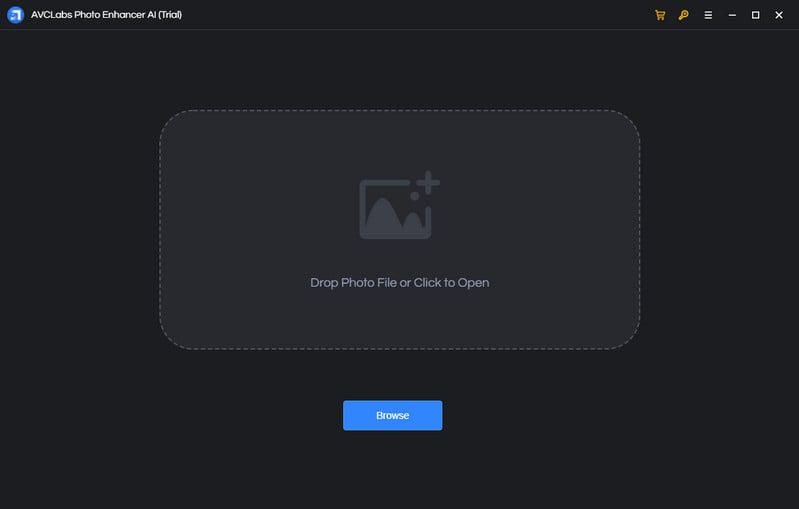 Step 2
Add photos you want to enhance to AVCLabs Photo Enhancer AI
Simply add bad-quality low-res or blurry photos to AVCLabs Photo Enhancer AI in batch by hitting on the Browse button on the main interface of the program. Then, all of these photos will be displayed in the program and you can preview them individually by switching the tab.
Note: AVCLabs Photo Enhancer AI supports the most common input photo formats like JPG, JPEG, PNG, BMP, JFIF, WEBP, etc.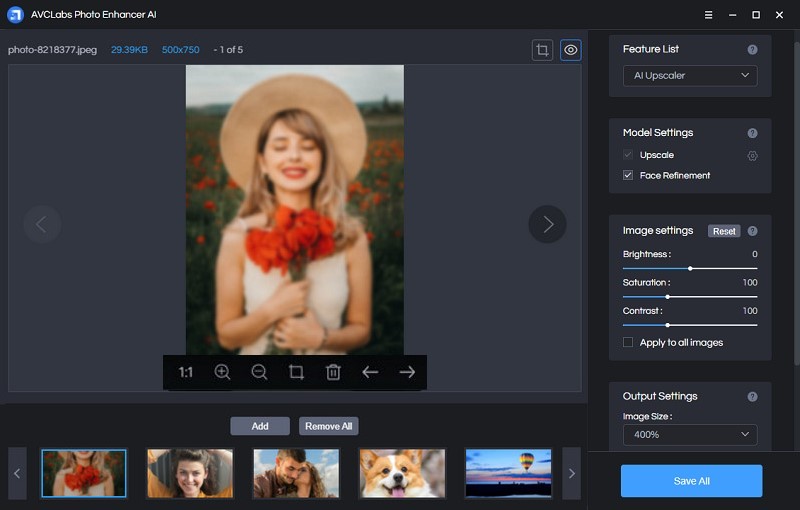 Step 3
Choose the appropriate AI model and set the output format
The AI Upscaler model allows users to enhance and enlarge low-res photos without any quality loss; the AI Denoiser model enables users to fix grainy photos; the AI Color Calibration model is aimed to correct and improve the colors in your photos; the AI BG Removal model helps users to remove background from photos; the AI Colorizer model lets users convert black and white photos to colorful ones automatically.
To improve ad enhance bad-quality photos, you are suggested to choose the most commonly used
AI Upscaler
model here.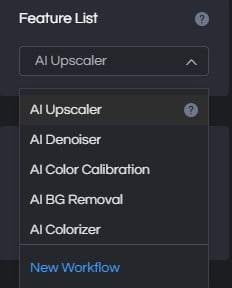 Or you can create a workflow to customize the AI model you prefer.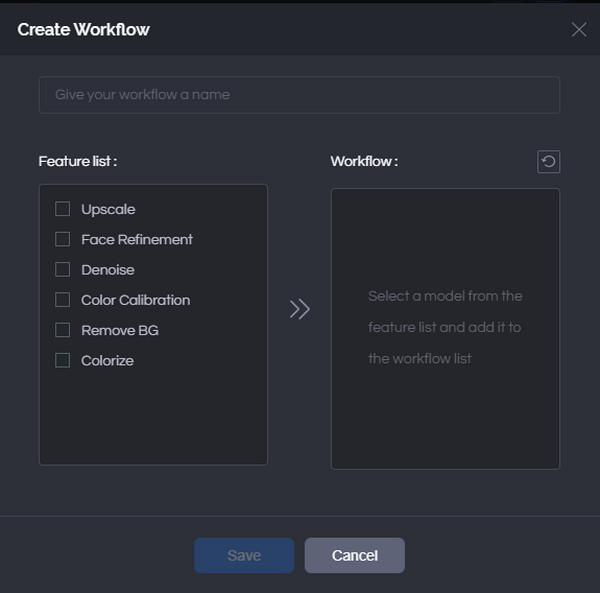 You are able to click on Image Size to select to upscale image size to 200%, 300%, and 400%.
If the photos you are willing to enhance are the portrait photos, you can also turn on the Face Refinement option to enhance, retouch and restore blurry faces in low-res portrait photos.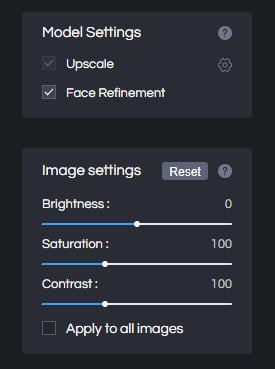 Before starting enhancing and fix old photos, you are able to set the output photo format according your need. It supports exporting photos to JPG, JPEG, PNG, BMP format. Just click on the Image Format option from the drop-down list to select the output format you desire.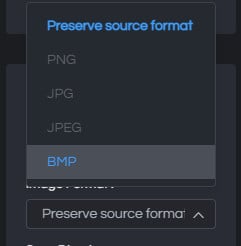 Step 4
Crop and Preview the photo enhancing effect before repairing the old photo quality
You'll see two little icons in the top right corner of the main interface. Simply click on the left little square icon to crop the photo.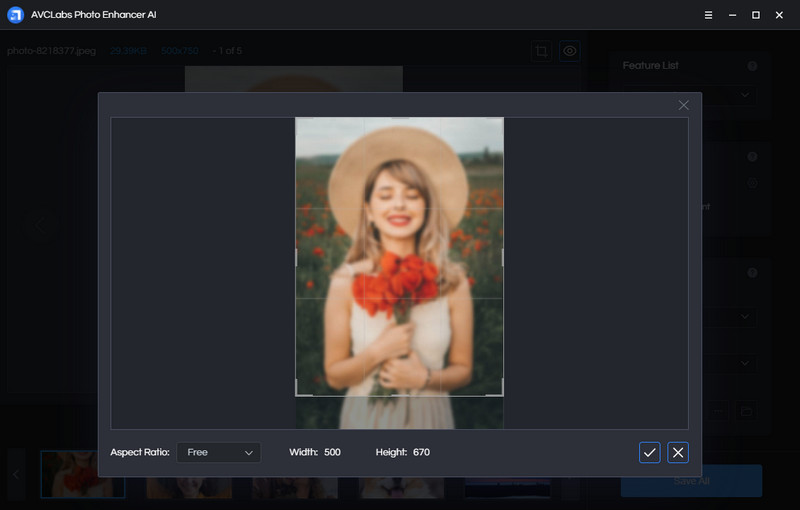 By clicking on the preview icon under the photo, you can preview the enhancing effect.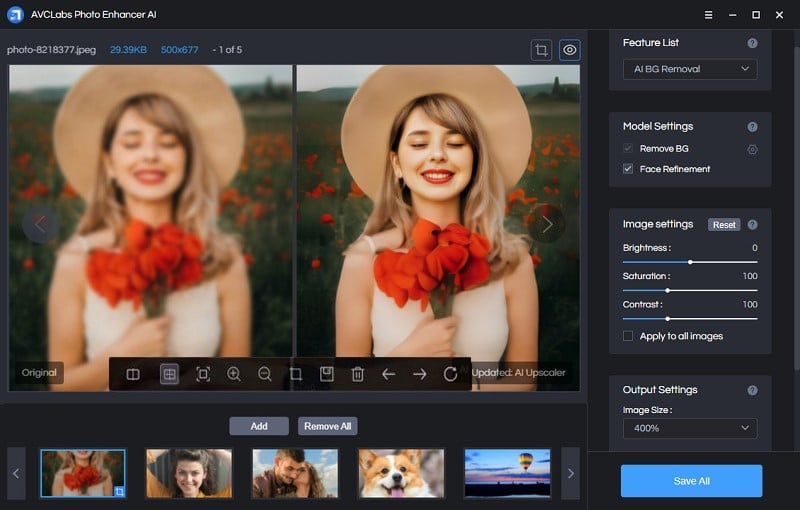 Step 5
Save enhanced photos to the computer
If you are satisfied with the enhanced output, you can start to enhance the quality of the photo and save these enhanced photos to your computer by clicking on the Save All button. What you need to do is wait for the AVCLabs Photo Enhancer AI to improve the photo quality and color automatically.
Once the photo enhancement process is complete, you can click on the Open Output Directory button to find and check the enhanced crystal and clear photos.
The Old Photo Enhanced by AVCLabs Photo Enhancer
Let's take a look at the result of old photo restored by AVCLabs Photo Enhancer AI. The enhanced old photo (right) below is an improved version of the initial photo (left). It is obvious that the AVCLabs Photo Enhancer would further sharpen the face to make it clearer while removing blur from the clothing and background.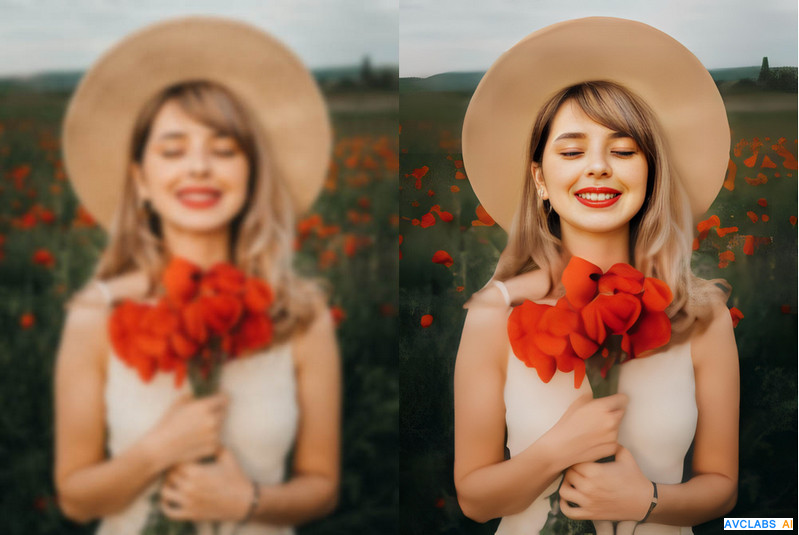 ---
Pros:
• Multiple AI models to satisfy users' different demands
• A intelligent software that helps users enhance photos automatically, no advanced photo editing skills are required
• Intuitive interface allows users easily to get started, user-friendly for non-professionals
• Support enhancing photos in batch
• Multiple input and output image formats are supported
• Multiple subscription plans, with the lifetime plan being a good deal
• Compatible with Windows PC and Mac OS.
Cons:
• The enhanced output photos will be added with AVCLabs watermark under the free version
• Relatively high GPU and CPU requirements for Windows PC
• Only support enhancing photos on Mac computer with M1 chip
---
Conclusion
AI Photo enhancer is a powerful tool that can help you fix, enhance old blurry, bad quality photos and turn them into beautiful pieces of artwork. One of the best tools available to do it would be MyHeritage Photo Enhancer. However, it might not be user-friendly for some people. That's where you can think about using an alternative such as AVCLabs Photo Enhancer AI. If you want to take your old family photos and bring to life old family photos with blurred faces or low quality photos, you should download AVCLabs Photo Enhancer right away!
---

Video Converter

DVD Converter

Video Editor

Enhance Video Quality

Enhance Image Quality

Remove Objects