How to Fix Blurry Instagram Photos?
"Why are my Instagram pictures blurry? How to upload high-quality photos to Instagram?" - Nicolas Costa
Instagram is a great platform for branding, advertising, or hobbies like photography, posting high-quality images is the key. It's extremely frustrating when an Instagram picture looks blurry. In this article, we will explain why your Instagram pictures are blurry, how to fix blurry Instagram photos as well as how to upload high-quality photos to Instagram.
Just read on and get the amazing and implementable solutions.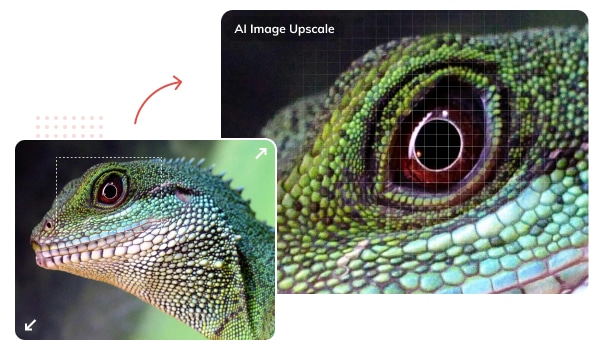 Part 1: Why My Photos Look Blurry on Instagram
Instagram Stories photos can become bad quality because of many issues. Let's discuss the common reasons why photos on Instagram look blurry.
1. File Size Is Over 1MB
When uploading a photo on Instagram, the file size matters a lot. It does not affect the uploading process, but it does affect the photo quality, and the image looks blurry. If the file size is over 1MB, which means that it will be compressed by Instagram.
All photos are constrained within 1080 pixels (px) so this results in compression especially when your original photo size is 4000 x 3000px. Instagram makes your photos blurry for the best user experience in photo loading, optimizing network connectivity, and taking up minimal space in the phone's memory and drive.
---
2. Uploading Photos with the Wrong Aspect Ratio
Another reason why the quality of your picture change on Instagram is that you are uploading your images with the wrong aspect ratio and resolution. If you are uploading an image with an incorrect aspect ratio, then Instagram will compress and crop the photo. This way, the photo will be of the standard size that is acceptable to upload, but it damages the picture quality, and it looks blurry. The common formats are 1:1 (square photos), 1.91:1 (landscape photos) and 4:5 (portraits).
---
3. Using An Image Format Other Than JPEG(.jpg)
The default file format accepted by Instagram is JPEG (.jpg) extension. This way, if you upload an image in a format other than JPEG (such as .png or bipmat), Instagram will need to convert it in the proper format. Everything that Instagram does for your image results in algorithm compression, which can destroy your image quality.
---
4. Image Is Too Small Or Is of A Low-quality Image Resolution
The picture you uploaded is blurry and has a low resolution.
---
5. Device in Use
Instagram is a mobile-based application, and it prefers you to upload your pictures on a smartphone to have the best results. If you use it on other devices such as desktops, laptops, etc, which will definitely harm and reduce the photo quality because Instagram is predominantly mobile-based.
---
Part 2: Basic Troubleshooting to Fix Blurry Photos on Instagram
In this part, we'll provide some common methods to help you fix poor-quality photos on Instagram and stop Instagram from ruining your photo quality.
1. Compress Photos and Reduce the Image Size
You can improve the quality of your Instagram images by taking the compression into your own hands.
---
2. Upload A Photo with An Aspect Ratio between 1.91:1 and 4:5.
Any photo wider than 1080 pixels will be compressed, and you will lose detail. Photos smaller than 320 pixels in wide will be enlarged, which will also produce blurriness. Any photo that doesn't meet the aspect ratio requirements will be cropped to acceptable dimensions.
---
3. Using the Image of JPEG(.jpg) Format
You can modify the format of the image to fit the Instagram story format.
---
4. Crop, Enlarge Images or Fix Blurry Instagram Photos via Photo Enhancer
Lucky for you, you can use an all-in-one AI-based photo enhancer tool such as AVCLabs Photo Enhancer AI to crop images to the right ratio, upscale small images to 4X, increase low-resolution images to higher quality. Le's move to the next part to get the detailed guide.
---
Part 3: Best Way to Fix Blurry Instagram Photos
AVCLabs Photo Enhancer AI is a perfect tool for you to fix your blurry photos on Instagram. Based on AI technology, it allows users to enhance and fix blurry photos automatically and intelligently in only a few seconds while keeping quality. It supports suppressing noise and removing blur when upscaling images, making old blurry pictures clear. It helps you enlarge images to 200%, 300%, and 400% of the original size in a natural way without losing quality. No PhotoShop skills are required to fix the blurry pictures and convert the low-definition photo to high-definition. Cropping photos is also supported.
Photo Enhancer AI
Enlarge and upscale image without losing quality.
Sharpen image edges and deblur image online 100% automatically.
Upscale low-definition photos to HD.
Enhance color and contrast with only one click.
Remove backgrounds from a batch of images automatically in one click.
No editing skills are needed.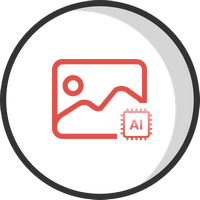 How to Fix Blurry Instagram Photos Using AVCLabs Photo Enhancer AI
Let's follow the simple steps below to crop, enlarge images or fix blurry, low-resolution Instagram photos using AVCLabs Photo Enhancer AI. Instead of losing precious pixels, here's how you can upload amazing quality photos to Instagram and avoid losing hours of hard work.
Step 1
Install and Run AVCLabs Photos Enhancer AI
Download AVCLabs Photo Enhancer AI from the link given above and then launch it after the installation is completed.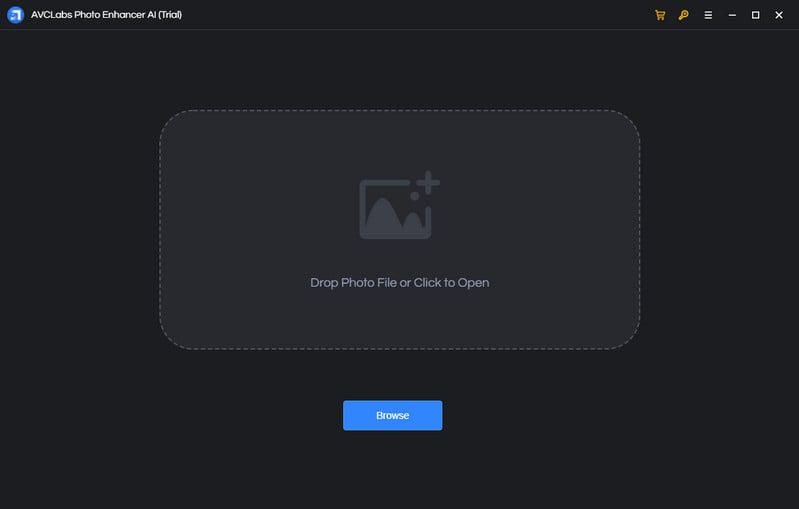 Step 2
Add One Image or Multiple Images to AVCLabs Photos Enhancer AI
Click on the Browse button in the middle of the software to add one image or a batch of images to the program. You can also directly drag and drop the photos you need from the computer to the program.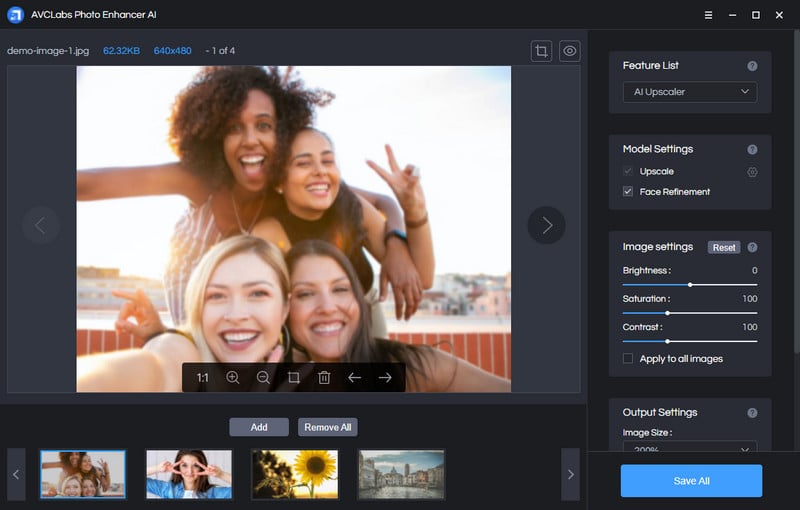 Step 3
Select the Processing AI Models and Photo Scale
In the upper-right panel of the application, you can choose the AI Model you prefer. To fix bad quality photos, we recommend you select the AI Upscaler or AI Denoiser model. The AI Upscaler model helps you easily convert any low-quality and blurry image into amazingly high-resolution and the AI Denoiser mode will reduce image noise and recover real details to images and make images clear and crisp by reducing all sorts of noise.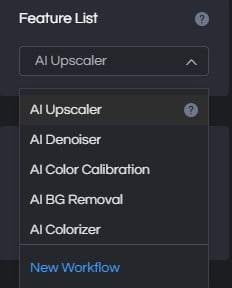 You are able to click on Image Size to select to upscale photo size to 100%, 200%, 300%, and 400%.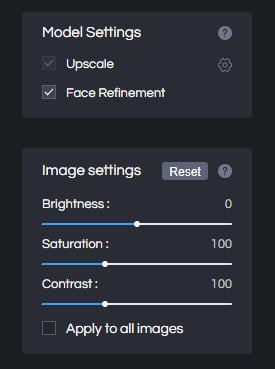 Step 4
Crop and Preview the Photo before Processing the Photos
In the top right corner of the main interface, you will see two little icons. You can click on the left little square icon to crop a photo.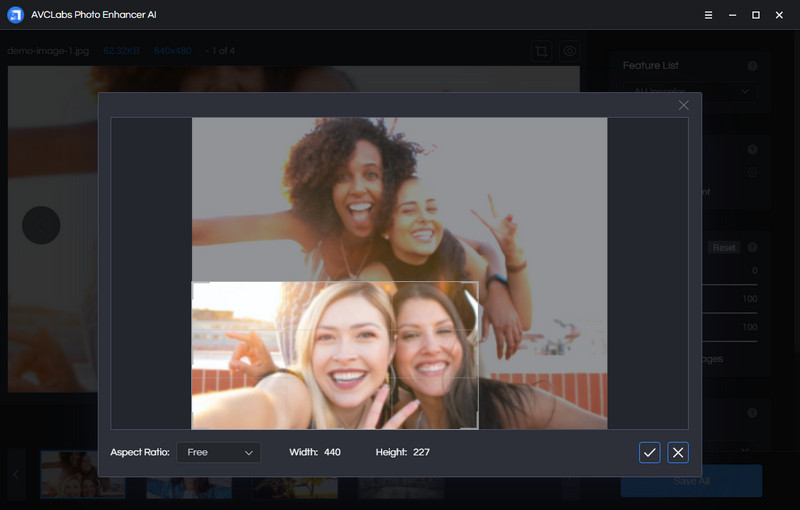 You can also click on the right little eye icon to preview the effect before processing the photos.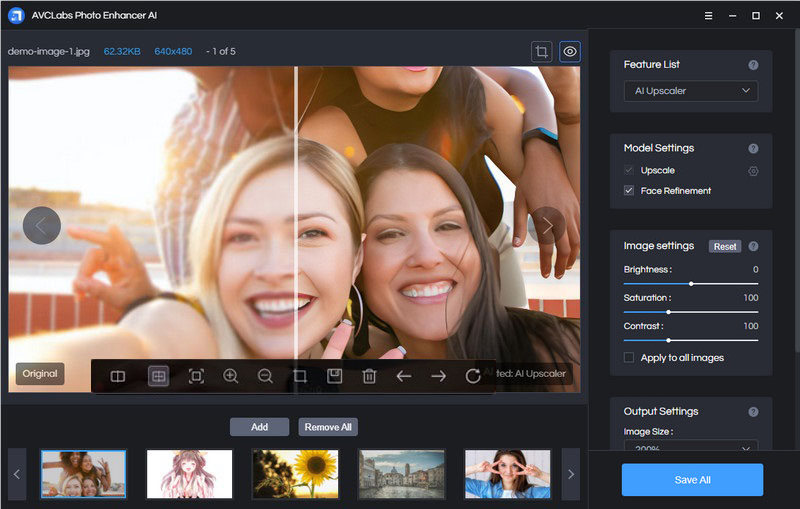 Step 5
Start Fixing Low-quality Instagram Photos
Click on the Save All button to start to fix the blurry Instagram photos. You just need to wait for the AVCLabs Photo Enhancer AI to improve the photo quality for Instagram automatically.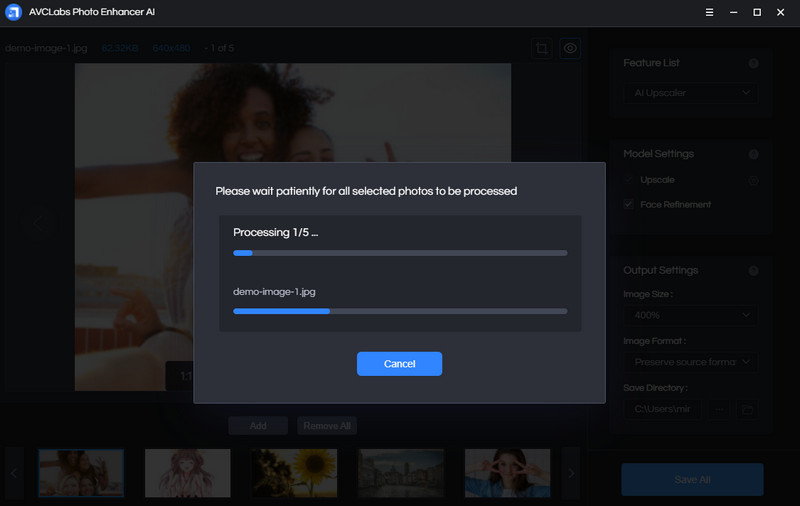 Once the photo enhancement process is completed, you can click on the Open Output Directory button to find and check the images, then upload the high-quality photos to Instagram.
---
Part 4: Tips for Uploading High-quality Photos to Instagram
Ready to post your images? To avoid any problem when uploading a photo on Instagram, it's essential to check all the facts and factors that are required for upload. If you keep your photos within Instagram's constraints, then you can control the quality and not worry about them being force resized by the app. These are the guidelines released by Instagram for uploading photos. le's check it out:
• The photo should have at least the size of 1080px, on the shortest side.
• You can select the combination of photo size as 1:1 Square.
• Another aspect ratio commonly used is 4:5 The portrait. It's ideal image size is 1080px by 1350px.
• People also prefer using the Landscape style as 1.91:1. The ideal image size for such a style is 1080px by 608px.
• The best file format that Instagram supports is JPEG (.jpg) format as it has a high resolution with smaller file size.
• After JPEG, the second-best file format for Instagram is PNG.
---
Conclusion:
Those are all tricks on how to fix blurry Instagram photos. Hopefully, if you have had a similar problem then these solutions also work for you. Instagram can often reduce the quality of your images during uploads for a wide number of reasons, but if you're looking to maintain quality then you should look to upload a high-quality, compressed JPEG file (max resolution: 1080 x 1350px) directly from your mobile or tablet to avoid any further compression by Instagram. Just make sure to stick to Instagram's strict pixels requirements and you shouldn't see any unexpected changes in your photos. AVCLabs Photo Enhancer AI helps you get better-quality pictures and enables you to upload high-quality images to Instagram easily.
Try AVCLabs Photo Enhancer AI to breathe new life into your old photos!
---

Video Converter

DVD Converter

Video Editor

Enhance Video Quality

Enhance Image Quality

Remove Objects