How to Use Remini Photo Enhancer to Improve Your Photos
"Is Remini Photo Enhancer good? How to enhance old photos for free using Remini Photo Enhancer?" - James Miller
In the digital age, almost everyone is taking photos and sharing them. However, not all of those photos are the best they can be. Many pictures have less-than-ideal lighting or are slightly out of focus. Fortunately, there are photo editing apps that can make your pictures look better than they did originally. One of these apps is the Remini Photo Enhancer app. This article will cover what this photo editing app can do for you and how to use Remini Photo Enhancer to enhance old photos and fix blurry pictures effectively.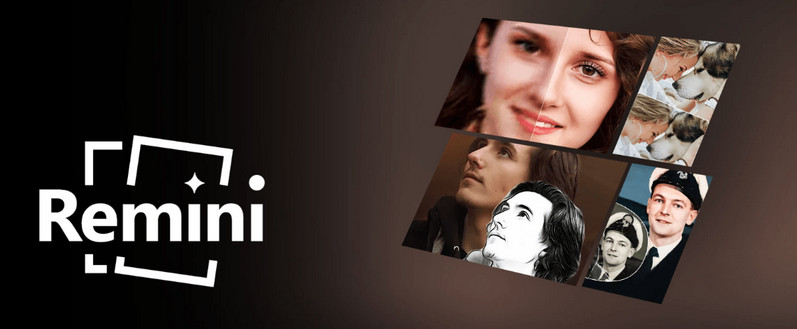 Part 1: Is Remini Photo Enhancer Free to Use
You get five free credits each month to enhance five old photos. Alternatively, you can pay $5 per month to access all the features, edit more images and get rid of the ads which pop up when you're using Remini.
---
Part 2: How to Enhance Old Photos for Free Using Remini
Introduction of Remini Photo Enhancer
Remini Photo Enhancer is a software that can be used to improve the quality of photos taken on your iPhone, iPad or Android devices. It offers a variety of customization options including image brightness, contrast, saturation and sharpness. It supports portrait, landscape and square photos. It also offers a selection of filters including vintage, glamour and sharpening. The photo enhancer uses deep learning and artificial intelligence to bring out details in your photos that you may have missed. With Remini Photo Enhancer, you can apply different effects to your photos and make them look more interesting and beautiful.
Steps to Enhance Photos Using Remini Photo Enhancer
Here are the simple steps to improve the quality of photos using Remini Photo Enhancer.
Step 1
Download and launch Remini Photo Enhancer
At first, download the Remini Photo Enhancer app to your mobile device. The application is available for both Android as well as iOS devices. After the downloading process is done, simply launch it and you will be able to see a button called Enhance on the main interface. You should click on that button and proceed with enhancing the photo.
Step 2
Add photos to Remini Photo Enhancer to start enhancing
Next, you will be asked to pick the photo that you want to enhance from the photo gallery. After adding the photos to the app, you can press the Red Check Mark button, which you can see on the bottom of your interface. This will activate the AI algorithm to enhance your photo.
Note: The final result will display after the ad (when using the free version).
Step 3
Preview and save enhanced photos
Now you can compare your original photo and enhanced version of the photo. It is possible for you to do this comparison and see how effective the tool has been. From here, you can choose to download the image or share it if you are happy withe result.
Note: You can find the saved photos in the Photo Gallery of your phone.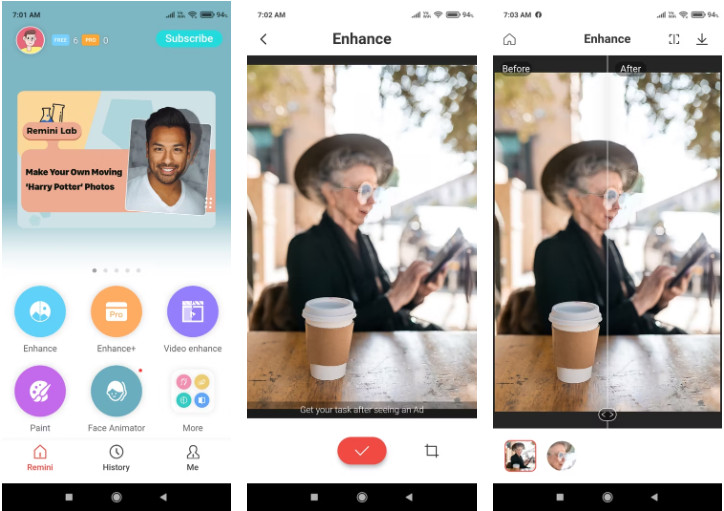 ---
Pros:
• The paid edition of this app is quite affordable to the pocket for a monthly subscription, which most users would not mind paying.
• A staggeringly impressive and singular method of improving low-quality images
• Multiple features within the app to enhance photos effectively
Cons:
• Free version makes you watch ads
• No Windows desktop client
• The maximum export file size is 2080 x 2080 pixels, which makes this the biggest challenge for professional photographers to use this app.
---
---
Part 3: Can I Use Remini Photo Enhancer on PC
Remini Photo Enhancer for PC version is not available yet. However, there are situations where you will need to enhance photos on your PC. BlueStacks app player is the best platform to use this Android App on your PC or Mac for an immersive Android experience. You can Download Remini Photo Enhancer on PC with BlueStacks and upscale your old, blurry photos with the power of AI. In general, you can use Remini Photo Enhancer on PC, but it's a little bit tricky for users who are not tech-savvy. In that case, you should look for some desktop photo enhance AI software to simplify the process.
---
Part 4: Best Alternative to Remini Photo Enhancer
Is there a better app than Remini Photo Enhancer? Now speaking of the best alternative to Remini photo enhancer, AVCLabs Photo Enhancer AI is recommended, which is compatible with Windows PC and Mac. AVCLabs Photo Enhancer AI uses artificial intelligence to improve the quality of all kinds of photos. It works pretty well in fixing blurry photos, enhancing and restoring old photos, upscaling low-res photos to high-res, etc. Intuitive interface makes it user-friendly for beginners who are not good at editing photos.
What's more, it comes with 5 powerful AI models to gives users better experience, including AI Upscaler, AI Denoiser, AI Color Calibration, AI BG Removal, and AI Colorizer. Users can choose the appropriate one according the different needs. The AI Upscaler model helps users to enhance and enlarge low-res photos without any quality loss; the AI Denoiser model is aimed to remove or reduce grain from photos; the AI Color Calibration model corrects and improves the colors in your images by providing the correct tone and color balance for ideal tints; the AI BG Removal model is able to remove background from photos; the AI Colorizer model enables users to colorize black and white photos automatically.
Photo Enhancer AI
Enlarge and upscale image without losing quality.
Sharpen image edges and deblur image online 100% automatically.
Upscale low-definition photos to HD.
Enhance color and contrast with only one click.
Remove backgrounds from a batch of images automatically in one click.
No editing skills are needed.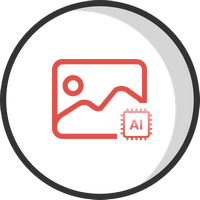 How to Use AVCLabs Photo Enhancer AI to Improve Photos Quality on Windows PC or Mac
Step 1
Download and run AVCLabs Photo Enhancer AI
Warm reminder: Before the photo enhancement work, we recommend you click here to get more detailed information about the system requirements and check whether your CPU or GPU is capable of improving photo quality with AI.
Download AVCLabs Photo Enhancer from the link given above and run this AI photo enhancer after you have successfully installed it on your Windows PC or Mac, you will see that it has a intuitive interface.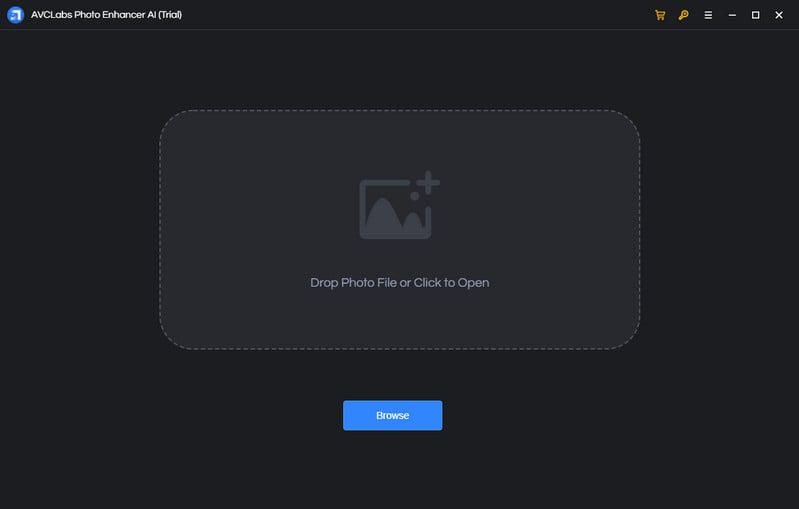 Step 2
Add photos you are willing to enhance
Simply add bad-quality low-res or blurry photos to the AI photo enhancer in batch by clicking the Browse button on the main interface of the program. Then, all of these photos will be displayed in the program and you can preview them individually.
Note: AVCLabs Photo Enhancer AI supports the most normal photo formats like JPG, JPEG, PNG, BMP, JFIF, WEBP, etc.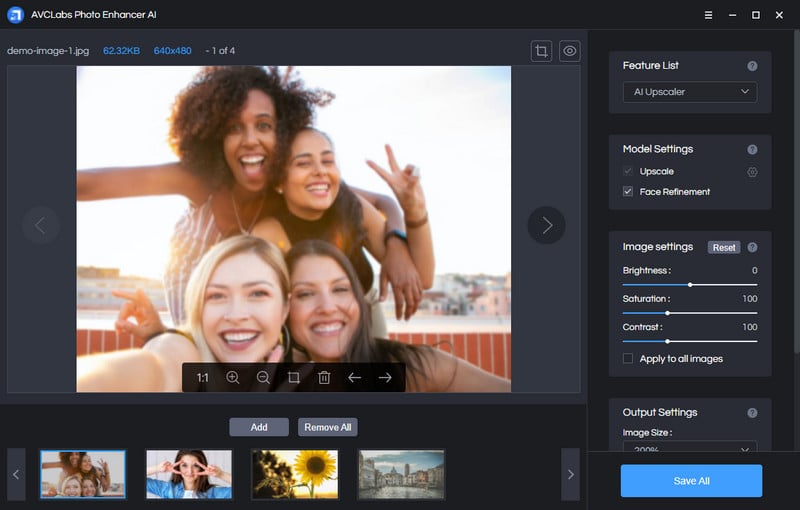 Step 3
Choose the appropriate AI model and set the output format
To improve ad enhance bad-quality photos, you are suggested to choose the most commonly used AI Upscaler model here.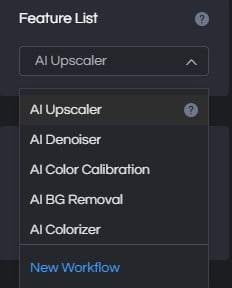 Or you can create a workflow to customize the AI mode you need.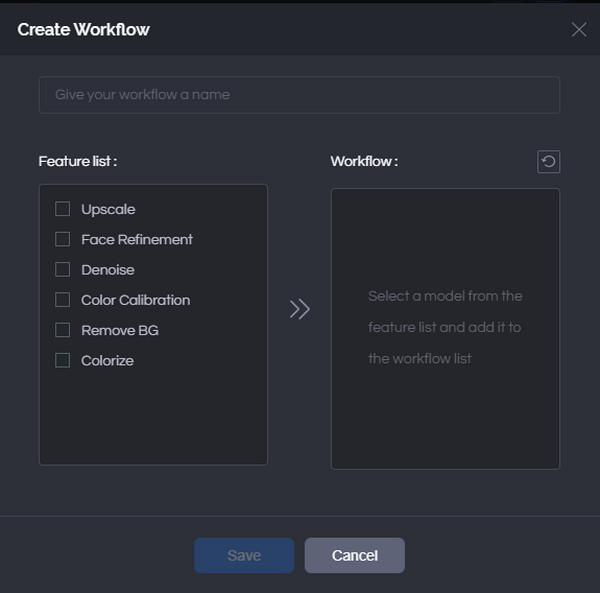 You are able to click on Image Size to select to upscale image size to 100%, 300%, and 400%.
If the photos you want to enhance are the portrait photos, you are able to switch on the Face Refinement option to enhance, retouch and restore blurry faces in portrait photos.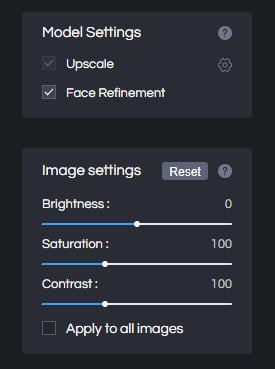 Before starting enhancing and fix blurry photos, you can set the output photo format you prefer. It supports exporting photos to JPG, JPEG, PNG, BMP format. Just click on the Image Format option from the drop-down list to select the output format you need.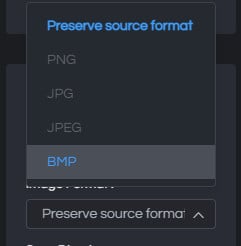 Step 4
Crop and Preview the photo enhancing effect before enhancing the photo quality
There are two little icons in the top right corner of the main interface. You can click on the left little square icon to crop the photo.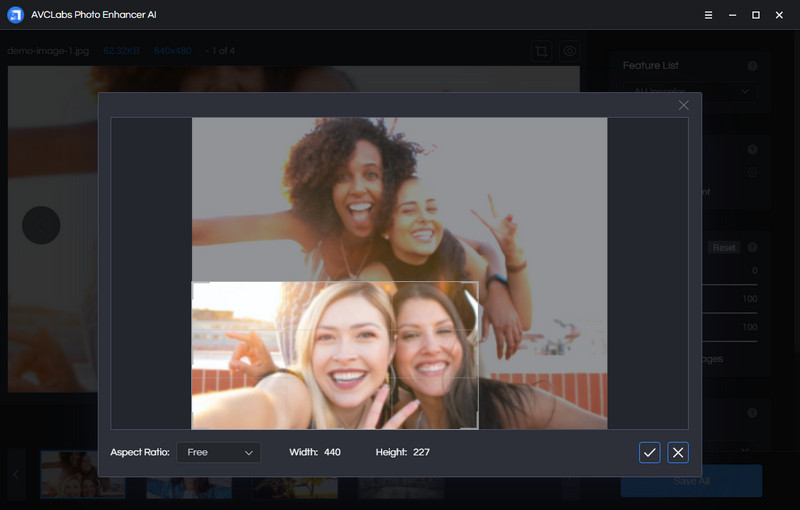 By clicking on the little eye icon under the photo, you will have a preview of the enhancing effect.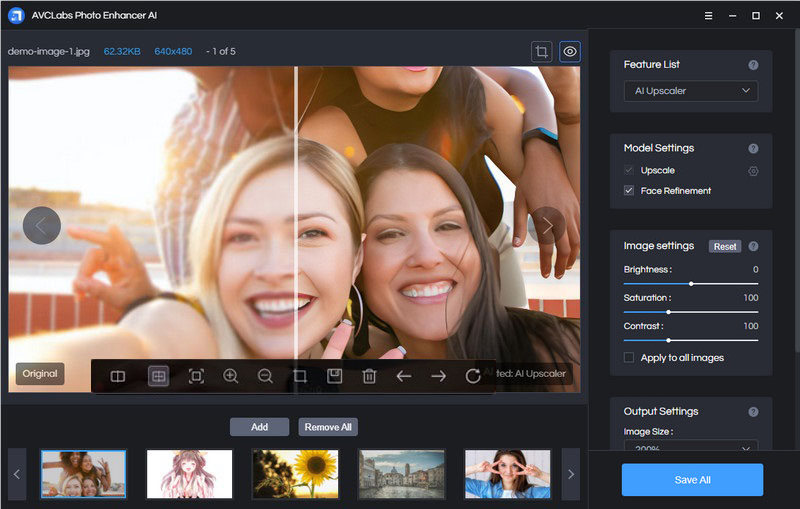 Step 5
Save enhanced photos to the computer
If you are satisfied with the output, you can start to enhance the image quality and save these enhanced photos to your computer by hitting the Save All button. All you need to do is wait for the AVCLabs Photo Enhancer AI to improve the photo quality and color automatically.
Once the photo enhancement process is done, you can click on the Open Output Directory button to find and check the improved and enhanced photos.
Pros:
• Multiple AI models to satisfy users' demands
• Fully intelligent software that can help users enhance photos automatically, no photo editing skills are required
• Simple operating interface allows users easily to get started
• Support processing photos in batch
• Support multiple input and output image formats
• Multiple subscription plans, with the lifetime plan being a good deal
Cons:
• Enhanced photos will be covered with AVCLabs watermark under the free version
• Relatively high GPU and CPU requirements for Windows PC
---
Conclusion
Now you know what makes the Remini Photo Enhancer app so special. If you wish to enhance your photos and make them look better and more realistic, vibrant and similar to the original ones, then you should definitely consider making use of this app. It's possible that you won't love it at first sight, but after you get used to it, you will realize that it offers excellent features and features at an affordable price. Apart from all these, it is available for both Android as well as iOS devices and makes it easy for users to access its features. You can use this app on any device that has a camera, including smartphones, tablets and even DSLR cameras. You can try this app out to enjoy some free credits and see how well it works. You will have to watch some ads while you are using this app.
However, you will need to pay for the premium features, e.g. 5 photos per month and the removal of the ads that pop up when the app is being used. And if you want something even better than the premium features, then you can consider downloading the AVCLabs Photo Enhancer AI app, which is compatible with Windows PC and Mac and can be used to enhance and upscale photos. AVCLabs Photo Enhancer AI consists of 5 different AI models that can help you make that old photo look as good as new and allows you to remove unwanted parts from photos and smooth out your images. This software is easy-to-use and has a simple interface. It mainly provides 3 subscription plans to its users. Before purchasing the program, users can test the full features of the program using the free trial version. Just get it for free to enjoy these fantastic feature.
---

Video Converter

DVD Converter

Video Editor

Enhance Video Quality

Enhance Image Quality

Remove Objects