A Beginners Guide to the Midjourney AI Art Generator: How to Use Midjourney to Create Synthetic AI Art Images for Free
"How do you get Midjourney AI art? How to use Midjourney to create AI art images?" - Nicolas Comer
Artificial intelligence is driving big innovation in the digital media and art space. While we've yet to reach the level of sophistication of a human artist, AI has started to make its mark on this industry. In this blog post, you will discover how AI is changing the game for artists and art enthusiasts. You'll also learn about Midjourney, an AI art generator that anyone can use for free to create synthetic AI art and see examples of the kind of work it can produce.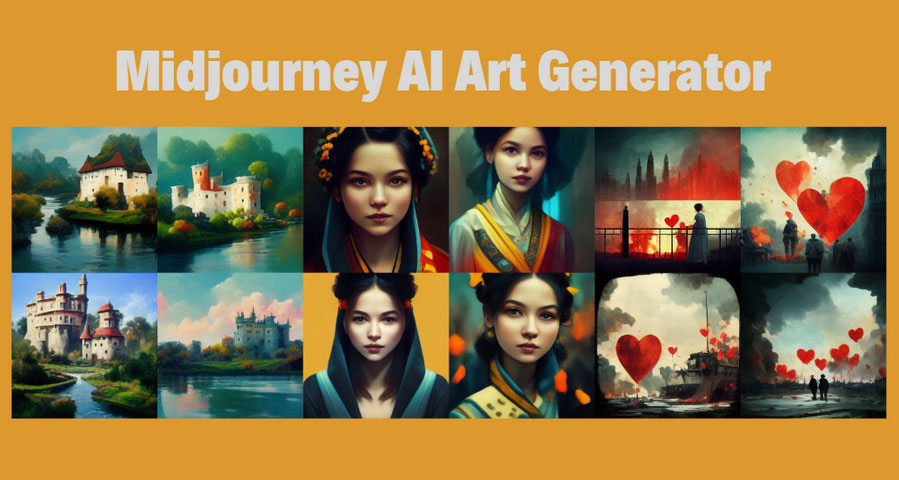 Part 1: How Is AI Changing the Art Industry
AI has been used in art for decades, from the earliest computer-assisted artworks to modern-day image recognition algorithms. However, a breakthrough in neural networks has created a surge of interest in AI in the art industry again. The biggest innovation that neural networks are bringing to the art industry is their ability to "automatically create art that is aesthetically pleasing and previously unachievable." While computers have always been able to generate visual content, they have always been based on rules that an artist or designer has put in place. Neural networks, on the other hand, can create new content autonomously. This opens up a wealth of possibilities and has led to an explosion of creative applications of AI in the art industry.
---
Part 2: What Is Midjourney
Deep in the heart of a research lab, a new artificial intelligence program is making waves. Midjourney is the name of this incredible tool, which takes textual descriptions and creates images from them. The potential applications for this technology are endless, and it's currently in open beta for everyone to try. It is already impressing users with its incredible ability to generate realistic and eye-catching images. Whether you're a professional graphic artist or just someone who likes to dabble in image creation, Midjourney is the perfect tool for you. With its easy-to-use interface and powerful image generating capabilities, Midjourney is sure to revolutionize the way you create art.
---
Part 3: How to Use Midjourney to Generate AI Images
Gaining access to Midjourney is actually a lot easier than you might initially expect. There's no program to install or convoluted libraries to set up. If you want to create AI art with Midjourney, you simply need to do three things below.
Note: You can create around 25 free images. After that, you'll have to purchase a full membership to continue.
Steps to Generate AI Art Images Using Midjourney
Let's check out how to generate AI art images using Midjourney.
Step 1
Make Sure You Have A Discord Login
Firstly make sure you have a Discord login. Midjourney works entirely on Discord, so you'll need an account there to use it. Signing up for Discord is also free if you haven't done it yet.
Step 2
Visit the Midjourney website and accept the Discord invite.
After that, visit the Midjourney website with your favorite web browser. Here, choose Join the beta. This will automatically take you to a Discord invite.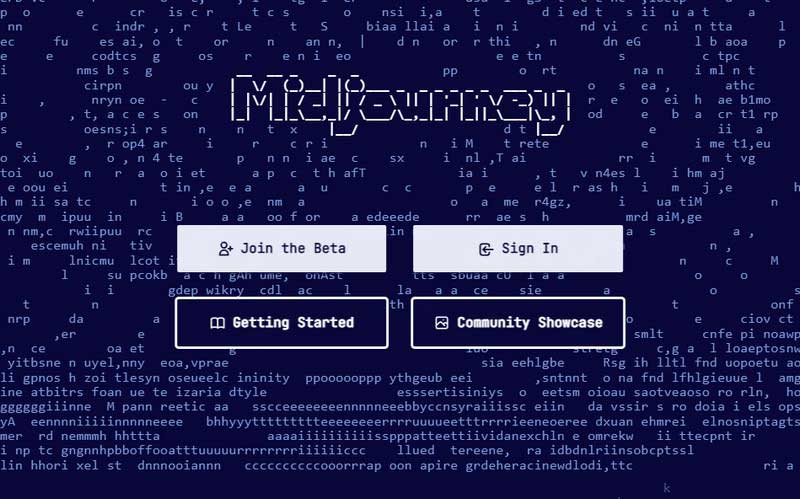 Accept the Discord invite to Midjourney. Choose Continue to Discord. Your Discord app will not automatically open. When it does, select the ship-like Midjourney icon on the left menu.
Your Discord app will not automatically open. When it does, select the ship-like Midjourney icon on the left menu to enter into the Midjourney channels.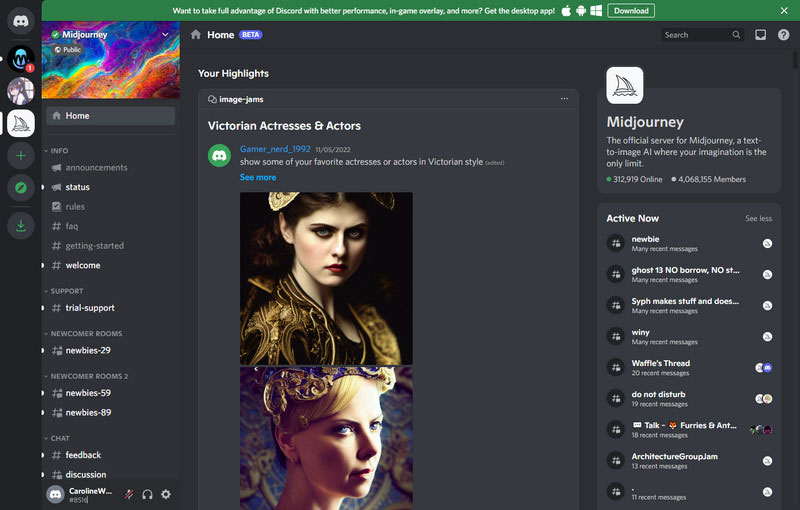 Step 3
Locate the Newcomer Rooms in The Midjourney Channels
In the Midjourney channels, locate the Newcomer rooms. There will typically be a number of newcomer rooms open, with names like "newbies-29." You can select any of these to begin.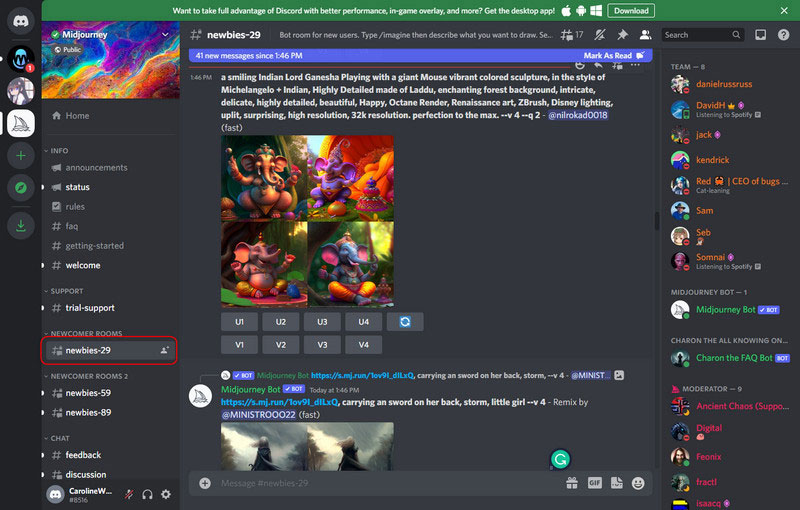 Step 4
Start Generating AI Art Images Automatically by Midjourney AI Bot
Now you're ready to start creating AI art images. Simply type /imagine in the Discord chat for your newbies room. This will create a prompt field where you can type the image description. When finished, select Enter to send your prompt. Give Midjourney a minute to generate your images. Typically, the AI will create several different versions based on your description.
Note: The more precise that you can be with your description, the better the AI will be able to produce good results.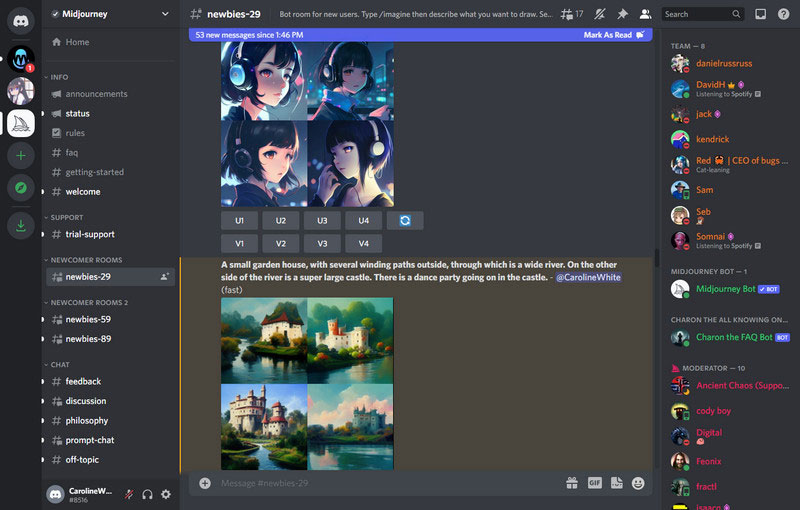 Step 5
Download the Original or Upscaled Art Images to Your Computer
Left-click on the image, and select the Open original option, then the image will be opened on another page. You can easily download pictures by left click and save the image on your device with a few simple clicks effortlessly.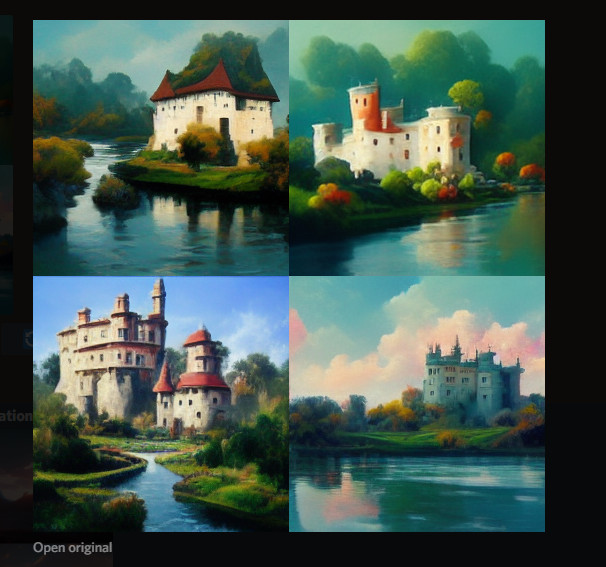 You can select the variations accordingly. Look images below, and you'll see a section of U and V buttons labeled 1 through 4. Choosing U will upscale that particular image into a larger, more defined version. Choosing V will create an all-new image based on the present image that you choose.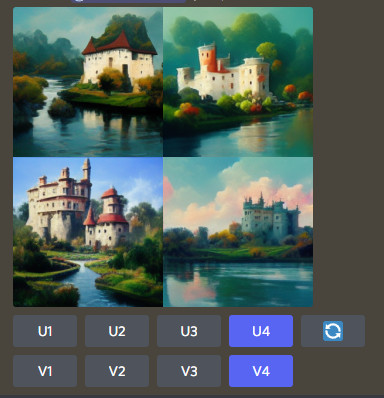 ---
Part 4: A Collection of Images Created With MidJourney
Let's have a look at some examples of synthetic AI art images created with Midjourney AI Art Generator. There are many breathtaking works of art created with Midjourney that you can explore.
Example 1. Beautiful Castle Image Generated by Midjourney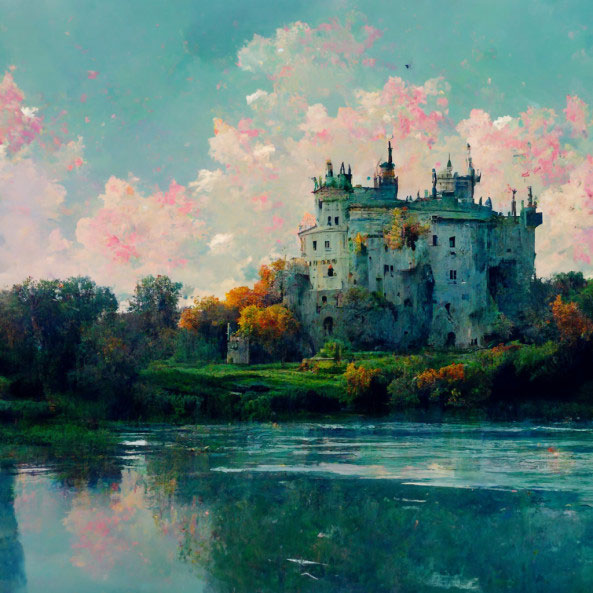 Example 2. A Landscape Consisting of Mountains, Rivers, Clouds, Trees, Sun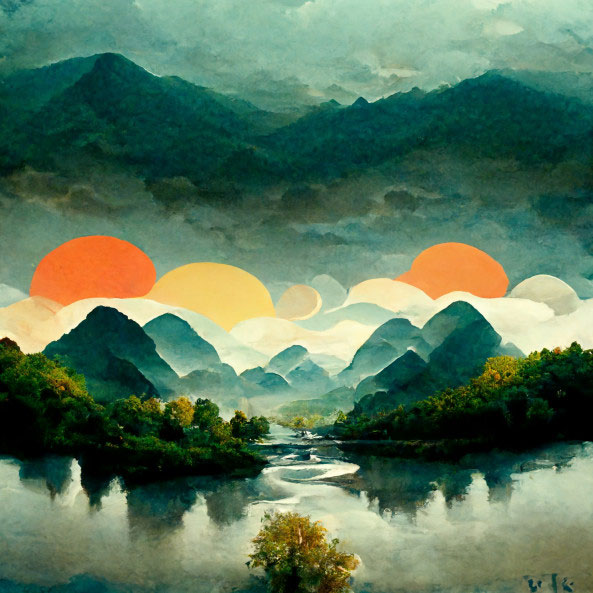 Example 3. Cute Girl Anime Cartoons Generated by Midjourney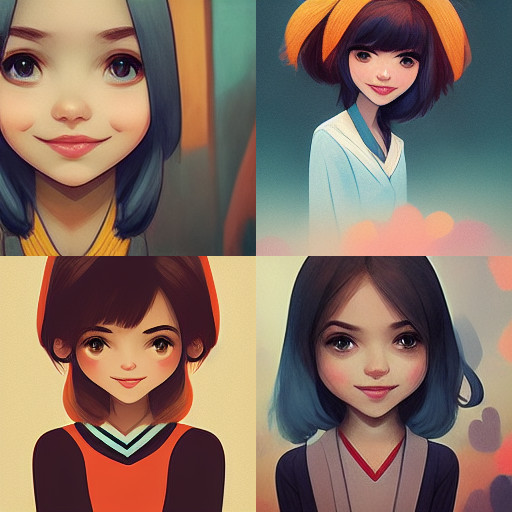 Example 4. Beautiful Girl in Tang Dynasty Generated by Midjourney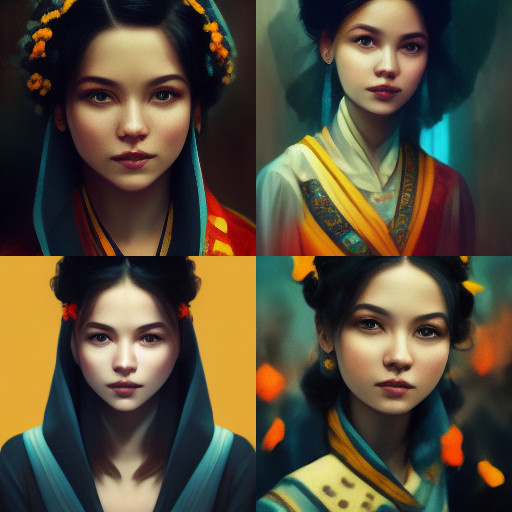 Example 5. Love in Times of War Generated by Midjourney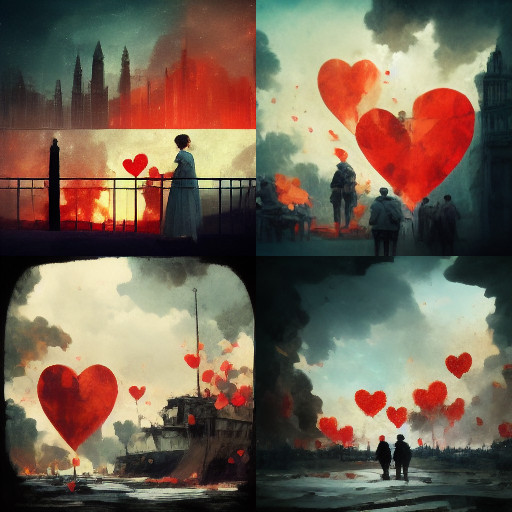 Example 6. Friendship in the Age of Covid-19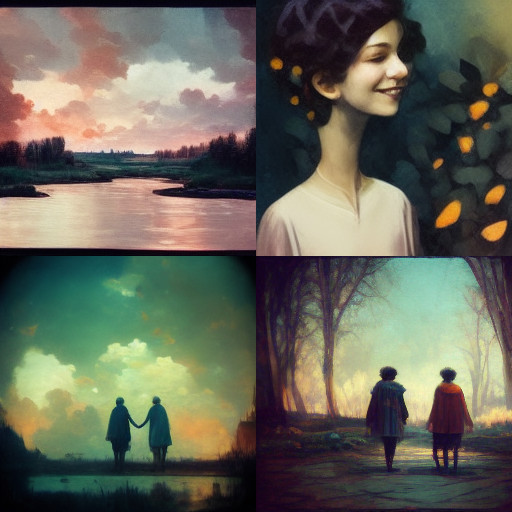 ---
Bonus: Upscale Art Images Generated by MidJourney via AI Image Upscaler
Although the output quality of Midjourney is satisfying and not pixelated, the output still could be optimum if you use an AI-powered Image Upscaler - AVCLabs Photo Enhancer AI. The following illustration is an example of Midjourney+AVCLabs Photo Enhancer AI's image upscaling. As you can see, AVCLabs Photo Enhancer AI supports up to 4x scaling with original details kept in only a few clicks.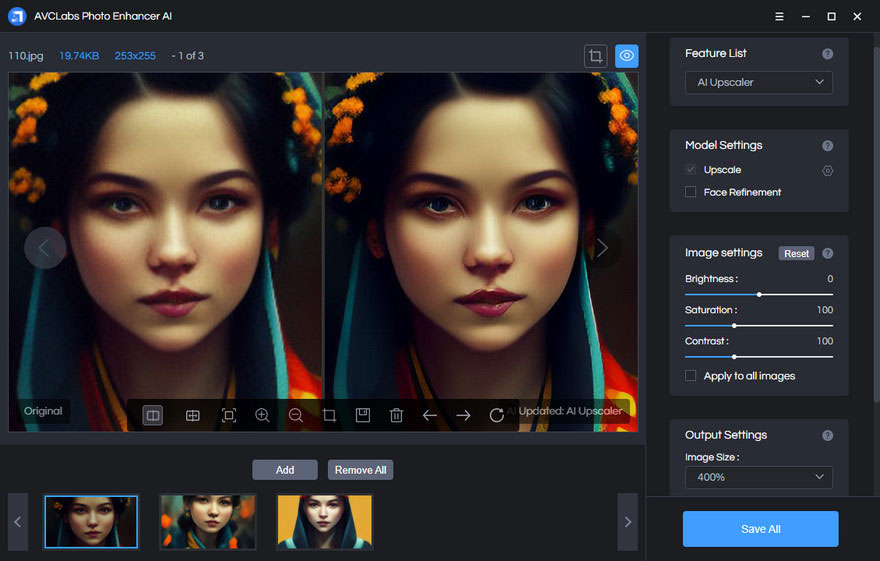 ---
Photo Enhancer AI
Upscale photo resolution from low to high with super-resolution.
Fix the blurry photos by removing noise & grain and sharpening.
AI Face Retouching tool to make the portraits and selfies look beautified.
AI Photo Colorizer to naturally bring B&W photos into colors.
AI Color Calibration to fix the color issue of photos.
AI BG Removal to turn the photo into transparent background.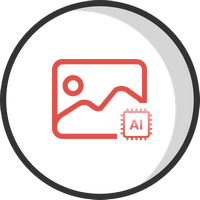 ---
Conclusion
If you're looking for a new way to create stunning visuals, Midjourney is the perfect solution. Whether you're a professional graphic designer or just enjoy playing around with images, this program will allow you to create beautiful works of art. The possibilities are endless, so why not give it a try today and see for yourself how this incredible AI program can take your image creation to the next level?
You can also use AI Images Upscaer like AVCLabs Photo Enhancer AI to upscale and increase the resolution of images generated by Midjourney.
---
Try AVCLabs Photo Enhancer AI to breathe new life into your photos!
---

Video Converter

DVD Converter

Video Editor

Enhance Video Quality

Enhance Image Quality

Remove Objects