Best AI Image Quality Enhancer to Upscale and Increase Image Quality Online for Free
"How can I improve the quality of a photo online for free? Are there any image quality increasers online recommended?" - Mike Richards
Everyone wants their images to look as good as possible, whether that is for personal or professional use. In this digital age, with everyone having a camera built into their smartphone and affordable DSLRs now commonplace, images are everywhere. The quality of these images can make or break a business or even friendships online. Thankfully, artificial intelligence has made it much easier for us to improve the quality of images. How? Through AI Image Quality Enhancer like AVCLabs Photo Enhancer AI Online! Whether you use your smartphone camera regularly to take photographs or Instagram is your go-to place for photos of friends and food, this post will help you understand exactly what AI image quality enhancer is and how you can use it to upscale and increase image quality online for free.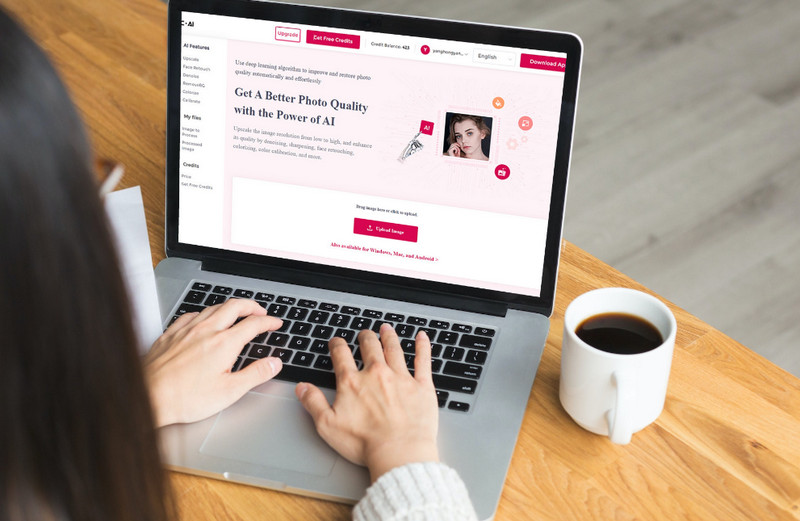 Part 1: What Is Image Quality Enhancer
Image quality enhancer is a type of AI that is able to identify areas of an image that are blurry or out of focus, and then either sharpen or add more light to those areas for a much clearer, upscaled image quality. A lot of smartphone users may be familiar with AI image quality enhancers in the form of the blur or auto-focus feature on their smartphone cameras. The difference with AI image quality enhancer is that it is able to identify which parts of the image need to be enhanced and can do it without user intervention. Since an AI image quality enhancer is one of the best ways to automatically improve your images, it's important to understand exactly how it works and how you can use it. If you're looking to improve the quality of your photos and don't want to spend any money on equipment, an image quality enhancer is a way to go.
---
Part 2: How to Increase Image Quality Online for Free
AVCLabs Photo Enhancer AI Online is one of the best online AI Image Quality Enhancer tools to upscale and enhance images' quality free online. It helps improve lower-resolution images and get high-quality images using Super Resolution and increase image resolution by 2X, 3X, and even 4X, enhance real details of low quality images.
In addition, it enables users to correct the color, and reduce noise from images 100% automatically, sharpen blurry images, unpixelate images, etc.
Photo Enhancer AI
Upscale images with super-resolution.
Sharpen images online 100% automatically.
Fix blurry photos by removing noise & grain.
Face Retouching tool to make portraits beautiful.
Naturally turn B&W photos into colors.
Calibrate and fix the color issue of photos.
Make the images' backgrounds transparent.
No editing skills are needed.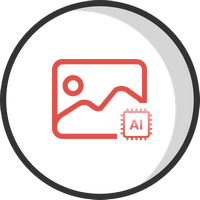 Enhance Images Quality Online via AVCLabs Photo Enhancer AI Online
Simply follow the steps below to increase images' quality free online using AVCLabs Photo Enhancer AI Online.
Step 1
Visit AVCLabs Photo Enhancer AI Online And Upload Low-quality Images to This Online Tool
Navigate to the AVCLabs Photo Enhancer AI Online with any browser (such as Google Chrome, Firefox, Safari).
Step 2
Upload One or Multiple Low-quality Images to AVCLabs Online AI Image Upsaler
Hit on the Upload Image button and choose images from your computer. Additionally, you are able to directly drag and drop low-quality images to the online tool.
Note: The supported input formats are: *.png, *.jpg, *.jpeg, *.bmp, *.jfif and *.webp.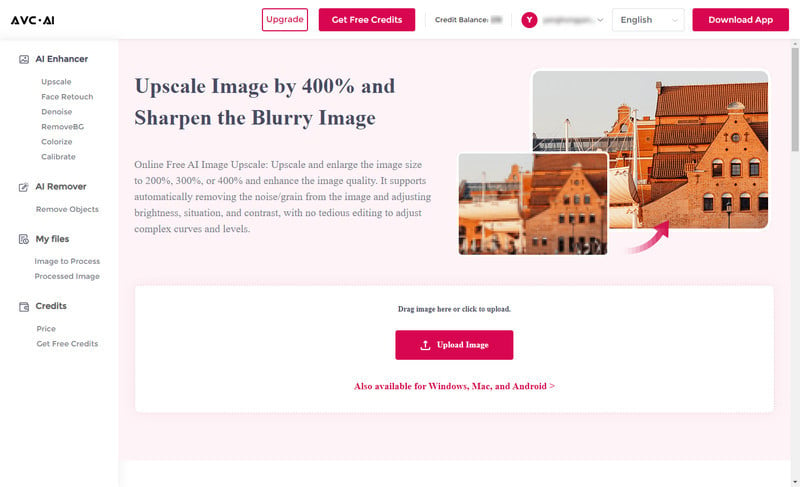 Step 3
Choose the AI Model to Start Increasing Images Quality and Resolution
After uploading the low-quality photos to the image quality enhancer online, you'll see images are displayed in the ready state. You are allowed to choose the AI Model, upscaling scale size, face refinement, etc.
To increase images' quality, you are suggested to select the Upscale model here. It offers 100% to 400% options for scale size, just choose the size based on your demands. If needed, you can also switch on the Face Refinement option to enhance portrait photos.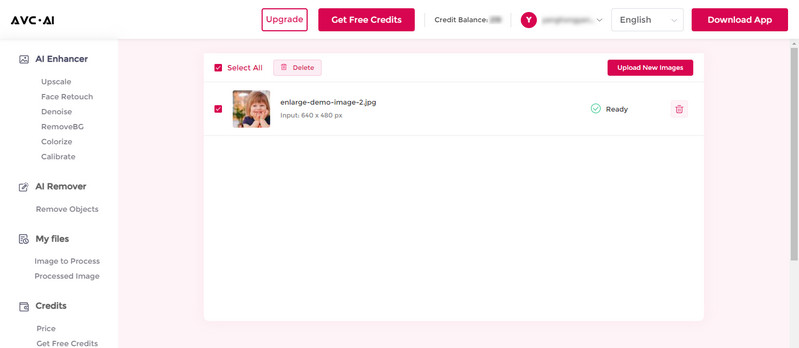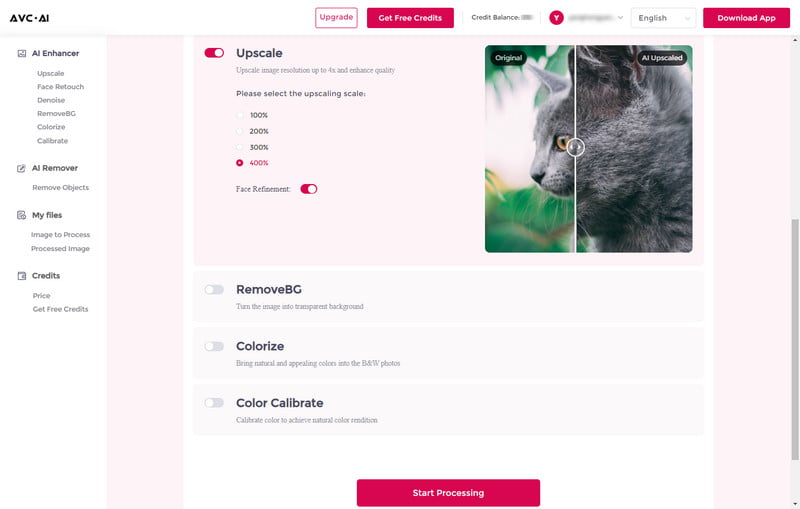 Once all the settings are done, simply tap on the Start Processing button to start enhancing images' quality.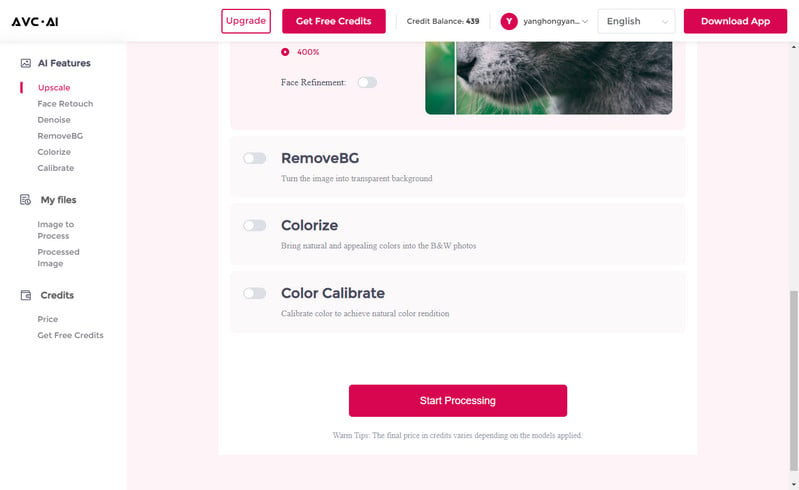 Step 4
Preview the Result And Save the High-quality Images to Your Computer
After the upscaled process is completed, simply switch to the Processed Image tab and click on the Eye icon to preview the original and upscaled high-quality images' result by dragging the slider bar.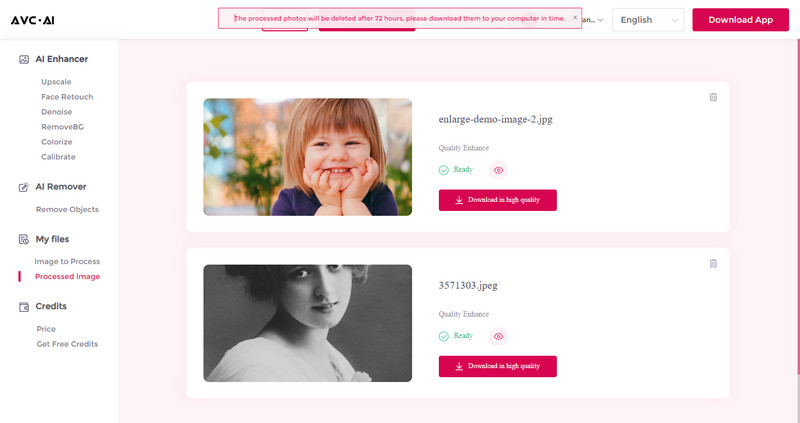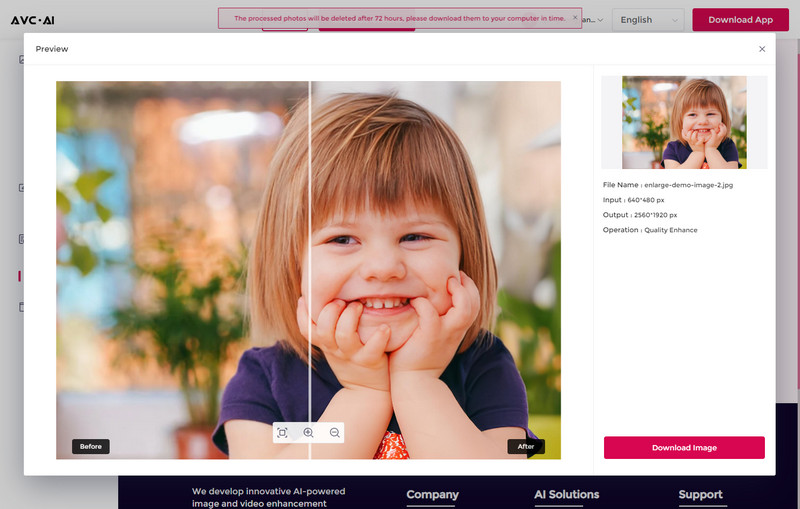 If you are happy with the result, simply click on the Download Image button to download increased high-quality images to your computer. The output format is *.jpg.
Note: The processed photos will be deleted after 72 hours, please download them to your computer in time.
---
Part 3: 4 Ways to Use AI Image Enhancer
AVCLabs Photo Enhancer AI Online can fix pixelated, blurry, and low-quality photos instantly online for printing, social media, marketing campaigns, presentations, and more.
1. Increase the Resolution of Low-Quality Images
By using the Image Upscale tool, you can dramatically increase the resolution and quality of your selfies, group photos, landscape images, and product photos. AI technology identifies the areas within the image that need enhancement and improvement and refines them. It improves tones and colors, as well as enhancing details.
2. Increase Image Quality Using Super Resolution
One of the fastest ways to improve lower-resolution images and get a high-quality print is using Super Resolution. AVCLabs Photo Enhancer AI Online allows users to upscale low-res images by 2x, 3x, 4x.
3. Make Blurry Picture Clear Instantly
AVCLabs Photo Enhancer AI Online excels at removing all kinds of blur in images, whether it is a portrait, product or graphic. Turn the pixelated image into high-definition perfection in a blink of an eye.
4. Enhance Images for Personal and Business Needs
Scale up and enhance images to match today's higher-resolution images' quality standards. Create the best quality of the campaign's images that were printed or displayed on website or E-commerce shops.
---
Conclusion:
Image quality matters. High quality images are essential for success. With the help of an AI image enhancer tool - AVCLabs Photo Enhancer AI Online, you can get high-quality images. From Facebook posts to product images, you can make sure you have professional-looking images. AVCLabs Photo Enhancer AI Online helps enhance your product photos by enhancing photo resolution, sharpening details, correcting colors, and improving quality. For landscape or portrait, logo or digital art, you are also able to effortlessly improve image quality online, with simply one click.
---
Extra Tips: Crop and Increase Images' Quality Automatically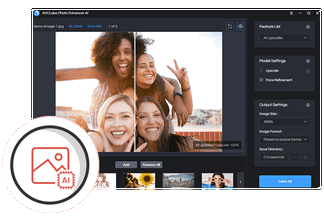 AVCLabs Photo Enhancer AI
If you wanna get better-quality pictures, process multiple photos more stably at the same time or crop photos, the desktop AI Photo Enhancement tool - AVCLabs Photo Enhancer AI is highly recommended. It comes with advanced features, such as adjusting the brightness, contrast, and saturation of photos.
Learn More

---

Video Converter

DVD Converter

Video Editor

Enhance Video Quality

Enhance Image Quality

Remove Objects