How to Unblur An Image Online for Free
"How do you unblur a picture that has been blurred online?" - Steven Aaron
How to unblur an image online for free is one of the most frequently asked questions from Quora and Reddit. Nothing is more disappointing than taking a blurry picture. Fortunately, there are various ways to fix blurred images and turn blurry photos into crisp & clear images, especially some free online AI image unblurring tools like AVCLabs AI Image Enhancer Online. Users are allowed to unblur image files directly in any browser intelligently and automatically and enhance the overall quality of a blurry image.
In this post, we are going to talk about how to make use of an AI Image Sharpening Online Tool to unblur an image online for free.

Part 1: Why Do You Need Deblurring Images Online
Sharpness should be the first thing that catches the eyes of the readers and makes a reader stay for a few seconds looking at your image. A high-quality image is a key point for your social network profile. You can publish awesome images with stunning quality to TikTok, Facebook, Twitter, or Instagram and make your friends or followers go "Wow". If you have an eCommerce store, a high-resolution product image will attract the attention of your customers and improve your conversion rate and optimize your online shop sales.
---
Part 2: How to Unblur An Image Online for Free
AVCLabs AI Image Enhancer Online is one of the most popular free AI Image Deblurring Online Tool. Through training on millions of blurry images and utilizing artificial intelligence, this image sharpener helps users detect and remove blur from images in a few seconds. No complicated Photoshop skills are required to sharpen blurry images. Moreover, it enhances and upscales the blurred, low-quality image resolution while sharpening the image.
Equipped with multiple AI models, AI Image Upscale, AI Anime Upscale, AI Image Enlarge, AI Photo Denoise, AI Image Sharpen, AI Background Remove, AI Photo Colorize, AI Photo Calibrate, it gives users a better experience in enhancing images.
We keep improving our models with the latest developments in Deep Learning to offer our users the best results.
Photo Enhancer AI
Enlarge and upscale image without losing quality.
Sharpen image edges and deblur image online 100% automatically.
Upscale low-definition photos to HD.
Enhance color and contrast with only one click.
No editing skills are needed.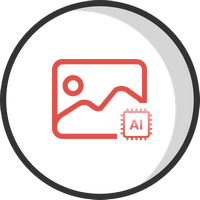 Let's follow the easy steps to unblur an image online and make blurry images clearer and crisper online.
Step 1
Upload One or Multiple Blurred Images to AVCLabs AI Image Unblurring Online Tool
Directly drag and drop one or multiple blurry images to this AI Image Sharpening Online Tool or tap on the Click to upload button to add the blurred image you want to unblur to this online image sharpener. Please keep a stable and fast network condition during the deblurring process.
Note: The supported input image formats are: *.png, *.jpg, *.jpeg, *.bmp, *.jfif and *.webp.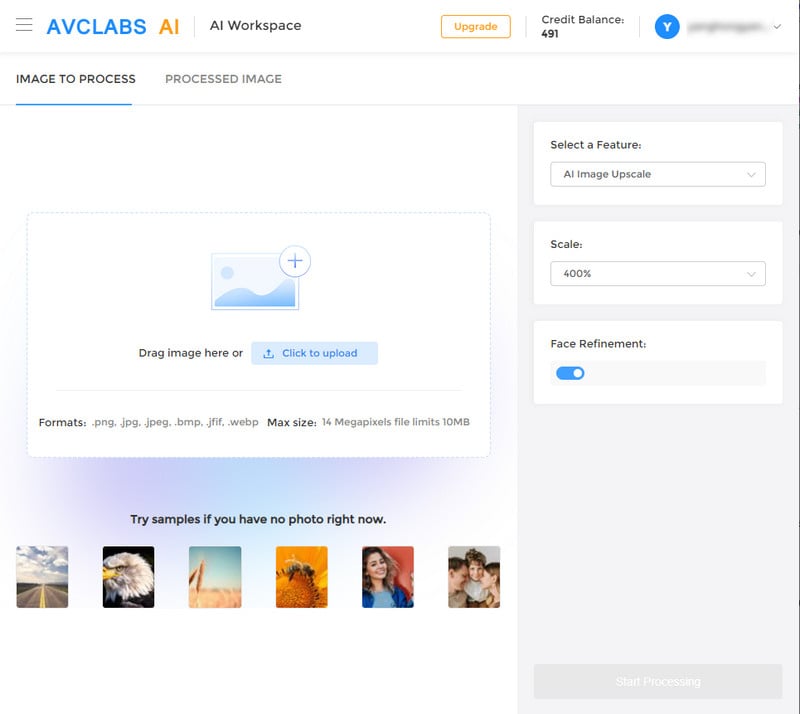 Step 2
Choose the AI Model And Set the Parameter to Deblur the Image Online Automatically
To unblur the image online for free, we recommend you choose the AI Image Sharpen model to go ahead. You'll find four scale options (from 100% to 400%) available. You can increase the resolution of the image while removing the blur from the images. Here you are able to select the scale values according to your need.
To retouch and beautify the face in images, just turn on the Face Refinement option.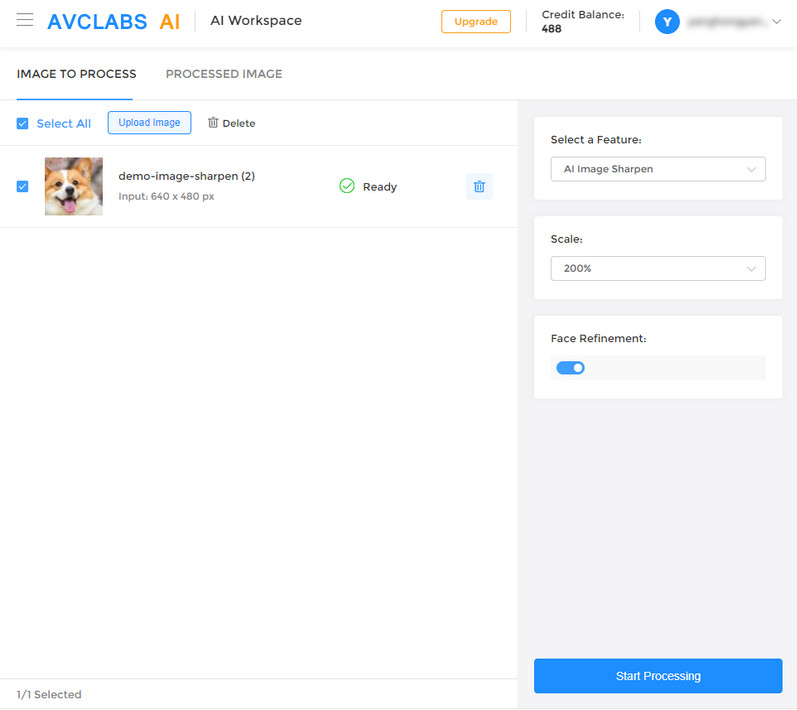 Now, click on the Start Processing button to start unblurring the image automatically.
Step 3
Preview the Result and Save the Sharpened Image to Your Computer
After the image sharpening process is completed, simply switch to the Processed Image tab and click on the Eye icon to preview the original and sharpened image. If you are satisfied with the result, hit on the Download Image button to download and save the clear image to your computer. The output format is jpg.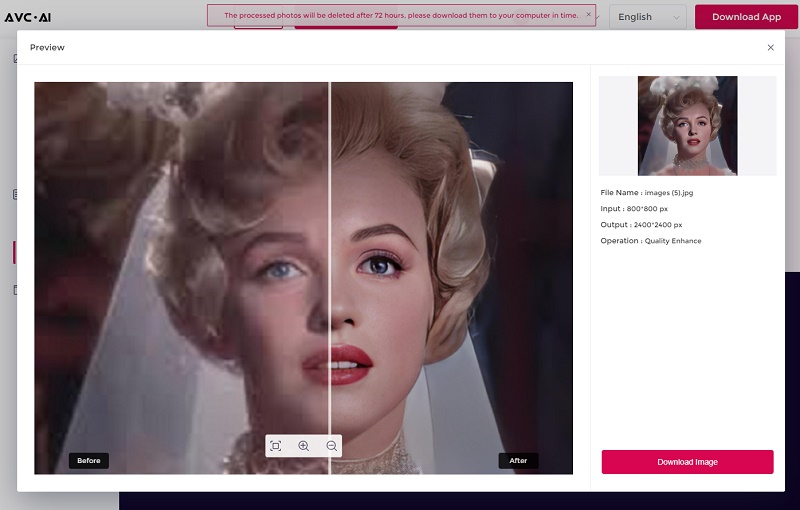 Note: The processed photos will be deleted after 72 hours, please download them to your computer in time.
---
Video Tutorial: How to Unblur An Image Online for Free
---
Part 3: What Kind of Images Can Be Unblurred
The image you want to deblur should match the following requirements. We will now learn about different types of images that can be deblurred.
Formats: .png, .jpg, .jpeg, .bmp, .jfif, .webp
Max size: 14 Megapixels file limits 10MB
Types of images: different kinds of images from anime to wildlife, from portraits to landscapes, from logos to product images are supported

Just check your image properties and you may start deblurring the photo online in a few seconds.
---
Bonus Tip: Best Image Unblurring Tool to Crop and Batch Deblur Images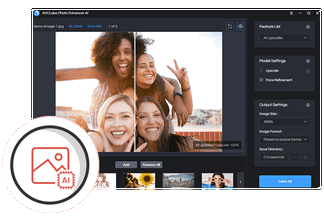 AVCLabs Photo Enhancer AI
If you wanna get better-quality pictures, process multiple photos more stably at the same time or crop photos, the desktop AI Photo Enhancement tool - AVCLabs Photo Enhancer AI is highly recommended. It comes with advanced features, such as colorizing black and white photos, portrait photo enhancement.
Learn More

---
Conclusion:
That's all for this post. You don't have to use complicated software to unblur images, you can easily unblur an image on a website now. You are capable of unblurring an image online automatically using the AI image sharpening online tool. Just get this tool to explore fantastic functions.
---

Video Converter

DVD Converter

Video Editor

Enhance Video Quality

Enhance Image Quality

Remove Objects