5 Best Free Background Remover Apps: How to Easily Remove Image Background Online or on Android and iPhone
Want to remove an image background for free but worried that it would take hours of meticulous work? Look no further than background remover apps! Background remover apps are incredibly helpful for removing the background from photos. They are easy to use, free to download, and can help you quickly produce a high-quality image. With a few clicks of the mouse, you can easily remove distracting backgrounds, allowing you to focus on the important elements of the photo.
Not only are background remover apps great for creating professional-looking images, but they can also be used to create interesting effects, stickers and artistic compositions. Whether you're a professional photographer or a hobbyist, you'll find that background remover apps can save you time and help you create stunning images. So, if you're looking for an easy and cost-effective way to create stunning visuals, read on to find out more about how to remove the background from the image for free.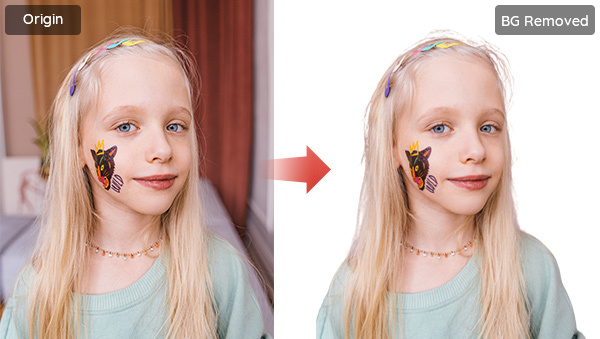 Part 1: Benefits and Usage of Removing Image Background
All kinds of people may have the need to remove the background of an image. The uses and applications of image background removal are also very wide.
For Individuals:
1. Make your profile or image more unique and attractive. You can add new backgrounds for profile pictures and other splendid effects and funny stickers.
2. Change the color of your ID or passport photo as you wish. Different types of photo IDs require different background colors, so you can remove the background of the photo and change the color as required without any additional cost. Or when you need a photo ID in a hurry, you can choose a suitable photo and make it yourself instead of going to a photo studio.
For E-commerce Workers:
Change the background color of product images at will: Amazon requires a plain white background for product photos, while eBay requires sellers to provide a plain white or light gray background for photos. This is because a clean background helps customers focus on the product itself and improves customer trust to increase sales.
For Photographers:
Removing image backgrounds is no longer a time-consuming task. It will help Photographers speed up their workflow.
---
Part 2: Apps to Remove Image Backgrounds Online for Free
Nowadays, people are more inclined to use online tools for various photo processing, such as enhancing the quality of photos, removing unwanted objects from photos, or removing watermarks, etc. The main reason is that there are hundreds of online tools to choose from, no need to download any software to your computer or cell phone and thus worry about storage space, just use your browser to click on the web page and try to preview how it will look like. What's more, many online tools offer free services.
Compared with traditional photo editors, using background remover apps is relatively straightforward, without worrying about taking a long time to cut out an image with jagged edges. Let's dive into it right now.
1. RemoveBG: Online Free App to Remove Backgrounds from Image
As its name suggests, RemoveBG is a very professional online app dedicated to removing backgrounds from images. Its main function is to make the background of an image transparent or to add white or other backgrounds to an image with one click. Besides, they have built tools and plugins for popular design programs, e-commerce websites, and computer environments, so they are also suitable for developers or e-commerce workers to use in their daily work and save a lot of time.
RemoveBG offers both free and paid services. After logging in, you will get a free account. The free services offered mainly include 1 free credit and 50 free previews. 1 image costs 1 credit or fewer. Precisely, preview images up to 0.25 megapixels are always free. 1/4 credits will be charged via apps and API. Full images up to 25 megapixels will be charged 1 credit. So for a free account, you are allowed to remove the image background totally for free. However, if you want to download the processed image in full HD, you have to costs 1 credit, or you can just download an image without a background but with a compressed resolution.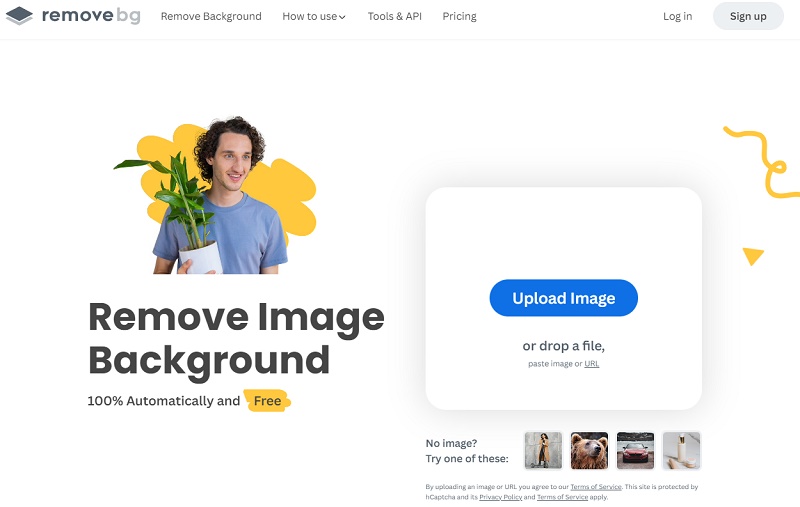 How to Use RemoveBG to Remove Background from the Image
Step 1: Visit the official website of RemoveBG with any browser.
Step 2: Click the Upload Image button to add an image. You can also drop a file, or paste an image or URL. Once you upload the image, the system will automatically remove the background.
Step 3: You can also edit the processed image before downloading it. Click the Edit button in the upper right corner to enter the editing interface. You can add other preset backgrounds, custom photo backgrounds, or solid color backgrounds to the removed background images.
Step 4: Finally, download the processed files in time, or they will be discarded automatically after 60 minutes. For the free users, you are allowed to download one HD image a month.
---
2. Erase.bg: Another Online Free App to Remove Image Backgrounds
Erase.bg by PixelBin.io is another online free app to remove image backgrounds. This online background remover is very similar to RemoveBG. In terms of functionality, both offer the same features, including removing backgrounds and adding other preset or custom backgrounds. In terms of payment options, again both offer free and paid services. The difference between them is that Erase.bg's free account offers 45 free credits per month and there is no resolution limit for downloading processed images, so users can download full-resolution images for free.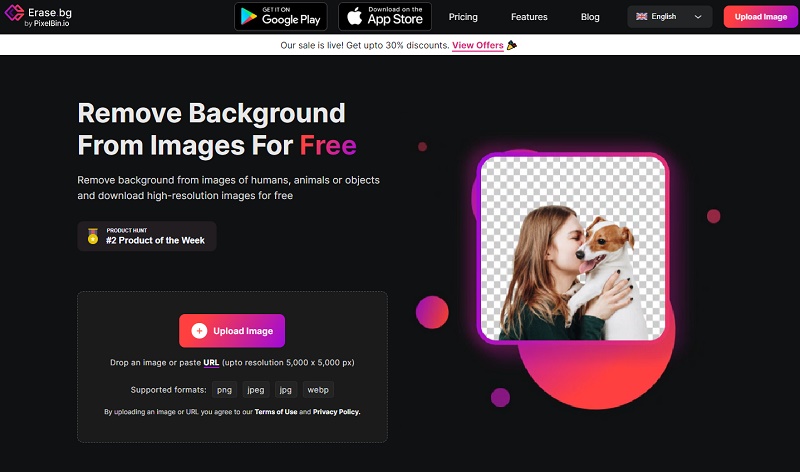 How to Use Erase.bg to Remove Background from the Image
Click the Upload Image button or drop an image anywhere. It will be processed automatically and the original and background removed image will be shown under the workplace. You can also edit it before downloading. The specific steps for using Erase.bg are almost the same as those for RemoveBG, so if you have any questions, please refer to how to use RemoveBG above.
---
3. AVC.AI: Online Free App to Remove Backgrounds and a One-stop Free Image Quality Enhancer
If Erase.bg and RemoveBG are too similar to not knowing how to choose. Then AVC.AI is completely different from them and offers you more choices. While the first two are single background removal tools, AVC.AI is a comprehensive online app dedicated to solving various image problems. Take a look at its home page. All the AI models are collected in two sections: AI Enhancer and AI Remover. It is like a toolkit that contains several different modeling tools for enhancing images, removing backgrounds, and removing watermarks or unwanted objects. Among them, the RemoveBG model AI enables users automatically remove the background from the photo to get a clean transparent background.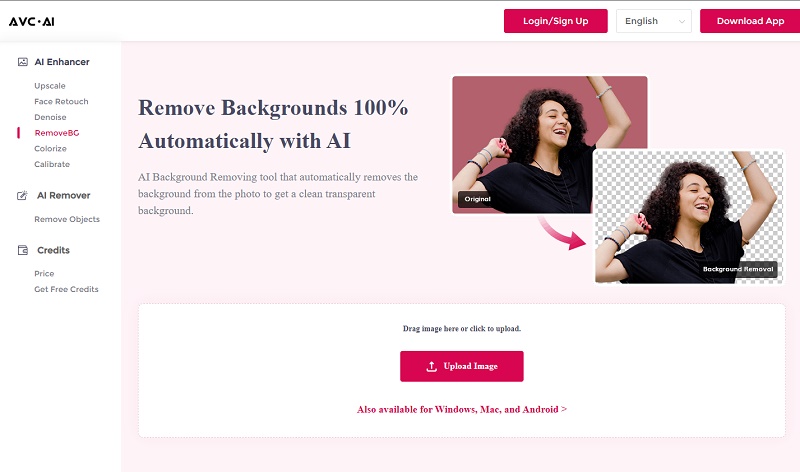 Like most online tools, AVC.AI also works with credits. Processing images with different models cost different amounts of credits. To use AVC.AI for free, you need to get free credits first. When a new user registers a new account for the first time, 13 free credits will be automatically issued as rewards. In addition, there is a portal to get free credits in the bottom left corner of the home page. Users can get 60 free points in a variety of ways, such as following their YouTube, Facebook, and Twitter, or writing a short review to get 70 free credits. You can use AI Remover totally for free without costing credits or logging in.
Features of AVC.AI
Remove the background from the photo.
Remove any unwanted objects from photos.
Upscale image by 400%.
Instantly retouch portrait to make it stuning.
Reduce or remove noise from a noisy image.
Colorize black&white pictures.
Fix color casts in your digital photos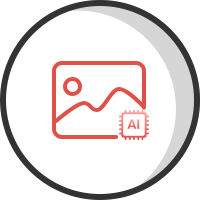 How to Use AVC.AI to Remove Background from the Image
Step 1
Go to AVC.AI and Register an Account
Access AVC.AI and click the Login/Sing Up button to register an account.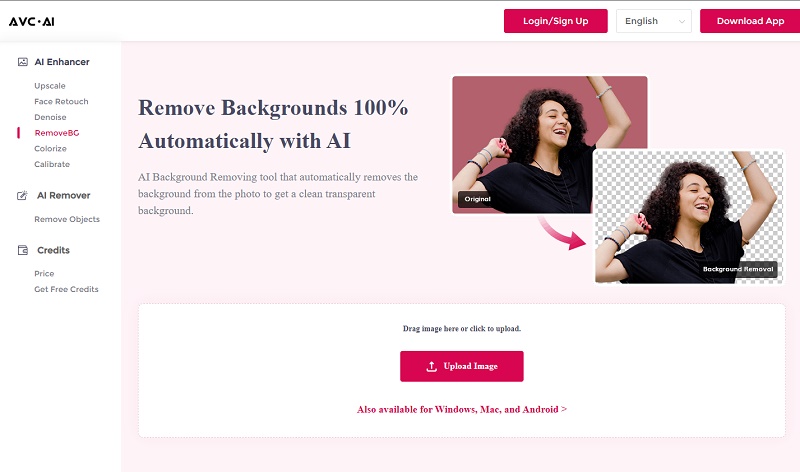 Click the Upload Image button or drag and drop images directly to the workplace. It supports batch processing.
Currently supported input formats : *.png, *.jpg, *.jpeg, *.bmp, *.jfif, and *.webp.
Step 3
Select AI Models and Start Processing
Select the corresponding AI model for different quality issues that need to be enhanced. To remove the image background, simply click RemoveBG model. You can also process one or more images with multiple AI models stacked together, like enabling Upscale and Remove BG models at the same time. Then click on the Start Processing button to start removing the background.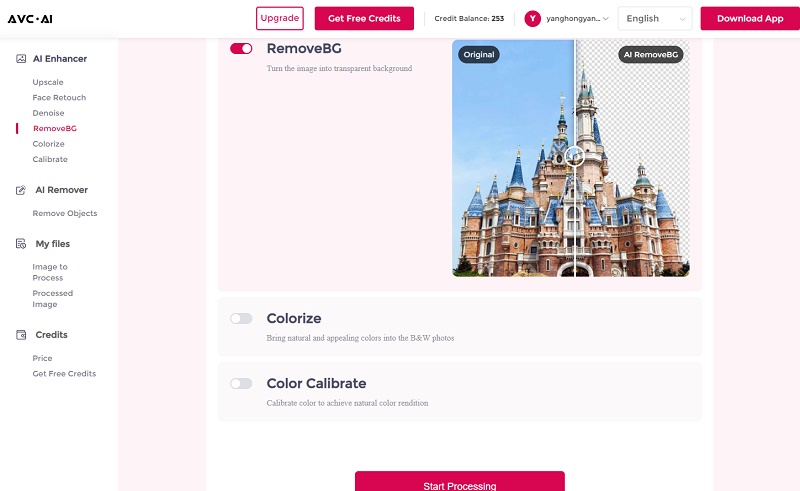 Step 4
Preview and Download Images
When the processing is finished, you can press the Eye button to preview. Finally, hit the Download Image button to download in high quality.
Note: The processed photos will be deleted after 72 hours to protect your privacy, please download them in time.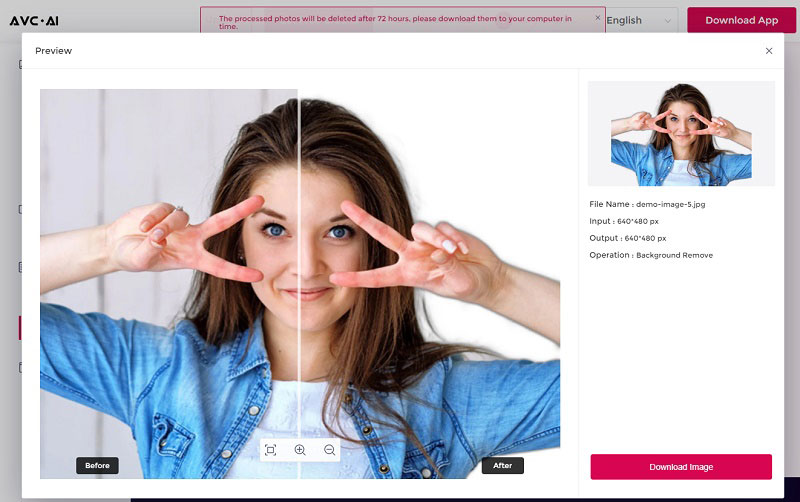 Video Tutorial: How to Remove Background from Photo
---
Part 3: Apps to Remove Image Backgrounds on Android or iPhone
For people who are used to editing pictures with their mobile phones, there are of course some good options.
1. YouCam Perfect: A Comprehensive Photo Editor Available for Android and iOS
YouCam Perfect offers a wide range of features, mainly including image editing such as background removal, face beauty, and a variety of fun stickers. The essence of this type of tool is to cut out and retain the required parts. It has high ratings in Google Play and App Store, 4.6 and 4.8 respectively. The AI-powered Cutout tool could help you removes the background from images quickly and gives a transparent background. However, its free version has limitations for some features.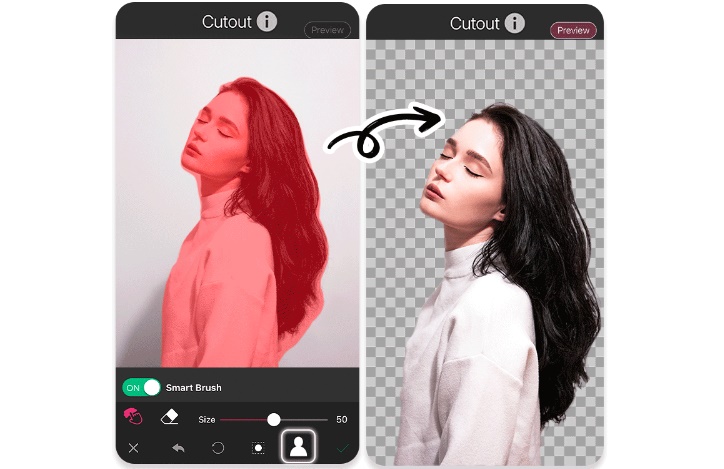 2. Background Eraser: A Dedicated Background Eraser Available for Android
Just like RemoveBG, Background Eraser is also an app just focuses on removing the background from an image. You can quickly remove any background with the Magic Mode, which automatically detects the background and traces around the subject for clean and clear removal. Or use its Lasso and Shape tool to manually cut out.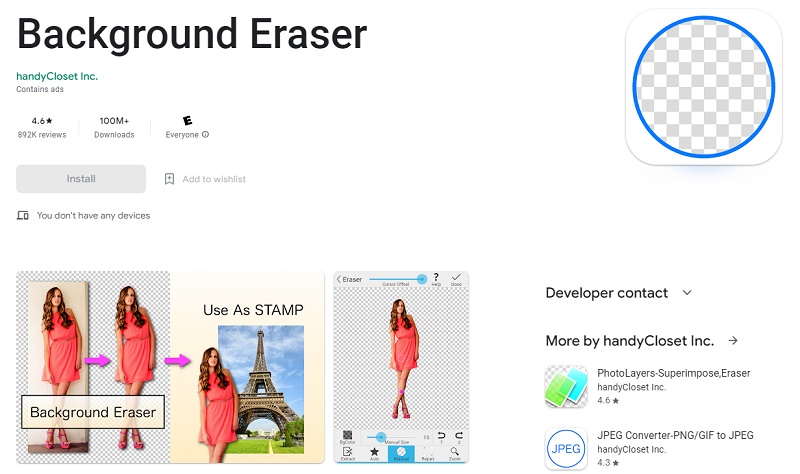 ---
Conclusion
Removing the background of an image can be a great way to make it stand out and draw more attention. It can also help create a cleaner, more professional look for any project or presentation. These backgrounds remover apps will help you easily and quickly remove any backgrounds without complex steps. Some of them are dedicated to removing backgrounds like RemoveBG and some provide various services like AVC.AI. If you want to remove the image background and solve various image problems in one stop, then AVC.AI is your best choice. No matter which one you use, the most important thing is to act quickly and try it right now!
---
Highly Recommended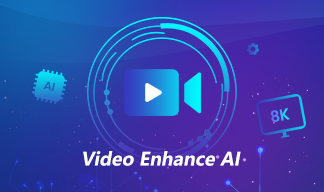 AVCLabs Video Enhancer AI
AVCLabs Video Enhancer AI is an AI-based video enhancement software to upscale video from 480p to 1080p, 1080p to 4K, and up to 8K. With AVCLabs Video Enhancer AI, you can upscale low-res videos to high resolution and bring your old videos a stunningly new look.
Learn More


Video Converter

DVD Converter

Video Editor

Enhance Video Quality

Enhance Image Quality

Remove Objects