7 Best Free Apps To Enhance Photo Quality and Make Your Pictures Pop!
Overview: 4 best free apps to enhance photo quality- Pixlr, Photo Editor Pro - Polish, Adobe Photoshop Express, and Snapseed; 2 AI-based apps to enhance photo quality: Remini and Photo Enhancer - EnhanceFox AI; 1 desktop AI-based photo quality enhancer: AVCLabs PhotoPro AI; 1 online AI-based tool to enhance photo quality: AVC.AI.
In this digital world, photo quality and clarity are becoming increasingly important. Whether you want to save those unforgettable memories or are trying to promote your business on social media or just want to show the best version of yourself, having high-quality pictures is essential. The good news is that there are plenty of the best free apps available out there to help enhance the photo quality for social media or keep them high quality for cloud storage. From editing tools to cutting-edge AI algorithms — this post got you covered! In this guide, you will learn some of the best free apps that can help you take your photos from average to amazing in no time. So let's get started!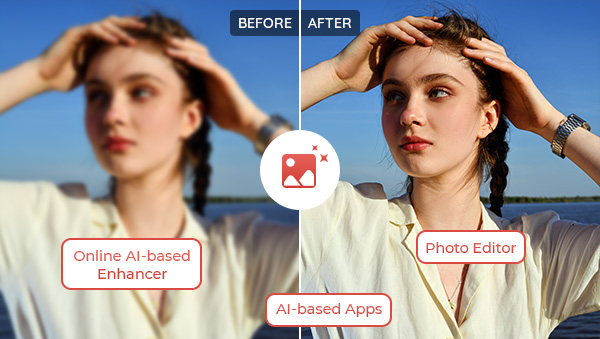 Photo Editor Apps— Manually Enhance Photo Quality
1. Pixlr
Pixlr is a powerful photo editor app for both Android and iOS devices. It offers numerous features to help you create stunning, professional-quality photos with ease. With Pixlr, you can edit with over 2 million combinations of FREE effects, overlays, and filters, adjust color, contrast, and other elements of your images; add text, frames, and more; crop and rotate photos; remove blemishes or unwanted objects; apply effects such as blur or sharpen; and share them on social media sites in no time! You also have access to an array of tools and presets that allow you to quickly touch up photos or make quick edits on the go.
Platform: Android, iPhone, and Web
Tips: For different photo editing bases, the online version of Pixlr is divided into two types, Pixlr X and Pixlr E. For those with minimal knowledge of image editing, Pixlr X is the ideal choice due to its straightforward interface and few options to avoid confusion. However, if you're looking to customize and further manipulate your images, then Pixlr E is your best bet, though it is notably more complex.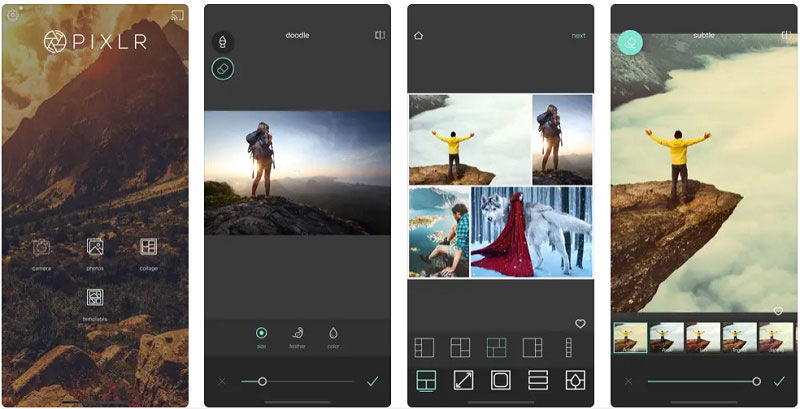 2. Photo Editor Pro - Polish
Photo Editor Pro-Polish is the highest-rated of the recommended apps, with a rating of 4.9 in Google Play and 4.8 in the App Store. It is a comprehensive tool for editing photos that offers a wide array of features. You can use it to erase the background, make collages, attach stickers, and apply effects, filters, and presets quickly. If you want to turn your face into an anime character, you can use the cartoon photo filter to create a unique look with the help of our AI face changer and you can post your artwork on social media with no watermark and in high quality.
Platform: Android and iPhone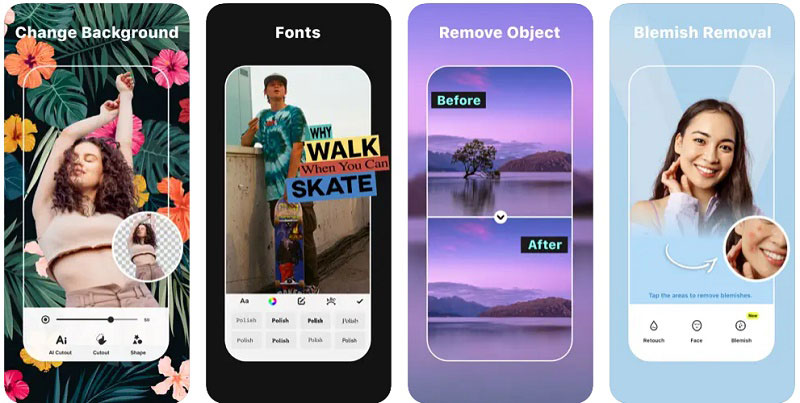 3. Adobe Photoshop Express
Adobe Photoshop Express is originally a web and mobile-based editing program based on Flash. It allows people to edit images and upload them to their social media and blog sites without needing to download the application. It is similar to Picnik and works with various sites such as Facebook and Photobucket. The app is free to download and use, making it accessible to everyone. You have access to a range of tools to adjust color, contrast, brightness, sharpness and more. There are also options for cropping, resizing, and adding borders or frames to your photos.
Platform: iOS, Android, and Windows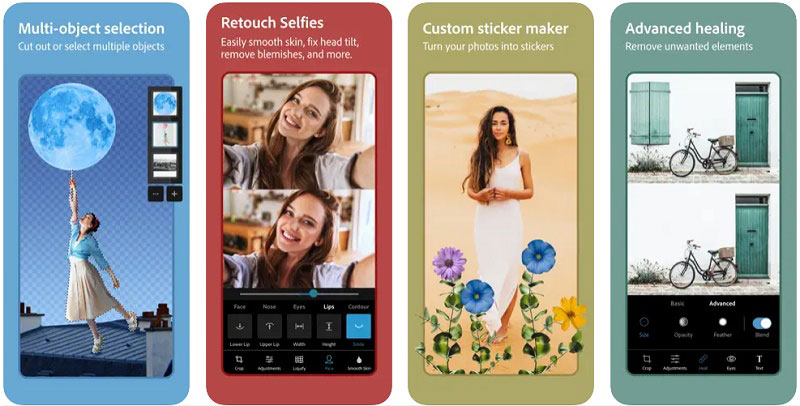 4. Snapseeds
Snapseed is a powerful editing application developed by Google. It provides users with an array of photo-editing tools to help them make their pictures look professional and creative. With Snapseed, users can adjust the brightness and contrast of their images, add filters, crop and rotate photos, apply frames, sharpen or blur portions of an image, and more. This free image quality enhancer app also contains several preset looks that are easy to use for quick touch-ups. Additionally, Snapseed supports both landscape and portrait orientation modes to ensure that photos taken from any angle can be properly edited.
Platforms: Android and iPhone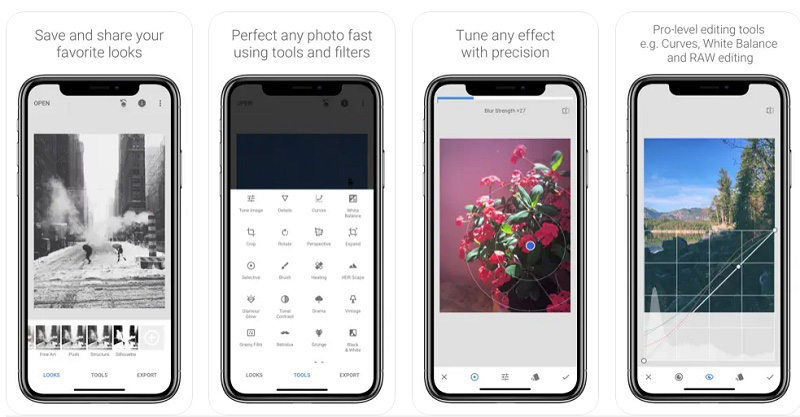 ---
Analysis of Pros and Cons of Photo Editors
Pros: Generally speaking, the biggest advantage of the apps recommended above is that they are very feature-rich. Not only do they allow you to enhance photos according to your own needs, but you can also create other additions based on the original photo. For example, most of them have various filters, stickers, and collages.
Cons: As an app used to enhance image quality for free, it has the following two obvious disadvantages:
1. Enhancing image quality with these above free apps is usually done by adjusting the brightness, contrast, saturation, sharpening and other parameters of the photo. While for those who don't know much about photo editing, they can only keep trying to adjust. This process is very time-consuming. And it is easy to accidentally damage the original image, especially when you need to smear and erase subtle objects.
2. Although it does have a lot of features, it seems that it is more inclined to beautify and create pictures. Its picture-enhancing effect may be weaker, for example, if you have a blurry photo that needs to be sharpened, only to find that it seems to be worse.
---
AI-based Free Apps—Automatically Enhance Photo Quality
AI-based apps simplify the user's role in enhancing the quality of photos to the greatest extent possible. It can be done with just a few clicks, but there are not as many of these AI-based and well-performing apps as the photo editors described above. Here's a look at what good AI enhancers are available.
1. Remini
Remini is a powerful AI-powered photo restoration app that can bring your old, faded photos back to life. The app utilizes advanced algorithms to analyze and restore images without compromising on quality. It uses a combination of deep learning and computer vision technology to enhance fine details, remove noise, and apply color correction.
Remini also offers an intuitive user interface, so you don't need any technical knowledge to produce great results. Most AI enhancers have similar features, but each has its own differences. Remini is distinguished by an interesting feature to create AI Avatars. You will get five free credits each month to enhance old photos. If that's not enough, you will need to purchase to access all features.
Platform: Android and iPhone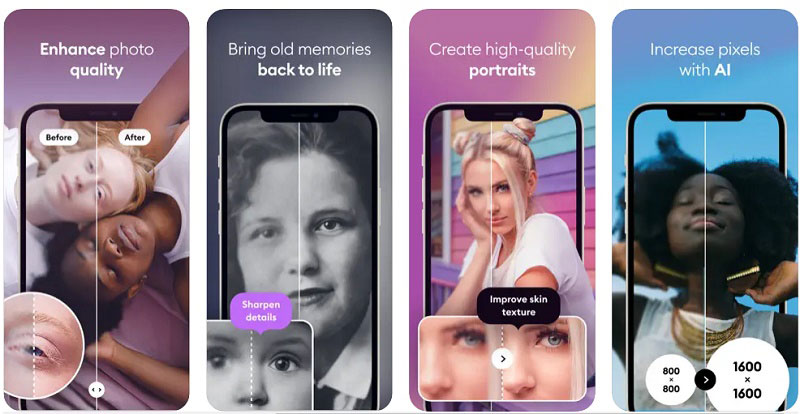 2. Photo Enhancer - EnhanceFox AI
Photo Enhancer - EnhanceFox AI is another AI-based free app to enhance image quality. It can fix various image problems such as restoring old photos, colorizing B&W photos, dehazing and descratching photos, etc. with one click. The most important point is that it can also work as a video enhancer to deblur your blurry videos and bring them to better resolution.
Platform: Android and iPhone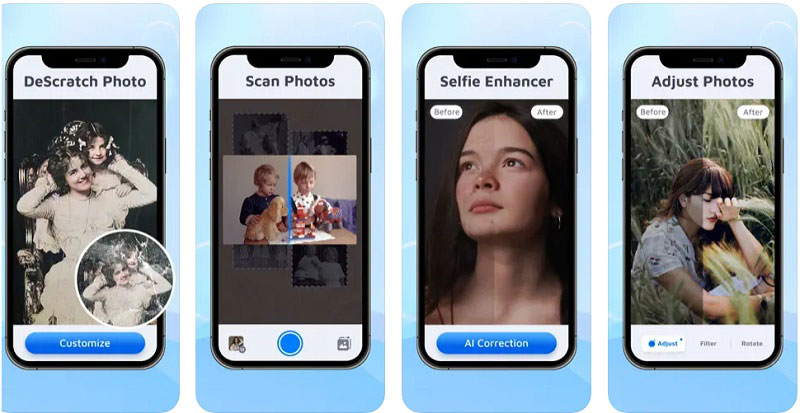 ---
How to Use these AI-based Apps to Enhance Photo Quality—Take Remini as an Example
Step 1: Download the app from Google Play or App store. Then open it and create an account.
Step 2: Click the Enhance button and hit Use it. There will be a message to ask you to allow Remini to access photos and media on your device for your first installation. Just click Allow and choose a photo that needs to be enhanced.
Step 3: An ad will display while your task is being processed. After that, you can see the enhanced image.
---
Analysis of Pros and Cons of AI-based Apps to Enhance Photo Quality
Pros: Quick and easy image enhancement in a few steps for people who don't know how to adjust parameters manually and want to save time.
Cons: Leaves limited room for users to create their own images.
---
Part 3: AI-based Desktop App to Enhance Photo Quality
AVCLabs PhotoPro AI is an AI-driven photo editor that aims to enhance photo quality in just a few clicks using advanced AI technology. Unlike free photo editing apps, it focuses on handling tricky editing tasks. With its quick selection tools, you can enhance both the overall image quality and specific parts.
The notable features of AVCLabs PhotoPro AI encompass capabilities like blurring faces and backgrounds, cutting out images to replace or remove backgrounds, colorizing black-and-white photos, reducing noise and blurriness, and easily removing unwanted elements such as watermarks, people, and imperfections.
Key Features of AVCLabs PhotoPro AI
Enhance photo quality with advanced technology.
Erase background from image with selection tool.
Remove unwanted objects, people, watermarks.
Colorize B&W photos to make it come to life again
Change the style of image to create unique look.
Upscale photos up to 3x, 4x without losing quality.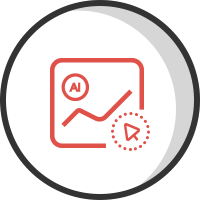 Improving photo quality with AVCLabs PhotoPro AI is straightforward: upload a photo by clicking the browse button or dragging and dropping. Pick the AI model that suits your editing needs, apply it, and after a short processing period, preview and download the edited photo, now enriched with enhancements.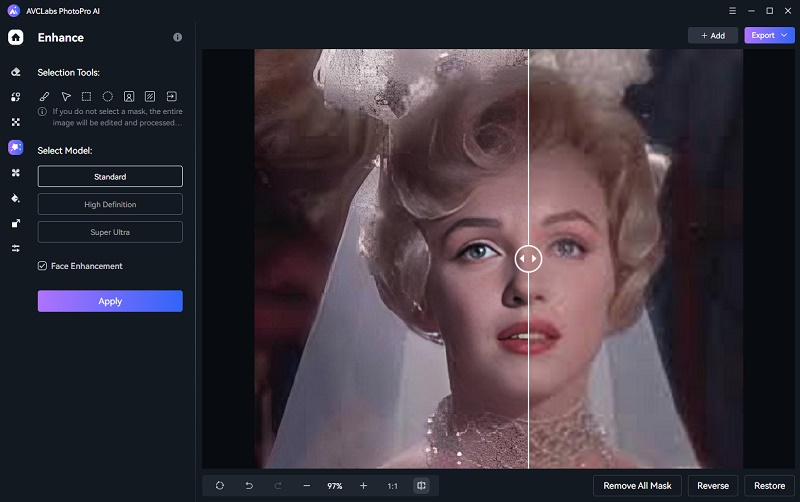 ---
Recommendation: Free Online Image Quality Enhancer
In addition to various mobile apps, there are many excellent online tools to enhance photo quality. AVC.AI is one of them. Powered by advanced AI algorithms, it can easily solve all kinds of image problems in one stop, and also help you erase unwanted objects from photos, such as removing watermarks, people, text, logos, wires, date stamps, etc.
Step 1
Register an Account and Upload Images
When you access AVC.AI, you will be presented with two collections – AI Enhancer and AI Remover – which contain seven models designed to correct various image issues. To make use of this online image quality enhancer, you must log in or sign up for an account. New users will be granted some free credits to process pictures, and existing users can get free credits by following their official YouTube channel, Facebook page, or Twitter.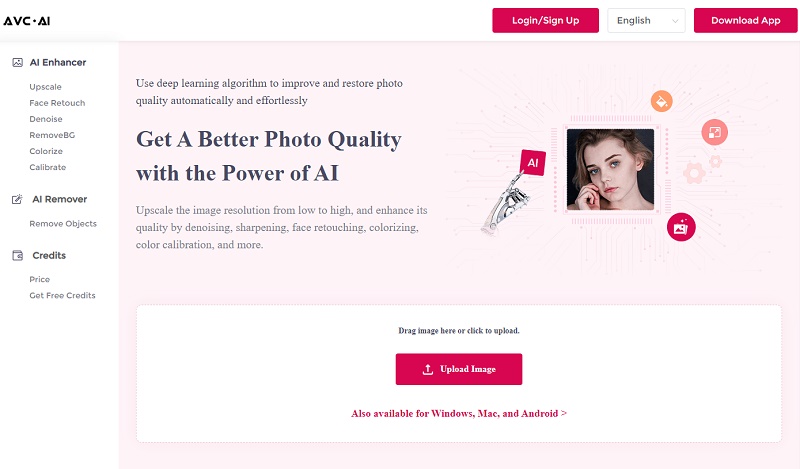 Then click the Upload Image button or drag and drop images directly to the workplace. Currently supported input formats include *.png, *.jpg, *.jpeg, *.bmp, *.jfif, and *.webp.
Step 2
Select AI Models and Start Processing
Choose the appropriate AI model to elevate diverse quality issues. Here take Upscale as an example. It is also possible to take one or more images and process them using multiple AI models in combination.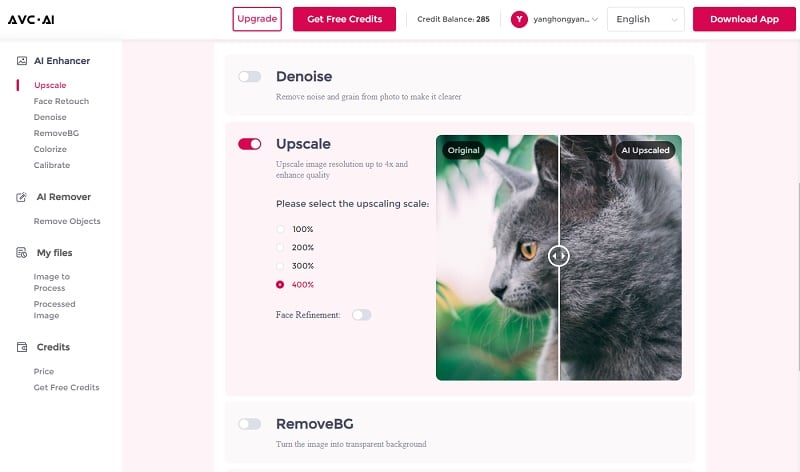 After selecting the images and models, click on the Start Processing button at the bottom to start enhancing images.
Step 3
Preview and Download Images
It only takes a few seconds to process an image. After it is complete, you can press the Eye button to see the result. If you are satisfied with it, then click the Download Image to save the modified image without any watermark.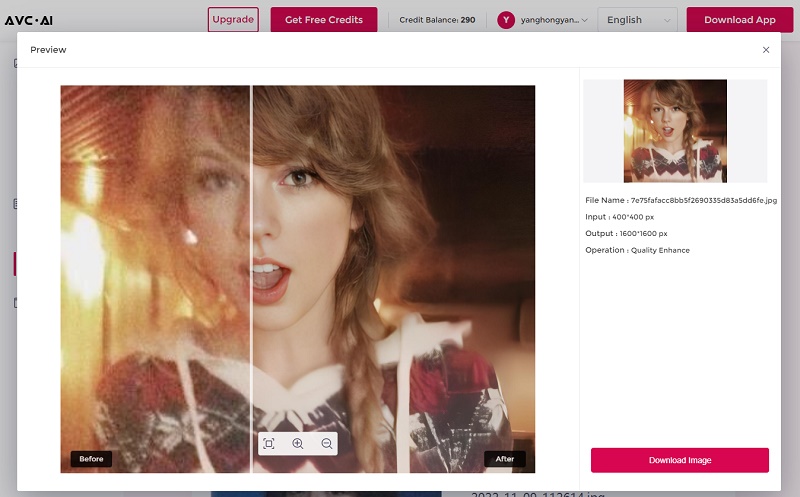 ---
Tips to Avoid Damaging your Photo Quality
Image quality problems are usually caused by the shooting environment, the shooting equipment, or compressed during the transmission process. Here are some tips on how to avoid damaging image quality.
1. Use a Tripod - Using a tripod will help stabilize your camera and ensure that your photos will be sharp and clear to avoid blur.
2. Use Manual Mode - Shooting in manual mode allows you to adjust shutter speed, aperture, and ISO, which gives you more control over your images. This will allow you to capture the perfect exposure and prevent any motion blur from happening.
3. Adjust Your White Balance - Setting a correct white balance helps keep colors accurate when shooting in different lighting conditions.
4. Invest in Quality Lenses - If you are serious about taking better-quality photos, it is worth investing in quality lenses that will help you achieve sharper images and better color saturation.
5. Shoot in RAW Format - Shooting in RAW format allows for higher image quality and more control over post-processing settings like exposure, sharpening, and white balance.
6. Save images in full resolution: Use the highest resolution possible to avoid blurring caused by compressed images during the transmission process.
---
Final Words
Now that you know about 7 free apps to help you enhance your image quality, there's something for you, no matter what your photo editing skills are. For most people, AI-based enhancers are highly recommended. With just a few taps and swipes, you can easily turn a blurry or faded picture into something more vibrant and colorful. No one likes low-res, blurry or pixelated images. Now just choose one and get rid of that pixelated look.
Best Free AI Photo Editor to Enhance Photo Quality
---
Highly Recommended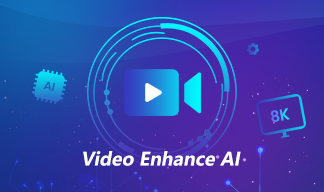 AVCLabs Video Enhancer AI
AVCLabs Video Enhancer AI is an AI-based video enhancement software to upscale video from 480p to 1080p, 1080p to 4K, and up to 8K. With AVCLabs Video Enhancer AI, you can upscale low-res videos to high resolution and bring your old videos a stunningly new look.
Learn More


Video Converter

DVD Converter

Video Editor

Enhance Video Quality

Enhance Image Quality

Remove Objects