Best Online and Offline Image Colorizer to Restore Old Photos
The process of image colorization serves as a bridge linking historical moments with contemporary perceptions. In the past, this was a meticulous manual endeavor, but the landscape has transformed due to the integration of artificial intelligence into colorization techniques. AVCLabs PhotoPro AI stands as a testament to this progression, offering outstanding outcomes in the rejuvenation of aged photographs. Within this article, our focus is directed towards presenting a selection of leading image colorizer – encompassing both online and offline methods and then show you how to colorize and restore black-and-white photos easily.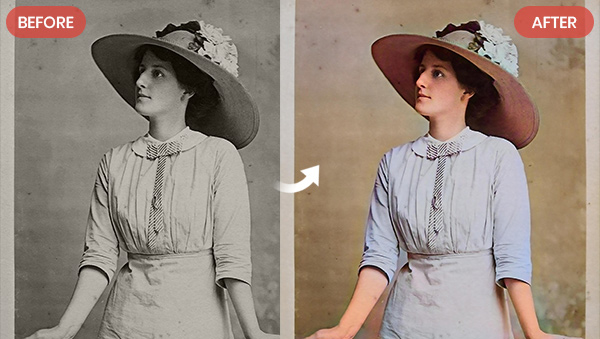 Part 1: Best Offline Image Colorizer — AVCLabs PhotoPro AI
AVCLabs PhotoPro AI presents itself as an AI-powered photo editor with a straightforward approach to addressing various image-related concerns. Equipped with 7 AI distinct models, users can easily remove unwanted objects like watermarks, lines, and people without destroying the background, erase background, upscale low-res images without losing quality, etc.
Focusing on its colorizing ability, this AI image colorizer is well-suited for both newcomers and seasoned enthusiasts, thanks to its user-friendly interface. In contrast to other AI image colorizer that solely automates the entire process, this software introduces quick selection tools. This distinctive feature grants users the ability not only to colorize entire images but also to selectively recolor specific segments. Moreover, it empowers users to fine-tune the rendering index, thereby enabling the creation of satisfyingly vibrant images that meet individual preferences. Now let's check how to colorize the B&W image in just 3 steps with it.
Key Features of AVCLabs PhotoPro AI
Colorize B&W photos to make it come to life again.
Erase background from image with selection tool.
Enhance photo quality with advanced technology.
Remove unwanted objects, people, watermarks.
Change the style of image to create unique look.
Upscale photos up to 3x, 4x without losing quality.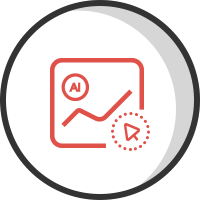 How to Colorize Old Black-and-White Images with AVCLabs PhotoPro AI
Step 1
Launch AVCLabs PhotoPro AI and Upload an Image
Download and install AVCLabs PhotoPro AI. This software is free to download, and you can also try out all its features with a free trial. After installing, open the program and click on the "Browse" button to add your black-and-white photo. You can either click on it and choose the image or simply drag and drop the picture to quickly add it.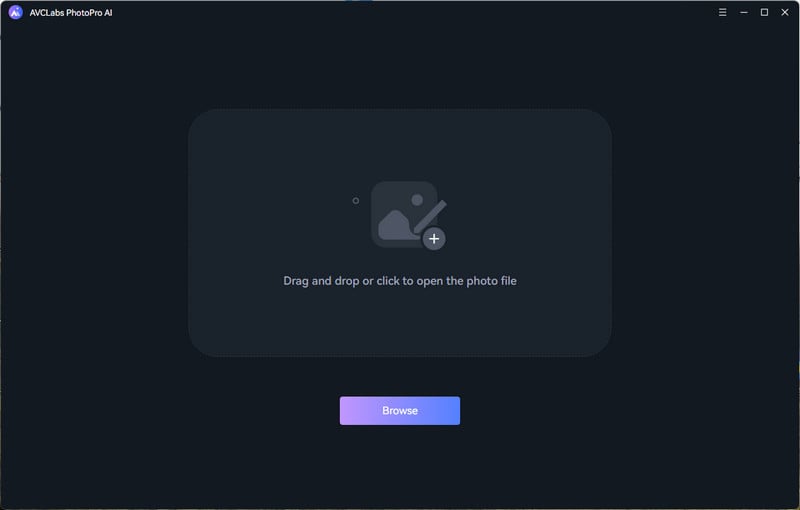 Step 2
Apply the Colorize Model
If you only colorize a specific part of the photo, you need to start by selecting that part using the quick selection tools on the left side. Pick the tool you like and use it to cover the area. Then, choose the Colorize model and adjust the rendering index according to how you want it to look. Click the "Apply" button to start the coloring process.
If you colorize the whole image, just directly apply the Colorize model.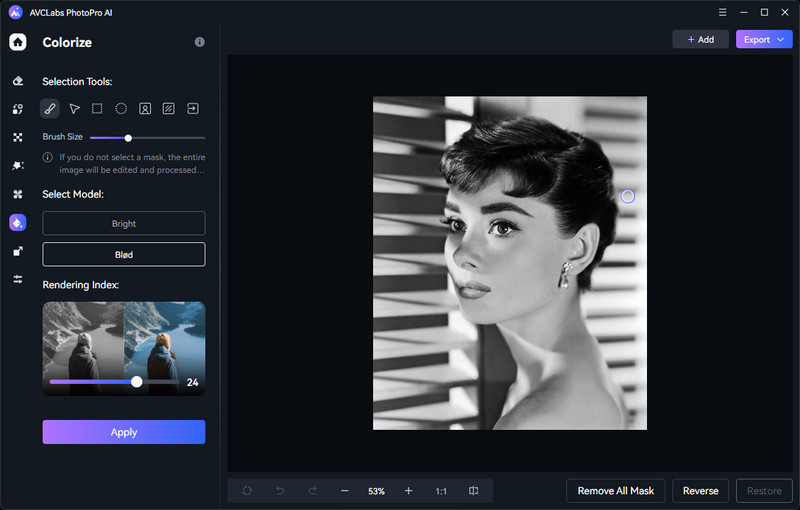 Tips: It is recommended to begin with the default rendering index for coloring. If you're not satisfied with the result, you can increase or decrease the rendering index to match your preferences.
Step 3
Preview and Save the Colorized Photo
After the colorization process is done, you'll be able to see both the original black-and-white image and the newly colorized version side by side. Finally, click on the "Save" button to download them to your local disk.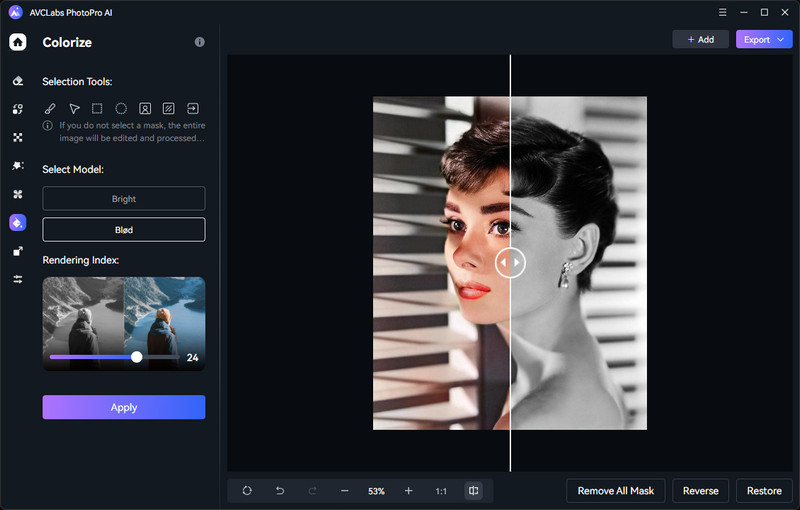 Video Tutorial: How to Colorize an Image?
---
Part 2: Best Free Online Image Colorizer
Online image colorizer offers a convenient and cost-effective way to revitalize old photos. However, not all online tools are created equal. Accuracy, user-friendliness, and available features vary greatly. Since there are so many online options, this article selected the top 3 free online image colorizers for you.
1. AVC.AI— Highly Recommended
AVC.AI presents an array of six distinct models, including Upscale, Face Retouch, Denoise, Remove BG, Colorize, Color Calibrate, and Object Remover. A standout feature of AVC.AI is its unique ability to concurrently select and apply two or more models during the image processing phase. What truly distinguishes AVC.AI is its welcoming gesture to new users; upon registration, you're endowed with 13 complimentary credits. These credits serve as a gateway to experiment with all functions, allowing the download of processed, watermark-free high-quality images. Even after the initial credits are depleted, AVC.AI extends the opportunity to replenish them through participation in their campaign.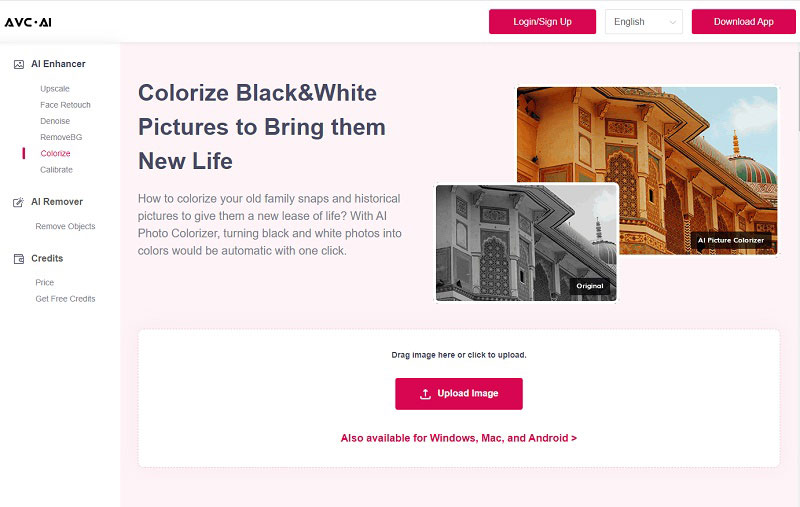 2. Hotpot AI Photo Colorizer
Hotpot AI is an online platform for photo enhancement and editing, presenting an array of tools to enhance your images, with a significant degree of accessibility without substantial costs. Among its offerings, Hotpot AI Photo Colorizer utilizes sophisticated deep learning algorithms to authentically infuse black and white photos with lifelike colors. However, it's important to note that the free version of the tool limits users to downloading images in smaller dimensions.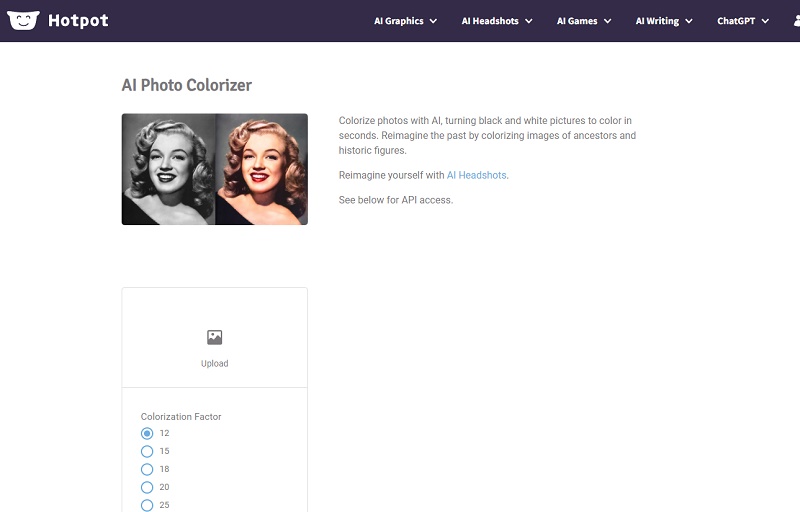 3. VanceAI
VanceAI is an additional option for online image colorization. Its capabilities encompass the transformation of black and white images into color, automatic face enhancement, and the correction of yellow tints. The platform offers a straightforward user experience, with the added convenience of not requiring user registration for trial purposes. Each user gains access to 3 free credits, enabling the processing of around three to four images at no cost. However, it's worth noting that the processed image is full of watermarks.
---
Conclusion
To sum it up, this article has covered a range of tools to bring B&W images back to life, both online and offline. From advanced platforms like AVCLabs PhotoPro AI to user-friendly options like AVC.AI, Hotpot AI Photo Colorizer, and VanceAI, there's something for everyone. If you're eager to try, don't miss out on AVCLabs PhotoPro AI – it's a powerful choice for restoring and colorizing images.
Download and Try AI Image Colorizer For Free
---
Highly Recommended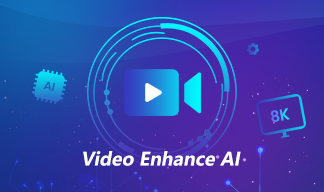 AVCLabs Video Enhancer AI
AVCLabs Video Enhancer AI is an AI-based video enhancement software to upscale video from 480p to 1080p, 1080p to 4K, and up to 8K. With AVCLabs Video Enhancer AI, you can upscale low-res videos to high resolution and bring your old videos a stunningly new look.
Learn More


Video Converter

DVD Converter

Video Editor

Enhance Video Quality

Enhance Image Quality

Remove Objects