Best Photo Editing Software for Beginners in 2023: How to Edit Photos Quickly and Easily
Photo editing is a skill that everyone should master, especially in such a digital age, where sharing and showcasing visuals has become a norm. Searching for the best editing software for beginners, you may find some recommendations like Adobe Photoshop, Luminar Neo, etc. They are indeed excellent and professional photo editing software but might be a bit difficult for real beginners or computer newbies.
With countless options available in the market, it can be overwhelming to choose the best software that caters to your needs. After careful selection, this article will now introduce you to one of the best AI photo editing software for beginners in every way, showing its features and how to use it to edit photos quickly and easily.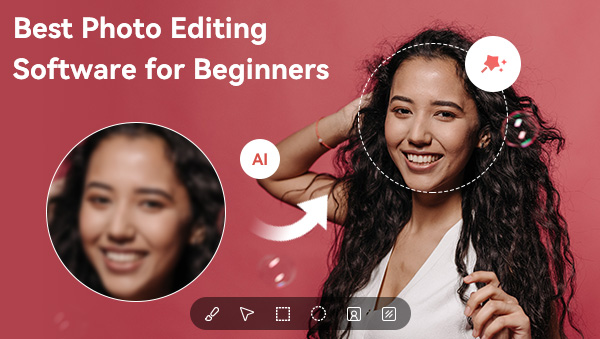 Part 1: What is the Easiest Photo Editing Software for Beginners
AVCLabs PhotoPro AI is one of the best and easiest photo editing software for beginners. Derived from the popular AVCLabs Photo Enhancer AI, PhotoPro AI takes its editing capabilities to the next level. It encompasses all the features of Photo Enhancer AI while introducing an incredibly user-friendly interface, enhanced AI features, and advanced editing tools.
The primary goal of AVCLabs PhotoPro AI is to simplify the photo editing process and save time for users. Its key functions include upscaling photos to higher resolutions while enhancing quality, blurring faces and backgrounds, converting black and white images into color, applying preset filters to stylize photos, reducing noise and blurriness, and effortlessly removing unwanted elements like lines, watermarks, and blemishes. Moreover, it offers the convenient option to isolate specific areas such as people or objects from their original backgrounds with just a single click.
Key Features of AVCLabs PhotoPro AI
Enhance photo quality with advanced technology.
Remove unwanted objects, people, watermarks.
Colorize B&W photos to make it come to life again
Change the style of image to create unique look.
Upscale photos up to 3x, 4x without losing quality.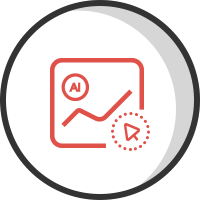 ---
Part 2: Why it is the Best Photo Editing Software for Beginners
User-friendliness and ease of navigation: It has an intuitive interface and a detailed newbie guide, making it easy for beginners to navigate through the various editing tools and features.
Available features and editing tools: An ideal photo editing software should provide users with a variety of editing tools and features that allow them to creatively enhance their photos. AVCLabs PhotoPro AI meets this criterion by offering seven AI features (with more to come) along with several quick and clever selection tools and helpful widgets. These comprehensive offerings ensure that the software can fulfill the majority of your editing requirements.
Affordability and pricing options: The cost of the software should be reasonable, and different pricing options should be available to suit users with varying budgets. People who already use AVCLabs Photo Enhancer AI can switch to PhotoPro AI at no additional cost, and new users have the option to select from monthly, yearly, or lifetime plans based on their budget. You can also try AVCLabs PhotoPro AI for free with a trial version.
Customer support and online resources: Adequate customer support, including tutorials, documentation, and online resources, can greatly assist beginners in understanding and utilizing the software effectively. AVCLabs PhotoPro AI offers free customer support, official YouTube video tutorials and extensive article tutorials.
---
Part 3: Detail Tutorial for Beginners- How to Use This Photo Editing Software
Step 1
Install AI Photo Editing Software and Upload Images
Download and install AVCLabs PhotoPro AI with the provided links.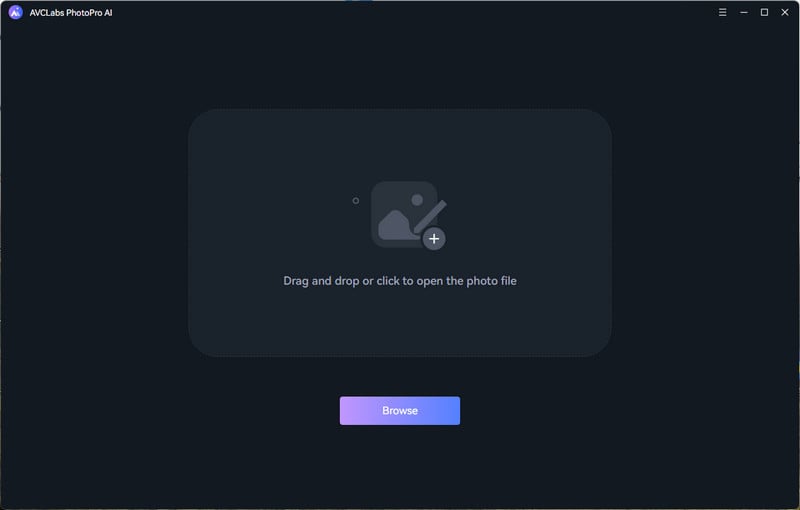 Click the "Browse" button to import the image you want to edit or drag and drop the file into the program directly.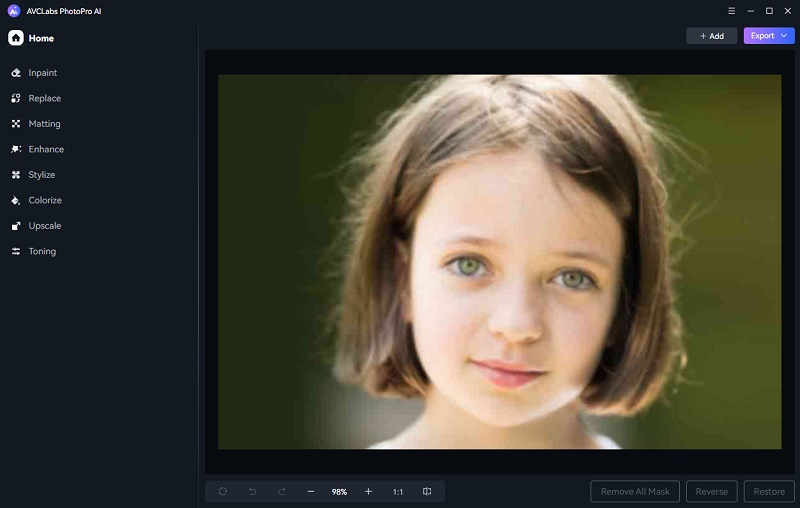 It supports a variety of file formats, including PNG, JPG, JPEG, BMP, RAW, etc.
Step 2
Select the Part You Want to Edit
There are six selection tools on the left side, choose the tool that best suits your needs and select the part you want to edit.

Brush tool: Adjustable size for large areas or fine details.

Object selection tool: Extract objects from an image with AI. It is very convenient to select irregular objects, especially when they are surrounded by clutter.

Circle and

rectangle selection tools: Suitable for large area selection or regularly shaped objects.

Foreground and

background selection tools: One-click to select the object in the foreground or the background separately.
How do they work: Click on the left to choose and click on the right to remove.
Once you have selected the part that need to be edited, click the AI feature located at the top of the program and apply it.
Here take Enhance AI as an example. Depending on your preferences, you have the option to select either partial or full image editing.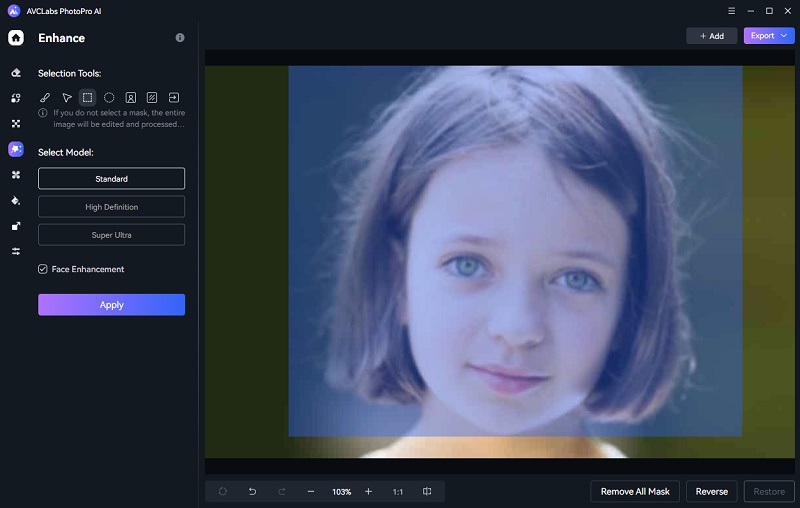 After the process is finished, you can save the edited image or save it as a mask.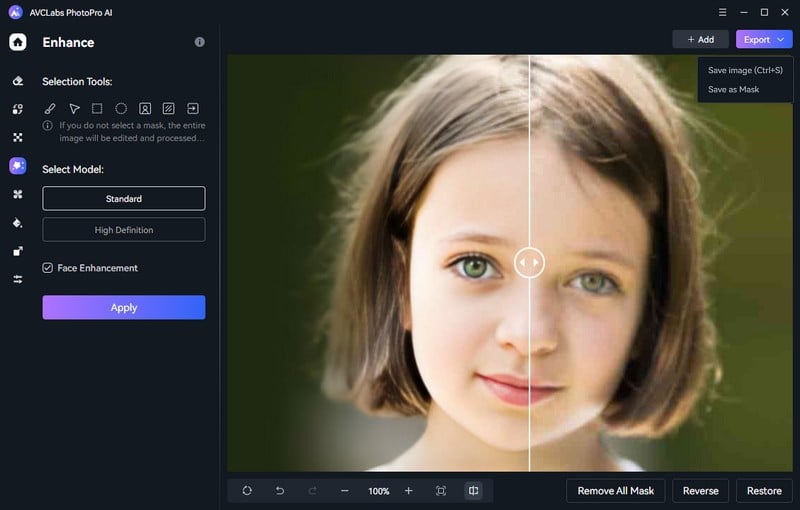 ---
Conclusion:
AVCLabs PhotoPro AI is the best and easiest photo editing software for beginners. Its user-friendly interface, advanced editing tools, and enhanced AI features make the editing process simple and efficient. The software is continuously evolving and improving. It offers affordable pricing options, comprehensive customer support, and access to online resources, making it beginner-friendly. Embark on your photo editing journey effortlessly with AVCLabs PhotoPro AI and unlock your creative potential.
Photo Editing Software Free Download
---

Video Converter

DVD Converter

Video Editor

Enhance Video Quality

Enhance Image Quality

Remove Objects