5 Best Free Photo Editing Apps to Enhance Your Images (iOS, Android, Mac & Win)
Overview: What free apps are best for editing photos? Read on to explore the best free photo editing apps for iOS, Android, Mac, and Windows and learn how AI-based photo editing software can help you quickly solve kinds of image-quality issues.
Before sharing a photo on Instagram or Twitter, people often prefer to do a bit of editing, such as adding filters or touching up faces, to improve their appearance. Photo editing is no longer just for professionals using tools like Photoshop or Lightroom. Thanks to smartphones and digital technology, powerful photo editing apps are now available to everyone, and many are free to use. Whether you're an aspiring photographer who want to streamline your work or simply want to enhance your social media posts, these top 5 free photo editing apps for iOS, Android, Mac, and Windows have you covered.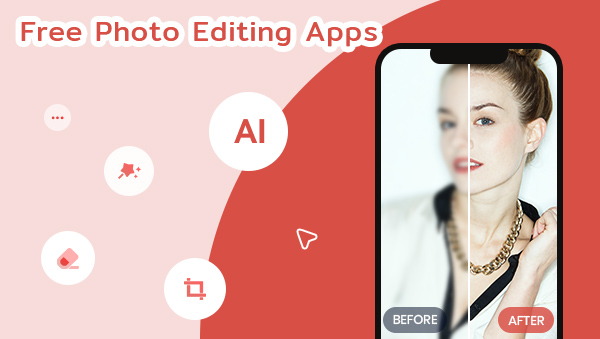 Part 1: 5 Best Photo Editing Apps Free
1. Snapseed
Snapseed is a free photo editing app developed by Google that helps you make your photos look better. It has 29 tools and filters like healing, brush, structure, etc., which gives precise control over the photo editing process. There are also some preset looks that you can use to quickly improve your photos. With Snapseed, you can change things like brightness, colors, contrast, and even fix things like red eyes. In addition, you can also crop your photos, add a blurry background, and fix lines that look crooked. Notably, Snapseed permits editing RAW files, a vital feature for pro photographers. While comparing to other free photo editing apps, it requires a slight learning process.
Compatibility: iOS & Android
Rating: 4.3 on Google Play, 3.5 on App Store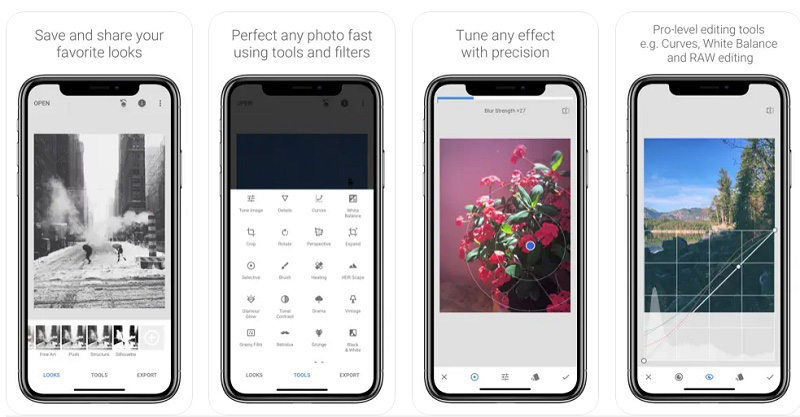 2. PhotoDirector
PhotoDirector, created by CyberLink, is an all-in-one photo editing app. It's like having the combined features of Adobe Lightroom and Photoshop, with added user-friendly assistance similar to Photoshop Elements. This app makes it easy to add cool effects to your photos using AI technology. You can easily remove unwanted objects, change any backgrounds, edit photos, and apply amazing effects with just a few taps. While you can use the basic features for free with ads, if you want to get rid of ads or access more advanced tools, you can choose a subscription.
Compatibility: iOS & Android
Rating: 4.4 on Google Play, 4.6 on App Store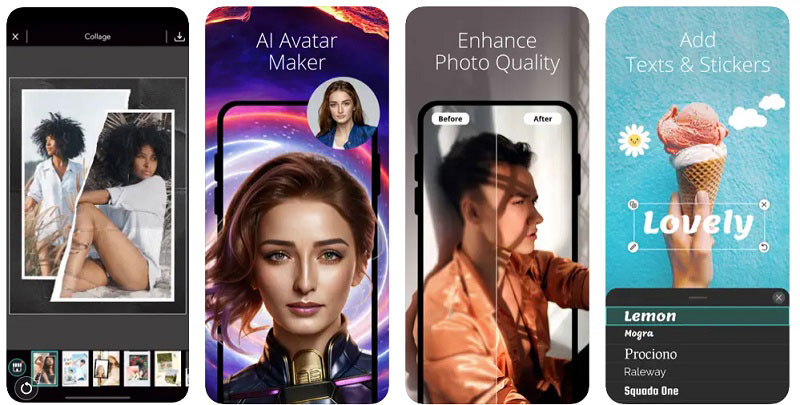 3. YouCam Perfect
YouCam Perfect stands apart from the other free photo editing apps mentioned in this article due to its unique focus as a selfie photo editor and beauty camera app. It is an ideal app to do face retouching. Its adjusting tools can eliminate pimples and unwanted spots, whiten teeth, smooth skin, reshape faces in just one tap, and take your selfie to the next level. Additionally, the app provides a variety of photo effects, camera filters, extensive collages, fonts, stickers, frames, animated enhancements, and a host of other creative options.
Compatibility: iOS & Android
Rating: 4.4 on Google Play, 4.8 on App Store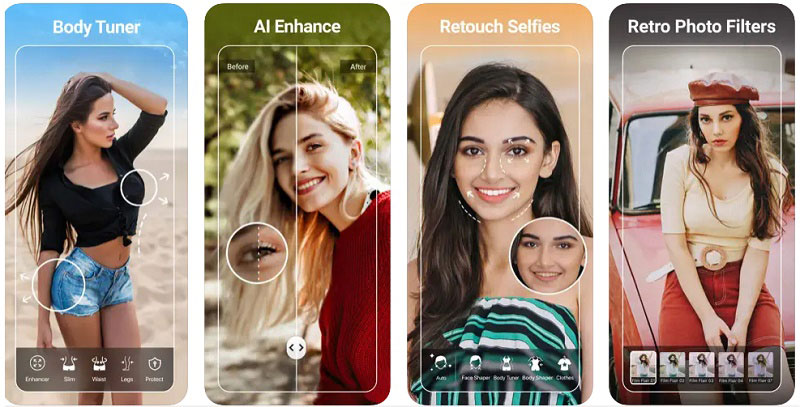 4. Canva
Known primarily as a design tool, Canva also offers robust photo editing capabilities. With a plethora of templates, overlays, and the option to add text, it goes beyond traditional editing. This app is ideal for creating visually appealing social media posts that are not only striking but also informative. With a vast library of templates and design ingredients such as fonts, illustrations, stock photography, video, and audio content, Canva ensures that your visuals stand out in a cluttered digital landscape.
Compatibility: iOS & Android, web-based, Win & Mac
Rating: 4.8 on Google Play, 3.9 on App Store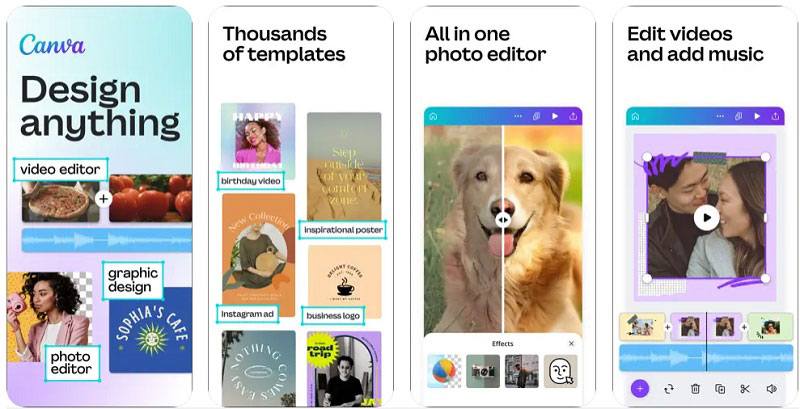 5. VSCO
VSCO is more than just a photo editing app; it's a creative community that encourages artistic expression. Sporting a user-friendly interface that emulates the aesthetics of an analog film camera, VSCO provides a unique editing experience. Its presets and filters allow you to infuse a distinct mood into your images, while its social features enable you to share your work and connect with other like-minded individuals, fostering inspiration and growth.
Compatibility: iOS & Android, web-based, Win & Mac
Rating: 3.4 on Google Play, 4.7 on App Store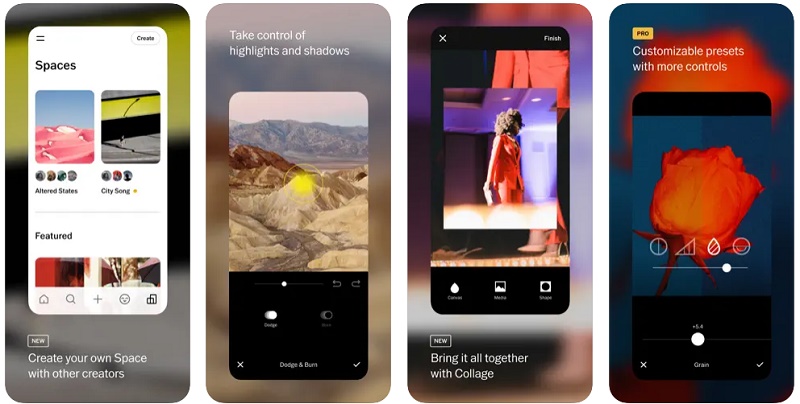 ---
Part 2: Best AI-based Photo Editing software for Win and Mac
In addition to the aforementioned free photo editing apps, there are also some excellent photo editing software options available that are beginner-friendly. AVCLabs PhotoPro AI is an AI-powered photo editor, designed to enhance images with just a few clicks utilizing advanced AI technology. It is specifically tailored to address challenges that can be difficult to handle manually using free photo editing apps.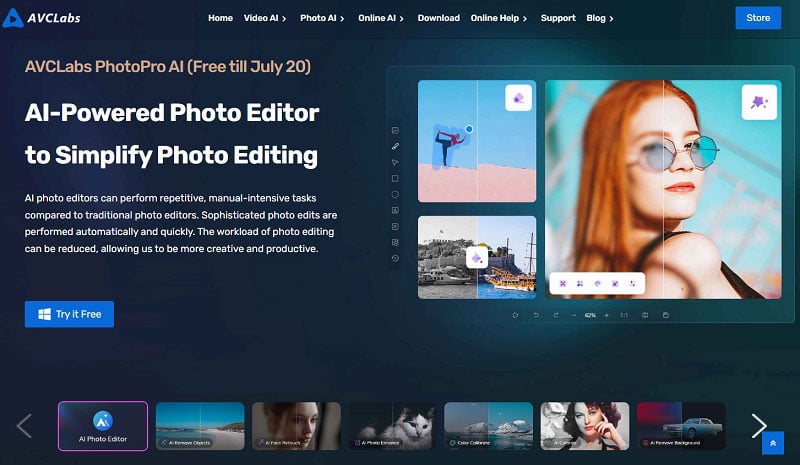 Key features of AVCLabs PhotoPro AI include the ability to blur faces and backgrounds, seamlessly cut out images to replace or remove backgrounds, transform black and white images into color, apply preset filters for creative stylization, reduce noise and blurriness, and effortlessly eliminate unwanted elements such as watermarks, people, and imperfections.
Key Features of AVCLabs PhotoPro AI
Erase background from image with selection tool.
Enhance photo quality with advanced technology.
Remove unwanted objects, people, watermarks.
Colorize B&W photos to make it come to life again
Change the style of image to create unique look.
Upscale photos up to 3x, 4x without losing quality.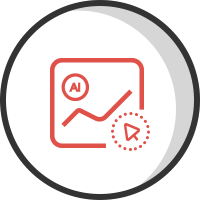 How to Edit Photo with AVCLabs PhotoPro AI?
The software boasts a user-friendly interface that makes it incredibly simple to use. Typically, you can enhance an image in just three easy steps: click the browse button or drag and drop a photo for quick uploading. Choose the AI model that best suits your editing needs, and apply it. After a brief processing period, you can preview and download the edited photo, complete with enhancements.
Let's check some examples:
1). Enhance the whole or specific part of an image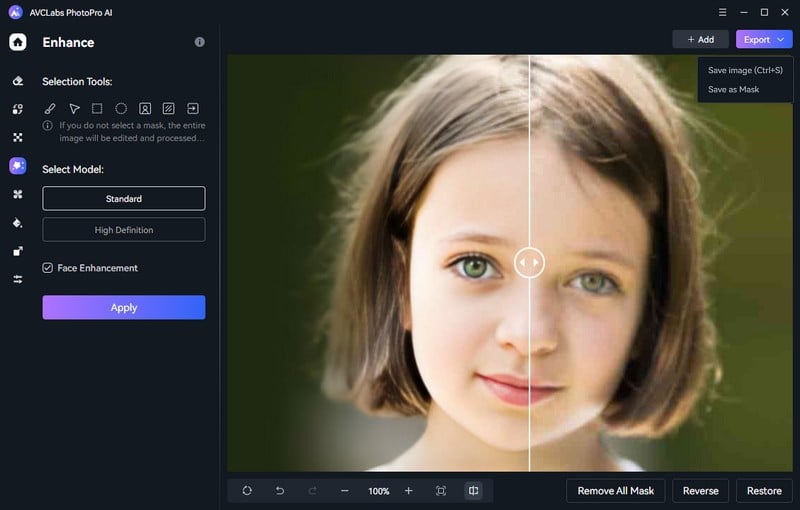 2). Upscale an image without losing quality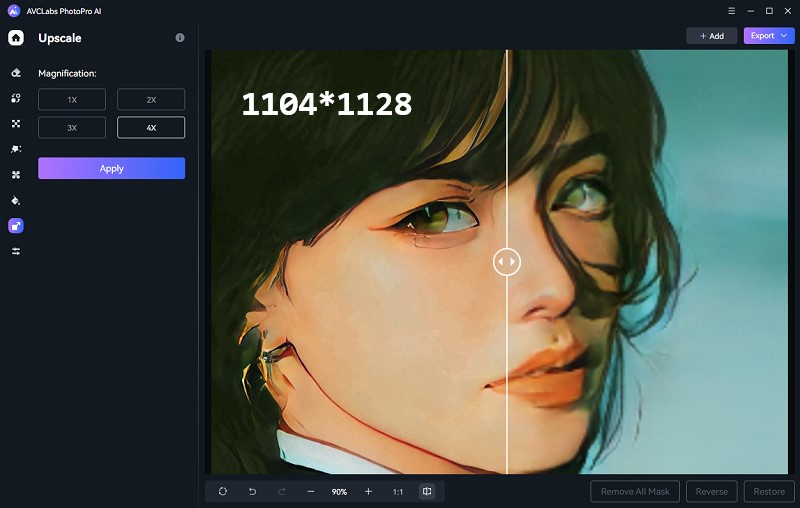 3). Cut out the image to remove or replace the background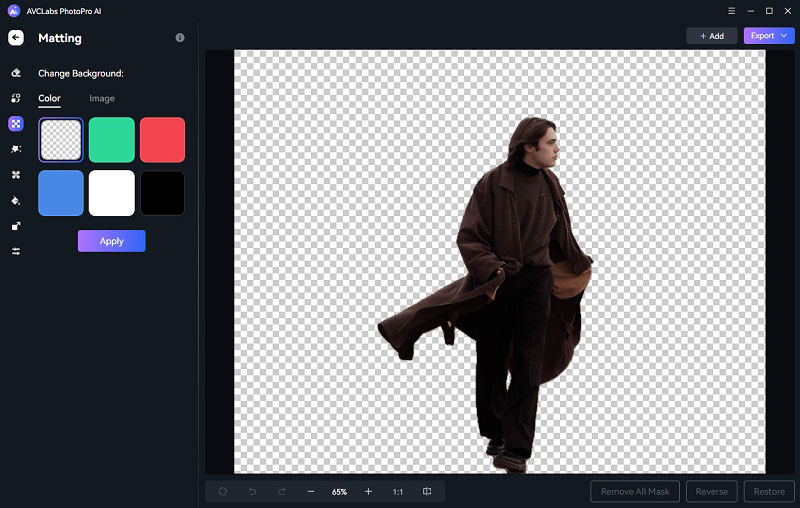 ---
Part 3: FAQs about Free Photo Editing Apps
1. What do most photographers use to edit photos?
Most photographers commonly use professional software like Adobe Lightroom and Adobe Photoshop to edit their photos. These tools provide a comprehensive range of features and options that cater to the diverse needs of photographers.
2. What is the easiest photo editor for beginners?
For beginners, photo editing apps like Snapseed, VSCO, and YouCam Perfect offer a variety of features that are relatively easy to grasp. These apps provide basic to intermediate editing capabilities while maintaining simplicity, making them suitable for those who are new to photo editing. Some easy-to-use AI-based software like AVCLabs PhotoPro AI is also a good option for beginners.
3. Which is Better : Free Photo Editing Apps vs Lightroom/Photoshop?
Choosing between free photo editing apps and professional software like Lightroom and Photoshop depends on what you need. Free apps are easy and good for quick edits and sharing online. But if you want advanced tools and are serious about editing, Lightroom and Photoshop are better. If you're a beginner or just want simple edits, free apps are fine. But if you want top-notch editing and can learn, go for Lightroom and Photoshop.
---
Conclusion
The availability of free photo editing apps has democratized the art of image enhancement. Whether you're using iOS, Android, Mac, or Windows, these 5 apps and AVCLabs PhotoPro AI offer a diverse range of tools and features to suit every skill level and editing requirement. Just pick one and try it by yourself.
---
Highly Recommended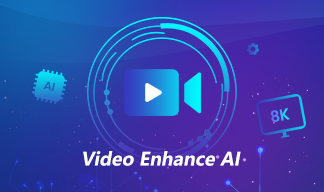 AVCLabs Video Enhancer AI
AVCLabs Video Enhancer AI is an AI-based video enhancement software to upscale video from 480p to 1080p, 1080p to 4K, and up to 8K. With AVCLabs Video Enhancer AI, you can upscale low-res videos to high resolution and bring your old videos a stunningly new look.
Learn More


Video Converter

DVD Converter

Video Editor

Enhance Video Quality

Enhance Image Quality

Remove Objects