Best 4K Upscaler: One-Click to Upscale Videos and Images to 4K
4K Upscalers are getting more important for content creators and people who desire to enjoy the highest level of visual fidelity in their videos and images. While native 4K content is becoming increasingly accessible, there is still a vast amount of lower-resolution videos and images out there. Fortunately, 4K upscalers have emerged as a convenient and efficient solution to bridge this resolution gap. By using a 4K upscaler, you can enjoy sharper details, vibrant colors, and improved overall clarity, making your content look as close to native 4K as possible.
This article will introduce you to two types of 4K upscalers, designed to help you upscale low-res videos and images to 4K resolution.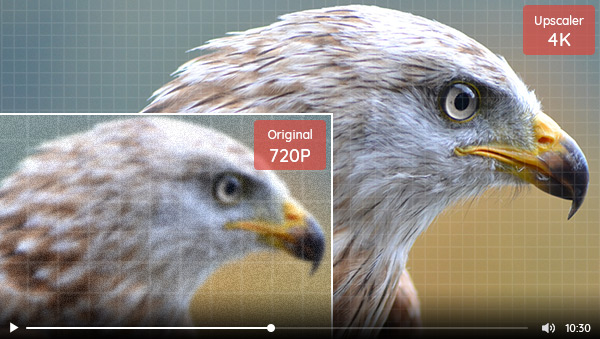 Part 1: What is 4K Upscaling
4K upscaling refers to the process of enhancing the resolution of lower-res content, such as videos or images, to match the quality and clarity of 4K resolution. It involves using sophisticated algorithms and techniques to extrapolate additional detail and information from the original content. This upscaling process increases the pixel count and sharpness, resulting in a visually improved version of the content that closely resembles native 4K quality.
---
Part 2: Best 4K Video Upscaler- Upscale 1080P, 720P or Lower-res Videos to 4K
AVCLabs Video Enhancer AI is a highly regarded 4K video upscaler that utilizes artificial intelligence and advanced algorithms to enhance the resolution and quality of videos. With powerful upscaling capabilities, it can transform lower-resolution videos into stunning 4K resolution, unlocking greater detail, clarity, and visual fidelity.
One of the key strengths of this 4K upscaler is its advanced AI technology, which analyzes and understands the content of the video to intelligently upscale it while minimizing artifacts and preserving image quality. This ensures that the upscaled videos maintain a high level of detail and sharpness, closely resembling native 4K content.
In addition to 4K upscaling, AVCLabs Video Enhancer AI provides a range of other video enhancement features, such as noise reduction, blurry removal, stabilization, color correction, and colorization. These additional tools further enhance the overall quality of the videos, ensuring a visually pleasing viewing experience.
AVCLabs Video Enhancer AI
Upscale videos from SD to HD, HD to 4K.
Convert video to 60, 90 and even 120 FPS.
Sharpen faces from blurry video.
Colorize B&W videos to make revive again.
Support GPU & TensorRT acceleration.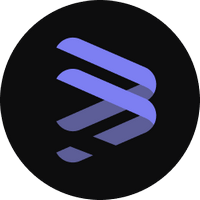 How to Upscale Low-res Videos to 4K with AVCLabs Video Enhancer AI
Step 1
Upload Videos to 4K Upscaler
Download and install AVCLabs Video Enhancer AI. Launch it and click the "Browse" button to upload low-res videos or drag and drop them to the workplace.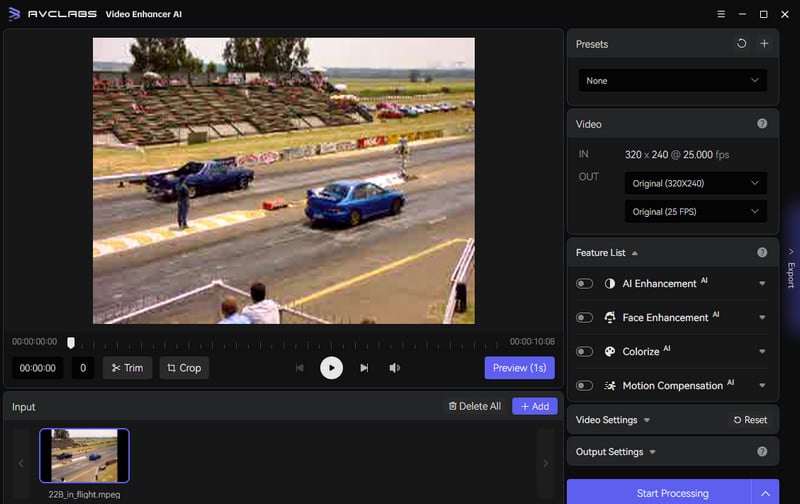 Step 2
Set 4K Output Resolution
Method 1: Go to Presets section and select Upscale to 4K. There are 8 preset pre-configured options that you can use right away.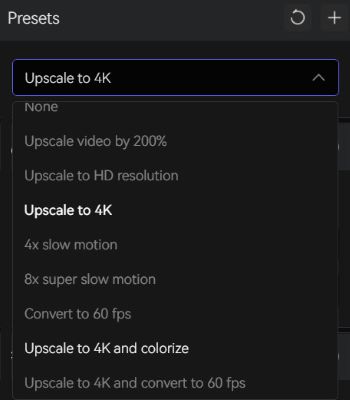 Method 2: Enable the AI Enhancement feature and set the output frame rate and output size with a range from 200% upscaled, SD to 4K and 8K in the Video-Out section.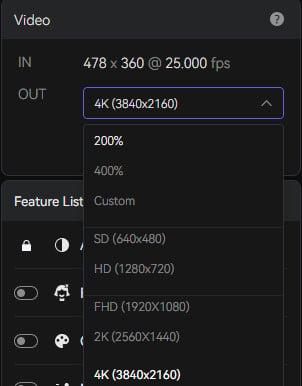 Step 3
Configure Other Settings
If necessary, you can adjust the brightness, saturation, and contrast of your videos in the Video Settings section. And set the output video format, the encoder, the bitrate, audio settings, and output path in the Output Settings.
Step 4
Start Upscaling Videos to 4K
Once all the settings are complete, click the Eye button to review 30 frames. Finally, click the Start Processing button to upscale videos to 4K.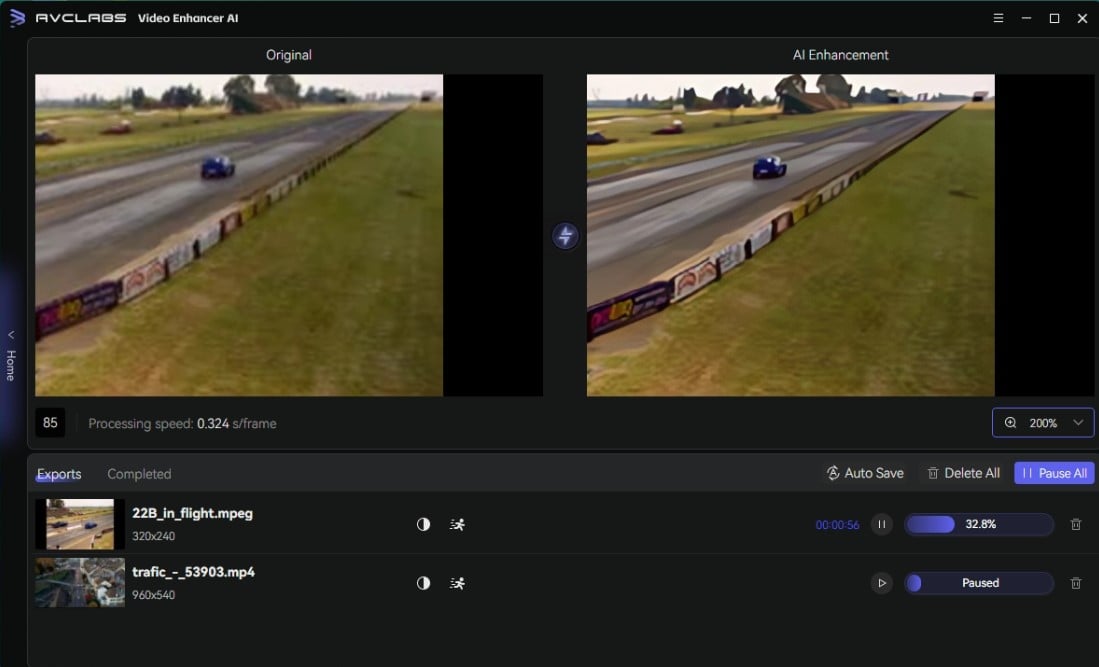 ---
Part 3: Best Free Online 4K Image Upscaler - Upscale a Photo to 4K with AI
AVC.AI is an online AI-based 4K image upscaler that can upscale and enlarge your image four times without losing the original image quality and even repairing the original one. The other features of it include removing unwanted objects and watermark from photos, enhancing video quality, colorizing B&W images, etc.
How to Upscale a Photo to 4K with AVC.AI
Visit AVC.AI. and log into your account. Otherwise, click on the Sign-up button to create one (You will get 13 free credits for the first registration). Then click on the Upload Image button or drag and drop the source image directly into the site.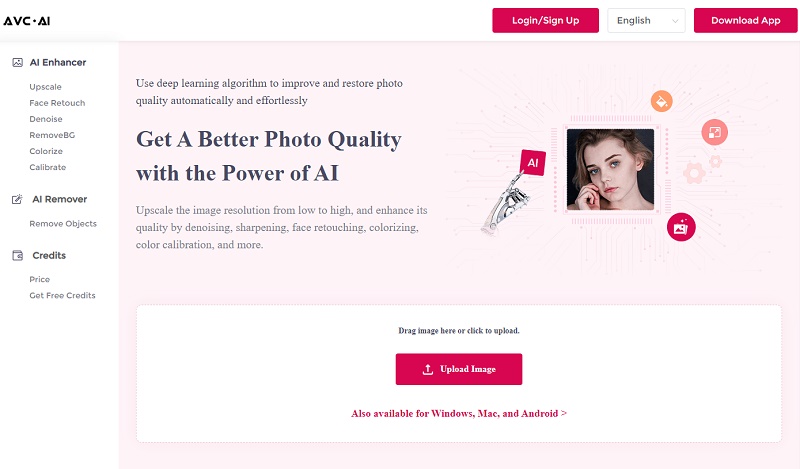 There are currently six models available and multiple models can be stacked together for processing. To upscale an image to 4K, you have to check Upscale and select the upscaling scale.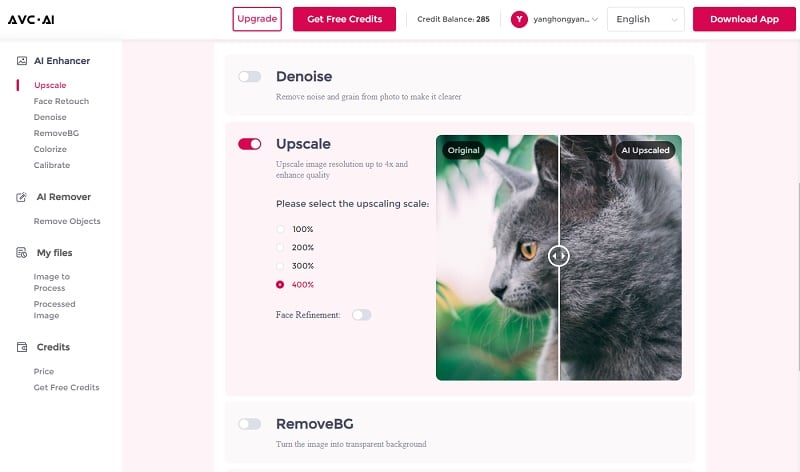 After all the parameters are set, click on the Start Processing button to initiate 4K upscaling. After the process is finished, you can download it to your device.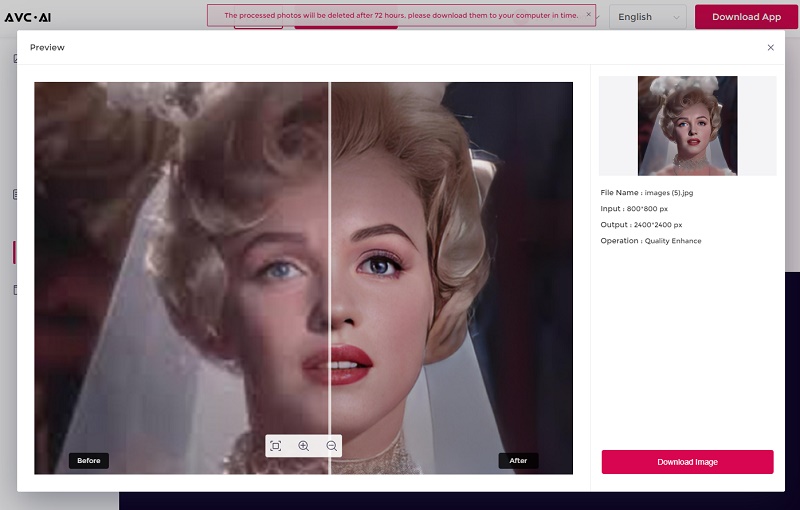 ---
Part 4: Is upscaling 4K the same as 4K?
Upscaling to 4K is not the same as native 4K. Native 4K refers to content that was originally captured or created in a resolution of 3840 x 2160 pixels (or 4096 x 2160 pixels in the cinema industry). It captures the full range of detail and sharpness during the initial capture or creation process, resulting in the highest level of visual fidelity.
On the other hand, upscaling involves taking content that has a lower resolution, such as 1080p or lower, and using algorithms to increase the resolution to 4K. While upscaling can improve the visual quality of lower-resolution content and make it more suitable for viewing on 4K displays, it cannot add the same level of detail and clarity as native 4K content. However, it can still provide a significant enhancement to lower-resolution content, allowing it to approach the visual quality of native 4K to some extent.
---
Conclusion
4K upscalers are essential tools for content creators and individuals seeking higher visual fidelity. They enhance lower-resolution content and upscale it to 4K resolution, bridging the gap to native 4K quality. AVCLabs Video Enhancer AI and AVC.AI offer advanced algorithms and AI technology for video and image upscaling. While not the same as native 4K, they significantly improve visuals for a more immersive experience.
---

Video Converter

DVD Converter

Video Editor

Enhance Video Quality

Enhance Image Quality

Remove Objects