How to Improve Video Quality on Twitch
"How can you improve the video quality on Twitch? Help, please." - Ryan Mendez
When it comes to streaming on Twitch, quality is everything. If your stream isn't crisp and clear, nobody is going to want to watch it. Fortunately, there are a lot of different things you can do as a beginner streamer to improve your video quality on Twitch. Here are some simple ways that you can improve the video quality on your Twitch stream without breaking the bank or having to spend hours fiddling with software settings.

Part 1: Why Are My Twitch videos Low Quality
If you are noticing low video quality on your stream, the first thing you should do is check the settings on your computer. Many of the settings that impact video quality are easy to overlook when you're setting up your stream, and they're also easy to adjust. If you're not seeing any real improvement after changing your settings manually, it may be time to try out some additional software that can boost the visual quality of your stream automatically. The first thing to check is your resolution settings. If the settings are set too low, the stream will look blurry and pixelated. To get the clearest possible stream, you'll want to set your resolution to something like 1920x1080. If you're streaming in 1080p and still noticing low quality, your graphics card may not be powerful enough to support it. If your resolution is set correctly, you should also make sure that your bitrate isn't too low. A low bitrate can result in grainy video and audio, as well as sound dropouts. Most streamers will want to keep their bitrate between 3,000-6,000 Kbps, depending on their computer's processing power and internet connection speed.
---
Part 2: How to Improve Twitch Video Quality on Windows PC/Mac via AVCLabs Video Enhancer AI
AVCLabs Video Enhancer AI is an easy-to-use software that can help you boost the visual quality of your Twitch videos especially games videos on Windows PC or Mac. This software is designed to help you increase the video quality of your Twitch by upscaling low-res videos like SD (480p), HD (720p) to 1080p or 4K, even up to 8K automatically and enhancing your visuals using artificial intelligence. If you want to upload your latest gaming clips to Twitch and wanna keep face details hidden from strangers, you can also use the AI Face Blur model of AVCLabs Video Enhancer AI to blur out faces automatically in Twitch videos . It's very easy to use, and most streamers can get it up and running in just a few clicks.
Driven by AI technologies and powerful algorithms, it helps to remove all video blur such as blurry faces in videos and video noise automatically and intelligently. No advanced video editing skills are required.
Video Enhancer AI
Enhance the video quality to make them more aesthetically pleasing.
Deblur your footage by using machine learning.
Upscale videos from SD to HD, HD to 4K.
Upscale low-res videos onto a larger screen.
Trim your footage frame by frame.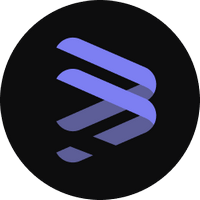 Let's follow the tips below to change video quality on Twitch on Mac and Windows PC.
Step 1
Install and Run AVCLabs Video Enhancer AI
Warm tips: you can click here to check whether your CPU or GPU is capable of fixing a blurry Twitch video with AI.
Firstly download the AVCLabs Video Enhancer AI from the above button and install it on your Windows PC or Mac, then double-click on the icon to launch it.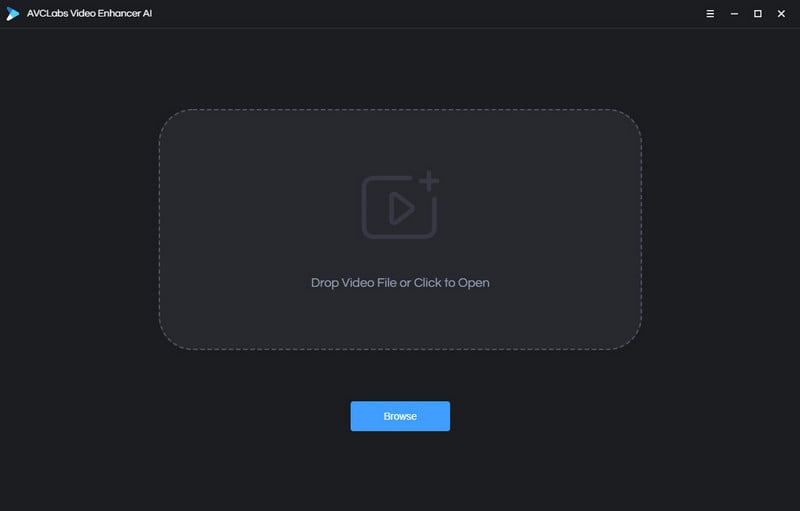 Step 2
Import the Blurry Video You Want to Improve
Simply click on the Browse button at the bottom of the program interface and upload the video file you need to improve from the computer.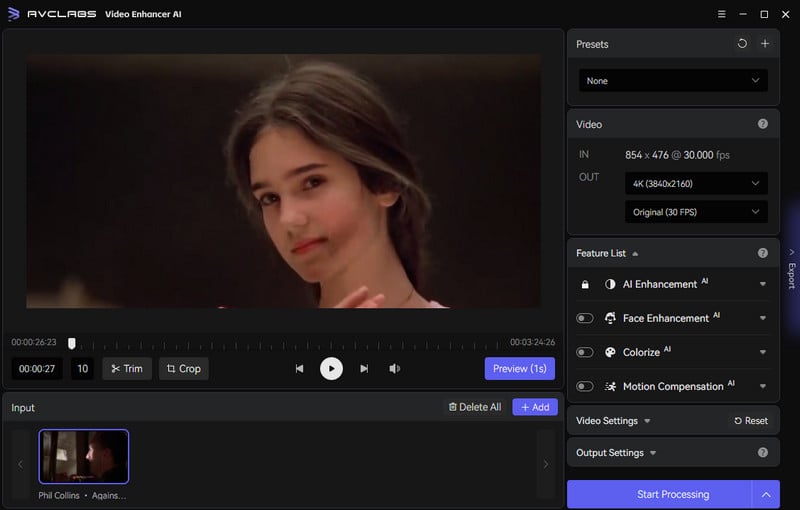 There are four AI features available: AI Enhancement, Face Enhancement, Colorize AI and Motion Compensation. Choose anyone that suits your needs.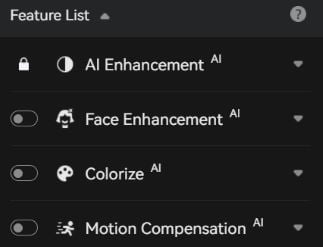 Or just select a pre-configured option from the Preset section to use it directly.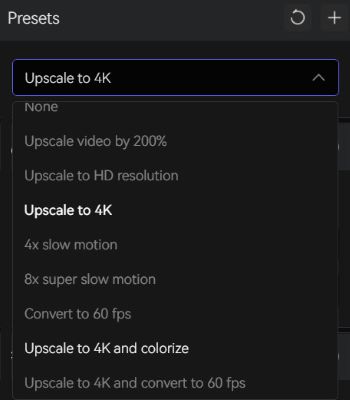 Step 4
Set the Output Parameters
Before sharpening the blurry Twitch video, you are suggested to modify some critical parameters like output format and output path from the right panel of the program.
You can also go to the Video Settings to adjust the Brightness , Saturation , Contrast.
You can also get to the Output Settings to set the output video format to MKV, MP4, AVI, MOV, WEBM), the encoder (H.264, H.265, VP9 Good, VP9 Best, AV1), the bitrate, audio settings, and output path.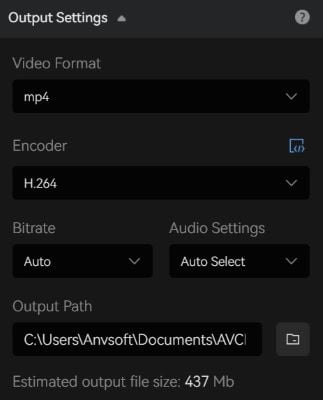 Step 5
Start Making A Blurry Twitch Video Clear Automatically
Once all the preparation work is complete, simply click on the Start Processing button to start improving your blurry Twitch video automatically. The final processing time depends on your computer's system configuration, video size. Please be patient.
After the Twitch video improving process is done, you can click on the "Open Output Video" button to check the output clear and high-resolution Twitch video.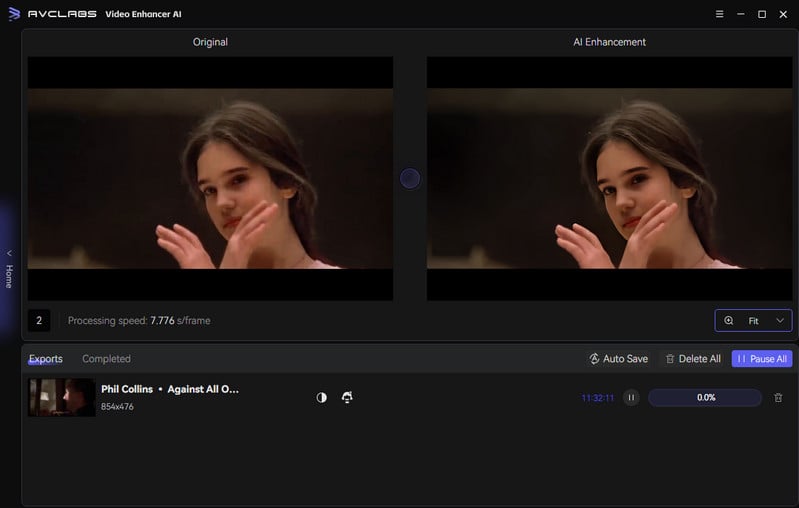 ---
Part 3: How to Change Video Quality on Twitch on Mobile App
In this part, we will talk about how to change video 1uality on Twitch on Android or iOS smartphone.
1. Open the Twitch mobile app on your Android or iOS smartphone.
2. Then Click on the Settings option.
3. Now Choose the Video Quality option.
4. Then change the video stream quality options from low to high ( 1080p) based on your preference. By default, it will be in Auto.
---
Conclusion:
When it comes to streaming on Twitch, you can't skimp on quality. You won't be able to build an audience if your stream doesn't look good, but luckily, there are a lot of easy ways to boost your video quality without spending thousands on new equipment. First, check your settings and make sure that your resolution and bitrate are set correctly. If you're still noticing low quality, you might want to try out an easy to use video enhancement software like AVCLabs Video Enhancer AI .
---
Try AVCLabs Video Enhancer AI to breathe new life into your footage!
---

Video Converter

DVD Converter

Video Editor

Enhance Video Quality

Enhance Image Quality

Remove Objects