Top 7 Best Apps to Blur Faces in Videos [iPhone, Android, Windows PC & Mac]
"How can I blur moving faces in a video? Which app is best for blurring a moving face in a video?" - Kerry Palmer
Keeping personal information private is more important than ever, especially with social media growing as fast as it is. Whether you're posting sensitive videos of friends and family on Instagram, making a YouTube video for friends, or uploading your latest gaming clips to Twitch, it's important to keep those details hidden from strangers. Blurring faces in videos is one way to do that.
With these apps, you can blur faces in your videos so that only you can see their identity. From paparazzi shots to home videos shot by a stranger without your permission, there are many instances where you might not want the world to see a particular face.
We've compiled a list of top 7 best apps for blurring faces in videos on Android and iOS, Windows PC and Mac so that you can keep your personal information safe from prying eyes.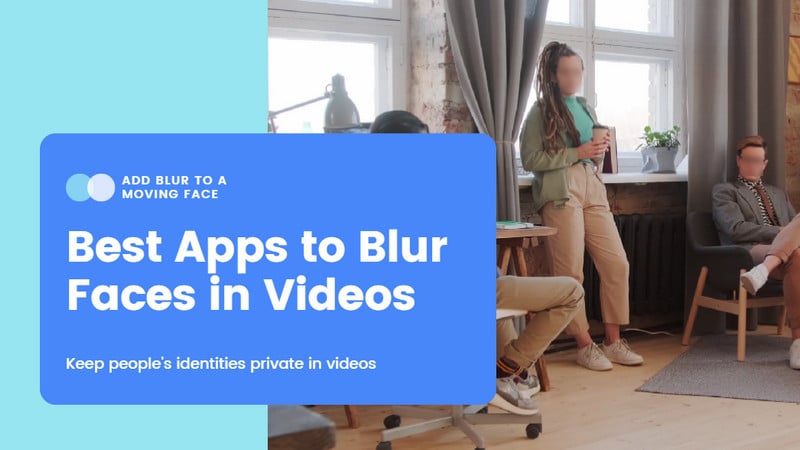 Part 1: Best Face Blurring Apps to Blur Faces in Videos on Windows PC/Mac
1. AVCLabs Video Blur AI
AI-based face blurring software - AVCLabs Video Blur AI stands out among the list of the best apps to blur faces in videos. Thanks to the motion tracking feature, AVCLabs Video Blur AI can easily obscure faces, automatically find the faces, and blur them smartly. Based on automated deep-learning, it is more efficient due to the higher functionality it possesses. In addition, it also allows users to blur sensitive information in a video such as logos, license plates, or credit card numbers, etc.
Powered by AI technology, AVCLabs Video Blur AI helps you save time and patience as you do not have to manually blur each face for each video, no prior video editing skills are required. Moreover, it comes with multiple blur types and subscription plans, it gives users a better experience in enjoying this amazing software.
AVCLabs Video Blur AI
Automatically detect, recognize, and track faces in videos for anonymization with precision.
Blur the detected faces selectively for single face or multiple faces in a video.
Blur or pixelate parts of a video.
AI-automated solutions for face, background, foreground, object and license plates blurring.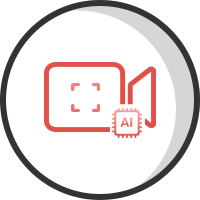 How to Blur Out Moving Faces in Videos on Computer using AVCLabs Video Blur AI.
Step 1
Install and Run AVCLabs Video Blur AI
Firstly download the AVCLabs Video Blur AI from the above button and install it on your computer, then double-click on the icon to launch it.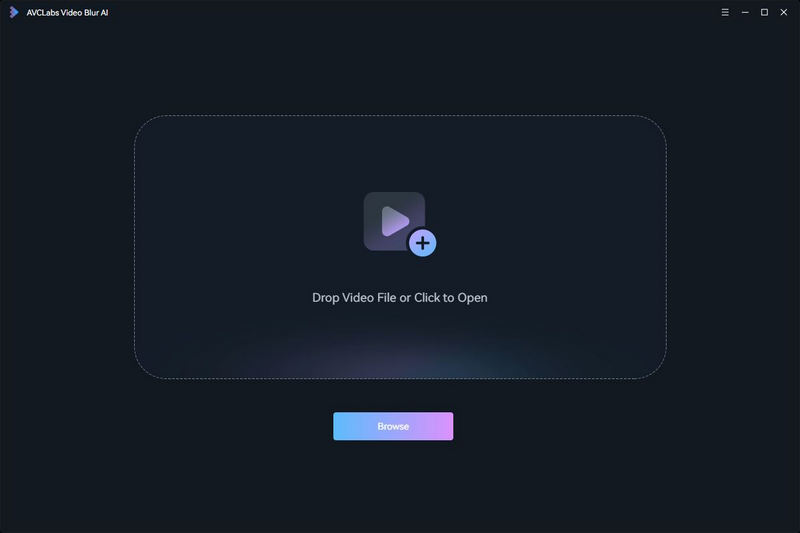 Step 2
Add A Video to AVCLabs Video Blur AI
Simply drag &amp drop a video from your computer to this face blurring program. You can also click on the Browse button at the bottom of the program interface and upload the video file you need from the computer.
Note: AVCLabs Video Blur AI supports the most common video formats like 3G2,3GP, AVI, DIVX, FLV, F4V, M2TS, MTS, MOV, MP4, M4V, MPEG, MPG, DAT, MKV, OGM, RMVB, RM, TS, TP, VOB, WMV, WTV, ASF, DV, WEBM, etc.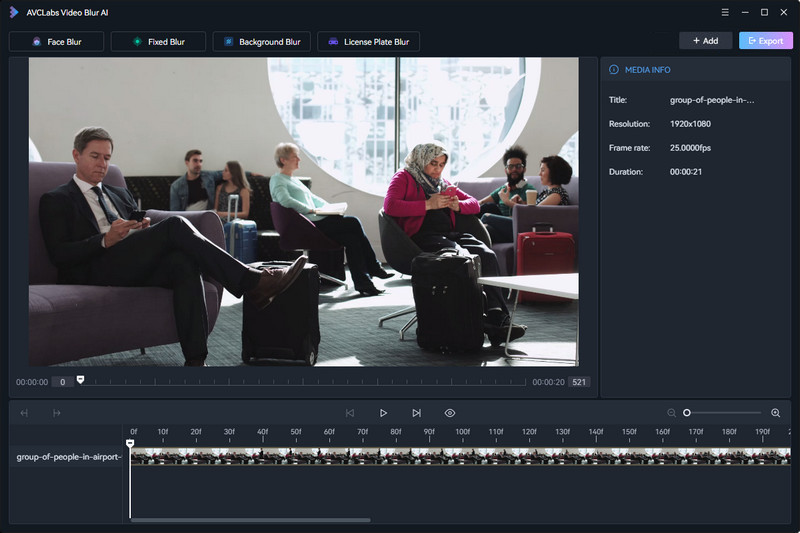 Step 3
Add A Face Blur Task, Select Blur Type and Strength
After importing a video to the program, simply navigate to the Face Blur tab at the top of the program to start a face blur task.
There are 5 different blur types available: Mosaic, Standard Blur, Longitudinal Blur, Blique Blur, and Particle Blur. Moreover, you can also upload a custom image from your computer.
Tips: You are also allowed to adjust the blur strength by dragging the slider.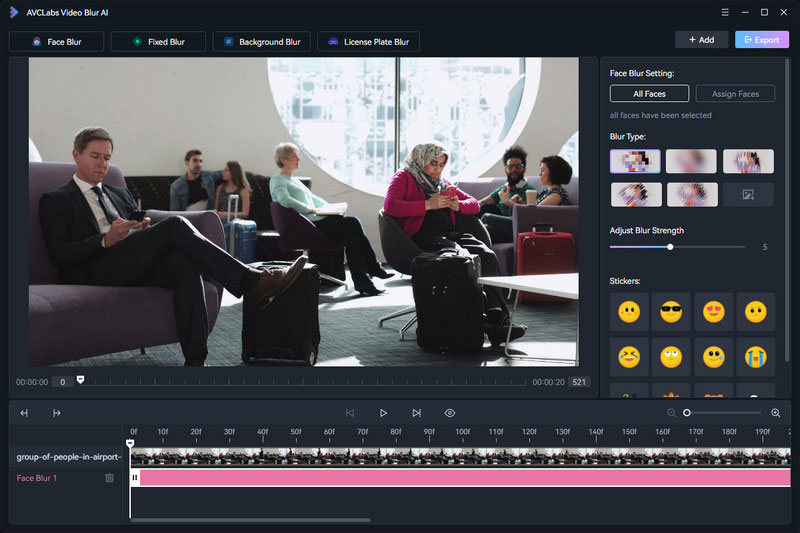 Step 4
Select All Faces or Specific Faces to Blur
After all the settings are done, you can choose to scan all human faces or selected faces in the video under the Face Blur Setting. There are two options for you: All Faces or Assign Faces, you can select the one you prefer.
All Faces: When you select the All Faces option, the program will effortlessly apply a blur effect to all faces that appears in the video.
Assign Faces: When you choose the Assign Faces option, the program will apply a blur effect exclusively to the faces you have selected.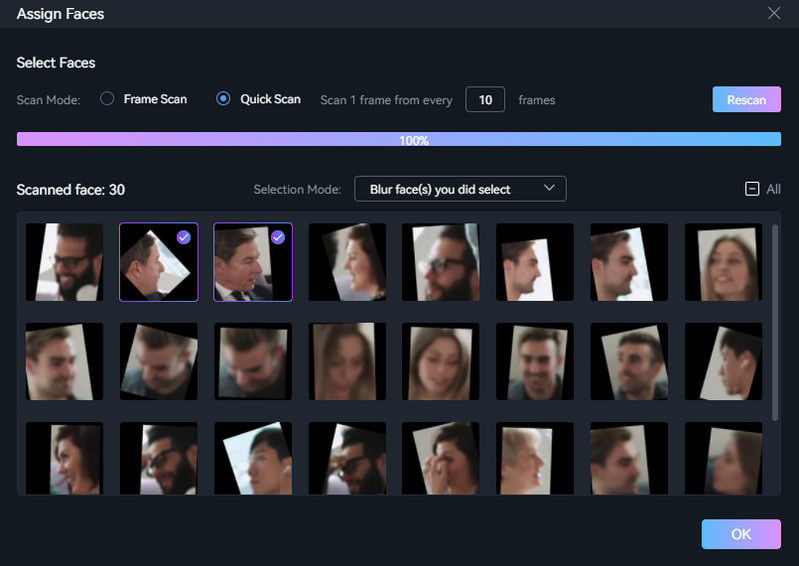 Step 5
Start Blurring Faces in A Video Automatically
Once all the settings are set up, simply click on the Export button to start blurring faces in a video automatically on your computer.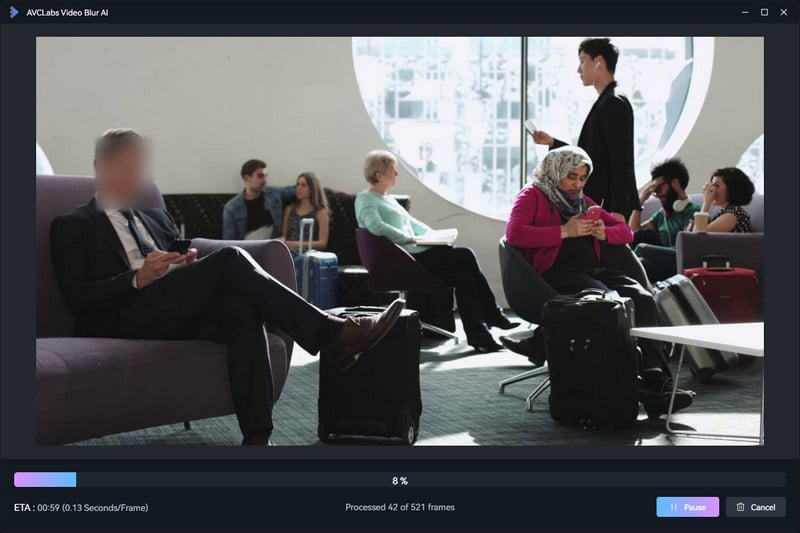 After the face blurring process is completed, you can tap on the View Output Video button to check the video with faces blurred.
---
Pros:
• User-friendly to most users both in price and UI
• Multiple input video formats are supported
• Track the still or moving faces and find them, then blur them automatically
• Dedicated AI Face Blur model to blur single or multiple still or moving faces in videos smartly
• Multiple blur types to satisfy users' different needs
• Offer a free trial version to test full features
Cons:
• Android and iOS versions are not available
---
Part 2: Best Free Face Blur Apps to Blur Faces in Videos on iPhone
1. Video Mosaic
Video Mosaic is an iOS app that allows you to blur faces in videos on iPhone, iPad. The face blur app has a high user experience because of the intuitive interface and various genres of effects. You can blur the entire video or obscure any part of the video frame or get only faces blurred. Moreover, you can decide the shapes for blurring such as hearts, abstract and geometric shapes.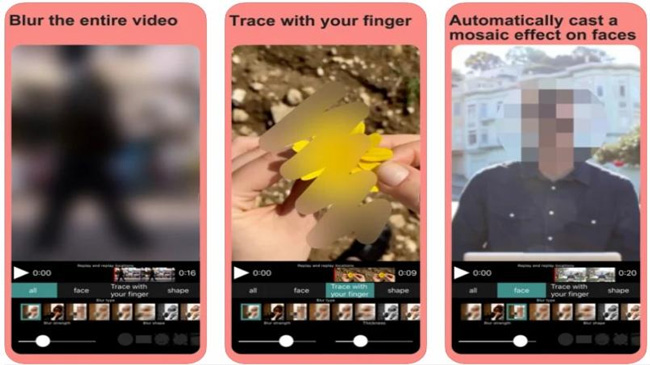 Pros:
• Automatically blur people's face
• Blur the video with particular shapes
• Auto Mosaic effect on faces
• Trace with fingers
Cons:
• Users need to make an in-app purchase to get rid of ads
• The application is not stable, crashes sometimes
---
2. KineMaster
KineMaster is a another powerful tool designed for iOS users to blur moving faces in videos with just a finger touch by making use of the built-in blender. It brings you a new level of facial blurring effects through the smoothing of your skin. Plus, it comes with credible features to level up videos like multiple video layering, chroma key function, voiceover, transition effects and many more. If you need a multi-functional blur effect video editor, KineMaster is a nice choice for you.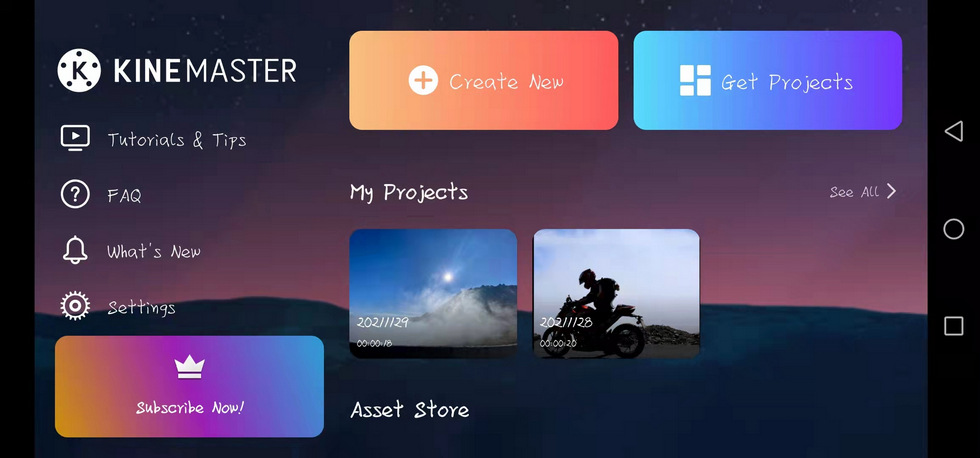 Pros:
• Featured with various basic editing tools
• Transition effects
• Frame-by-frame trimming
• Multiple video layering provided
• Available on both iPhone and Android
Cons:
• It requires an in-app purchase to unlock all features
• Free version places watermarks on videos
---
3. MovStash: Intelligent Face Blur App
MovStash is a helpful iOS video face blurring app that you can use to blur unwanted details and remove blemishes on your videos or images. There are 4 types of blurring styles for your videos. It's also possible to change the sheep of the blur. What's more, it can be demanding to blur faces frame by frame.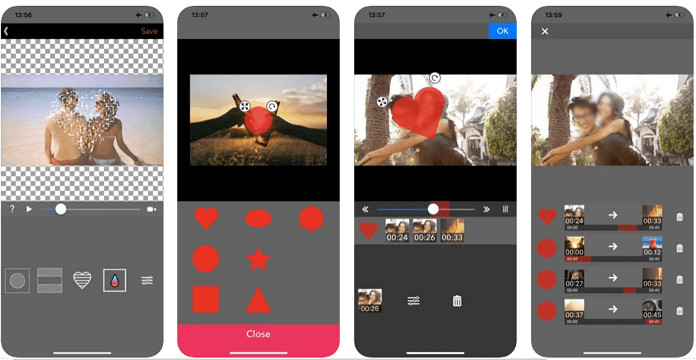 Pros:
• Straightforward to navigate
• Various blurring styles
•Able to blur the entire video with timeline mode or face tracking mode
• Available on both iPhone and Android
Cons:
• Unstable OS
• There is only one video editing function
---
Part 3: Best Free Face Blurring Apps to Blur Faces in Videos on Android
1. Blur Video and Image
Blur Video and Image is also a great face blurring app for Android users to blurs photos and videos simultaneously. It allows you to apply the blur effect to media captured by the camera or directly imported from your local library. Besides, you can define multiple areas to blur in a single photo or video. For additional adjustments, you can decide the borders of the blur and change the intensity of the blur effect.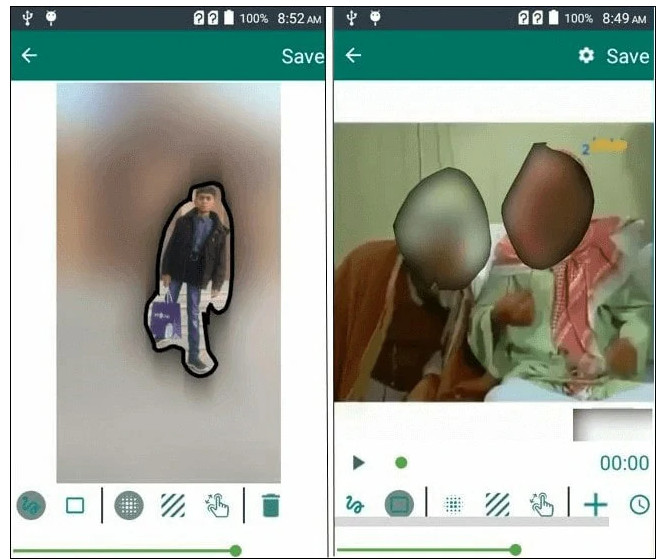 Pros:
• Provide an adjustable rectangle blur
• It works for photo and video blurring on Android
• Offer lasso select and pencil blur, which makes blurring efficient
• Choose the media or capture a new one using the rolling camera
Cons:
• It contains ads and requires an extra payment to get full features
• It has a low number of supported output format
• Adjusting the blur effect is hard
---
2. PutMask
PutMask is aLso a good AI Face Blur app to blur faces in videos on Android. Unlike other apps in this list, PutMask uses AI to automatically blur faces in videos. The app will automatically track the face movement in the video and blur it seamlessly.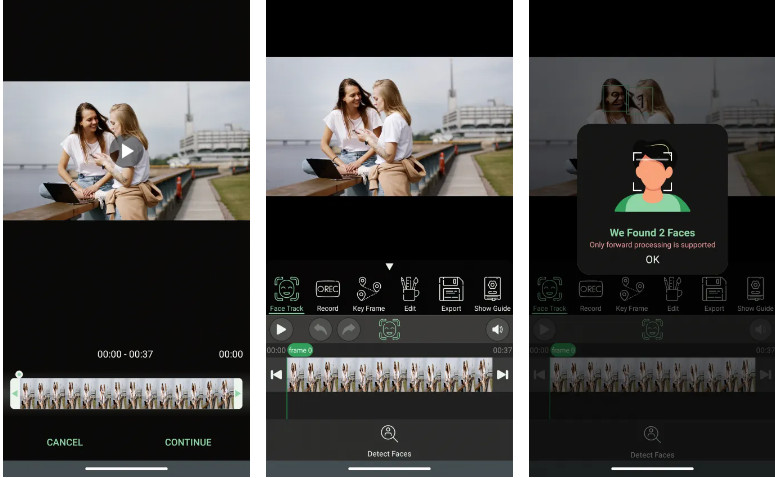 Pros:
•The main features of PutMask is completely free and with No Ads.
• Use automatic tracking, you can use a large number of face trackers simultaneously.
• Detect any faces, even a small square with dimensions of 10 by 10 pixels and at any angle (full face, half face).
Cons:
• PutMask app leaves a watermark on your videos. If its bothersome, you can pay a one-time fee of $7.99.
---
3. Snapspeed
Snapspeed is a application developed by Google to help users blur faces or objects in their photos&videos . If you'd like pleasing editing without advertisement disturbing, this app is what you're looking for.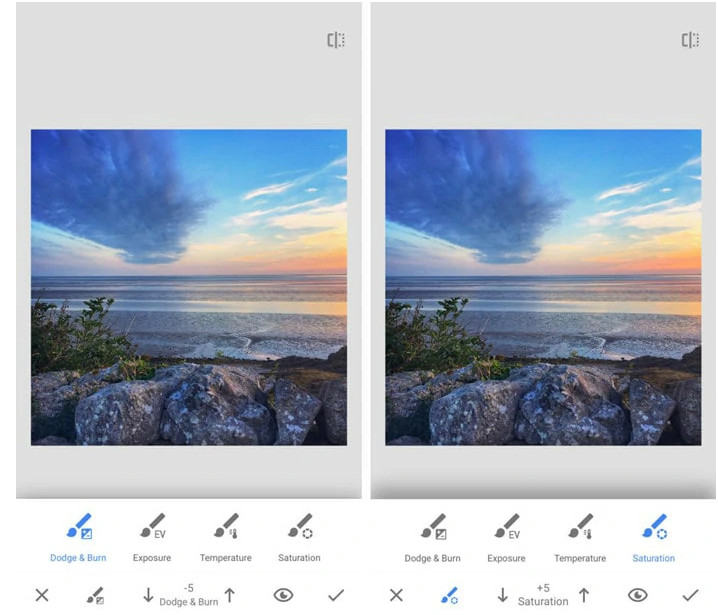 Pros:
• No ads to distract your attention
• Support photo enhancement, filter and editing functions
• Available on both iPhone and Android
Cons:
• It's a little complicated for beginners
---
Conclusion:
When it comes to privacy, you have to take all necessary steps to protect yourself. Blurring faces in videos is an effective way to do that, and there are plenty of free apps you can use to do so. There are many instances where you might want to blur faces in your videos, such as when the person in the video doesn't want to be seen. With these apps, you can blur out the faces in your videos so that only you can see their identity. Keep your friends and family safe from prying eyes by using one of these apps to blur faces in your videos.
Do you want to blur someone's face in a video clip? Whether you're trying to protect the identity of a person in a video or just make them less recognizable, there are several apps that can help. In this part, we will discuss the best face blur apps for iPhone, Android, Windows PC and Mac. So regardless of what type of device you are using, we have you covered!
Try AVCLabs Video Blur AI to protect privacy!
---

Video Converter

DVD Converter

Video Editor

Enhance Video Quality

Enhance Image Quality

Remove Objects