5 Best AI Video Enhancer Software in 2023
Before the AI technique was introduced into software engineering, video editors usually spend a couple of days restoring a bad-quality video using conventional video editing tools like Adobe Premiere Pro. This difficult job is usually very labor-intensive, and even a professional video editor can hardly fix a video longer than 1 hour in a short time. But this has been changed a lot since the appliance of AI technique in video editing software.
By using a fully intelligent AI video enhancer, you are not required to have any video editing experience and it would handle everything to improve a bad-quality video. In this article, I will show you 5 amazing AI video enhancer software in 2023.
1: AVCLabs Video Enhancer AI
AVCLabs Video Enhancer AI is one of the most popular video enhancement software worldwide, it's mainly used to upscale bad-quality videos to 1080p, 4K, or 8K using its built-in deep learning AI models. In order to improve the accuracy, the neural network has already been trained on millions of videos. AVCLabs Video Enhancer AI provides their users with multiple built-in AI models. As for the output video size, this AI video enhancer supports upscaling bad-quality videos up to 8K. In addition, there are 2 commonly used video formats you can choose as the output format including MP4 and AVI.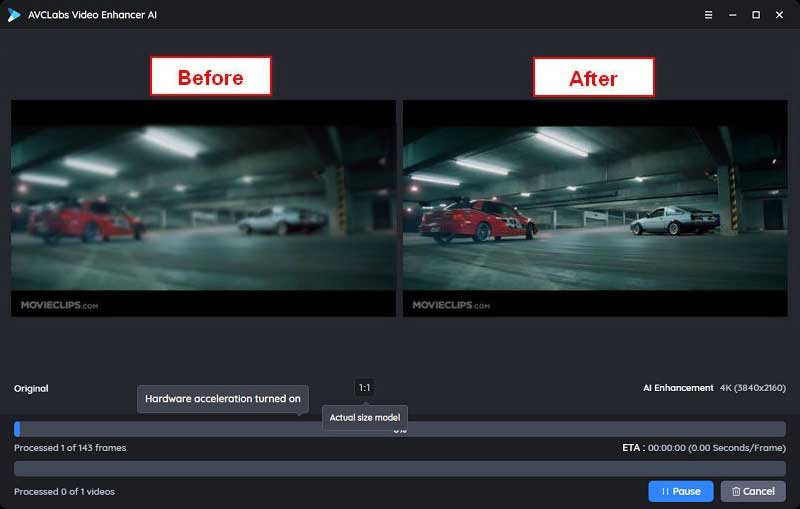 Video Enhancer AI
Enhance the video quality to make them more aesthetically pleasing.
Deblur your footage by using machine learning.
Upscale videos from SD to HD, HD to 4K.
Upscale low-res videos onto a larger screen.
Trim your footage frame by frame.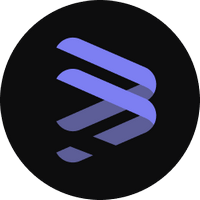 How to Use AVCLabs Video Enhancer AI
Step 1
Download and launch AVCLabs Video Enhancer AI
Firstly you should download the latest version of AVCLabs Video Enhancer AI from the link given above on your computer. Once you have successfully installed it, double-click the icon to launch the AI program.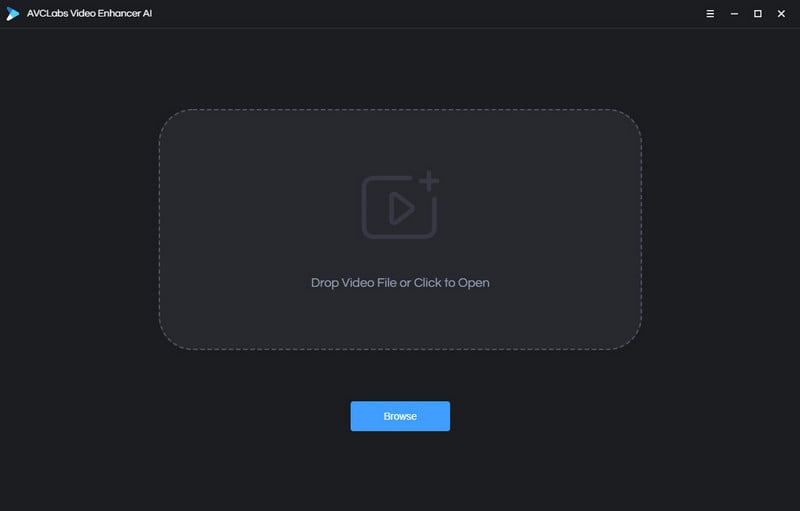 Step 2
Import the video to AVCLabs Video Enhancer AI
Secondly, click the "Browse" button to import your bad-quality videos to the AI program. Then, you can modify some significant settings on the right panel.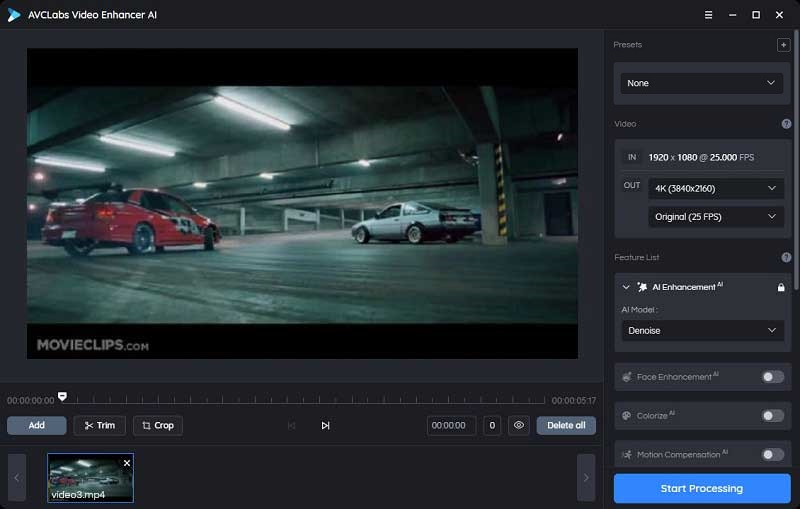 Step 3
Choose the appropriate AI feature to improve the video
The latest version of AVCLabs Video Enhancer AI provides its users with multiple AI features. It helps upscale video resolution to 4K, or 8K and improve the quality of your footage with the automated super-resolution and help enhance the video quality, remove motion artifacts, stabilize video shake, remove noise and grain to get more natural results. You can choose the proper one to improve your videos.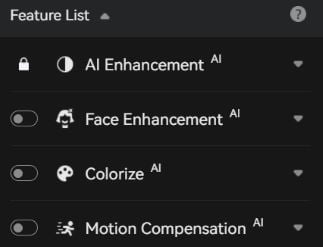 Step 4
Modify the output size and output format
AVCLabs Video Enhancer AI offers multiple output sizes to its users, you can freely upscale your bad-quality videos to 1080P, 4K, or 8K. The larger the output size you choose, the longer it will take.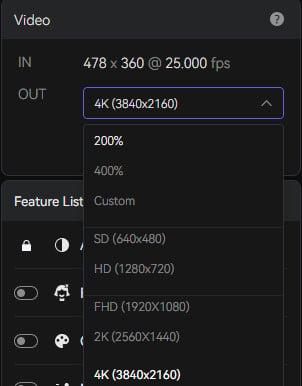 AVCLabs Video Enhancer AI supports transferring videos to differnt formats, including MKV, MP4, AVI, MOV, WEBM. You can also modify the output path to the specific file you want to save the improved videos.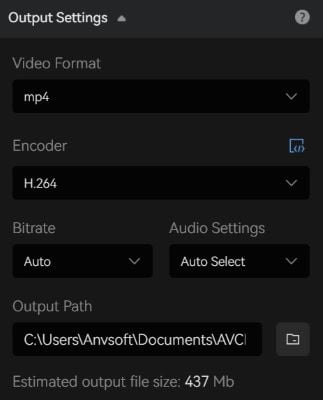 Step 5
Start enhancing the video
After all preparation works are done, you can just click the "Start Processing" button to improve the video.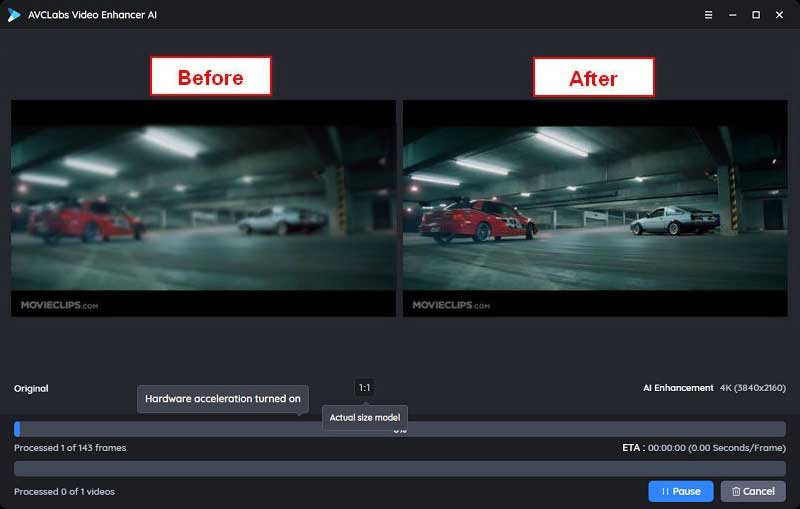 Pros:
• No video editing experience is needed
• Optional AI models to improve videos
• 30X faster processing speed
• Multiple output video size is available to choose
• Face refinement feature can help retouch portraits automatically
Cons:
• Only the first 1/3 of the video will be improved under the free version
• Relatively high requirements for computer's GPU and CPU
---
2: Topaz Video Enhance AI
Topaz Lab Video Enhance AI offers an excellent balance of use and performance. It features a straightforward interface that everyone should be able to use, and it automates most of the improvement process. This implies you won't require a lot of experience with video editing. Simply launch the program, upload a video, and choose the enhancing criteria. The remainder will be taken care of by artificial intelligence! The options are simple; for instance, you may choose between low, medium, and high for the initial video quality, which aids the AI technology inefficiently enhancing the video. You also have the option of selecting the size of the final output. Although the enhancing process takes a long time, this is to be expected when working with huge video file types. In general, we were able to get outstanding outcomes with noticeable improvements.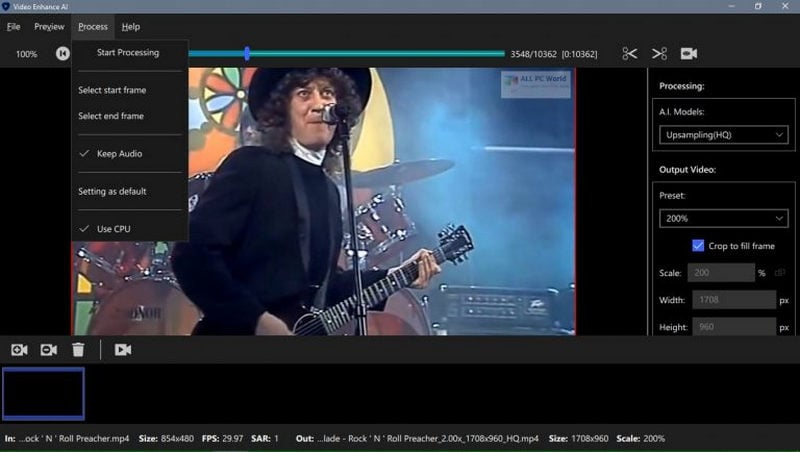 Pros:
• Batch processing is supported
• One license is available on both Windows PC and Mac
• User-friendly operating interface and easy to use
Cons:
• It only offers a one-time lifetime license for its users
• Advanced computer hardware is required, it's only accessible on Windows 10 or Mac OS 10.14 or above
---
3: PowerDirector 365
CyberLink's video editing program, PowerDirector 365, bridges the gap between professional editing and user-friendliness. It is often at the forefront in terms of support for new formats and technologies. It also includes features to help you create engaging digital movies with transitions, effects and titles. Best of all, it's easy to use and fast to render. Editor's Choice Award winner PowerDirector 365 is the best video editing software for prosumers. New features for PowerDirector 365 and larger Director Suite 365 subscribers, including photo and audio tools, roll out throughout the year, similar to Adobe's Creative Cloud and Microsoft Office 365. as you can see from the PowerDirector new features page, CyberLink has added features, effects and upgrades extremely quickly.
Sky Replacement for video (akin to a newish Photoshop tool), stock content from Getty Images, and new tools and effects for text, music, and graphics are all included in Version 20. The interface is a little darker, and the buttons have fewer colors, so you can concentrate on your project media and preview. A new Photoshop-like selection tool for video, access to royalty-free stock video and photos from Shutterstock, improved color matching and keyframing, and a simplified UI were all included in the previous edition.
Pros:
• Learning the tools and generating basic films was really simple and effortless
• An easy-to-use user interface that makes it simple to discover the tools you need
• Even the most technologically ignorant individuals may make full films and slideshows in minutes using built-in video templates
• It was just as simple and straightforward to edit 360 videos as it was to edit normal footage
Cons:
• The majority of the effects aren't up to professional or commercial standards
• PowerDirector's advanced video editing features provide less freedom than rival video editors
---
4: Vegas Pro
Vegas Pro is a professional application for amateurs, YouTube bloggers, and vloggers to create and edit videos. This program is one of the greatest Final Cut Pro and Adobe Premiere competitors because of its user-friendly, global interface and the vast number of professional capabilities. Even in the earliest edition of the application, the user interface of the Vegas video editor was quite useful and well-designed. It hasn't changed much in the past because it is so basic and user-friendly. Vegas Pro features one of the greatest user interfaces and is a very easy-to-use video editing program. The tool lets you produce visual special effects, 3D-titration, and compositing, as well as DVDs and Blu-ray discs. Vegas Pro 16 Edit allows you to deal with a large number of video and audio tracks. Furthermore, the application enables complex tasks such as working with two processors and two displays but to fully utilize the program's capabilities, you'll need the finest Mac for video editing.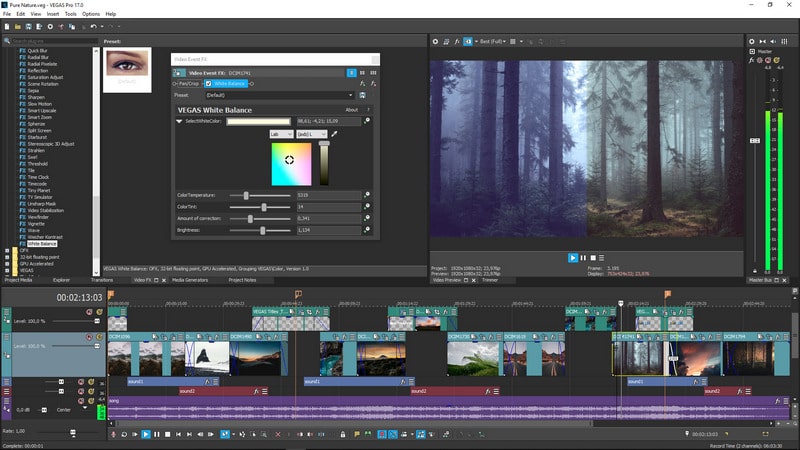 Pros:
• High-quality built-in effects are ideal for commercial or professional use
• A lot of free and commercial plugins for the application have been generated by a robust online community
• You could find a lot of tutorial videos about the program
• Frame-by-frame editing is a strong and simple technique
Cons:
• Many would-be amateurs will find the price point prohibitive
• For certain users, it may not provide enough features to make it a better alternative than Adobe Premiere
---
5: Wondershare Filmora X
The video editing program Wondershare Filmora X is well-known. This program is aimed at video editors and creators. Many other video-editing applications do not handle 4K videos, but this software does. Despite the fact that the Wondershare Filmora program includes a long list of remarkable capabilities, it is reasonably priced. This program also allows you to edit audio in addition to video. Beginners who want to make tributes, dedications, and stories, as well as voiceovers, will find Filmora to be an excellent tool. It has a wide range of video formats supported. The user interface is nearly intuitive while yet being beginner-friendly.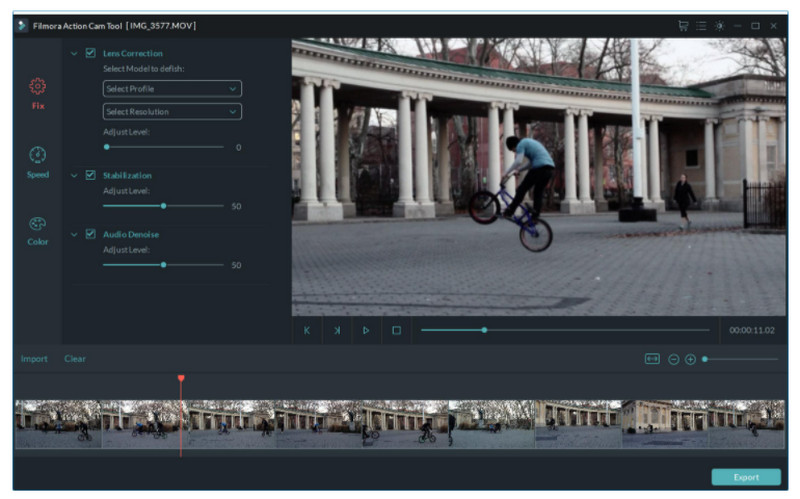 Pros:
• The program has a perfect combination of functionality and ease of use, and most individuals can use it after only a few hours of use
• The timeline editor is simple to use and includes useful features like audio separation and green screen support
• There are several presets and add-on filters available
Cons:
• There is a large watermark on the free version
• There's a tremendous push to convince you to buy extra features, and it's starting to irritate you
---
Conclusion:
All these 5 AI video enhancer software mentioned above have been tested effectively to enhance videos' performance from different dimensions. AVCLabs Video Enhancer AI is fully intelligent so users only need to modify some significant parameters in the program; Topaz Video Enhance AI is similar to AVCLabs Video Enhancer AI but it provides its users with more presetting to modify; the PowerDirector 365 is an optimal choice for editors between amateurs and professionals; both Vegas Pro and Wondershare Filmora X are excellent video editing software for video creators from YouTube or other video sharing platforms, their powerful AI models make video editing much simpler than it was before.
To sum up, if you are a video editing enthusiastic, AI-based video enhancer software like Vegas Pro and Wondershare Filmora are recommended. However, if you would like to leave all the work to the software, AVCLabs Video Enhancer AI is the best choice.
Try AVCLabs Video Enhancer AI to breathe new life into your footage!
---

Video Converter

DVD Converter

Video Editor

Enhance Video Quality

Enhance Image Quality

Remove Objects