AVCLabs Video Enhancer AI Review
AVCLabs Video Enhancer AI is a video enhancement software developed by Anvsoft Inc., it's aimed to help people who don't have any background knowledge about video editing to enhancer videos' performance. This software is based on AI technology and contains numerous training models that help enhance bad quality videos automatically, the only thing users need to do is to import bad quality videos to the program and modify some important settings.
If you are a video content creator from video sharing platform like YouTube or Vimeo who is willing to enhance your homemade videos without effort, AVCLabs Video Enhancer AI is a good choice to do. Also, AVCLabs Video Enhancer AI is an excellent tool to improve blurry anime videos. This AI product almost could be used in most scenarios because of its powerful processor.
In the next part, I will evaluate this AI product from different kinds of aspects and you can find out whether this software is worth paying for.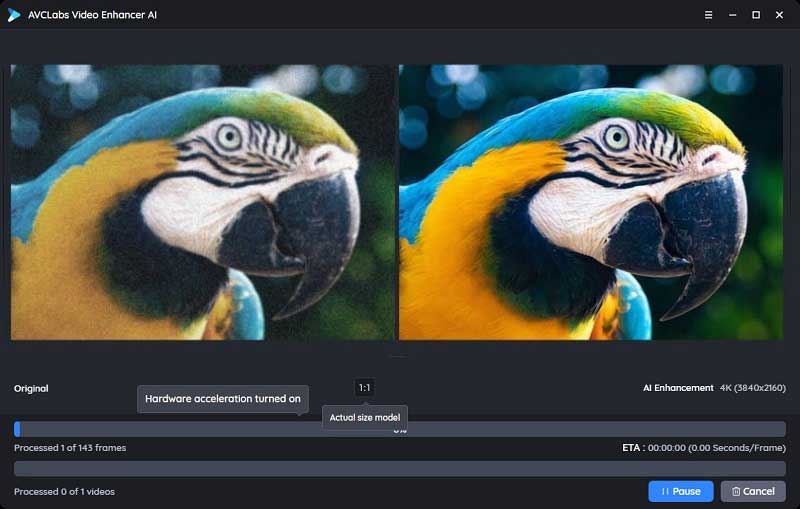 How Much Does AVCLabs Video Enhancer AI Cost?
From its official website, we can see that AVCLabs Video Enhancer AI mainly provides their customers with 3 subscription methods. If you are not sure whether you need this for a long time, you can just choose the monthly subscription that charges you $39.95 per month. It allows you to cancel the monthly subscription at any time when you don't need it anymore.
However, if you are a video creator or a homemade video enthusiast, I highly recommend you to try the $119.95 yearly or $299.90 life-time license since they are more economical than the monthly subscription. There is no doubt that AI video enhancement tools are usually expensive than traditional software. However, AI video enhancement tools could help you deal with blurry or bad quality videos automatically and deliver a pro-level edited video. Compared to some other AI video enhancement service providers that charge more than $100 for a single video, AVCLabs Video Enhancer AI is much more cost-effective.
Also, if you are not sure whether this software is worth subscribing to, AVCLabs Video Enhancer AI offers every new user 3 free chances to enhance bad quality videos so that you can fully test the program without paying.
Video Enhancer AI
Enhance the video quality to make them more aesthetically pleasing.
Deblur your footage by using machine learning.
Upscale videos from SD to HD, HD to 4K.
Upscale low-res videos onto a larger screen.
Trim your footage frame by frame.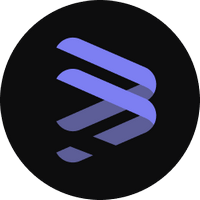 ---
What Are the System Requirements and Supported Formats?
Since AVCLabs Video Enhancer AI contains numerous complicated training models to help users to repair bad quality videos automatically, this intelligent software has a relatively high requirement for computers' CPU and GPU. The newest version of AVCLabs Video Enhancer AI cannot support the PC that is running the OS under Windows 10. If you would like to squeeze out the best performance of the program and have a high processing speed, a 4GHz Intel/AMD processor or above is preferred. As for the graphics cards, NVIDIA Kepler (GTX 600 series or above), AMD GCN 1st Gen (Radeon HD 7000 or above), and Intel Haswell (4th-gen core) HD Integrated Graphics are highly recommended.
---
The AVCLabs Video Enhancer AI Interface
The interface of AVCLabs Video Enhancer AI is much simpler than 99% of conventional video enhancement software. It starts with a big "Browse" button that allows you to upload the video you want to enhance. As I have already mentioned above, with using AVCLabs Video Enhancer AI, users are not required to have any background knowledge about video editing, and this AI program will do everything for you. Because of that, after you have uploaded the video into the program, you will not see numerous editing tools like colorize, noise remover, etc...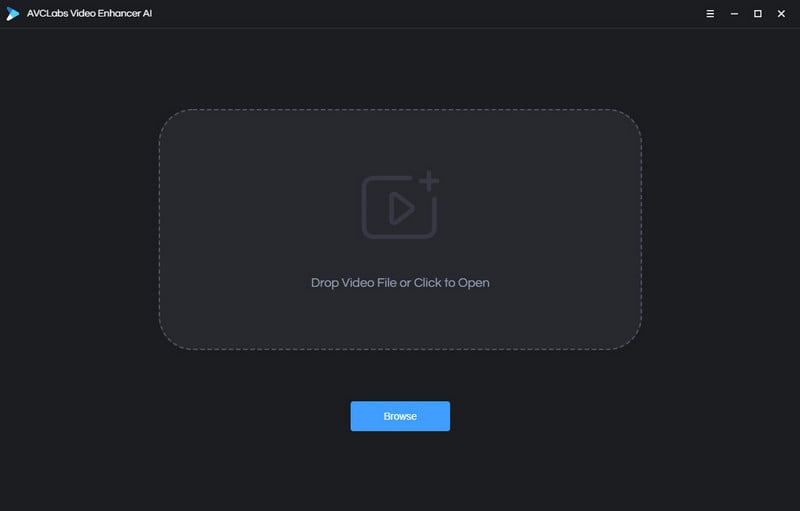 On the operating interface, you will see the settings include the Presets, Video Size, and Feature List. Before starting to improve the video, you need to turn on AI Enhancement and select AI Model.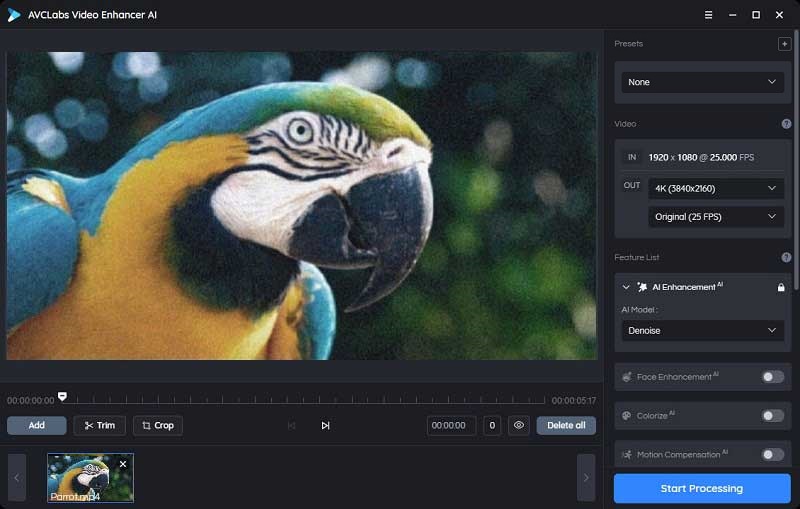 For the size option, the newest version of AVCLabs Video Enhancer AI supports upscaling videos up to 8K. But I would not recommend you guys to upscale videos to 8K since the process will spend a long time. At this point, I usually remain the original videos' size to get the best performance and the fastest speed. At the bottom of the setting section, you can modify the output path to the one you prefer so that you can easily find all improved videos generated by AVCLabs Video Enhancer AI.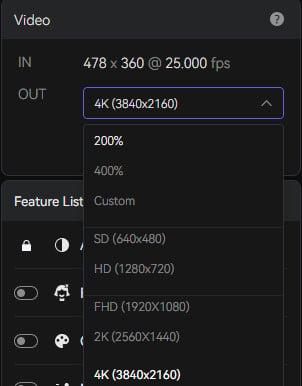 In addition to these, users can also trim the video before getting started. When we deal with some homemade videos, we may only need to enhance a short clip instead of the whole video. At this moment, this trim feature is very kind and will save time for us. After all the presetting work has been done, we're good to click the "Start Processing" button or preview 30 seconds of the enhanced performance.

---
How Is the Performance?
Firstly, let's test this AI program using a clip from an old blurry movie that was produced decades ago. We choose the Faster model and keep the original size of the clip for efficiency. Also, we don't need to click the "Start Processing" button for this test. By clicking the "Preview" button, we will see the comparison between the original clip and the improved version. We can see a great improvement made by AVCLabs Video Enhancer AI. Compared to the original clip, the improved one looks more smooth and real. Since the filming devices are not advanced like today's, it's impossible to produce a 4K film with very high FPS decades ago. The application of AI technology in video enhancement software makes it possible to restore old blurry films to 4K, it might also make a great contribution to preserving previous historical video materials.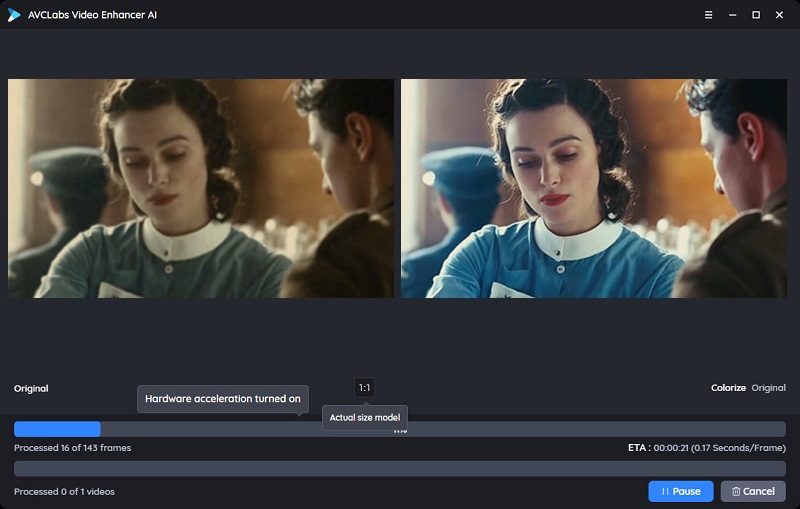 Secondly, AVCLabs Video Enhancer AI is also good at enhancing homemade videos and self-made vlogs. With the constant development of social media and the global spread of Covid-19, more and more people start to share their self-made videos on TikTok or YouTube and hope to make a living by doing this. But it's very hard for beginners to produce high-quality videos that could satisfy their potential audiences, they may never notice that some clips of their videos are not performing well. By uploading self-made videos to AVCLabs Video Enhancer AI, it will remove all blurs caused by shaken camera and adjust color parameters to the best vision automatically.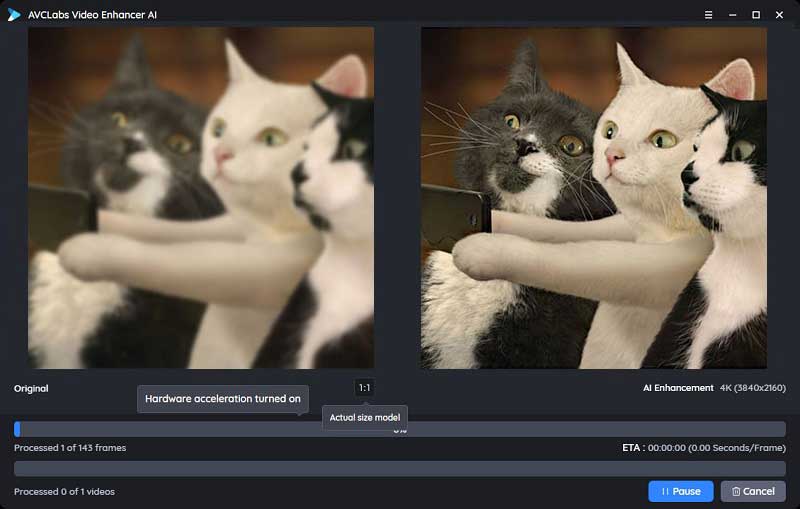 What's more, this AI program works perfectly for almost all kinds of videos, especially for anime videos. I have tested more than 10 clips from Naruto and AVCLabs Video Enhancer AI did make a significant enhancement for their quality.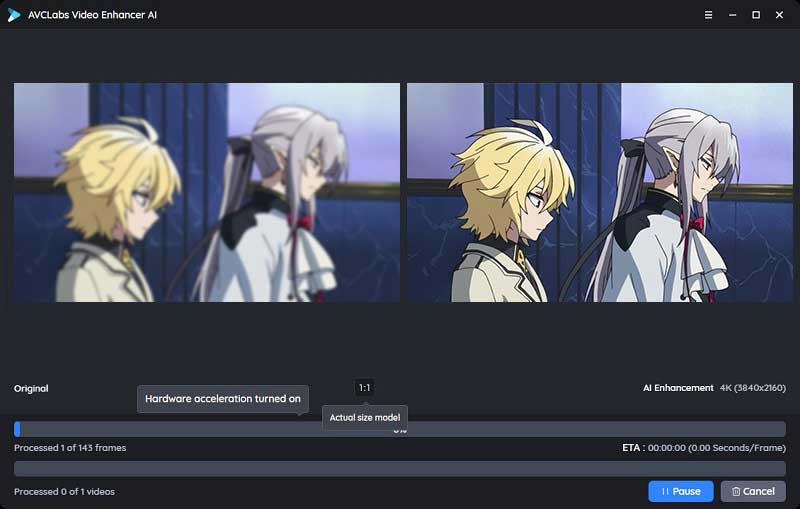 ---
Compare to Its Competitors
There is no doubt that conventional video enhancement tools like Adobe Premiere Pro and Final Cut Pro have more features than AVCLabs Video Enhancer AI. They not only support enhancing videos quality but also allow users to add texts, animation effects, or other fancy stuff to make videos look amazing. If you prefer editing videos by yourself, you can just keep using the conventional video editing tools mentioned above. However, if you are willing to see a significant improvement in videos' quality, I highly recommend you to try AVCLabs Video Enhancer AI and you would never regret using it.
Compared to another AI video enhancer named Topaz Video Enhancer AI, AVClabs provides more flexible subscriptions to its potential users whereas Topaz only offers a one-time purchase. Both these 2 AI programs are tested effective to improve videos' quality, if you prefer the one that is easy to operate, AVCLabs Video Enhancer AI is the optimal choice.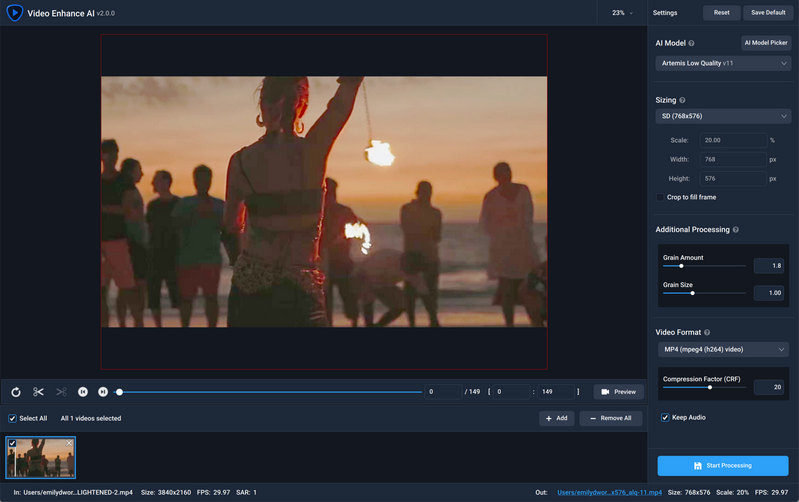 ---
Pros and Cons
As a video enhancement software, AVCLabs Video Enhancer AI supports most input video formats including MP4, M4V, MOV, etc... No matter where you get the bad quality video, you will have a chance to improve it through this AI program. Also, your privacy security will be guaranteed while running the program.
As I have already mentioned above, AVCLabs Video Enhancer AI is very easy to use and I believe 99% of people could use it without reading the user's guide. Its simple interface also makes users feel comfortable while using it. Unfortunately, nothing is perfect including AVCLabs Video Enhancer AI. Since this AI program contains numerous complicated algorithms and training models, it has very high requirements for computers' hardware to reach its peak performance. Also, this AI software is temporarily only available on Windows PC.
---
Conclusion
With the release of the newest AVCLabs Video Enhancer AI, this AI program currently supports more input video formats and its interface has also been optimized for a better users' experience. Additionally, it also adds a 30 seconds preview function so that users could estimate the entire processing time and whether the program is worth paying.
In conclusion, this newly released AI product developed by Anvsoft Inc. could beat most conventional video enhancement tools in the field of video optimization. Compared to other AI video enhancers like Topaz, AVCLabs Video Enhancer AI has its special strengths that may attract more users. Don't be hesitant to try this AI video enhancement tool since it offers 3 free chances to enhance videos for all new users.
---

Video Converter

DVD Converter

Video Editor

Enhance Video Quality

Enhance Image Quality

Remove Objects