[Most Effective Way] How to Make a Video Clearer?
For today's visual-driven digital landscape, having a clear video is essential. Clear video quality not only enhances the viewing experience but also ensures that your message is conveyed effectively. Unfortunately, sometimes we encounter challenges that result in blurry footage. Whether it's due to poor lighting conditions, camera shake, or low-resolution sources, blurry videos can be frustrating and hinder the impact of your content. But fear not, with the right tool- AVCLabs Video Enhancer AI, at your disposal and a few insider tips, you'll be able to make blurry videos clearer in no time! This blog post will bring you the most effective way of how to make a blurry video clearer quickly and easily.
Part 1: How to Make a Blurry Video Clearer- Most Effective Way
AVCLabs Video Enhancer AI is an easy blurry video clearer and a state-of-the-art video quality enhancer powered by advanced algorithms. By leveraging the power of AI, it analyzes each frame of your video, identifying areas of blurriness, noise, and imperfections, then applies sophisticated algorithms to enhance the sharpness, clarity, and overall visual quality, resulting in remarkably clear videos. In addition to fixing blurry videos, it also can convert B&W videos to color, change the frame rate, and upscale videos to a higher resolution without losing quality.
With its intuitive interface and powerful capabilities, it simplifies the process of improving video clarity, even for those with limited technical expertise. Whether you're a content creator, videographer, or simply a passionate video enthusiast, AVCLabs Video Enhancer AI is here to revolutionize your video enhancement workflow.
AVCLabs Video Enhancer AI
Make blurry videos clearer and sharpen face.
Convert video to 60, 90 and even 120 FPS.
Upscale videos from SD to HD, HD to 4K.
Colorize B&W videos to make revive again.
Support GPU & TensorRT acceleration.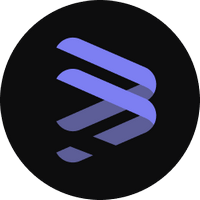 Steps to Make a Blurry Video Clear with AVCLabs Video Enhancer AI
Step 1
Install and Launch AVCLabs Video Enhancer AI
Download this blurry video fixer and install it on your Windows PC or Mac. Then double-click to launch it.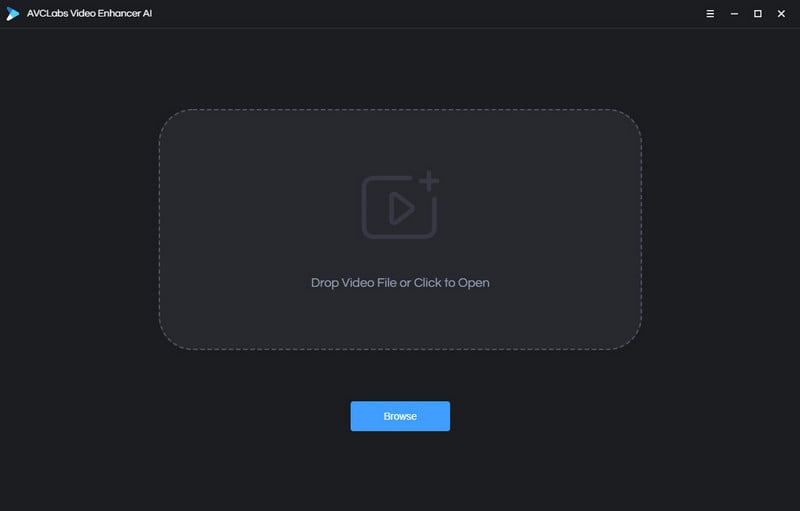 Tips: AVCLabs Video Enhancer AI is totally free to download and each new user can fix three blurry videos for free under the trial version. Before unbluring videos, please check whether your computer's configuration meets the system and hardware requirement.
Click on the "Browse" button and select the blurry videos or simply drag and drop them directly into the designated workspace.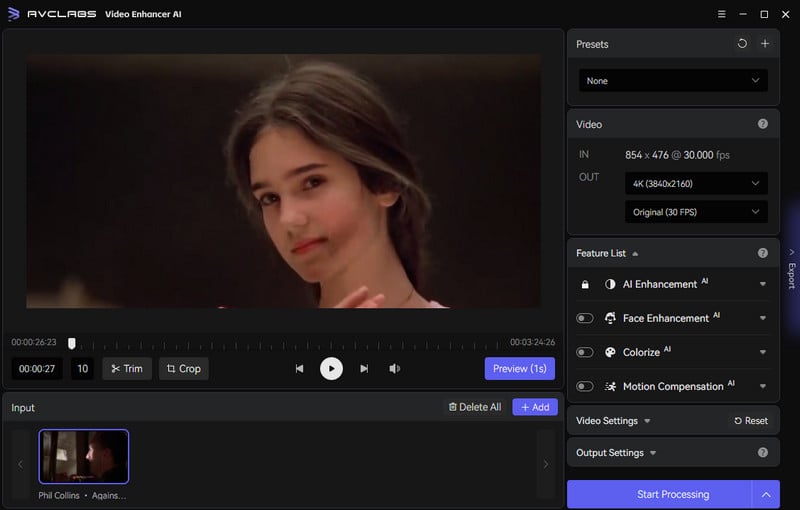 Step 3
Enable AI Enhancement Feature
To improve the clarity of a blurry video, simply activate the AI Enhancement feature found in the Feature List. In cases where there are blurry faces in the footage, it is strongly advised to enable the AI Face Enhancement option, which utilizes artificial intelligence to restore facial details from blurry videos, resulting in a clearer representation of the faces.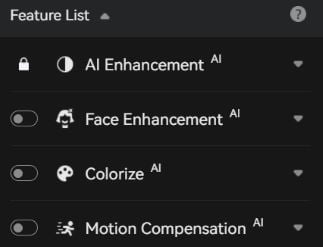 Step 4
Configure Video and Output Settings
In addition to the automatic AI features, you can increase visual clarity by adjusting the brightness, contrast, and saturation of the video.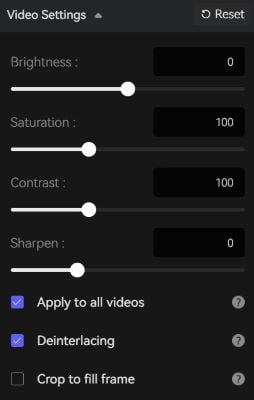 Before starting to fix blurry videos, set the output format and output path under Output Settings.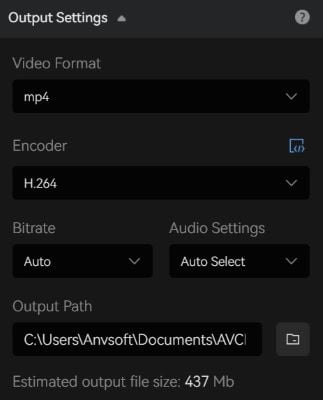 Step 5
Start Making Blurry Videos Clearer
After configuring all the settings, click on the Eye icon to preview 30 frames of the video and ensure that the final outcome meets your expectations. If necessary, you have the option to go back and make further adjustments. Once satisfied, click on the Start Processing button to initiate the process of making the blurry video clearer.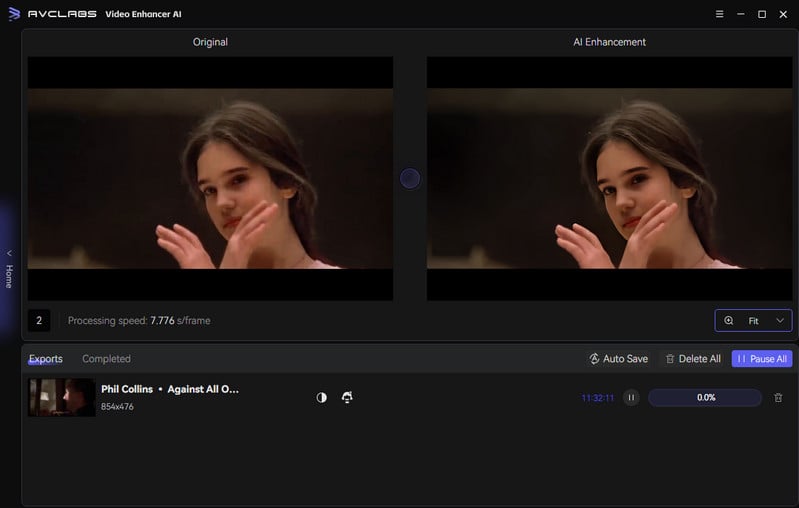 ---
Part 2: How to Fix Blurry Video Online Free
VEED's online video clearer allows you to modify your video's settings to achieve an enhanced clearer appearance. If you captured your video in unfavorable lighting conditions, you can effortlessly enhance the brightness by moving the brightness slider within the settings. Additionally, you have the option to sharpen the video, modify the contrast, adjust saturation, add subtitles, and some other video editing features.
The usage of this tool is completely free; however, there are certain limitations to be aware of. These include the generation of videos with a maximum resolution of 720P accompanied by a watermark. Additionally, there is a restriction on video duration, allowing the creation of videos that are up to 10 minutes long.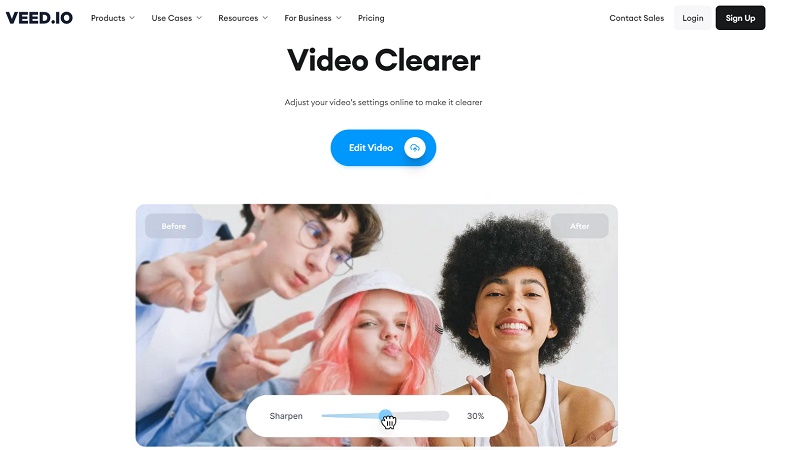 ---
Part 3: How to Make a Video Clearer on iPhone or Android Phone from the Root
There are so many apps to help you increase video quality and adjust the settings to make a blurry video visually clearer, such as CapCut, Remini, InShot Video Editor, etc. These popular video editors have But the following section will delve into addressing the core issue and preventing video blurriness when filming with mobile devices, such as smartphones.
1. Steady Your Hand: One of the primary reasons for blurry videos is camera shake. Hold your smartphone with both hands and keep your arms close to your body to stabilize the device. Alternatively, you can use a tripod or a smartphone stabilizer to minimize shake and maintain steady footage.
2. Utilize Image Stabilization: Most smartphones come equipped with built-in image stabilization features. Enable this setting in your camera app to reduce blurriness caused by hand movements. It helps compensate for minor shakes and vibrations, resulting in smoother video.
3. Use Higher Frame Rates: Change the video recording settings to higher frame rates and resolution, such as 4K, 60 frames per second (fps), or above. Higher frame rates can minimize motion blur and result in smoother footage, especially for fast-paced or action-oriented content.
---
Conclusion
That's all about how to make a blurry video clearer. We have also provided tips on preventing video blurriness when capturing footage with a smartphone. Among the methods mentioned, utilizing AVCLabs Video Enhancer AI to fix blurry videos stands out as the most beneficial and efficient approach. Just give it a try and experience the joy of watching your videos with enhanced clarity.
---

Video Converter

DVD Converter

Video Editor

Enhance Video Quality

Enhance Image Quality

Remove Objects