Top 10 Questions
Q1: I paid but did not receive license code. Why?
1. You will receive the confirmation email with license code upon the transaction of your order. Please check your inbox. If you do not receive confirmation email with license code, please check the spam folder to see if the auto-generated email is marked as spam.If there is no confirmation email at all, then it must be blocked out by the filter of your email service provider.
2. If you fail to retrieve license code via the online auto service, please contact us at support [at] any-video-converter.com (replace [at] as @ before sending message) to request your original license. Please provide us with detailed information about your purchase, such as email address, order ID, order receipt etc.
Q2: My license is invalid. What shall I do?
There are two possibilities:
1. Blank spaces are accidentally added.
Please mind that license information is case-sensitive. Do not enter any extra blank space to the registration Email or code.
2. The license does not match the program.
Please note that we have several similar but different programs. Please match the license with the very program you use. For instance, if you purchase Any Video Converter Pro., but accidentally download Any Video Converter Ultimate, then you will fail to register the program. You shall download Any Video Converter Pro. instead.
Q3: What should I do if I accidentally purchased the wrong product?
Please contact our support team with the order ID of the product you have accidentally purchased and request the exchange. Or you can directly purchase the right product and then contact our support team with both of the two order IDs, and then we will arrage the refund for the wrong order. For other refund request, please refer to refund policy.
Q4: Am I entitled to a refund?
Considering our partners' policies, we allow 30 days to refund or exchange your product. Should it exceed more than 30 days, refund/exchange is no longer allowed. To learn more detailed info, please check our refund policy.
Q5: I bought one-year upgrade to AVC Pro, which program should I register with? Any Video Converter Free or Pro?
You need to download Any Video Converter Pro. to register.
Q6: I need to register the program every time I want to use it. Why?
If you use the program with a user account that has no administrative privileges, the program may go back to evaluation version once you logoff.
You can solve this problem by installing program as administrator. Right-click on the setup file (.exe) and select "Run as administrator", enter the administrator's password and install the program.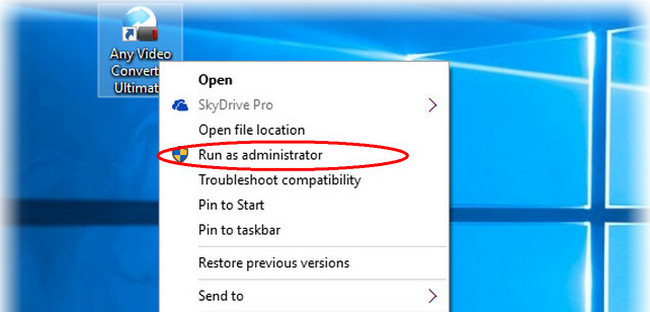 If you want to register this program under a limited user, please refer to How can I register or run the program with full control under a limited user.
Q7: Can I use one license on multiple computers?
No, basically our program's license code is one license for one computer only.
Q8: Can I get free updates?
Yes. All updates are free.
You will get update remind message when there is a new version available. You can visit our website www.any-video-converter.com and click Downloads button to download and install the latest version.
If you install the latest version to the location you installed last time, you don't have to register again. If your change the install location, please re-register again using the original registration Email and code
Q9: Can Anvsoft software work on Windows 11?
Currently all Anvsoft Windows products are fully compatible with Windows 11.
Q10: The program didn't have language I want, can you update?
To better serve the customers all over the world, we are planning to localize Any Video Converter into more minor languages. We will improve our language services according to your requirements.
However, if you are native, if you love our products, if you are desirable to contribute your effort on AVCLabs globalization, please come to join this program! If you would like to make contributes to the translation of Any Video Converter, please contact our support team. We will give you any product(s) you intend to have as an award! (If you already have had the product, you can ask for another one.)