Top Best Ways to Restore Old Films
Even though there are hundreds of new films were released every year, some people are still more willing to watch some classic old films instead of nowadays popcorn movies. With the instant development of video equipment and the appliance of AI, films that have been released in the past few years are much more clear than most old films.
Because of the huge difference in the resolution between old films and nowadays films, a lot of old films lover start seeking if there are some efficient ways to restore old films to 1080HD or 4K. In this article, we will list some top the best ways to restore old films.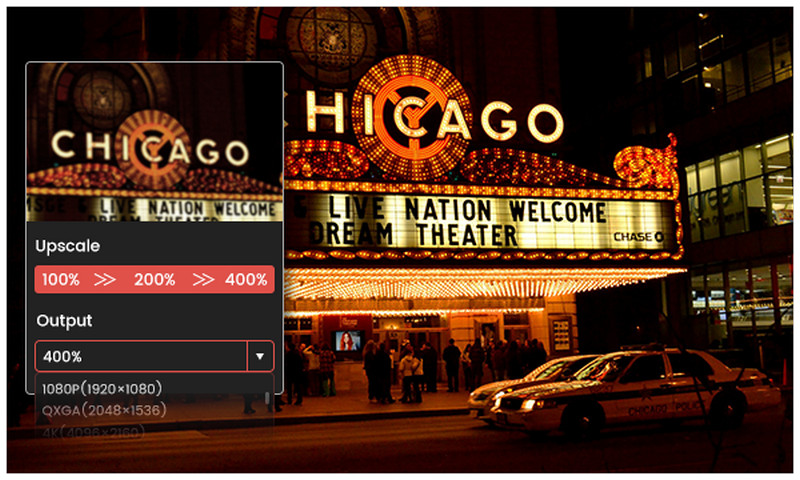 Part 1: Restore Old Films Using AVCLabs Video Enhancer AI
AVCLabs Video Enhancer AI is an AI-based video enhancement software that has millions of users already. With this powerful software, you can easily restore old films to 1080p or 4K with just a simple preset. Comparing to other video enhancement software in the market, AVCLabs Video Enhancer AI guarantees customers' privacy security since we never upload users' files to cloud servers. Also, you could even improve the old film to 8K if the GPU of your computer is much stronger than the average one.
Video Enhancer AI
Enhance the video quality to make them more aesthetically pleasing.
Deblur your footage by using machine learning.
Upscale videos from SD to HD, HD to 4K.
Upscale low-res videos onto a larger screen.
Trim your footage frame by frame.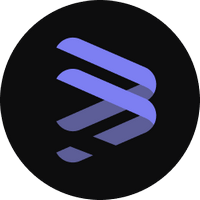 How to Restore Old Films Using AVCLabs Video Enhancer AI?
Step 1
Download and install AVCLabs Video Enhancer AI
Download Video Enhancer AI from the link given above and install it on your Windows PC or Mac computer, then launch it and you will see the main interface of this software.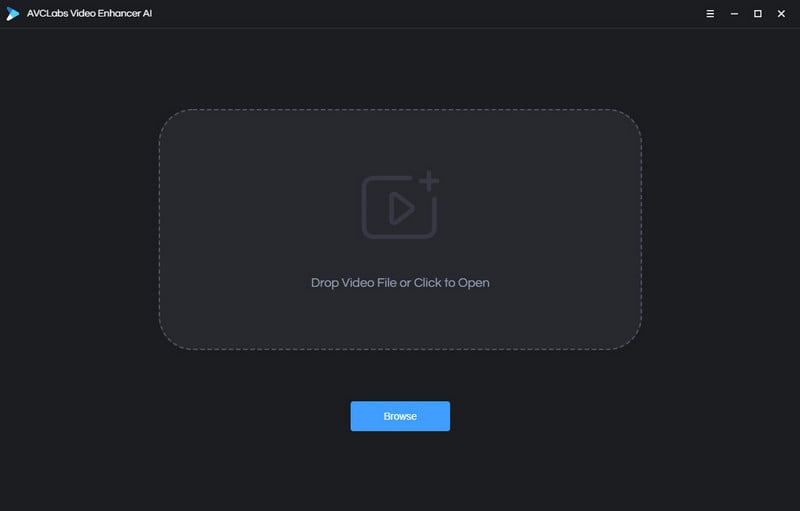 Step 2
Import an old film you want to restore
Click the "Browse" button to import the film you want to restore, you could review the film directly using Video Enhancer AI.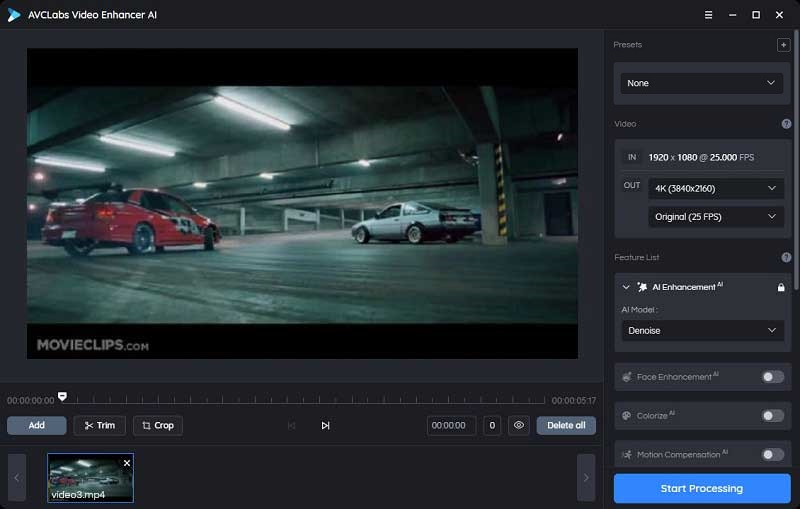 Step 3
Choose an AI Feature to improve the video
After you have successfully imported the film from your computer, you need to choose an AI Feature to restore the imported film.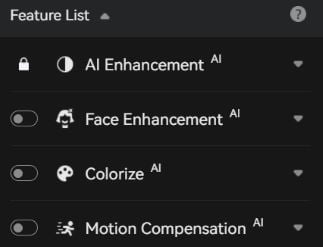 Unfold the output preset and adjust the output to 200%, 400%, SD, HD, 4K, UHD, 4K, and 8K.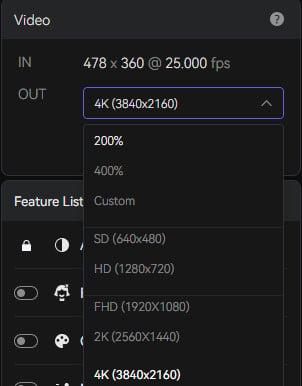 Before processing the film, you can trim the unwanted part frame by frame to save processing time. In the top bar, you can trim your video to the desired length by dragging the slider. Or input the start and end of the frames to set a clipping point accurately.

Step 6
Start to restore the film
Click the "Start Processing" button to restore the old film, the Video Enhancer AI will automatically optimize the film with its strong training model. You need to be patient in this process and once the process is done, you can find the optimized output file .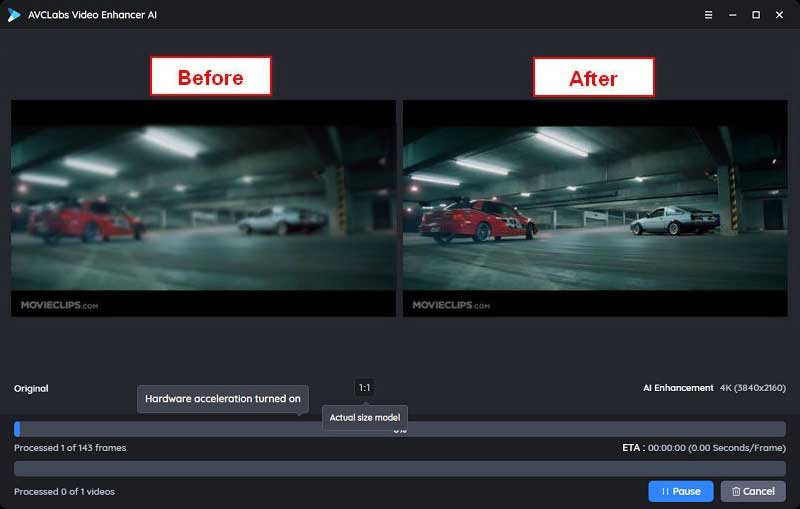 Pros:
• Attach great importance to users' privacy
• Multiple video formats supported
• Easily improve blurry videos to 4K
• User-friendly interface
• Powerful AI-based processor
• Rich features to enhance the video performance
• Available on Windows PC and Mac
Cons:
• Relatively high requirement for computer configuration
• Not free
---
Part 2: Restore Old Films Through Neural.love Online Video Enhancement Tool
Neural.love is an online video enhancement service provider which claims that they could bring new life to old media. With paying for their service, they will provide you with a wide range of customized solutions to meet your requirements. Their video enhancement processor is also based on AI like AVCLabs Video Enhancer AI and developed by very talented machine learning engineers. With its help, restoring low-resolution old films to HD or 4K is not a dream anymore. In addition, main features like noise removal, natural movement restoration, and color restoration are welcome by their customers.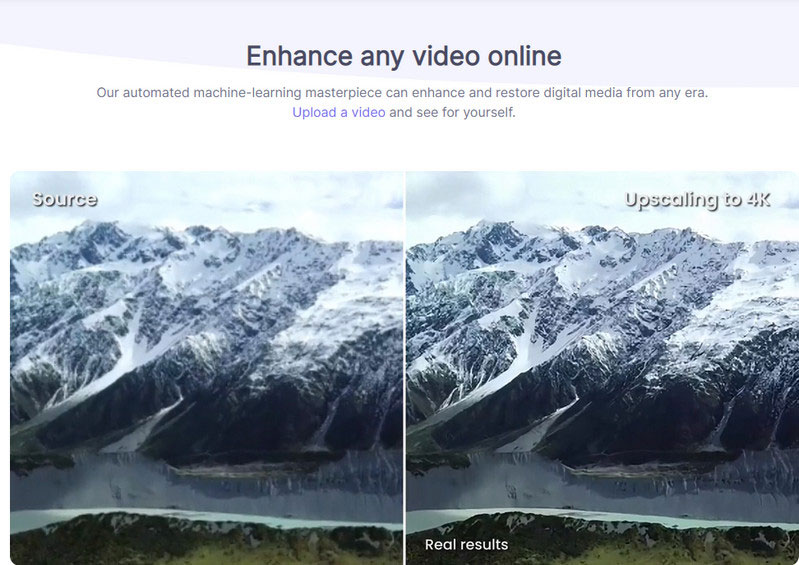 Pros:
• AI-based processor which provides multiple features to enhance the old film
• Motion smoothing to 60 fps
• No software installation needed, you could finish all the processes online
• Refine facial details in the film
Cons:
• The service is kinda expensive
• No privacy protection
---
Part 3: Restore Old Films Using Filmora Video Editor
Filmora Video Editor is one of the most popular video editing software which allows users to add effects, split-screen, control speed, and modify the color of the video. If you are a professional video editor and have many years of experience editing videos, this software will assist you to enhance the performance of the old film you want to improve. Unfortunately, this software cannot work well if you are a video editing beginner.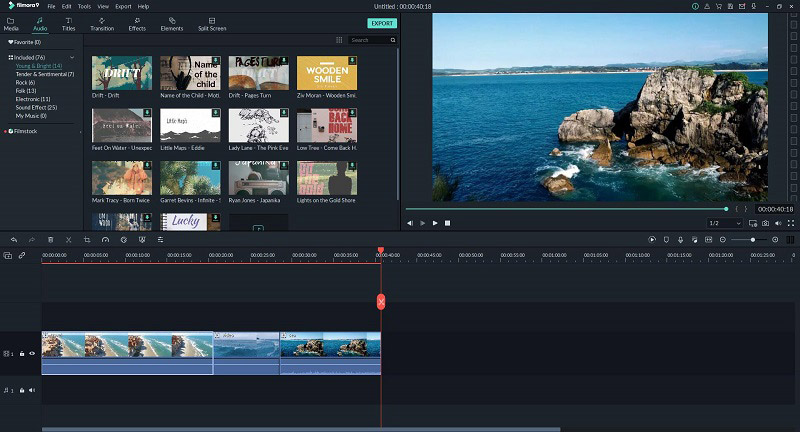 Pros:
• Multiple features provided for their users to apply effects and filters to enhance the resolution of the video
• Very detailed tutorials provided on the official website
• Pretty simple to apply effects or add filters through Filmora
Cons:
• Unfriendly to video editing beginner
• Sometimes lags while editing
• Audio quality is bad
---
Conclusion:
All the 3 ways mentioned above have been tested to be efficient to restore the low-resolution film. Both AVCLabs Video Enhancer AI and Neural.love are based on AI and have a powerful processor to deal with low-resolution film, the only difference between them is their marketing planning, Neural.love only provides video enhancement service whereas AVCLabs directly sells the video enhancement software to their customers. There is no doubt that video enhancers based on AI have more powerful features to restore old films than the normal editor, but both 2 of them are expensive and some people may not have enough budget. Fortunately, we can still choose Filmora Video Editor if you are good at video editing.
To sum up, we highly recommend you to try AVCLabs Video Enhancer AI since you can use it forever as a one-time purchase. Don't be hesitating if you want to restore your favorite old films.
Try AVCLabs Video Enhancer AI to breathe new life into your footage!
---

Video Converter

DVD Converter

Video Editor

Enhance Video Quality

Enhance Image Quality

Remove Objects