How to Restore Damaged Photos with AI
"Can damaged photographs be restored? How can I restore damaged photos online?" - Amy Brown
Damaged photos can be heartbreaking, especially when they hold precious memories. Thankfully, recent advancements in artificial intelligence (AI) offer a solution to this problem. AI can now restore these valuable pictures, breathing new life into old, faded, and damaged photos. This article will explore 2 ways to restore damaged photos via AI Photo Restoration tools, AVC.AI and AVCLabs PhotoPro AI.
Let's learn how to restore damaged photos on Mac, Windows PC, or online for free!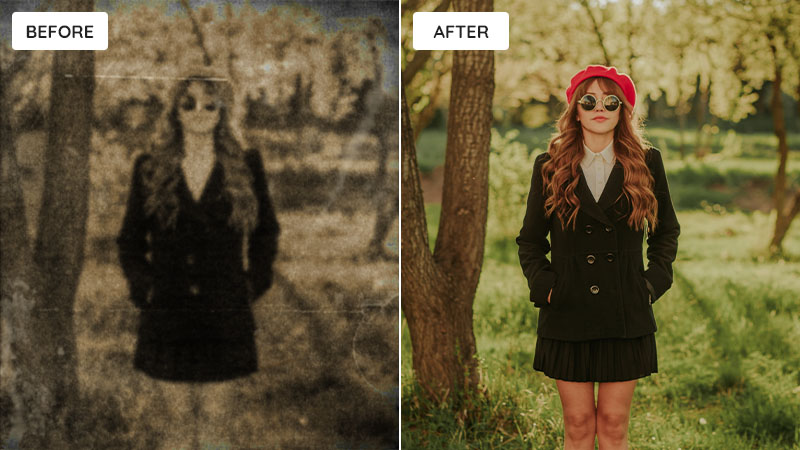 Part 1: Understanding Photo Damage and Restoration
Photo damage can take many forms, including fading, discoloration, and physical damages like tears or scratches. Photo restoration is the process of reversing these damages, restoring the photo to its original state, or as close to it as possible.
---
Part 2: The Role of AI in Photo Restoration
AI has revolutionized the field of photo restoration. Using techniques like machine learning and deep learning, AI can analyze degraded images, identify patterns, textures, and features, and then recreate the lost details with remarkable accuracy. It can remove scratches, restore faded colors, and even reconstruct torn parts of a photo. It can fill in missing parts of the photo by analyzing the surrounding areas, colorize black and white photos, and even enhance the resolution of old, low-quality photos.
---
Part 3: Restore Damaged Photos Online with AVC.AI
AVC.AI is an online platform that uses AI technology for photo restoration. It can detect and remove scratches and other blemishes from your old photos, making them look clean and well-preserved. If your old photos have faded over time, the AI can bring back their original color or even add color to black and white photos. The tool can also enhance the details in your old photos, making them sharper and clearer. Moreover, it can adjust the color in your old photos, correcting overexposed or underexposed areas.
Key Features of AVC.AI
Remove any unwanted objects from photos.
Upscale image by 400%.
Instantly retouch portrait to make it stunning.
Reduce or remove noise from a noisy image.
Remove the background from the photo.
Colorize black&white pictures.
Fix color casts in your digital photos.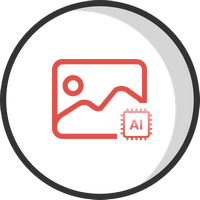 Restore Damaged Photos Online for Free via AI
Let's follow the steps below to restore damaged photos online for free.
Step 1
Upload Old Photos to AVC.AI
Simply visit the free online photo restoration tool with any browser (such as Google Chrome, Firefox, Safari) you prefer. Then click on the Upload Image button to add one or multiple damaged photos that you need to restore to this online tool. Also, you are able to directly drag and drop old photos to the online old photo restoration tool.
Note: The supported input formats are: *.png, *.jpg, *.jpeg, *.bmp, *.jfif and *.webp.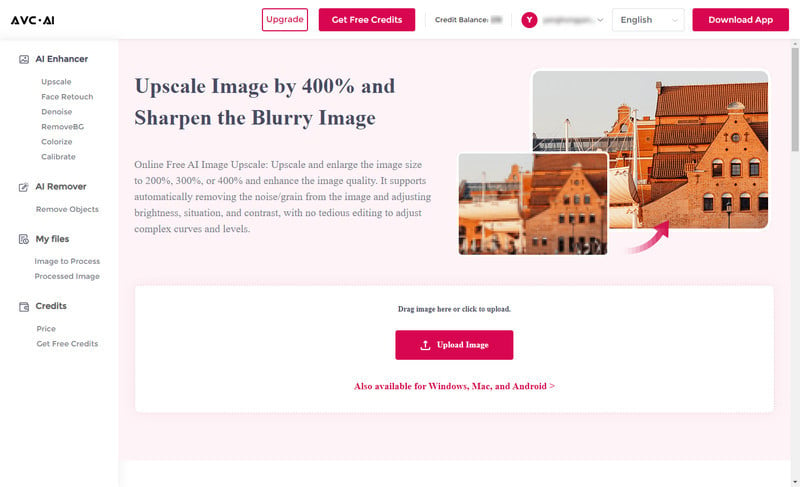 Step 2
Select the AI Model and Parameter to Restore the Old Photos
In order to restore the damaged photos, just select the model to get started according to your need.
• Upscale Model: Increase photo resolution, deblur photos, restore details, and sharpen human faces in damaged photos automatically.
• Face Retouch Model: Improve portrait and selfies photos and enhance facial details, reduce imperfections and blemishes, in a single click to tweak your portrait.
• Denoise Model: AVC.AI Old Photo Restoration can also remove graininess or noise from your old photos, improving their overall quality.
• Colorize Model: Turn black and white photos into colors.
• Calibrate Model: Restore balanced tones and vibrant colors.
• Remove Objects Model: Restore old damaged photos by removing scratches, spots, and tears.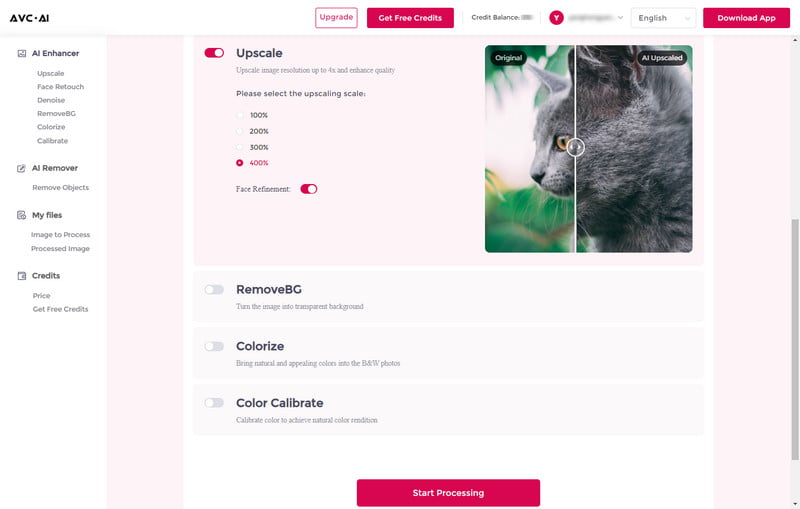 Once all the preparation work is done, hit on the Start Processing button to start fixing the damaged photos automatically.
Step 3
Preview the Result And Download the Restored Photo to Your Computer
After the damaged photo restoring process is completed, just navigateto the Processed Image tab and click on the Eye icon to preview the original and restored photos. If you are happy with the result, you can click on the Download Image button to download the restored damaged photos to your computer.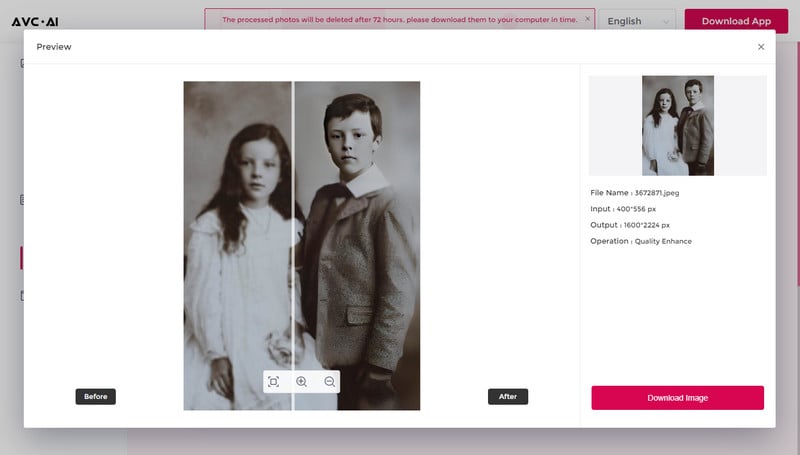 Note: The processed photos will be deleted after 72 hours, please download them to your computer in time.
---
Part 4: Restore Damaged Photos Using AVCLabs PhotoPro AI
AVCLabs PhotoPro AI is another AI-powered photo restoration tool to restore damaged photos on your Windows PC and Mac using AI. There are 7 powerful AI models for your option: Inpaint AI, Matting AI, Enhance AI, Stylize, Colorize, Upscale, and Adjust Color. You are able to select the appropriate model based on your need. Then click on the Apply button to start repairing the damaged photo.
AVCLabs PhotoPro AI
Colorize old black & white photo.
Recognize face details from blurry images.
Enhance image sharpness and improve clarity.
Increase image resolution to 2x, 3x, 4x.
Automatic color correction.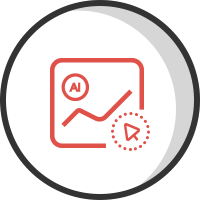 Restore Damaged Photos Using AVCLabs PhotoPro AI
Step 1
Download and Install AVCLabs PhotoPro AI
Download and install AVCLabs PhotoPro AI on your computer and then launch it. You will see the intuitive interface as the picture shown below.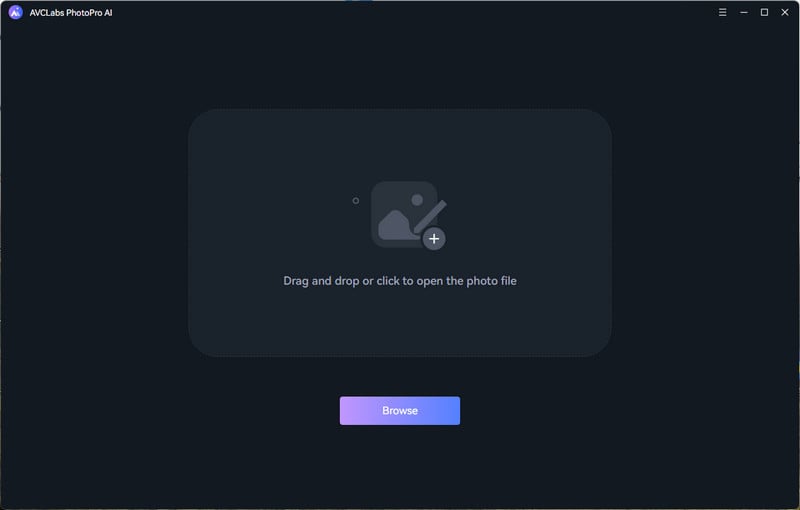 Step 2
Import the Damaged Photo to the Program
Now, click the Browse button to add the damaged photo in the program, or just directly drag and drop the damaged photo to the program.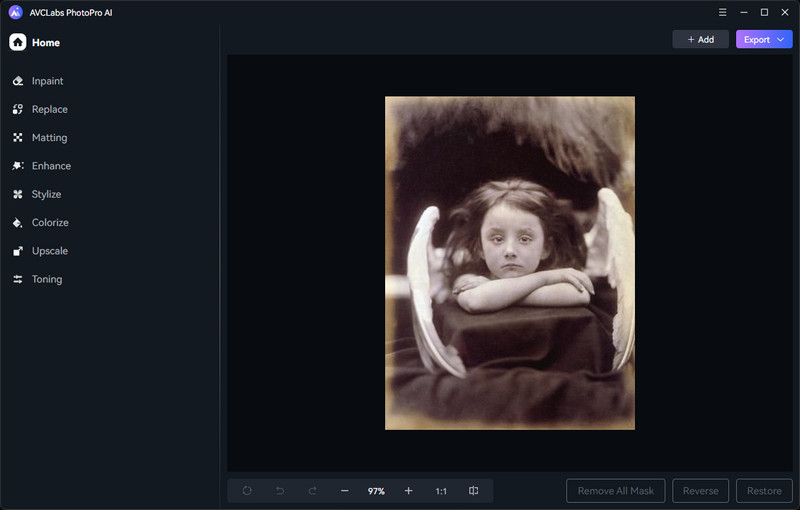 Step 3
Choose the AI Model and Preview Picture Restore Effect
Just choose the appropriate model according to your different needs and click Apply button. Then you can preview the restoring effect.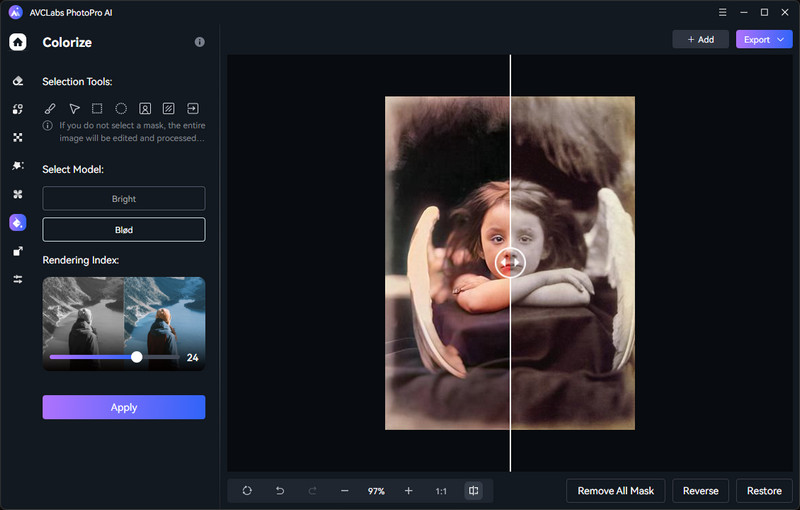 Step 4
Exporting and Saving Restored Images
If the result can meet your need, click the Save button to save the restored photo to your computer.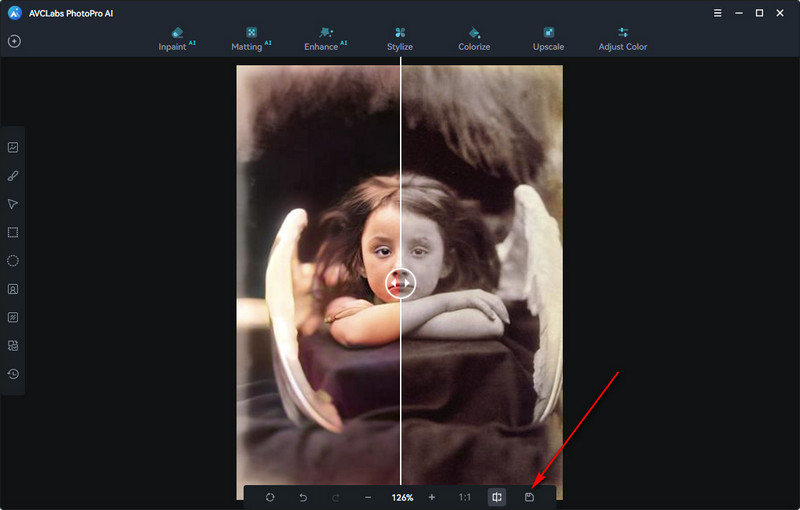 ---
Conclusion:
In conclusion, restoring damaged photos can be quite a challenge, especially if you don't have prior knowledge or experience. Fortunately, technology is making it easier than ever before for anyone to restore their old photos using AI-powered tools like AVC.AI and AVCLabs PhotoPro AI. With these tools, you can use advanced algorithms to quickly and accurately detect and repair any photo damage that might exist in your pictures.
AVC.AI provides a convenient online platform that presents users with an easy-to-use design interface and automated processes that make image restoration a breeze. For more advanced users, AVCLabs PhotoPro AI goes a step further with its deep learning algorithm and comprehensive tools that allow for a professional-level editing experience.
So why wait any longer? Start restoring your precious memories with AI-powered photo restoration today! All that's left now is to go take some amazing photos so you don't have to worry about restoring them later on!
Photo Editing Software Free Download
---

Video Converter

DVD Converter

Video Editor

Enhance Video Quality

Enhance Image Quality

Remove Objects