How to Make Photos Higher Resolution on Windows PC/Mac or Online for Free with AI
"How do I make a picture higher resolution? Is there a way to make low-resolution photos high resolution? Thanks." - Chris Finkle
High-resolution photos are critical in today's digital world. High-resolution photos are essential for various purposes, including professional photography, printing, and online presentation. They provide a clear, detailed, and captivating visual experience. Whether you're an amateur photographer or a professional graphic designer, the quality of your photos can significantly impact your work. This is where AI technology comes in, offering a simple and effective way to enhance photo resolution. With the help of AI, you can make your photos higher resolution on Windows PC/Mac or online for free.
Here, we would like to introduce you to two AI-based photo resolution upscaling tools: online AI Photo Upscaler, AVCLabs PhotoPro AI. We will also talk about how to make photos higher resolution with these AI tools.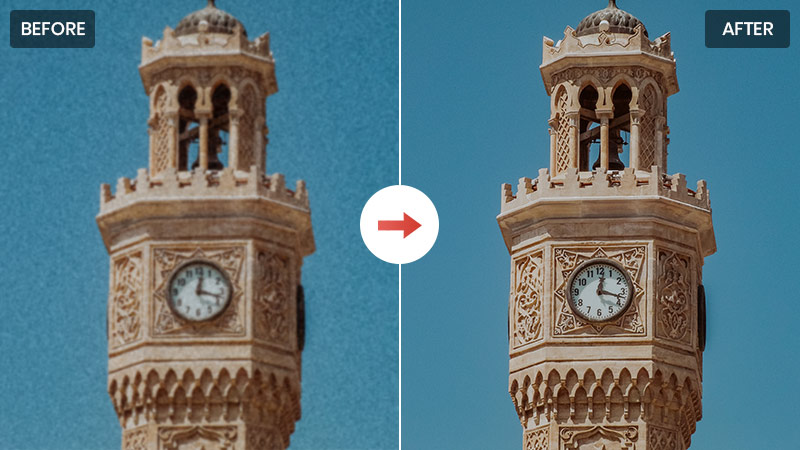 Part 1: Understanding Photo Resolution
Before delving into the methods of increasing photo resolution, it's crucial to understand what photo resolution entails. Photo resolution refers to the detail an image holds and is usually measured in pixels, DPI (dots per inch), or PPI (pixels per inch). The higher these numbers, the sharper and clearer the photo will be. Conversely, a low-resolution image may appear pixelated or blurry, especially when enlarged.
Factors such as camera settings, image dimensions, and file formats can influence the resolution of a photo.
---
Part 2: The Role of AI in Increasing Photo Resolution
Artificial Intelligence (AI) has revolutionized the way we enhance photo resolution. AI technology can play a significant role in enhancing photo resolution. AI algorithms have proven to be highly effective in upscaling low-resolution photos. Through sophisticated algorithms, AI can analyze every pixel in an image and predict how additional pixels should be added during the upscaling process to create a higher-resolution photo. This not only improves the photo's clarity but also maintains its natural look, something that traditional upscaling methods often fail to achieve.
The use of AI in increasing photo resolution offers significant advantages over traditional methods, including time efficiency and superior results.
---
Part 3: Make Photos Higher Resolution on Windows PC/Mac with AVCLabs PhotoPro AI
AVCLabs PhotoPro AI is a powerful software solution that enables users to enhance the resolution of their photos and increase photo resolution by 2x, 3x, and 4x without losing any quality on both Windows PC and Mac. Apart from making photos higher resolution, AVCLabs PhotoPro AI works pretty well in editing photos, such as correcting photo colors, removing unwanted objects from photos, enhancing photo quality, colorizing old black&white photos, removing and changing backgrounds from photos, changing the style (cartoon, painting, sketched, and more) of the photo and transforming your photos into stunningly new and unique artwork, etc.
Experience advanced photo editing without the need for professional skills. With AVCLabs PhotoPro AI, harness the power of artificial intelligence to effortlessly enhance your photos.
Key Features of AVCLabs PhotoPro AI
Enhance photo quality with advanced technology.
Remove unwanted objects, people, watermarks.
Colorize B&W photos to make it come to life again.
Change the style of image to create unique look.
Upscale photos up to 3x, 4x without losing quality.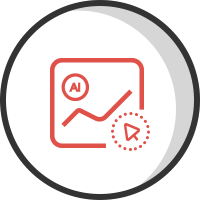 How to Make Photos Higher Resolution on Windows PC/Mac
Here are the simple steps to make photos higher resolution via AVCLabs PhotoPro AI.
Step 1
Install and Run AVCLabs PhotoPro AI
Download and install the proper version of AVCLabs PhotoPro AI on your computer according to your need, and then launch it.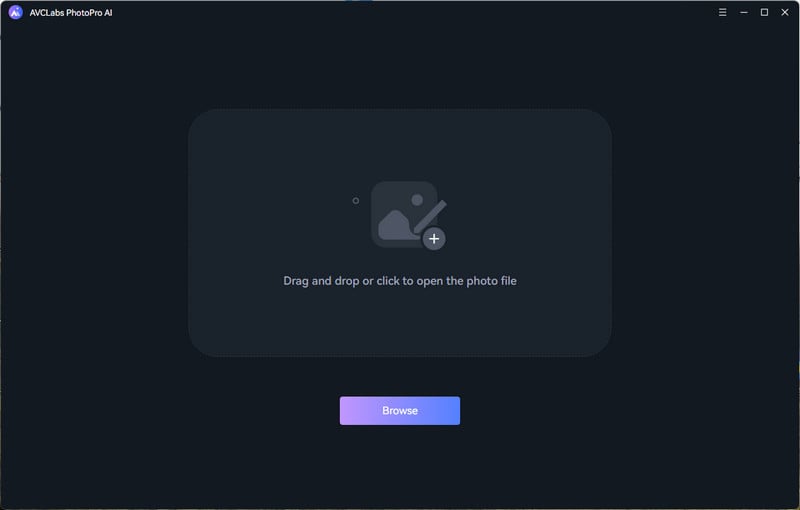 Step 2
Add A Photo and Select the AI Model to Start Converting Low-Resolution Photo to High-Resolution
Click on the Browse button to add the low-res photo or drag and drop the photo into the program directly.
To convert the photo from low-resolution to high-resolution, simply select the Upscale model. There are four magnification levels from 1X, 2X, 3X, and 4X available. Just select the 4X.
Click on the Apply button to start increasing photo resolution automatically.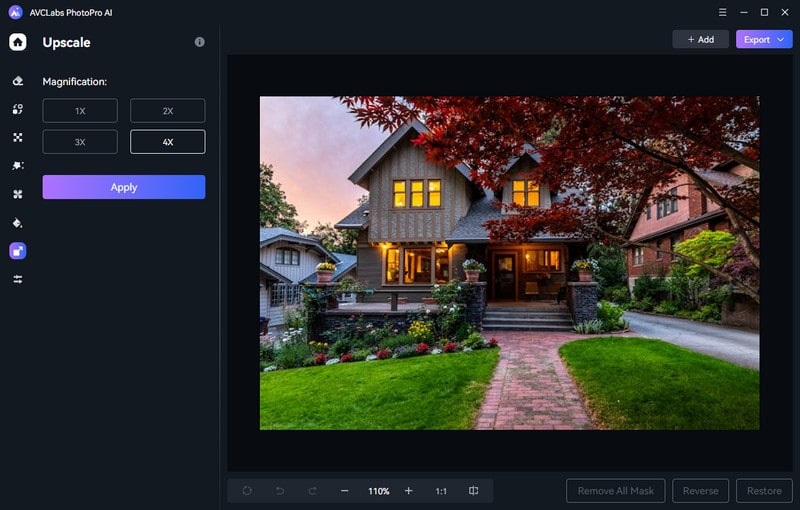 Step 3
Save the Higher Resolution Photo
Once the photo resolution increasing process is done, just click on the Contrast button to preview the original and enhanced photo side by side. If you are happy with the effect, simply hit on the Save button to save the higher-resolution photo on your computer.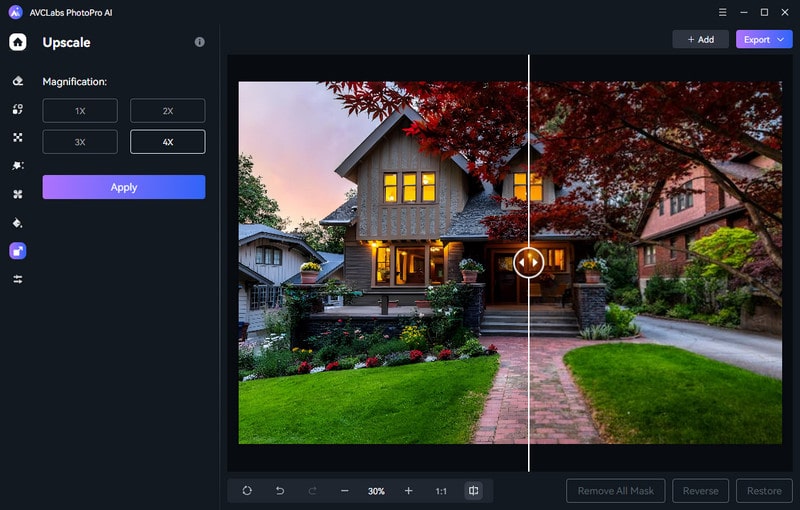 ---
Part 4: Make Photos Higher Resolution Online for Free with AVC.AI
If you prefer an online solution, AVC.AI is a great option. As an online AI image upscaler, it helps you convert low-resolution photos to high-resolution online.
Utilizing cutting-edge super-resolution AI technology, this robust online Image Upscaler increases image resolution without sacrificing quality. You can experience improved image clarity as we eliminate noises and enhance essential details like sharpening facial details.
Key Features of AVC.AI
Enlarge and upscale image without losing quality.
Sharpen image edges and deblur image online 100% automatically.
Increase the resolution of low-quality images online.
Enhance color and contrast with only one click.
No editing skills are needed.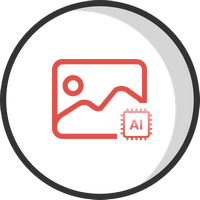 Make Photos Higher Resolution Online for Free via AVCLabs Online AI Image Upscaler
Simply follow these steps and discover the power of AVCLabs Online AI Image Upscaler to enhance the resolution and quality of your photos.
Step 1
Visit AVCLabs Online AI Image Upscaler
Access this online image upscaler using any browser (e.g., Google Chrome, Firefox, Safari). Ensure a stable internet connection throughout the entire process.
Step 2
Upload One or Multiple Low-resolution Photos to AVCLabs Online AI Image Upsaler
Simply drag and drop low-res one or multiple photos to the online tool or click on the Upload Image button, browse, and choose the photos you need to upscale from your computer.
Note: The supported input formats are: *.png, *.jpg, *.jpeg, *.bmp, *.jfif and *.webp.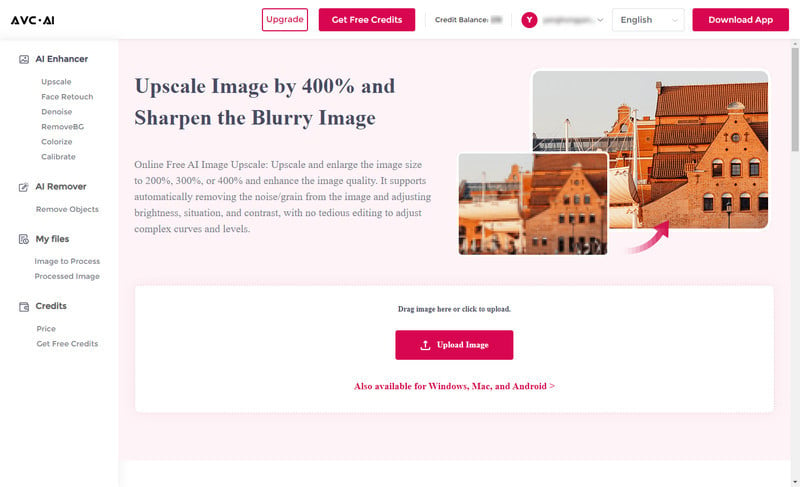 Step 3
Choose the AI Model to Start Converting Low-res Photos to High-res
To make photos higher resolution online, you are suggested to turn on the Upscale model here. There are four upscaling options available, from 100% to 400%, just choose the option you prefer. Additionally, you are allowed to enable the Face Refinement option to enhance and retouch portrait photos.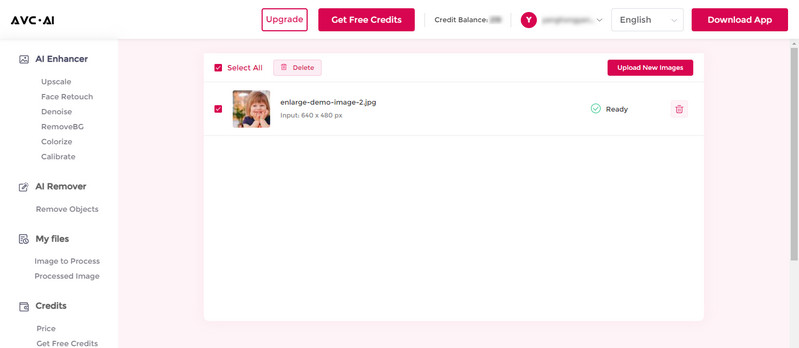 After all the settings are completed, click on the Start Processing button to start increasing the photo resolution.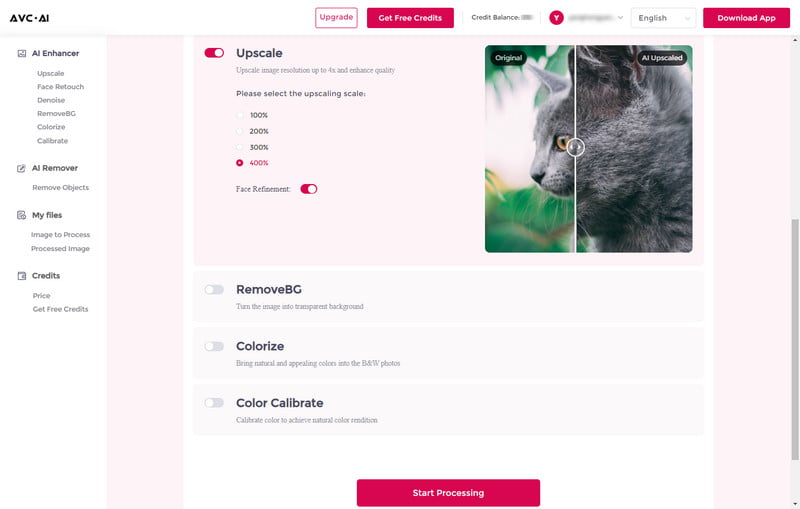 Step 4
Preview the Result And Download the Converted High-resolution Photo
After completing the upscaled process, navigate to the Processed Image tab. There, you can easily preview the original and upscaled photo results by using the Eye icon and dragging the slider bar.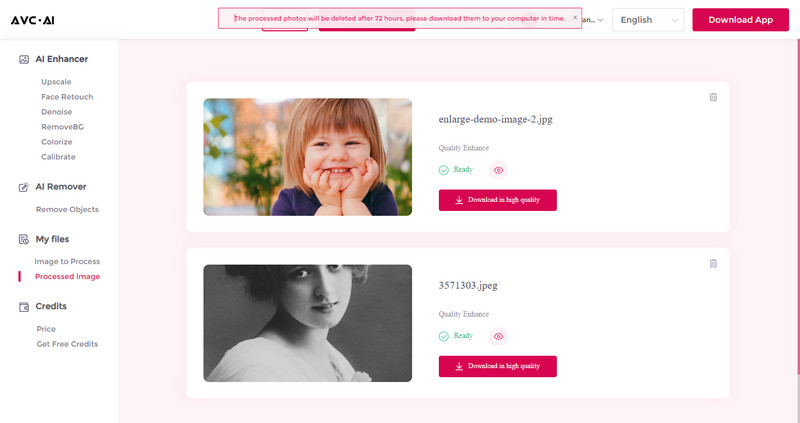 If you are satisfied with the result, simply click on the Download Image button To save the high-resolution photo to your computer. The image will be saved in the *.jpg format.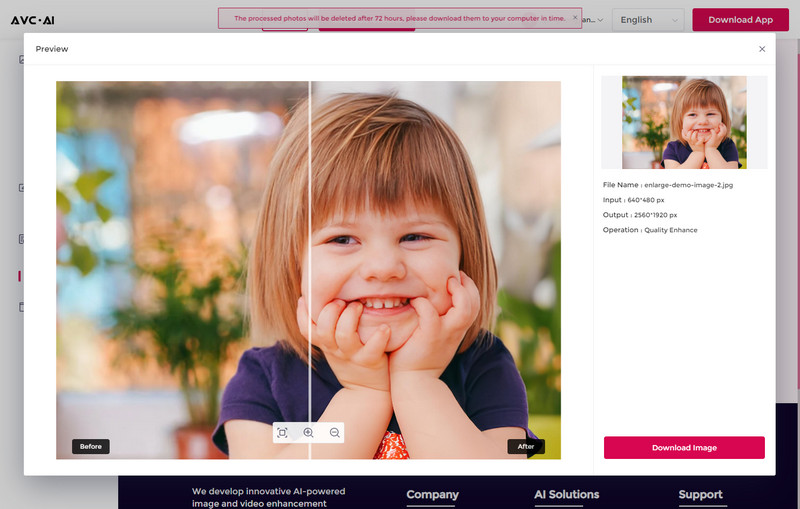 Note: The processed photos will be deleted after 72 hours, please download them to your computer in time.
---
Part 5: FAQs about Making Photos Higher Resolution
Here are some of the most frequently asked questions about making photos higher resolution.
Q: What does making a photo higher resolution mean?
A: Making a photo higher resolution means increasing the amount of detail it contains. This is usually done by adding more pixels to the image, resulting in a clearer and sharper photo, especially when viewed at larger sizes.
Q: Can any photo be made higher resolution using AI?
A: While AI algorithms can enhance the resolution of photos, they have limitations. Extremely low-resolution images may not yield perfect results, as the AI algorithms rely on existing data patterns to generate details. It's best to start with the highest resolution version of the photo available for the best outcome.
Q: What is the difference between software-based and online AI-powered solutions?
A: Software-based solutions require downloading and installing dedicated applications on your Windows PC or Mac. These provide more advanced features and customization options. On the other hand, online AI-powered platforms allow you to upscale photos directly from your web browser without the need for software installation. They are convenient for quick and simple upscaling tasks.
Q: How does AI improve photo resolution?
A: AI improves photo resolution by analyzing the image and intelligently adding more pixels. It uses sophisticated algorithms to predict how to fill in the extra pixels during the upscaling process, resulting in a higher resolution photo that maintains its quality and natural look.
Q: Will the process of increasing photo resolution with AI affect the image quality?
A: AI algorithms for upscaling photos are designed to preserve image quality and minimize artifacts. However, it's important to note that upscaling cannot create new details that were not present in the original photo. The results will vary depending on the quality of the original image and the effectiveness of the AI algorithm used.
Q: Can enhancing the resolution of a photo make it look unnatural?
A: If done correctly, enhancing the resolution of a photo should maintain its natural appearance. AI-powered tools are designed to predict and fill in additional details in a way that looks natural and consistent with the rest of the image.
Q: Does making a photo higher resolution increase its file size?
A: Yes, increasing a photo's resolution will generally result in a larger file size. This is because adding more pixels to an image increases the amount of data it contains.
Q: Are there any additional steps to take after upscaling a low-res photo to enhance its quality further?
A: Yes, after upscaling a photo with AI, you can further enhance its quality through post-processing techniques. This may include adjusting contrast, saturation, sharpness, or applying noise reduction. Experimenting with different editing tools can help you achieve the desired results.
---
Conclusion:
In conclusion, having a good grasp on photo resolution and knowing how to make photos higher resolution can be super helpful in many situations. With the help of AI technology, there are now plenty of ways to enjoy beautiful, sharper images and photos with higher resolution without spending extra time. Whether you're working on a Windows PC/Mac or prefer to use an online tool, you can leverage AI to produce high-resolution photos that maintain their natural appearance. With the right approach and tools, you can transform your photos into high-quality visuals that stand out.
From understanding the basics of photo resolution and the role of AI in increasing it, to being able to make your photos higher resolution on a PC or Mac with AVCLabs PhotoPro AI and also being able to make them higher resolution online for free with AVC.AI, making photos higher resolution doesn't need to be any more complicated. While there are still a lot of questions around this topic, hopefully, this blog post has given answers to all the frequently asked questions about making photos higher resolution. With all the information that's available out there, your images can look better than ever!
Photo Editing Software Free Download
---

Video Converter

DVD Converter

Video Editor

Enhance Video Quality

Enhance Image Quality

Remove Objects