AVCLabs Photo Enhancer AI Online | Photo Retouching Online Free
"What is the best photo retouching online free service?" - Veeresh Pradeep
In today's visually-driven world, the importance of photo retouching and enhancement cannot be overstated. Whether it's for personal use, professional purposes, or social media, we often strive to present our photos in the best possible light. Photo retouching allows us to correct imperfections, enhance colors, and bring out the true beauty of our images.
In this article, we'll explore AVCLabs Photo Enhancer AI Online, a photo retouching online free tool that allows you to enhance and retouch your images effortlessly.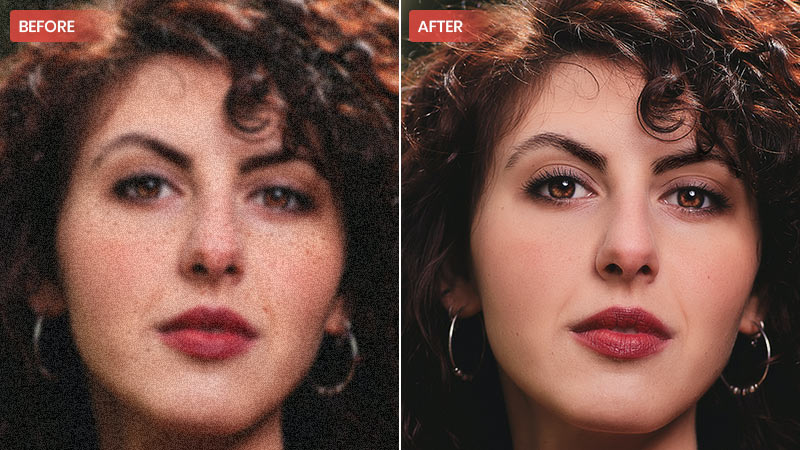 Part 1: Understanding AVCLabs Photo Enhancer AI Online
AVCLabs Photo Enhancer AI Online is an online tool designed specifically for photo retouching and enhancement. It offers a streamlined and intuitive interface that caters to both novice and experienced users, making the process accessible to all. It's a web-based platform, so you don't need to download any software to use it.
AVCLabs Photo Enhancer AI Online is a powerful tool that comes with a range of features to help you enhance and retouch your images. The tool uses advanced AI algorithms to enhance your images automatically. It can adjust color, brightness, contrast, and sharpness to give your images a professional look. It also helps remove unwanted objects from your photos and reduce noise to improve clarity and detail. The tool has a user-friendly interface that makes it easy to use even for beginners. All the tools and features are easily accessible and labeled clearly.
Here are some of the key features of the tool:
Photo Enhancer AI
Remove any unwanted objects from photos.
Upscale image by 400%.
Instantly retouch portrait to make it stuning.
Reduce or remove noise from a noisy image.
Remove the background from the photo.
Colorize black&white pictures.
Fix color casts in your digital photos.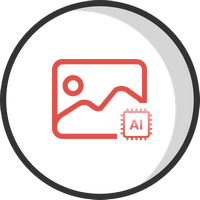 ---
Part 2: Benefits of Using AVCLabs Photo Enhancer AI Online
Here are some of the benefits of using AVCLabs Photo Enhancer AI Online:
Automatic enhancement capabilities: The AI technology analyzes each photo and applies appropriate adjustments, saving users time and effort compared to manual retouching.
Easy-to-use: no technical skills required: By leveraging AI-powered retouching, AVCLabs Photo Enhancer AI Online significantly reduces the time required to enhance photos. Complex tasks like removing unwanted objects or retouching skin can be accomplished with a few clicks, eliminating the need for laborious manual editing.
Maintain a natural look: AVCLabs Photo Enhancer AI Online delivers quality results, enhancing image aesthetics while maintaining a natural look. The tool ensures that the enhancements blend seamlessly with the original photo, preserving the authenticity and artistic vision of the photographer.
Time-saving and efficient photo processing with batch processing capabilities: AVCLabs Photo Enhancer AI Online comes with batch processing capabilities, allowing you to process multiple images simultaneously, saving time and effort.
---
Part 3: How to Use AVCLabs Photo Enhancer AI Online for Photo Retouching
The process of using AVCLabs Photo Enhancer AI Online for photo retouching is simple and straightforward. Here's how to do it:
Step 1
Visit Photo Retouching Online Free - AVCLabs Photo Enhancer AI Online
Navigate to the photo retouching online free with any browser (such as Google Chrome, Firefox, Safari). Please keep a good network condition during the whole process.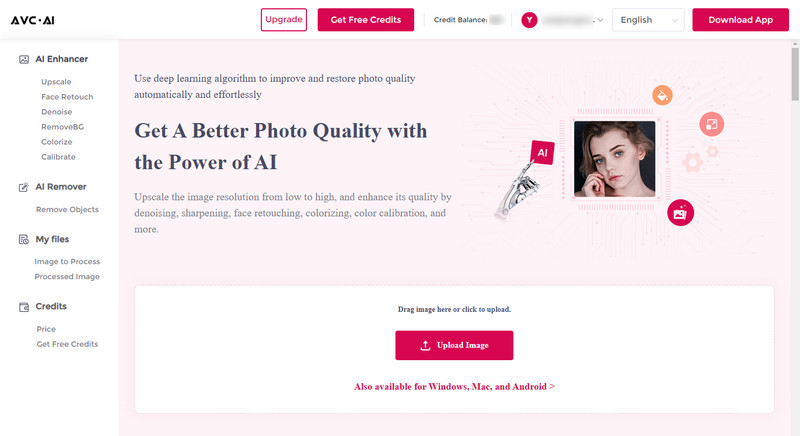 Step 2
Choose the Face Retouch Model and Upload One or Multiple Photos to This Photo Retouching Online
To retouch photos online, you are suggested to select the Face Retouch model here. Then upload one or multiple photos you want to retouch to the AVCLabs Photo Enhancer AI Online tool by draging and dropping or clicking on the Upload Image button.
Note: The supported input formats are: *.png, *.jpg, *.jpeg, *.bmp, *.jfif and *.webp.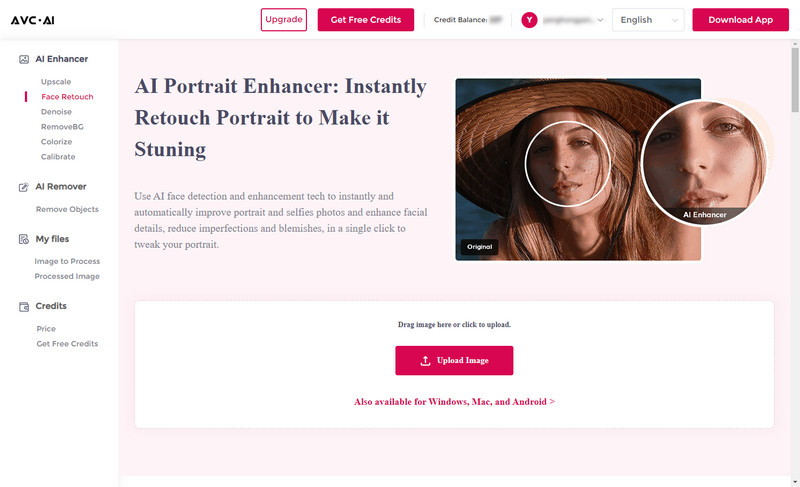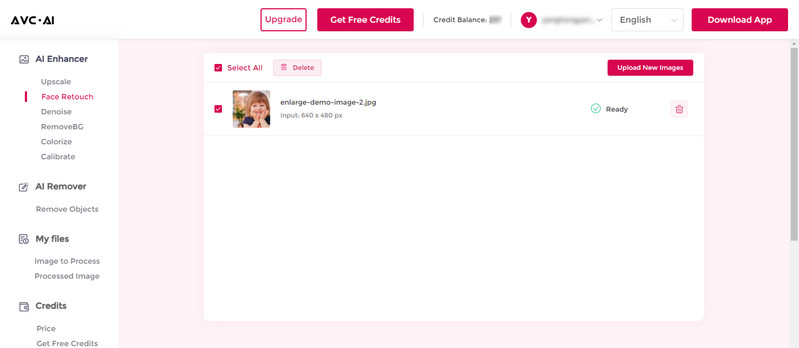 Step 3
Start Retouching Photos Online for Free
After the photo is uploaded successfully, you can see the photo is displayed as the ready state. You are allowed to apply one or more AI models simultaneously or choose scale size, face refinement, etc.
It offers 100% to 400% options for upscaling photos, just choose the size according to your need. If needed, you are able to turn on the Face Refinement option to retouch portrait photos.
Once all the settings are completed, click on the Start Processing button to start retouching photos online for free.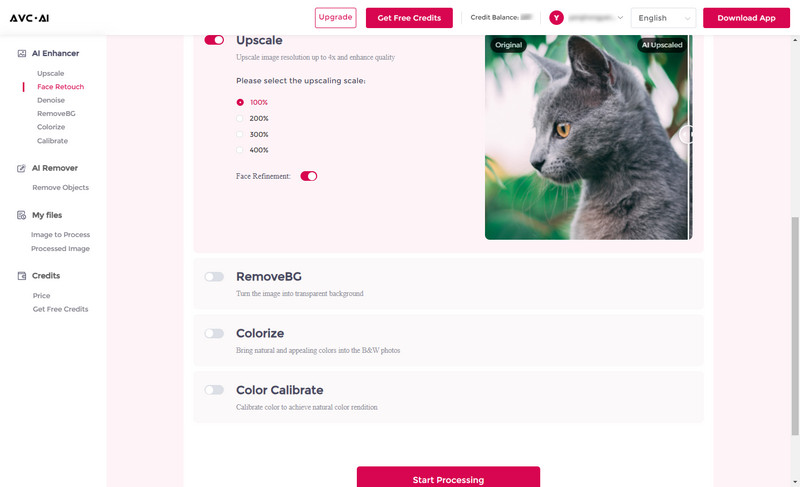 Step 4
Preview the Result And Download the Retouched Photos
Once the photo retouching process is done, simply switch to the Processed Image tab. You can click the "eye" icon in the right place to preview the processed image.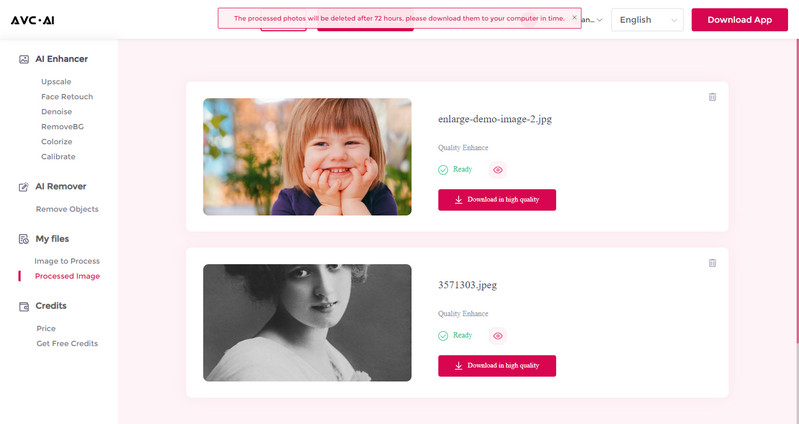 If you are satisfied with the result, just click on the Download Image button to save it to your computer. The output format is *.jpg.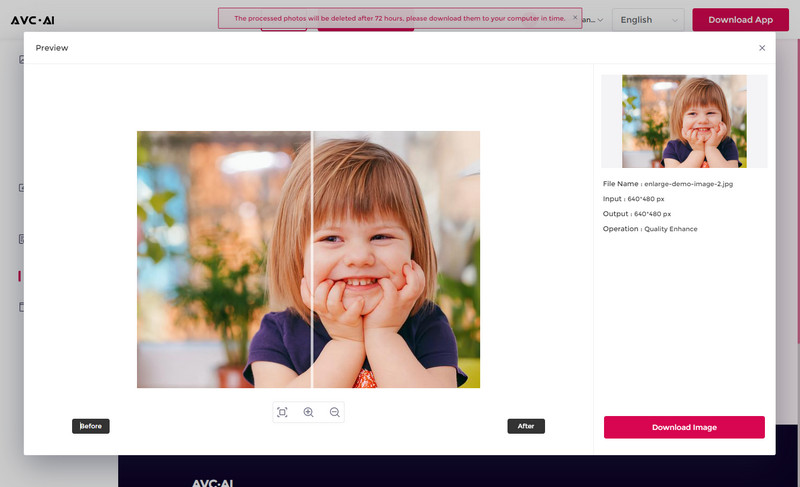 Note: The processed photos will be deleted after 72 hours, please download them to your computer in time.
---
Bonus: Desktop Photo Retouching Tool - AVCLabs PhotoPro AI
AVCLabs PhotoPro AI is a powerful desktop photo retouching tool that uses advanced artificial intelligence (AI) technology to enhance your photos. Whether it's removing blemishes, adjusting colors, or adding artistic effects, photo retouching enables us to create captivating and polished images.
Key Features of AVCLabs PhotoPro AI
Enhance photo quality with advanced technology.
Remove unwanted objects, people, watermarks.
Colorize B&W photos to make it come to life again.
Change the style of image to create unique look.
Upscale photos up to 3x, 4x without losing quality.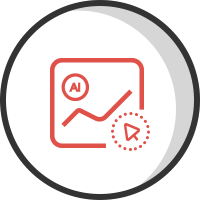 Users can adjust colors, enhance details, remove imperfections, and perform selective edits with precision. The intuitive interface makes it easy to navigate through the various tools and apply the desired enhancements.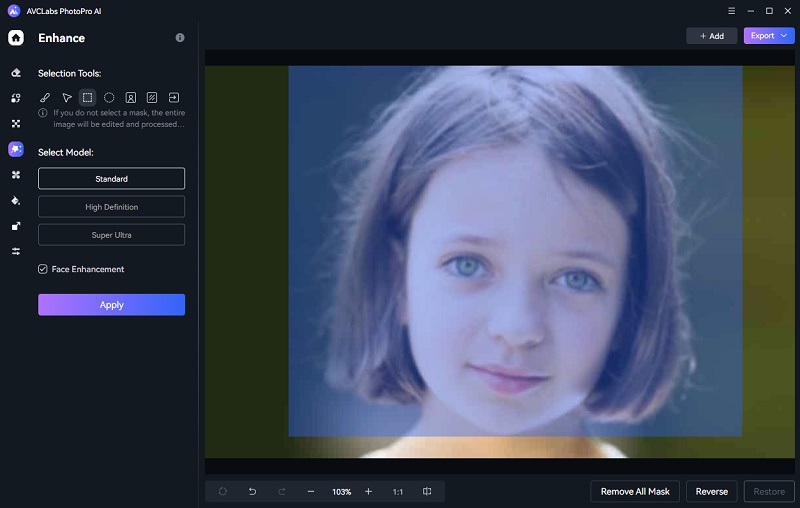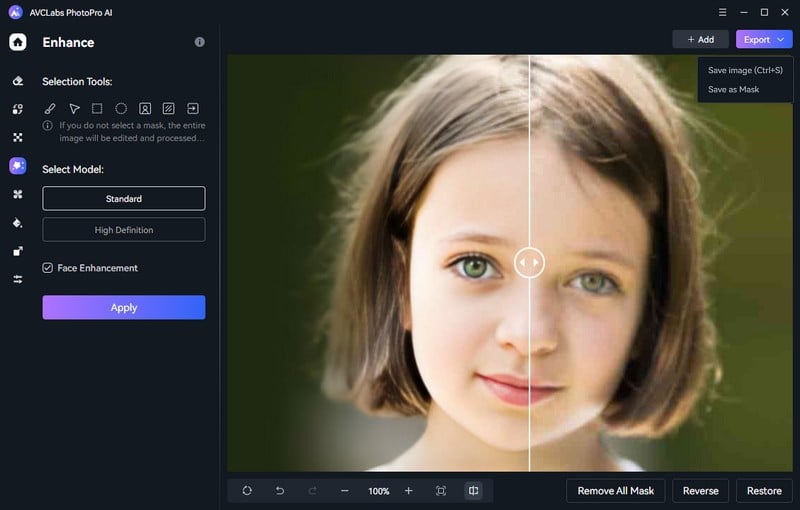 ---
Conclusion:
In conclusion, AVCLabs Photo Enhancer AI Online and its desktop counterpart, AVCLabs PhotoPro AI, are powerful tools designed for professionals looking to achieve perfect photo retouching results in a fraction of the usual time. Their intuitive selection guides, one-click edits and real-time previews make photo retouching fast and effortless. Furthermore, the diverse range of features offered by both programs including auto-correction of brightness and color contrast or skin softening, makes it easier to create flawless images that look amazing on any platform. So if you are a photographer who has been looking for an easy-to-use yet highly effective photo retouching solution for your project, then give AVCLabs Photo Enhancer AI Online and AVCLabs PhotoPro AI a try, you won't be disappointed. The results speak for themselves!
Photo Editing Software Free Download
---

Video Converter

DVD Converter

Video Editor

Enhance Video Quality

Enhance Image Quality

Remove Objects