Lightroom Alternatives: Best Adobe Lightroom Alternatives in 2023
Adobe Lightroom has long been a cornerstone of photographers' workflows, offering powerful tools for photo organization, raw image processing, and editing. However, as the software landscape evolves, so do the preferences and needs of photographers. Whether due to cost considerations, a desire for non-subscription software, or simply different interface preferences, many users are seeking alternatives to Lightroom. In this article, we'll delve into the top Lightroom alternatives, evaluating their features, pros and cons, and considerations for photographers looking to switch.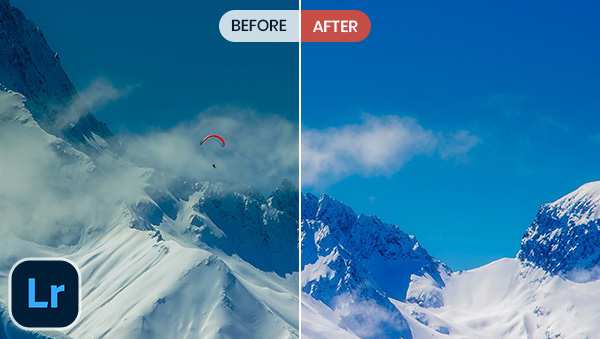 Part 1: What is Adobe Lightroom?
Adobe Lightroom, a prominent photo editing software by Adobe Systems, streamlines the organization, editing, and enhancement of digital photos. Offering non-destructive editing, color adjustments, cropping tools, and presets for consistent styles, Lightroom also aids in managing photos through keyword tagging, ratings, and collections. Its integration with Adobe's Creative Cloud ecosystem facilitates seamless image transitions across applications.
---
Part 2: Why You Choose to Find an Alternative to Lightroom?
Exploring alternatives to Lightroom becomes a viable consideration for individuals seeking cost-effective solutions, more intuitive interfaces, specialized features catering to unique editing needs, enhanced performance, and flexibility in pricing models. Furthermore, those preferring non-subscription software, desiring better compatibility across platforms, or valuing privacy and security might opt for alternatives that better align with their preferences and creative workflows.
---
Part 3: Best 7 Lightroom Alternatives (Paid & Free)
1. AVCLabs PhotoPro AI (Free Trial)
Operating System: Windows, MacOS
AVCLabs PhotoPro AI emerges as a standout contender for users seeking cutting-edge AI-powered editing tools. With its advanced artificial intelligence capabilities, PhotoPro AI excels in automating complex edits, enhancing image quality, and transforming photos with remarkable precision. This software offers a comprehensive suite of AI-driven features, from facial recognition and retouching to intelligent scene enhancement. Its focus on harnessing AI's potential makes it an exceptional choice for photographers who prioritize efficiency and innovative editing techniques, allowing them to achieve impressive results while minimizing manual intervention.
Features of AVCLabs PhotoPro AI
Enhance image sharpness and improve overall clarity
Increase image resolution without sacrificing quality.
Reduce unwanted noise and graininess in photos.
Remove blemishes, wrinkles, and unwanted objects from photos.
Adjust color tones, white balance, and saturation for accurate and realistic colors.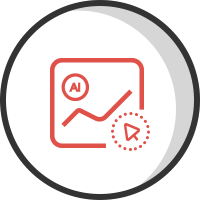 ---
How to Use AVCLabs PhotoPro AI
Step 1
Install AVCLabs PhotoPro AI and Launch it
Download and install AVCLabs PhotoPro AI and launch it. Click on the "Browse" button to add an image, or simply drag and drop the image directly onto the workspace.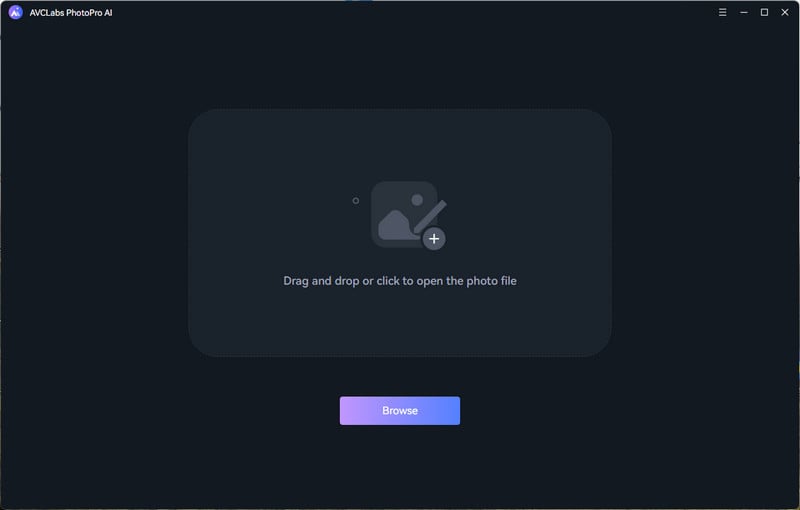 Step 2
Apply an AI Model and Preview
There are seven AI models shown on the top menu bar. Each of them is designed to solve different image quality issues.
1). Enhance Photo
Click Enhance AI and select a model according to your needs. For portrait images, it is recommended to check Face Enhancement, for it will recover facial details from blurry images. Then click the Apply button to stat enhancement.

2). Upscale Photo
Select the Upscale model. Click on it and choose the magnification levels, including 1X, 2X, 3X, and 4X. Then apply it.

3). Colorize Photo
Just choose the Colorize Model. You are allowed to adjust the Rending Index to change the colorizing effect till you find the most suitable color. Then click on the Apply button to start converting the black and white photo to color.

4). Remove Objects From Photo
Use the selection tool to completely cover the object you want to remove, then click Inpaint AI.

5). Remove/Change Background From Photo
Use the background selection tool to select the entire background section, then click Matting AI. AI will remove the entire background, then you can change the background color or customize the background.
6). Stylized Photo
Click the Stylize model and select one filter you like, then apply it. You can cancel or change the filter at any time.

If you're satisfied with the results, click on the save button to download them to your local disk.
---
2. ON1 Photo RAW (14 Days Free Trial)
Operating System: Windows, MacOS
ON1 Photo RAW seamlessly blends photo editing and organization, presenting a distinctive layer-based editing method akin to Photoshop. Enriched by a comprehensive assortment of effects and presets, it empowers users with a wealth of creative possibilities. The integration of a user-friendly browser and catalog enhances workflow efficiency, catering to photographers who seek an all-encompassing solution. This versatility positions ON1 Photo RAW as an appealing option for those aiming to consolidate their editing and organizational tasks within a single, cohesive platform.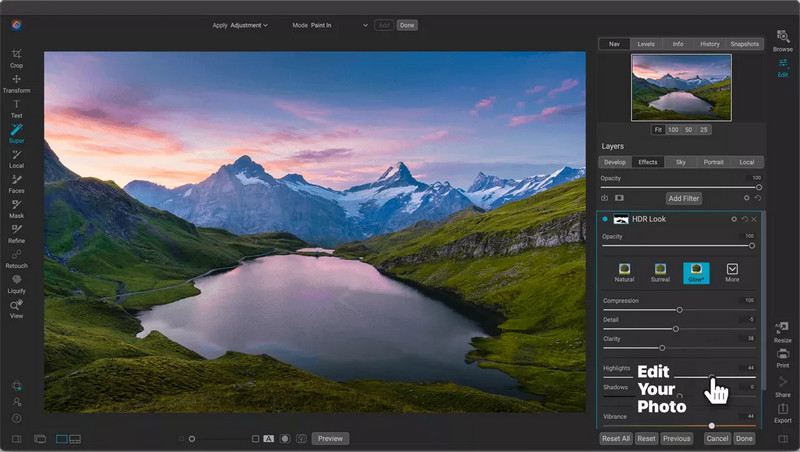 Pros:
• Comprehensive full-featured editing tool.
• Excellent presets and Replace Color filter.
• Powerful artificial intelligence Portrait editing.
• Layer-based editing.
Cons:
• Lacks Advanced Organization Features.
• Beginners may find a steep learning curve.
---
3. Skylum Luminar Neo (Paid)
Operating System: Windows, MacOS
Skylum Luminar Neo emerges as a standout choice for beginners seeking an intuitive and user-friendly photo processing experience. With its streamlined interface and AI-powered tools, Luminar Neo simplifies complex editing tasks, making them accessible to newcomers in the field of photo editing. This software offers an array of automated enhancements and creative presets, enabling users to effortlessly transform their images. While catering to beginners, Luminar Neo doesn't compromise on creative potential, making it an excellent entry point for those looking to explore photo editing without the steep learning curve, while still enjoying the ability to craft impressive results.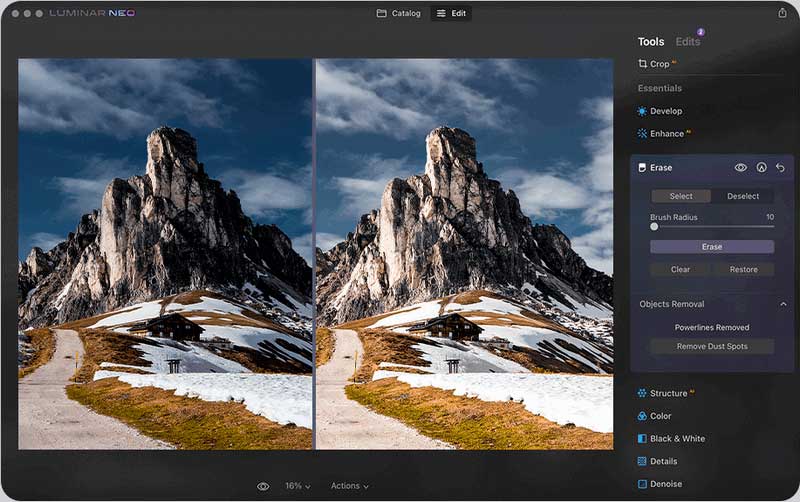 Pros:
• AI tools for fast and intuitive processing.
• User-friendly interface and operation.
• Customize the user interface and workspace.
• One-click presets to quickly enhance your images.
Cons:
• AI limited to specific editing functions.
• The requirements for computer configuration are relatively high.
---
4. Capture One Pro (30 Days Free Trial)
Operating System: Windows, MacOS, and iPad
Capture One has garnered acclaim for its remarkable image quality and sophisticated editing arsenal, positioning itself as a preferred choice within professional circles. The software's hallmark lies in its customizable interface, which harmonizes seamlessly with comprehensive color grading and adept tethering capabilities, empowering users to exercise unparalleled control over their workflows. Despite potentially higher pricing in comparison to certain alternatives, Capture One predominantly caters to a professional clientele that values its robust features, making it an indispensable asset for those striving for impeccable image quality and precision-driven editing capabilities.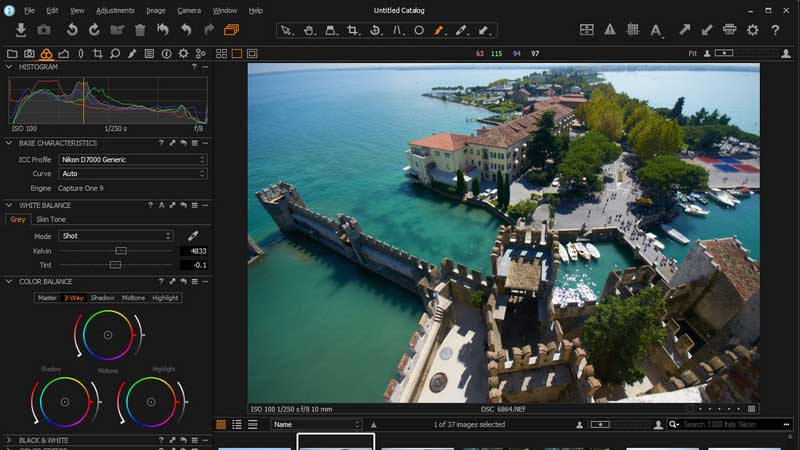 Pros:
• Image processing is very fast.
• Powerful color adjustment tools.
• Program interface can be customized freely.
• Layer-based editing.
Cons:
• Steep learning curve, difficult for new users.
• Relatively expensive.
---
5. Darktable (Free Open-Source)
Operating System: Windows, Linux, MacOS
Darktable, a notable open-source alternative, has garnered a dedicated user base due to its adoption of a non-destructive editing workflow and robust RAW editing capabilities. Its community-driven development model fosters continuous enhancements and support, presenting an attractive proposition for photographers seeking customization and value-driven options. Darktable's emphasis on comprehensive editing tools and its commitment to affordability resonate well with budget-conscious photographers who prioritize flexibility and the ability to tailor their editing experience to their individual preferences.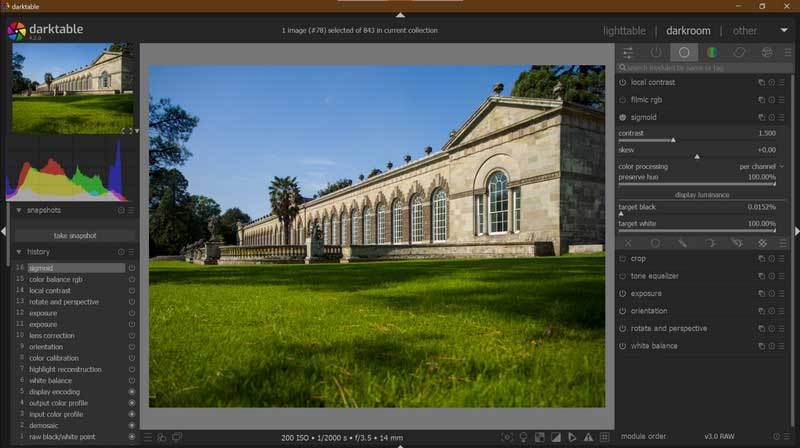 Pros:
• Completely free open-source.
• Basic file management features.
• User-friendly interface.
• Various editing metadata functions and a powerful export system.
Cons:
• Not feature rich enough for professionals.
• RAW photo processing is not fine enough.
---
6. DxO PhotoLab (30 Days Free Trial)
Operating System: Windows, MacOS
DxO PhotoLab distinguishes itself through its utilization of advanced AI-powered automated adjustments, elevating the editing process with unprecedented efficiency. Notably, the software introduces distinctive features such as DxO Prime denoising and ClearView Plus for effectively enhancing images by mitigating noise and improving haze. Its seamless integration with the DxO Nik Collection amplifies its prowess, augmenting the range of creative possibilities available to photographers. This comprehensive offering caters to those who prioritize innovative technologies, providing a compelling solution that harmonizes cutting-edge AI advancements with versatile editing tools.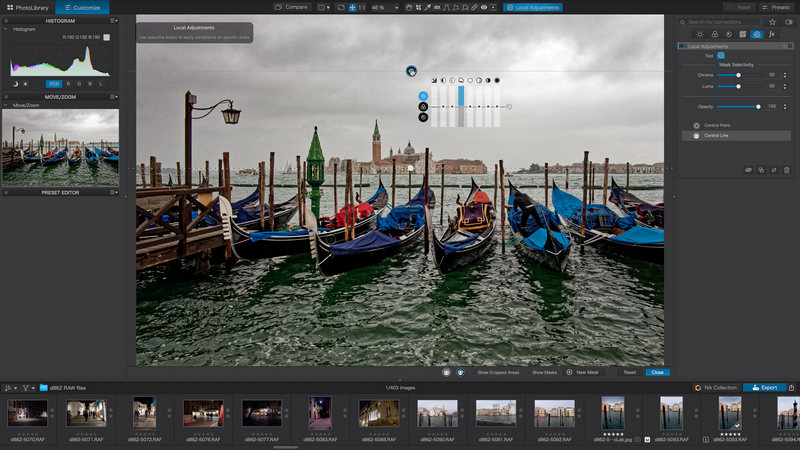 Pros:
• Boasts industry-leading noise reduction technology.
• Features an excellent lens correction tool .
• Demonstrates good performance and rapid processing speeds.
• Excellently manages RAW images.
Cons:
• Lacks richness in photo editing capabilities, potentially restricting advanced enhancements.
• Presents a steep learning curve, especially for beginners, which might hinder seamless usage.
---
7. Apple Photos (Free)
Operating System: MacOS, iOS
Apple Photos stands out as an ideal choice for Mac and iPhone users, seamlessly integrating with the Apple ecosystem. With a streamlined interface and easy synchronization across devices, Apple Photos simplifies photo organization and offers essential editing tools. While it may lack the advanced features of other software, its accessibility, cross-device synergy, and convenience make it an excellent option for those deeply ingrained within the Apple ecosystem, ensuring a cohesive and user-friendly photo management experience.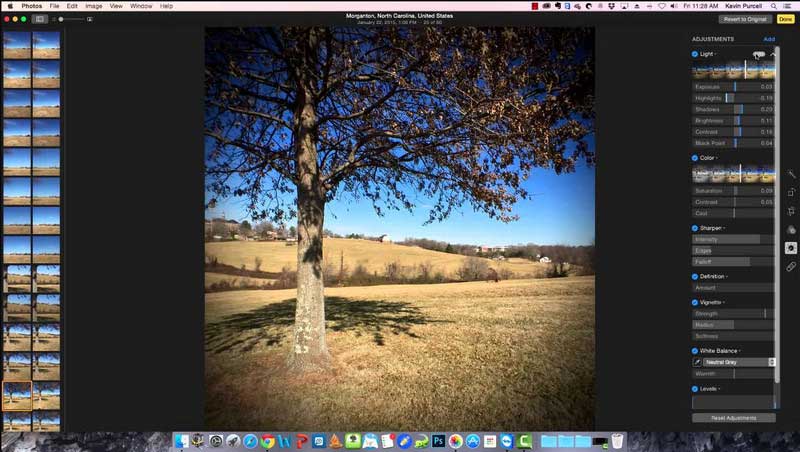 Pros:
• Particularly suited for Apple device users.
• Offers a wide array of tools, catering to diverse editing needs.
• Facilitates easy photo synchronization across devices.
• Enables convenient photo editing from any device.
Cons:
• Lacks advanced pro-level editing tools.
• Exclusively supports Apple users, excluding Windows and Linux users.
---
Part 4: In-depth Review of Selected Alternatives
AVCLabs PhotoPro AI stands out for AI-powered precision. ON1 Photo RAW's layer-based approach and comprehensive effects library cater to a diverse range of editing styles. Skylum Luminar Neo prioritizes simplicity, Capture One Pro targets professionals. Darktable's open-source nature and non-destructive workflow provide an alternative that encourages community-driven innovation, and Apple Photos suits users within the Apple ecosystem. Your choice should align with your editing goals, skill level, and creative requirements.
---
Part 5: Factors to Consider and Evaluate Lightroom Alternative
When assessing potential alternatives to Adobe Lightroom, a comprehensive array of factors must be taken into consideration. Paramount among these factors are the core features, which encompass essential functionalities such as photo organization, raw processing, editing capabilities, and export options. In parallel, the user interface's intuitiveness and user-friendliness assume a pivotal role, alongside the imperative of ensuring cross-platform compatibility. Moreover, the successful integration of third-party plugins and services, in conjunction with the software's robust performance, emerges as a critical determinant in the decision-making process.
Similarly, when contemplating a transition from Adobe Lightroom to an alternative solution, a judicious evaluation of multiple factors becomes essential. These encompass prudent budget considerations, specific features tailored to individual requirements, and the seamless harmonization of the chosen solution with existing workflows. Equally significant is the anticipation of the software's sustained viability over the long term, coupled with its adaptability to evolving trends within the industry, thereby facilitating an informed and well-rounded choice.
---
Conclusion
In conclusion, as photographers explore options beyond Adobe Lightroom, the diverse landscape of alternatives offers a range of features and benefits to suit various needs. For example, AVCLabs PhotoPro AI impresses with its advanced AI-powered precision, while ON1 Photo RAW's versatile layer-based editing and effects library cater to diverse styles. Ultimately, your selection should align with your editing objectives, skill level, and creative demands. Evaluating these alternatives should consider a holistic approach encompassing features, usability, compatibility, and performance. With these factors in mind, a thoughtful transition to the ideal Lightroom alternative can enhance your photo editing journey.
---
Highly Recommended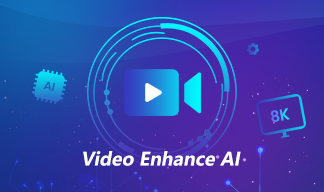 AVCLabs Video Enhancer AI
AVCLabs Video Enhancer AI is an AI-based video enhancement software to upscale video from 480p to 1080p, 1080p to 4K, and up to 8K. With AVCLabs Video Enhancer AI, you can upscale low-res videos to high resolution and bring your old videos a stunningly new look.
Read More