Top 10 Video Stabilizer Apps to Stabilize Shaky Video in 2023
If you've ever captured a video only to discover that it turned out shaky and unstable, you're not alone. Shaky footage can detract from the overall quality and impact of your videos. Fortunately, there are several video stabilization apps that can help you transform your shaky footage into smooth, professional-looking clips.
In this article, we will explore the best apps for stabilizing shaky videos and provide recommendations for both iPhone and Android users. In addition, we will also explore some excellent video stabilization software for both Windows and Mac. Whether you're an aspiring filmmaker or simply want to improve the quality of your home videos, these apps will help you achieve steady and impressive results.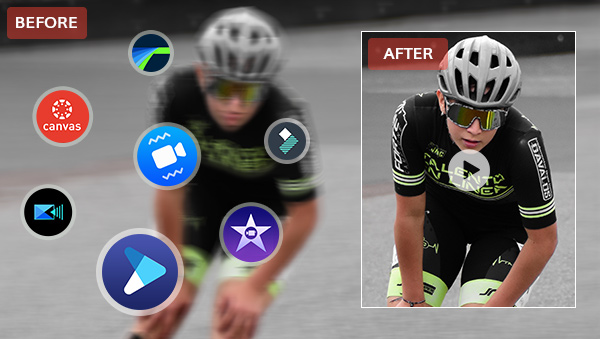 Part 1:How To Choose the Best App for Video Stabilization?
Before diving into the list of recommended apps, it's crucial to understand the factors to consider when selecting a video stabilization app. Here are some key points to keep in mind:
• Stabilization Quality:
Look for apps that offer advanced stabilization algorithms to ensure excellent results. The app should effectively reduce shakes and jitters without compromising the video's overall quality.
• Ease of Use:
Opt for apps that are user-friendly and intuitive, allowing you to stabilize videos with minimal effort. A straightforward interface and simple controls can significantly enhance your editing experience.
• Additional Features:
Consider apps that provide extra features like video trimming, filters, and effects to further enhance your videos. These features can add creativity and customization to your stabilized footage.
When it comes to choosing the best app for video stabilization, considering factors such as stabilization quality, ease of use, and additional features is essential. By prioritizing these aspects, you can find an app that meets your specific needs and enhances your video editing experience. Now, let's explore the 5 best video stabilizer apps for both iPhone and Android that align with these criteria.
---
Part 2: 5 Best Video Stabilizer Apps for iPhone & Android
1. Google Photos
Google Photos is a versatile Android app that combines photo uploading and storing capabilities with video stabilization features. It allows users to stabilize and enhance shaky videos of any length, transforming them into professional-looking content. Additional editing options include trimming, labeling, and modifying videos, as well as exporting frames as pictures. Users have control over video settings such as color profile, brightness, contrast, and saturation. The app also offers the flexibility to remove audio from videos. With its comprehensive set of video stabilization and editing tools, Google Photos proves to be an invaluable application for Android users.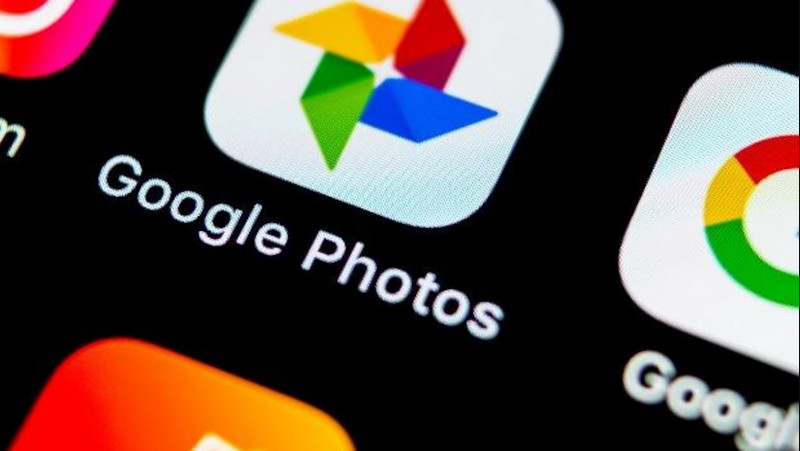 Available: Android
Pros:
• Easy to use.
• Cross-platform.
• Accommodates both photos and videos.
Cons :
• Only 15GB of free storage per Gmail account is now available for Google Photos.
• Inadequate editing tools.
---
2. Shaky Video Stabilizer
Shaky Video Stabilizer is a free Android software designed specifically for stabilizing shaky video footage. It supports various common video formats, such as MP4, 3GP, and MKV, commonly used on Android devices. With its internal video analysis tool and adjustable settings for shakiness, smoothness, and accuracy, users can achieve their desired stabilization results. The software also includes a convenient video player for previewing videos before and after stabilization. Additionally, Shaky Video Stabilizer offers features like video trimming, cropping, and preview mode, providing users with additional control over their video editing process.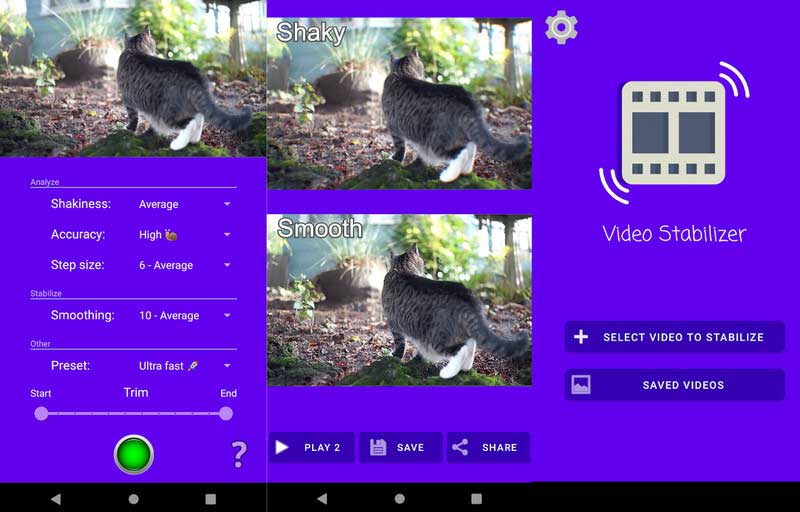 Available: Android
Pros:
• Works with a variety of formats.
• Compare before and after videos.
• Completely free.
Cons :
• Processing videos takes a long time.
---
3. Emulsio
Emulsio is a mobile application available for iOS devices that functions as a video stabilizer and editor. It utilizes advanced algorithms to analyze and stabilize shaky footage, resulting in smooth and professional-looking videos. Along with stabilization, Emulsio offers editing features such as video cropping, trimming, and adjustments for brightness, contrast, and saturation. Users can also apply filters and effects to enhance the visual appeal of their videos. The app allows real-time previewing of the stabilized video, enabling users to make necessary adjustments before saving the final version. Overall, Emulsio provides iOS users with a powerful and user-friendly tool for transforming shaky footage into high-quality, stable videos.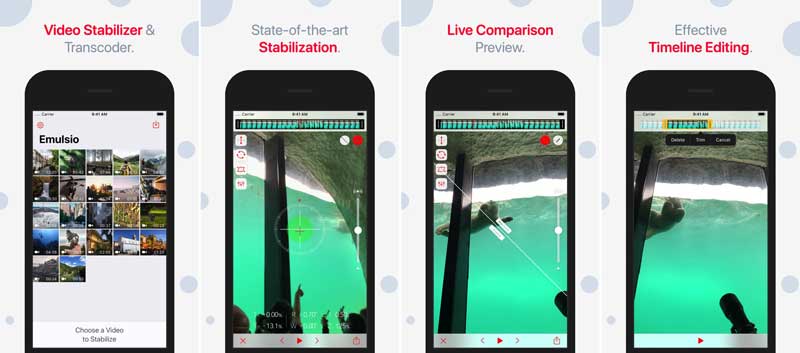 Available: iOS
Pros:
• The app's controls are incredibly intuitive.
• Excellent at eliminating vibration.
Cons :
• Free version will have a watermark.
• Unable to batch process videos.
---
4. Deshake
Deshake is a remarkable mobile app that brings desktop-quality video stabilization to your iPhone, iPad, and iPod touch, providing an instant solution for fixing shaky videos. With just a few taps, you can select a video from your photo library and adjust the settings while previewing the results live on your device. Powered by a next-generation stabilization algorithm, Deshake offers adjustable stabilization strength to remove wobble and distortion, compensating for horizontal, vertical, and rotational motion. It utilizes GPU-accelerated video processing, ensuring lightning-fast performance and professional-quality video creation in seconds.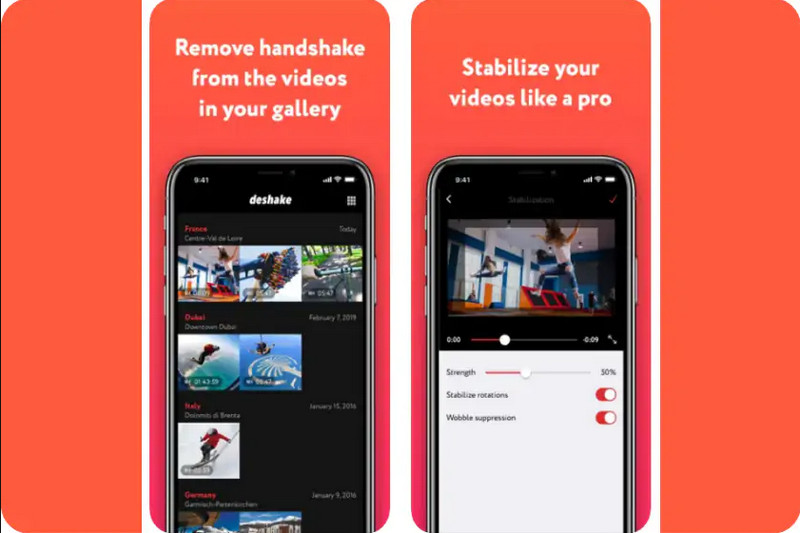 Available: iOS
Pros:
•Very fast speed for stabilizing footage.
• User-friendly interface.
Cons :
• Not free.
---
5. PowerDirector
PowerDirector is a comprehensive video editing software available for Android and iOS devices. With a wide range of powerful tools and features, PowerDirector enables users to create professional-quality videos. It offers intuitive editing controls, multi-track editing, and advanced features such as chroma key and motion tracking. Notably, PowerDirector includes a video stabilization feature, allowing users to easily stabilize shaky footage and achieve smooth and professional results. With support for high-resolution editing, direct sharing to social media, and a user-friendly interface, PowerDirector is a versatile editing solution for both beginners and advanced users, empowering them to create impressive videos with ease.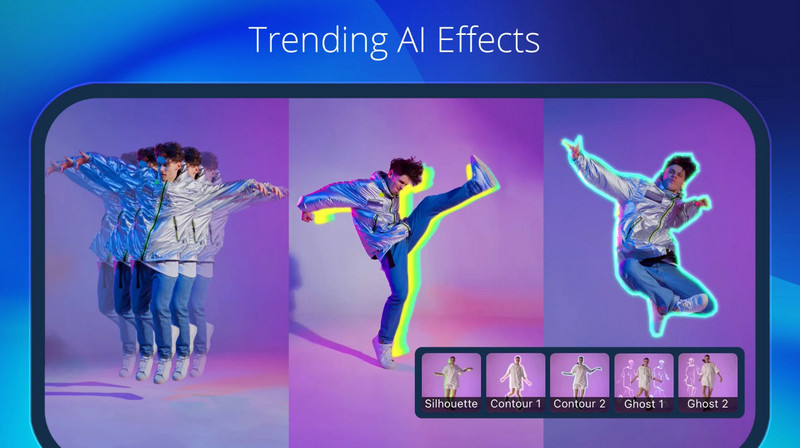 Available: Android & iOS
Pros:
•Quick video rendering.
• Easy to use.
Cons :
• The output video will take up a lot of storage space.
---
Part 3: Other 5 Video Stabilization Software Recommended for Window & Mac
In addition to the 5 best video stabilizer apps for iPhone and Android, there are also several video stabilization software options available for Windows and Mac operating systems. These software recommendations provide users with powerful tools to stabilize and enhance their videos on desktop platforms.
1. AVCLabs Video Enhancer AI
AVCLabs Video Enhancer AI is a software application that utilizes artificial intelligence (AI) technology to enhance and upscale videos. It is primarily designed to improve video quality, increase resolution, and enhance details and sharpness.
In addition, By leveraging advanced algorithms and machine learning capabilities, It then applies intelligent adjustments and corrections to counteract the effects of shaking, reducing video blur and restoring clarity and stability, resulting in smoother and more visually pleasing videos. This powerful software provides users with a reliable and efficient solution to overcome video blur caused by shaking, allowing them to create high-quality, professional-looking videos.
AVCLabs Video Enhancer AI
Sharpen faces from blurry video.
Upscale videos from SD to HD, HD to 4K.
Convert video to 60, 90 and even 120 FPS.
Colorize B&W videos to make revive again.
Support GPU & TensorRT acceleration.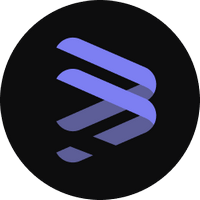 Steps to Stabilize Shaky Video with AVCLabs Video Enhancer AI
Step 1
Install and Open AVCLabs Video Enhancer AI Software
Download and install AVCLabs Video Enhancer AI from the official website. Launch the application on your computer.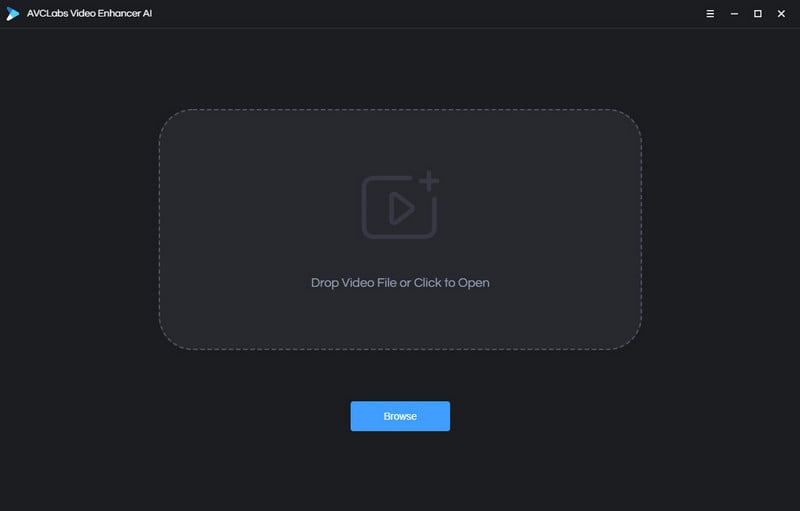 Click on the "Browse" button within the software to import the shaky video file. Or just directly drag the file to the main interface.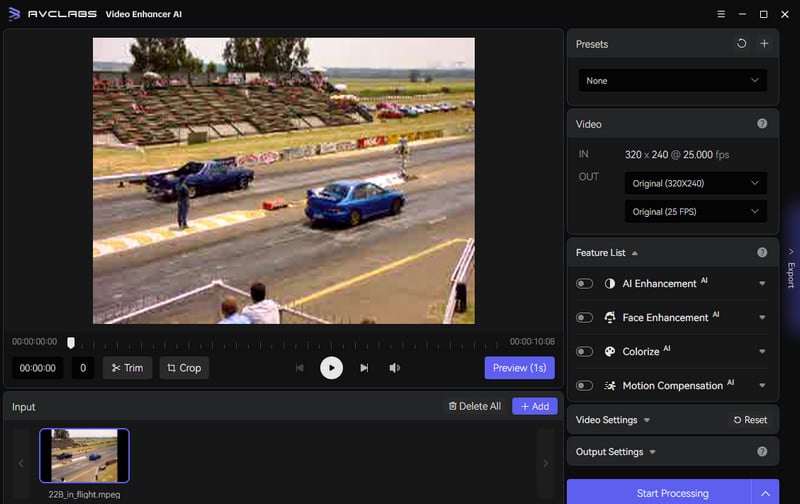 To address various quality concerns, it offers four distinct AI features: AI Enhancement, Face Enhancement, Colorize, and Motion Compensation. When dealing with shaky videos, turning on AI Enhancement is essential. For the situation where facial details are blurred, it is recommended to turn on Face enhancement, because it can effectively restore the clarity of blurred images.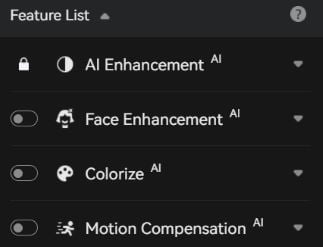 Step 4
Configure Video and Output Settings (Optional)
Video Settings: Manually adjust the contrast, brightness, and saturation.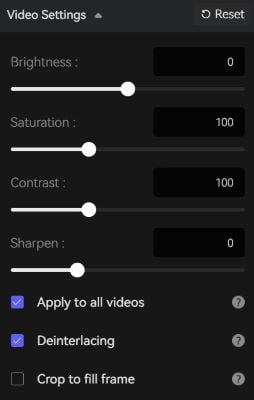 Output Settings: Select the output format, output path, codec, and audio settings.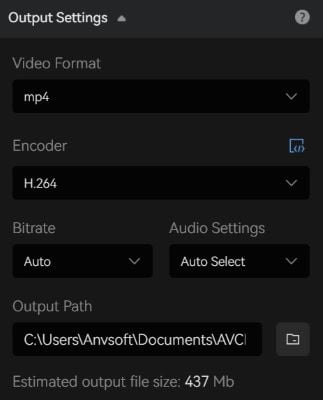 After all the settings are completed, just click "Start Processing". After the conversion completed, just click the "Open Folder" button to check the output video.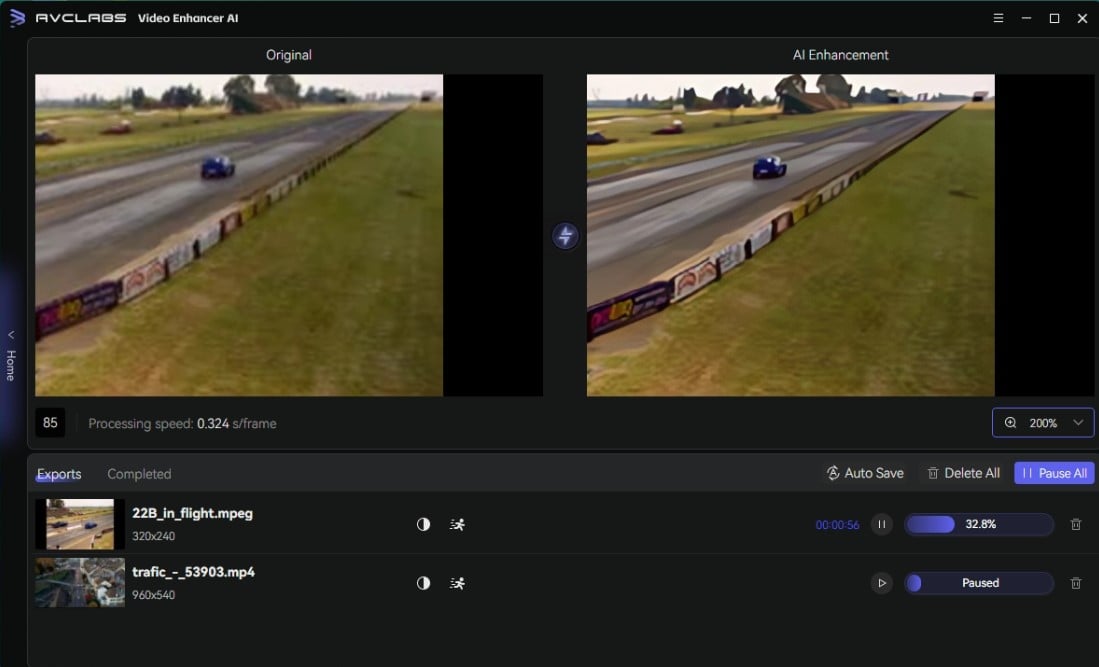 Available: Windows & Mac
Pros:
• 30-days free trial
• Supports simultaneous enhancement of multiple videos
• Works well for restoring blurry videos
Cons :
•Only the first 3 videos are free under trial version.
---
2. Filmora
Filmora is a versatile video editing software that not only offers powerful video stabilization capabilities for shaky footage but also provides a wide range of creative tools to transform your videos into entirely new scenes. With its intuitive interface and user-friendly controls, Filmora makes it easy for both beginners and experienced users to stabilize shaky footage and create visually appealing content. Additionally, the software allows seamless integration with popular social media platforms like Facebook, MySpace, and Twitter, enabling you to directly upload and share your videos with the world. Whether you need to stabilize footage or unleash your creativity, Filmora offers a comprehensive solution for editing, enhancing, and sharing your videos with ease.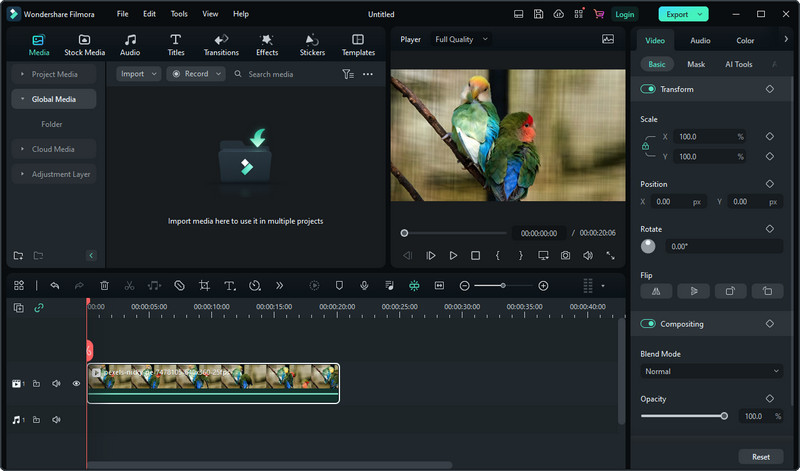 Pros:
• User interface is easy to navigate.
• Great Basic And Intermediate Features.
Cons :
• A bit slow when processing larger projects.
• Free Version Contains Watermarks.
---
3. iMovie
iMovie is a popular video editing software developed by Apple for Mac and iOS devices. It offers a user-friendly interface and a wide range of powerful features, making it accessible to beginners and advanced users alike. With iMovie, users can easily import, edit, and enhance their videos with professional-quality effects, transitions, and audio enhancements. One notable feature is its built-in video stabilization capability, which helps reduce shaky footage and create smoother, more professional-looking videos.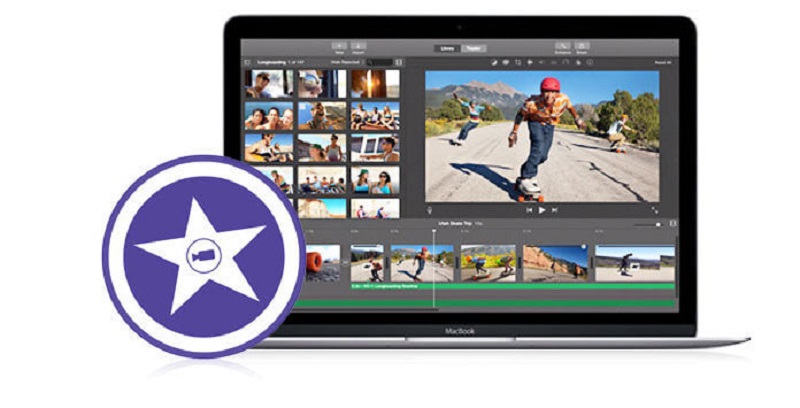 Pros:
• Convert videos to HD quality with AI.
• Supports converting to 8K resolution.
Cons :
• The enhancement process itself is relatively slow.
• Only can enhance the first 5 seconds of the video under the trial version.
---
4. Final Cut Pro
Final Cut Pro, developed by Apple, is another professional-grade video editing software that offers a wide range of advanced features. With automated settings like ProRes Codecs, iChat Theater, and comprehensive DVD support.With its robust set of advanced features, Final Cut Pro enables users to create stunning videos with ease. One standout feature is its exceptional video stabilization capability, which effectively reduces shake and jitter in footage, resulting in smooth and professional-looking videos.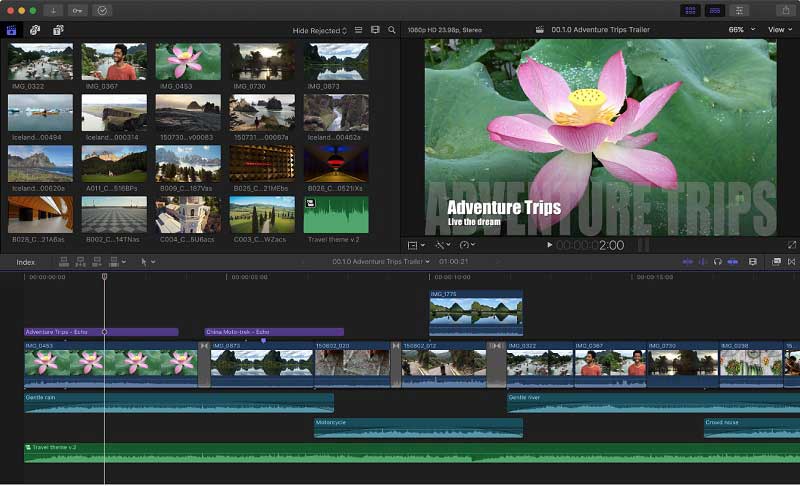 Pros:
• Lots of advanced advanced features.
• Can be combined with third-party plugins.
Cons :
• A bit expensive.
• Harder to stack a lot of clips.
---
5. Adobe Premiere Elements
Adobe Premiere Elements is a user-friendly video editing software designed for both beginners and enthusiasts. Developed by Adobe, it provides a comprehensive set of tools and features to help users create polished and professional-looking videos. One of its notable features is the built-in video Shake Stabilizer feature that proved to be very successful in stabilizing shaky videos. With Adobe Premiere Elements, users can also edit their videos with intuitive controls, apply various effects and transitions, enhance audio quality, and even create animated titles. The software also offers seamless integration with other Adobe Creative Cloud applications, enabling users to expand their creative possibilities.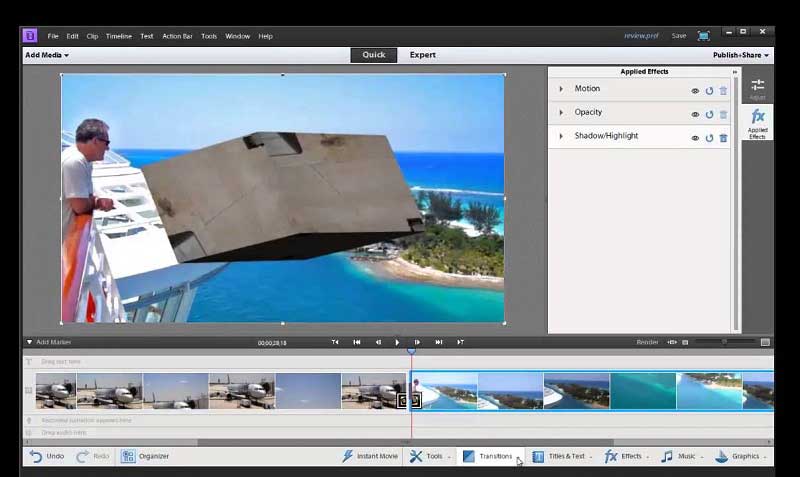 Pros:
• Clear, simple interface.
• Ample video effects.
Cons :
• Slow output rendering speed.
• Lacks some advanced tools.
---
Conclusion
In conclusion, this article has explored the best apps and software for stabilizing shaky videos, providing options for both iPhone and Android users as well as Windows and Mac users. Whether it is the App used on mobile phones like PowerDirector, or the software on the PC like AVCLabs Video Enhancer AI, it provides you with advanced stabilization tools and other creative tools. Whether you're a beginner or a pro, these apps and software solutions will help you transform shaky footage into smooth and impressive videos, allowing you to share your content with confidence.
---

Video Converter

DVD Converter

Video Editor

Enhance Video Quality

Enhance Image Quality

Remove Objects