7 Best YouTube to MP4 Converters for Windows/Mac/Online: How to Convert Online Videos to MP4 for Free
YouTube has become the go-to source for videos, tutorials, and entertainment, but watching them on YouTube can be difficult when you're offline or want to save it onto your device. But with a free YouTube to MP4 converter, you can easily convert any video from YouTube into an MP4 file format — perfect for watching or storing locally on your computer, iOS, or Android device. In this blog post, we'll offer a comprehensive look at the different types of free converters available for Windows, Mac, and online services. We'll explain how each type works differently and provide detailed instructions so that even beginners will have no trouble converting videos from YouTube into convenient MP4 files in no time!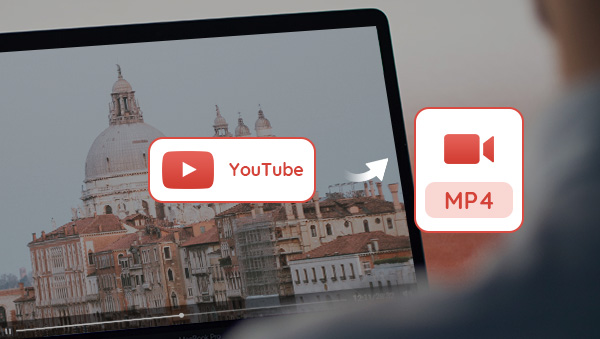 Part 1: What You Should Consider When Choosing a YouTube to MP4 Converter
When selecting a YouTube to MP4 converter, it is important to ensure that the tool you choose is reliable and secure. Many of the free converters available online contain malware or unwanted adware that can damage your computer. Additionally, they often limit the number of videos you can convert each day or require a paid subscription in order to unlock additional features. It is best to avoid these unreliable options and instead opt for an established program with good customer reviews.
Another factor to consider when choosing a YouTube to MP4 converter is whether it supports multiple video formats. While many converters only support MP4 format, some also offer conversion into AVI, MOV, 3GP, and WMV formats – making them ideal for users who need to convert videos for different devices. Additionally, some converters also offer extra features such as video editing tools and batch conversion capabilities – making them ideal for users that need more control over their final product.
Finally, you should consider the speed at which the YouTube to MP4 converter operates. Many converters can take several minutes to complete a single conversion, while some advanced programs can process multiple videos simultaneously in a fraction of the time. Finding a program with fast processing speeds will save you time and frustration in the long run.
---
Part 2: Free YouTube to MP4 Converters for Windows and Mac
1. Any Video Converter
Any Video Converter Free, is a powerful but free video conversion software developed by Anvsoft Inc. It offers a variety of features like downloading online videos directly from YouTube and other websites and saving them in different formats like MP4, MP3, etc. The program also enables users to convert any video format into the desired output format and supports almost all popular video formats including AVI, MPEG, WEBM, MP4, FLV, MKV, etc. Any Video Converter has an intuitive interface that makes it easy for even novices to use the program to perform their desired tasks quickly and efficiently. It includes batch processing capabilities which enable users to process multiple files at once with ease. Furthermore, the program also includes a range of editing tools such as trimming, cropping, splitting, and adding subtitles to videos.
Thanks to its wide range of features and capabilities, Any Video Converter is one of the most popular video conversion programs available. However, the new version of this software is only available to Windows users.
Features of Any Video Converter
Convert videos or images to GIFs
Convert videos between any formats freely
Download videos and music from 100+ sites
Cut or trim a video into segments
Crop video file to delete unwanted portions
Merge multiple clips into one video
Adjust audio volume and add audio effects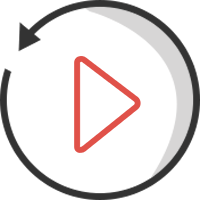 How to Convert YouTube to MP4 with Any Video Converter Free
Step 1
Download and Run Any Video Converter
Install Any Video Converter and launch it. There are 10 different tools displayed on the interface. To convert YouTube videos to MP4, you should first click Video Downloader.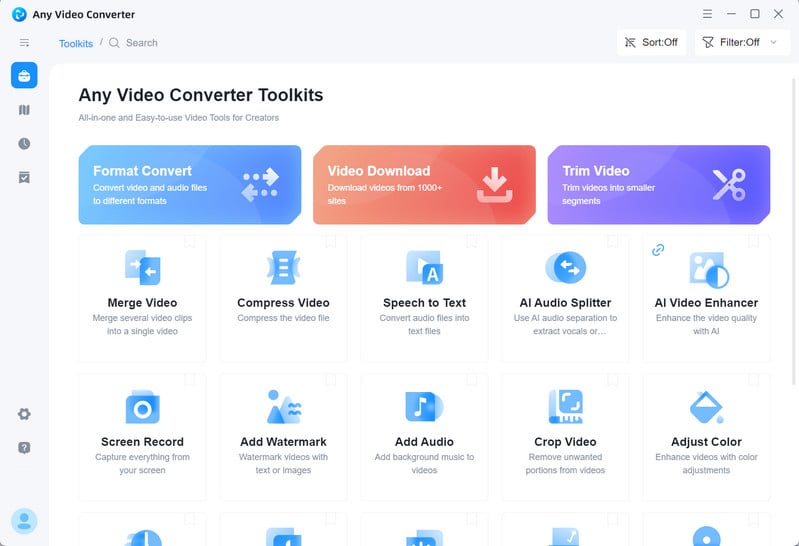 Step 2
Copy and Paste the Video Links
Back to YouTube video or other online video site and find the video you want to convert to MP4, copy and paste the link into the search box. It supports batch-converting. After this, click the Analyse button to analyze the link and then the video will be listed on the left.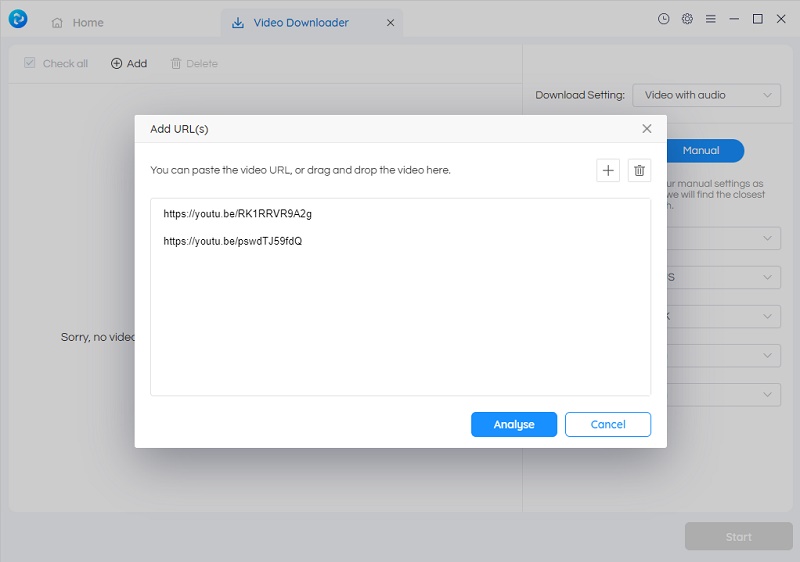 Click the drop-down menu of Download Setting and select whether you want to download video with audio, or just download video or audio only. Go to the Manual section, and set the video format as MP4. If you want to convert YouTube to MP3 or other audio formats, then you should select Audio only in the Download Setting part.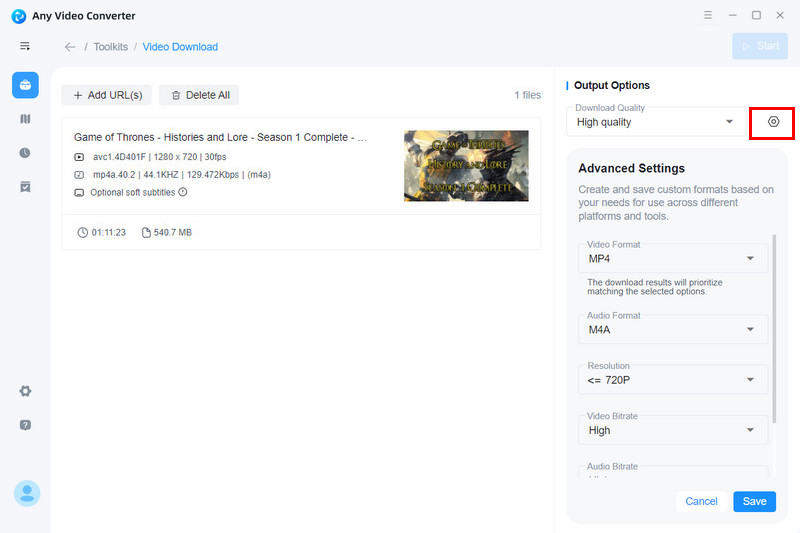 Auto: select download quality from low, medium to high.
Manual: the section where you can set output video format, audio format, resolution, video bitrate, and audio bitrate.
Step 4
Start Converting YouTube to MP4
Once all the settings are complete, click the Start button to convert online videos to MP4.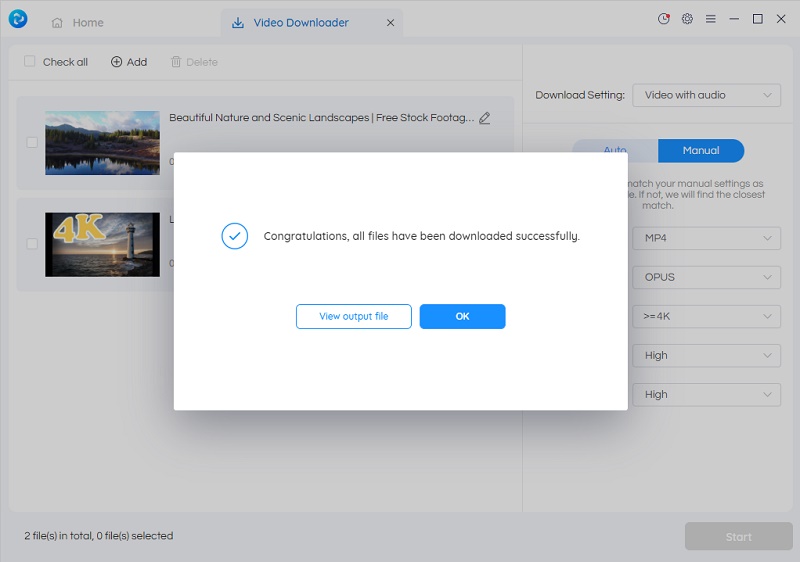 ---
2.4K Video Downloader
4K Video Downloader is also a desktop solution that is available to Windows, macOS, and Ubuntu. It supports saving full playlists and channels from YouTube in high quality and various video or audio formats and extracting YouTube subtitles.
4K Video Downloader is not a completely free program. Though it does allow users to use it for free, there are some limitations to the free version. For example, users can only convert 30 videos per day, 5 videos per channel, 1 simultaneous download, single video downloads, and no private YouTube content download. These restrictions will be released after the subscription. While its pricing plan is rich and cost-effective, making it is also a good choice for converting YouTube to MP4.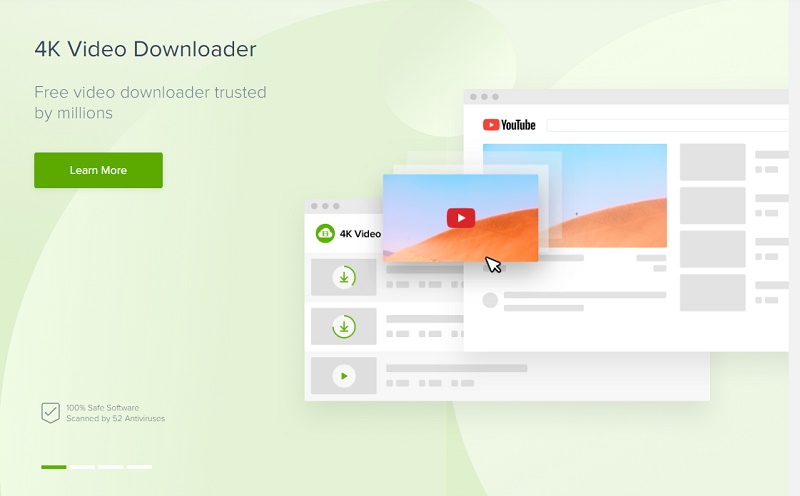 ---
3. ClipGrab
ClipGrab is an open-source video converter and downloader tool for Windows and Mac systems. It allows users to search and download videos from popular websites like YouTube, Vimeo, Dailymotion, and many more. The program integrates smart features such as automatic detection of videos, the ability to choose preferred formats (including high-definition), or even subtitles retrieval. Once the download process is finished, ClipGrab will convert the downloaded files into various formats including MP3 or OGG audio files as well as WMV or 3GP video files — thus allowing easy playback across platforms.
The main disadvantages of ClipGrab are that there may be bundled software during the installation, and there is no control over the audio quality of the output file.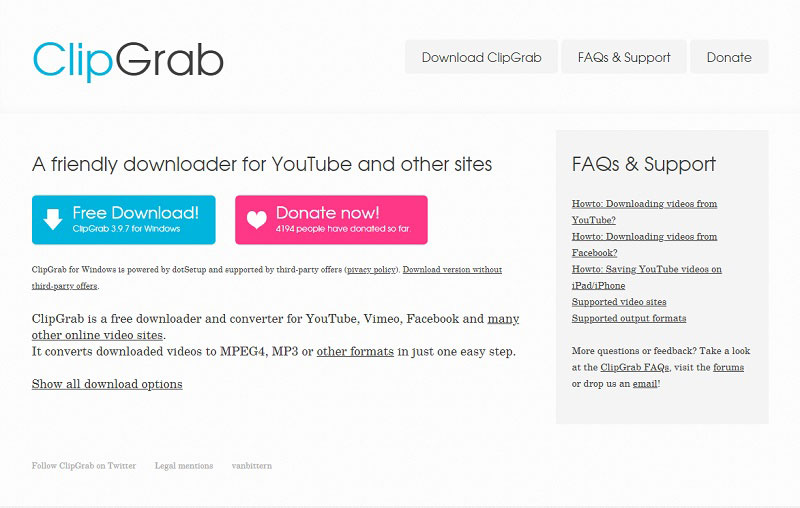 ---
4. iTubeGo
iTubeGo is another YouTube to MP4 Converter that is available for Windows, macOS, and Android systems. It is a powerful HD video converter for YouTube, Dailymotion, Facebook, TikTok, and other streaming sites. iTubeGo provides various SD and UHD video quality options, including 480p, 720, 1080p, 2K, 4K, 8K, etc. Besides downloading videos, iTubeGo can also extract audio from video and save it in high-quality 320kbps MP3 format. It supports mp3 download from most music sites.
However, same as the 4K Video Downloader, iTubeGo also provides free services but has much more strict limitations. For instance, users can only download 3 videos, 1 playlist, 1/3 length of conversion, no batch-processing, and only supports MP4, MP3, and original output formats.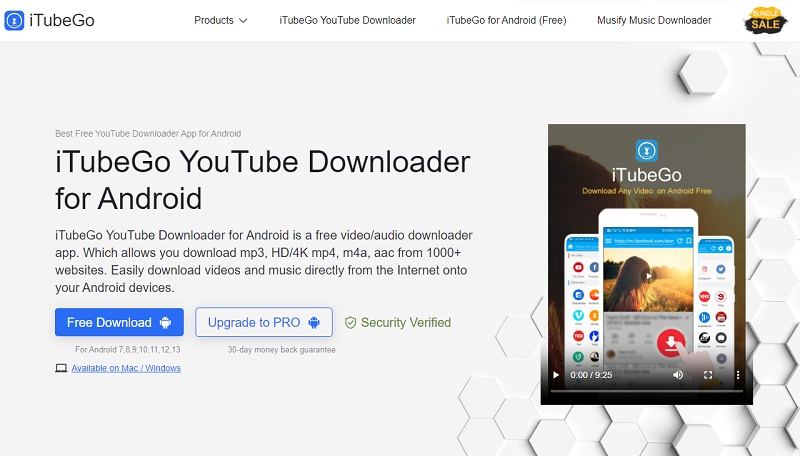 ---
Part 3: Safe Online YouTube to MP4 Converters
1. YTBvideoly
YTBvideoly is a fast and reliable online media converter that allows users to convert YouTube videos to MP4 files with ease. It is compatible with almost all browsers, iPhones, and Androids. It offers various video resolutions, including 360p, 720p, and 1080p, so that you can watch your favorite videos offline at any time.
The downside of this online YouTube to MP4 converter is that it only supports MP4 and 3gp for video format and MP3 and WEBM up to 128kbps for audio files.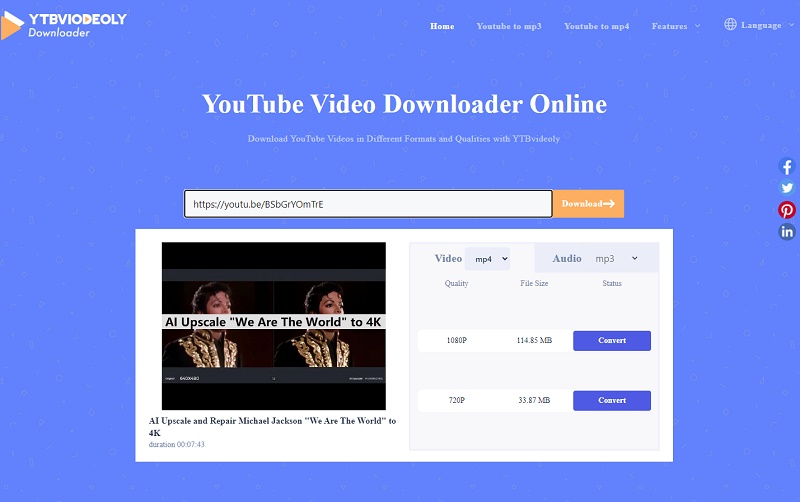 ---
2. AmoyShare
AmoyShare is an online video downloader that allows you to download videos from websites, including but not limited to Twitter, Facebook, Vimeo, iFunny, and 250+ sites. You can download any video from the link or using keywords. It is free and secure without viruses.
The biggest problem of this video converter is that it only supports MP4 format up to 480P resolution and MP3 and M4A formats with a maximum 128k bit rate for audio files, so the quality of the video or audio converted in this way may not be satisfactory. If you are looking for the fastest download speed and the highest picture and sound quality, you can also choose to download its software to your desktop, but this will be charged.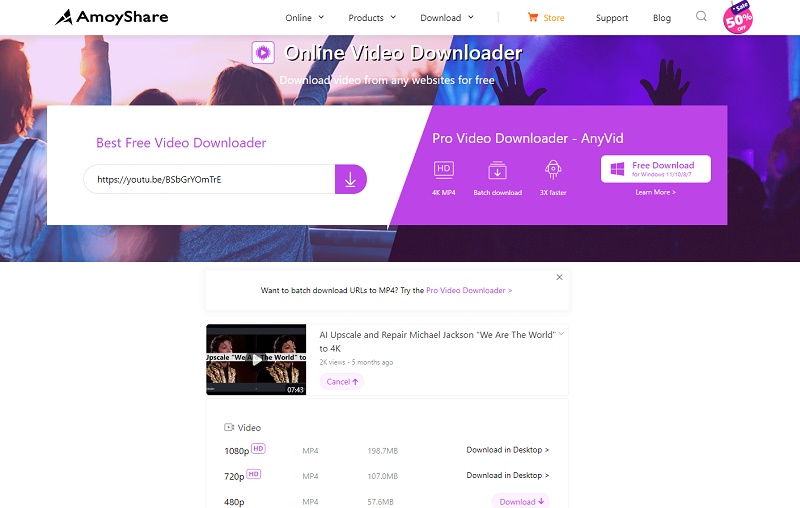 ---
3. Video Downloader Pro
Video Downloader Pro works with Google Chrome, Mozilla Firefox, Opera, and all browsers based on Chromium. It supports converting videos from YouTube, Facebook, Instagram, and Twitter. It is totally free and doesn't require signing up or account creation. The interface of this online video-to-MP4 converter is much more simple than other tools. However, there are some annoying adverts since that is how they get commissions to keep service free.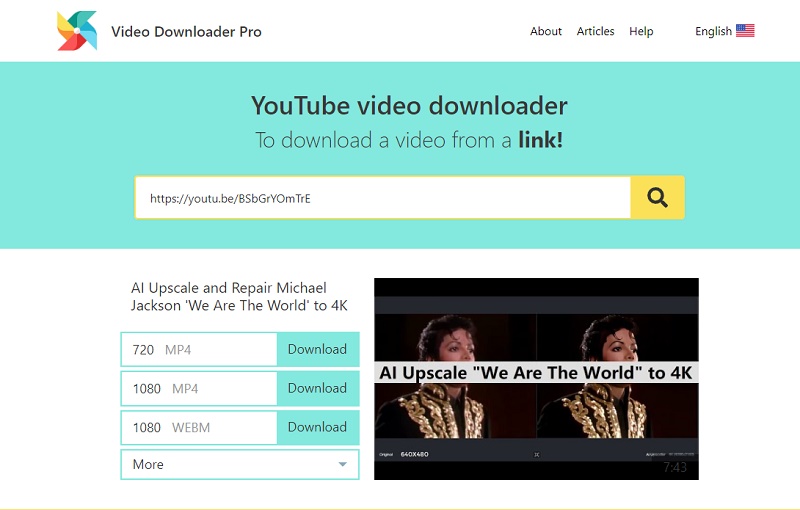 ---
Part 4: FAQs About Converting YouTube Videos to MP4
1. Are YouTube videos in MP4?
Most YouTube videos are available in MP4 format, but YouTube supports various other video formats as well, such as WebM, MOV, AVI, etc.
2. What is the best converter for YouTube to MP4?
There are so many reliable and user-friendly converters available for converting YouTube videos to MP4, all of them with different features, highlights, and downsides. The best YouTube to MP4 converter for you would depend on your needs. If you are looking for a free-rich, free, and reliable video converter, then Any Video Converter is a good choice.
3. How to download YouTube videos to MP4 without any software?
To download online videos to MP4 without any software, there are so many online video converters or downloaders and extensions available. Most online services are free but have some limitations on the downloaded video quality. What's more, you should carefully identify whether it is safe or it may be harmful to your device.
4. Is it legal to convert YouTube videos?
It is illegal to convert copyrighted YouTube videos without the owner's permission. However, there are some videos that fall under the fair use doctrine, which allows limited use of copyrighted material without permission. If you want to use someone else's YouTube video, you should seek permission from the copyright owner or ensure that your use of the video is covered by the fair use doctrine.
5. How long of a clip is fair use?
The fair use doctrine is a legal concept that allows limited use of copyrighted material without permission. The exact length of a fair use clip depends on various factors, such as the purpose and character of the use, the nature of the copyrighted work, the amount and substantiality of the portion used, and the effect of the use on the potential market for or value of the copyrighted work. There is no specific time limit for fair use, and each case is evaluated on a case-by-case basis.
---
Conclusion
In conclusion, YouTube to MP4 converters is essential for downloading your favorite videos for offline playback. No matter which device and system you are using, there are certain features that you should consider when choosing a converter from the several available. We have listed 7 of the best YouTube converters for Windows, Mac, and online along with the advantages and disadvantages of each one so that you can decide which one will work best for your situation. Additionally, we answered some of the most common questions about converting YouTube videos to MP4 formats. Finally, please bear in mind that converting online videos also has associated copyright issues that you should pay attention to.
---
Highly Recommended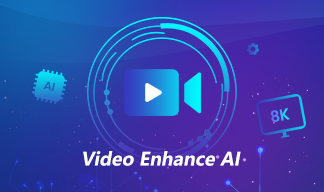 AVCLabs Video Enhancer AI
AVCLabs Video Enhancer AI is an AI-based video enhancement software to upscale video from 480p to 1080p, 1080p to 4K, and up to 8K. With AVCLabs Video Enhancer AI, you can upscale low-res videos to high resolution and bring your old videos a stunningly new look.
Learn More


Video Converter

DVD Converter

Video Editor

Enhance Video Quality

Enhance Image Quality

Remove Objects