Top 3 YouTube to MP3 Downloaders: How to Download YouTube Videos to MP3 Safely
YouTube is one of the most popular video-sharing platforms in the world. With millions of videos uploaded every day, it's a treasure trove of information, entertainment, and educational content. However, while YouTube is great for watching videos, it doesn't provide an option to download them. This is where YouTube to MP3 downloader comes in handy. This article will introduce some YouTube to MP3 downloaders and discuss how to download YouTube videos to MP3 safely using a YouTube to MP3 downloader.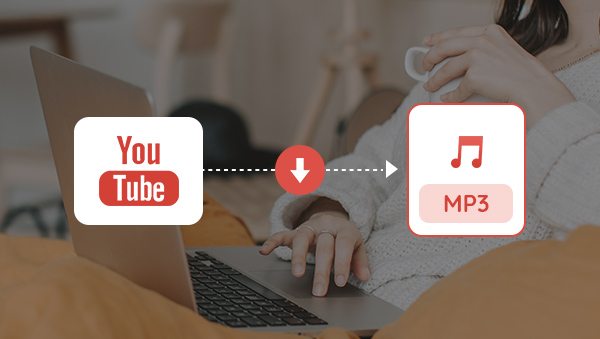 Part 1: Best Desktop YouTube to MP3 Downloader
Desktop YouTube to MP3 downloader is a good choice for video downloading. Any Video Converter Free is an efficient and popular video conversion tool that enables users to quickly convert videos between various formats. It offers many useful features, such as downloading online videos to MP4, MP3 or MKV files; converting video and photo files into GIFs; inserting subtitles; cutting a video into segments; cropping videos to remove unwanted portions; merging multiple clips into a single video with transitions and audio effects, etc. With Any Video Converter Free, users can easily customize their videos in a variety of ways to meet their needs.
Features of Any Video Converter
Convert videos or images to GIFs
Convert videos between any formats freely
Download videos and music from 100+ sites
Cut or trim a video into segments
Crop video file to delete unwanted portions
Merge multiple clips into one video
Adjust audio volume and add audio effects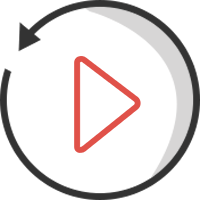 How to Convert YouTube to MP3 with Any Video Converter Free
Step 1
Download and Launch Any Video Converter
Launch Any Video Converter and click Video Downloader.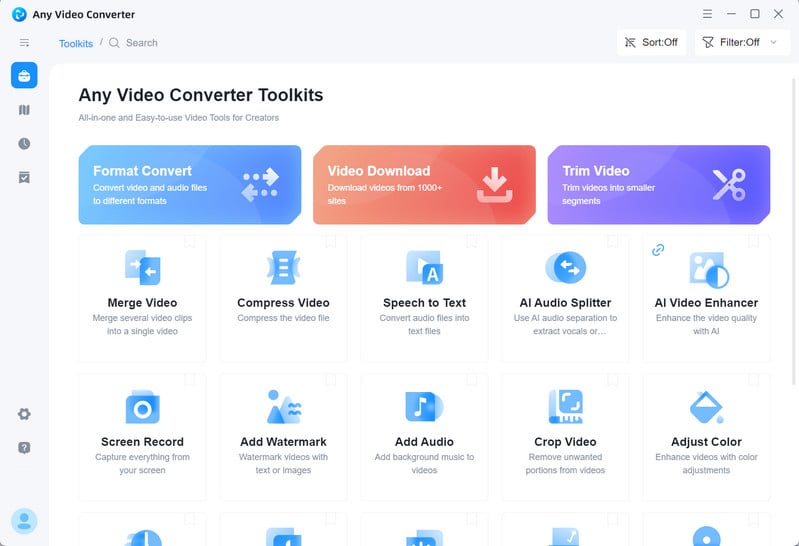 Step 2
Copy and Paste the URL(s)
Go to the YouTube site or any other video site and copy the URL(s) of the videos you want to download to MP3 and paste them into the search box. You can download multiple videos at the same time. Then click the Analyse button to analyze files.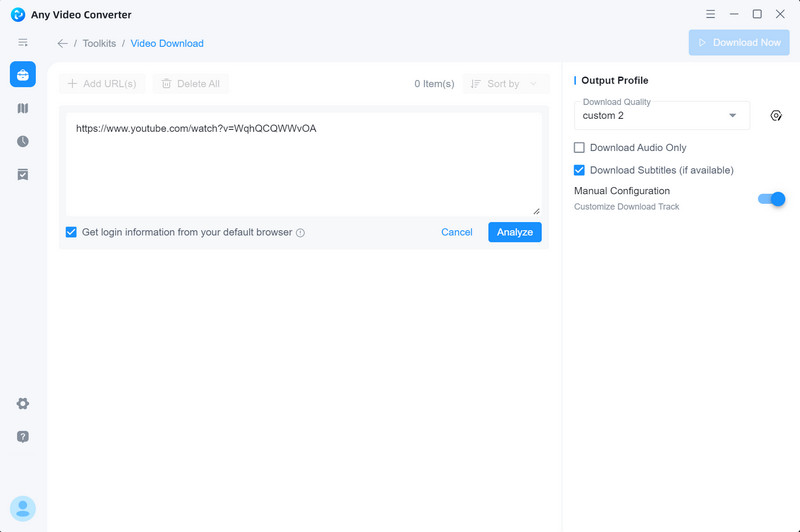 Step 3
Configure Downloading Settings
Click the drop-down menu of Download Setting and select Audio only.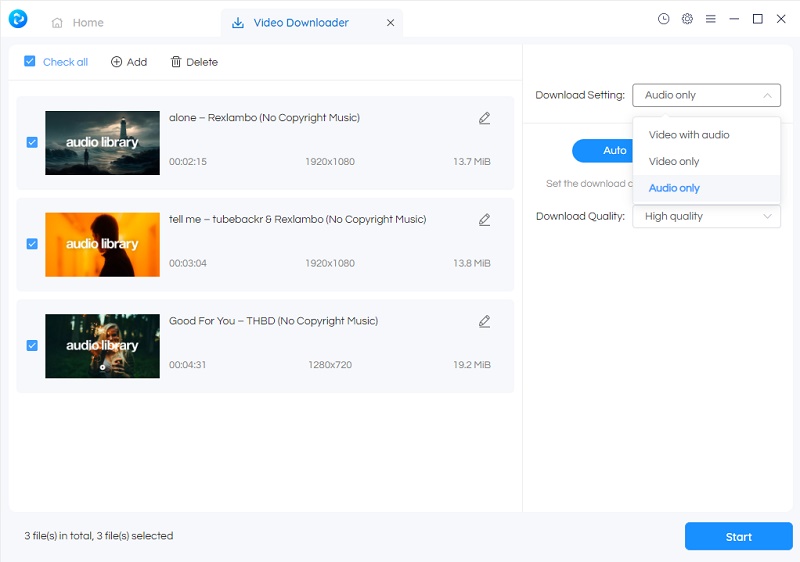 Auto: select download quality (High-320kbps, Medium-128kbps, Low-64kbps).
Manual: set Audio Format (MP3, M4A, and OPUS) and Audio Bitrate.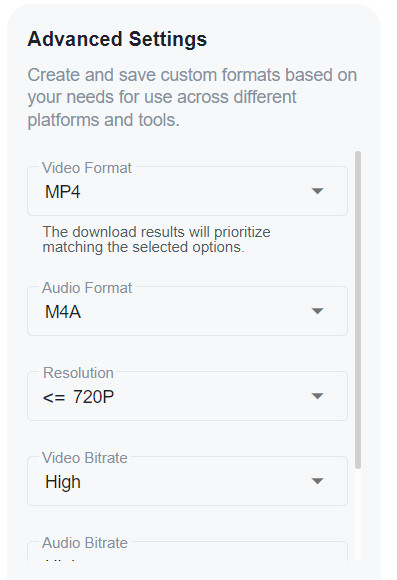 Step 4
Start Downloading YouTube to MP3
Once all the settings are complete, click the Start button to download YouTube to MP3.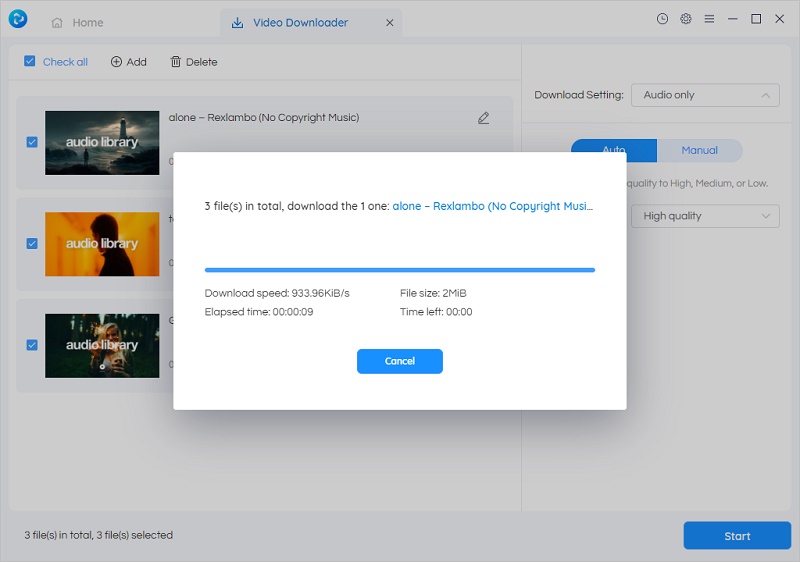 ---
Part 2: Desktop YouTube to MP3 Downloader that Worth a Try
ClipGrab is another a free and open-source software application designed to download and convert online videos from various websites, including YouTube, Vimeo, and Dailymotion. It is available for Windows, macOS, and Linux operating systems.
ClipGrab allows users to download videos in various formats and resolutions, including MP4, WMV, OGG, and MPEG-4. The software also has a built-in converter that can convert downloaded videos to various formats, such as MP3, MPEG4, and OGG Vorbis. In addition to downloading videos, ClipGrab also has a search function that allows users to search for videos directly from the application. It also has a feature that can automatically detect and download videos playing in the user's web browser.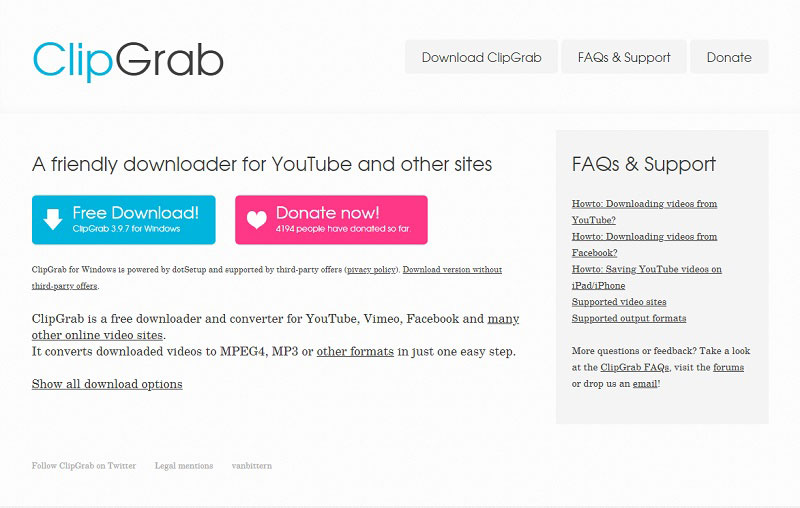 While there are also some disadvantages and potential risks to downloading YouTube videos with Clip Grab.
1. It is flagged as malware by security software.
2. There is no control over the audio quality of output files.
3. A slower download speed can be irritating, especially when the user is dealing with larger files.
4. The built-in search option of this program only provides 12 results, which is quite limited.
---
Part 3: Top Online YouTube to MP3 Downloader
There are thousands of sites that provide the services of downloading YouTube to MP3, MP4, MKV, or other formats. But one thing that people always worry about is the security of those online YouTube to MP3 downloaders, for they may pose a security risk to your device or personal information. Well, not all of them are malicious. There are still some safe and reliable YouTube to MP3 downloaders available.
ToMP3.cc is one of the top online YouTube to MP3 downloaders after testing. In fact, most online YouTube to MP3 downloaders are similar in terms of their ability to help users easily download videos from YouTube, Vimeo, or other streaming media platforms and convert them to MP3 or other formats. The difference between a good downloader and other downloaders is whether there are any worrisome pop-up ads in the interface, the quality of the audio downloaded and whether it charges a fee for the download and is cost-effective. And ToMP3.cc meets most requirements. It is ads-free and supports HD download quality for video and 320kbps for MP3.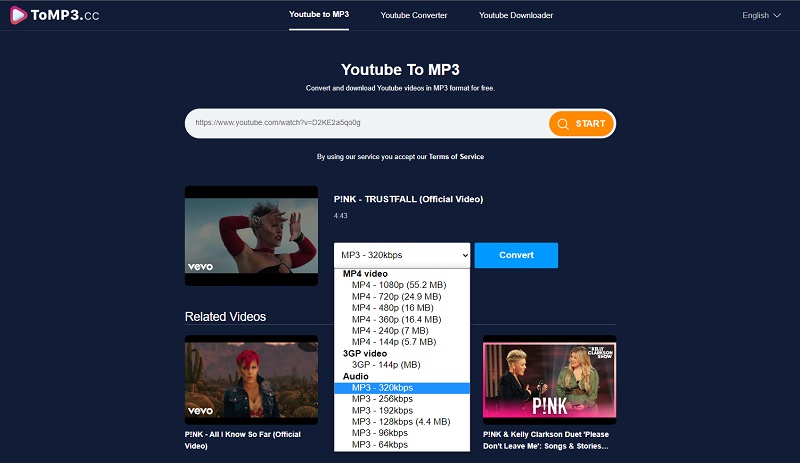 To download YouTube videos to MP3, simply paste YouTube video URL into the search box, then click the "START" button. Select the quality for the conversion and click the "CONVERT" button. After the conversion is completed, finally click on "DOWNLAND" to start the process. One interesting thing is that when you paste a link to a music video, it will bring up not only the video you want to download to MP3 but also other recommendations related to the content of that video.
Click to check more online YouTube to MP3 downloaders.
---
Part 4: Convenient YouTube to MP3 Extensions
Addoncrop YouTube to MP3 Converter is a browser extension that allows users to download YouTube videos and convert them to MP3 and other formats. It is available for free on the Chrome Web Store, Firefox Add-ons, and other browsers. It is the most direct and convenient way to download YouTube videos to MP3 using extensions. However, there are also some problems like it may not work all the time or with all YouTube videos, especially those with restrictions or copyright issues. And some users have reported issues with the quality of the downloaded videos or audio files.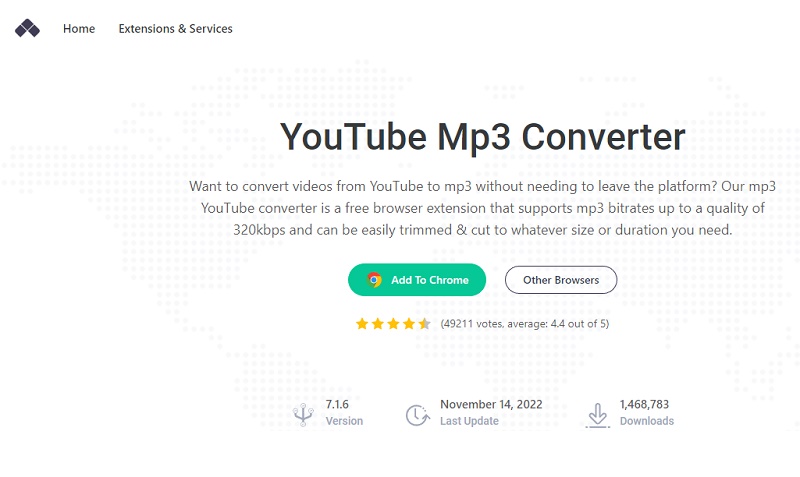 Here are the steps to download YouTube Videos to MP3:
1. Install the extension on your browser.
2. Go to YouTube and find the video you want to download.
3. Click on the Addoncrop YouTube to MP3 Converter icon on your browser's toolbar.
4. Choose the MP3 format and the quality of the file.
5. Click on the "Download" button to start the download process.
---
Part 5: Cautions of Downloading Videos with YouTube to MP3 Downloaders
It is important to note that YouTube may take action against users who download copyrighted material without permission. Therefore, be aware of what content you are downloading and make sure that you have the appropriate permissions before doing so. It is better to download videos with the permission of owners and remember not to use the downloaded videos or audio for any profit activities. Furthermore, be sure to review any website's terms of use and privacy policy before downloading content as these policies may vary from site to site.
---
Conclusion
Now you have known some of the good YouTube to MP3 downloaders. Each of them can help you download YouTube videos easily, but of course, they all have some pros and cons. Select one to try by yourself. And remember that the downloaded videos and audios are for personal enjoyment only.
Free YouTube to MP3 Downloader
---
Highly Recommended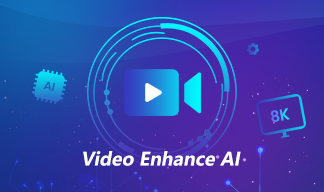 AVCLabs Video Enhancer AI
AVCLabs Video Enhancer AI is an AI-based video enhancement software to upscale video from 480p to 1080p, 1080p to 4K, and up to 8K. With AVCLabs Video Enhancer AI, you can upscale low-res videos to high resolution and bring your old videos a stunningly new look.
Learn More


Video Converter

DVD Converter

Video Editor

Enhance Video Quality

Enhance Image Quality

Remove Objects