Top Free Online Video Converters Compile: How to Convert Videos to Other Formats Safely
From sharing videos across various platforms to ensuring compatibility with different devices, video conversion has transformed from a mere convenience to a necessity. Free online video converters have revolutionized the way we handle video formats, offering a plethora of benefits over traditional software. This article serves as a comprehensive guide, presenting a curated selection of the finest free online video converters available. Let's check how to convert video online for free.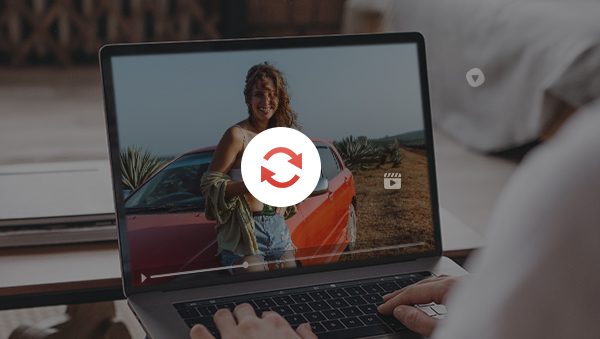 Part 1: Top 3 Free Online Video Converters
1. Veed.io Free Video Converter
VEED's online video converter is completely free to use. You can effortlessly transform your videos into various file formats such as MP4, AVI, MKV, WMV, MOV, FLV, and more in just three steps. Notably, VEED serves not only as an online video converter but also doubles as a video editor. Basic editing tasks such as cutting, adding audio, transitions, and filters can be accomplished using this platform. However, it's essential to note that the free version is constrained to 720P video output and any edited videos may carry a watermark.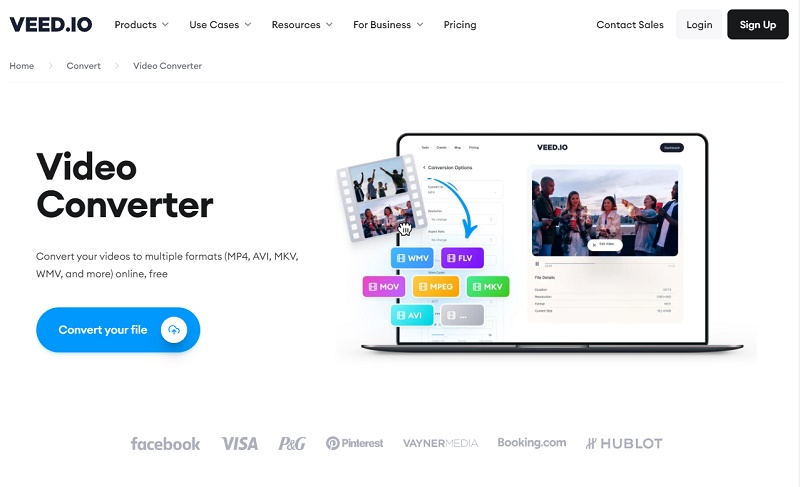 2. CloudConvert
CloudConvert goes beyond simple conversion with its support for batch processing, making it efficient for handling multiple conversions at once. Its integrations with various cloud storage services enhance its convenience, while its use of OAuth ensures secure access to cloud resources. Focusing on its conversion function, Cloud Convert supports a wide range of file types like videos, documents, audio files, images, and e-books, giving you comprehensive coverage. In addition, it offers some advanced settings to cater your needs to adjust the video resolution, codex, aspect ratio,etc.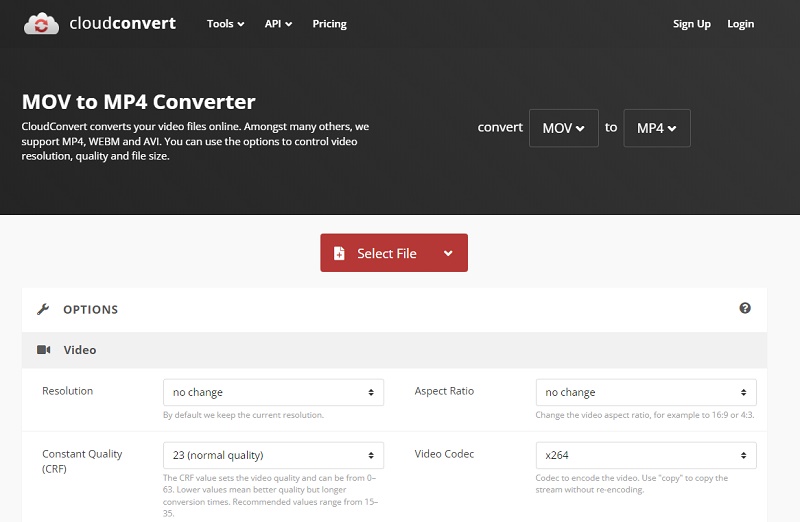 3. Zamzar
Zamzar stands out for its support of a wide variety of file formats, including some that are less common. For example, in addition to the video file, you can easily convert a wide range of file formats such as Word documents (DOC/DOCX), PowerPoint presentations, PDF, image files (JPEG, PNG, etc.), audio files (MP3, M4A, WMA, etc.) and many more. The option to receive download links via email adds an extra layer of security to your converted files.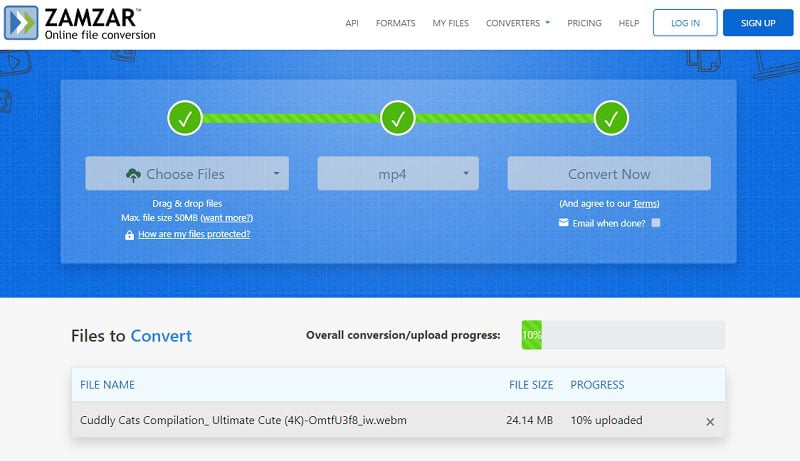 ---
Part 2: Best Free Desktop Video Converter — Any Video Converter
Named aptly for its purpose, Any Video Converter is a professional software explicitly designed for video conversion tasks. Its capabilities span a spectrum of functions, ranging from video-to-video conversions like MKV or MOV to MP4, to the conversion of videos into audio formats such as MP4 to MP3.
Evolving steadily over time, this software has grown increasingly versatile, expanding beyond its initial role. It now not only serves as a proficient video converter but has also incorporated additional functionalities like online video downloading and video editing, GIF making, etc., adapting to a diverse range of user requirements. This integrated suite of tools allows users to tailor their workflows according to their preferences. Compatible with both Windows and Mac operating systems, Any Video Converter boasts a remarkably intuitive interface, enabling users to navigate through multimedia content effortlessly, ensuring precision and ease throughout the entire process.
Features of Any Video Converter
Convert MP4 to MP3 and other formats
Convert videos to higher resolution
Convert videos or images to GIFs
Cut or trim a video into segments
Crop video file to delete unwanted portions
Adjust audio volume and add audio effects
Download videos and music from 100+ sites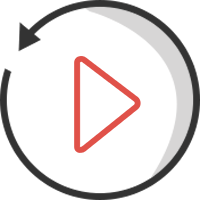 How to Convert Video with Any Video Converter
Step 1
Install Any Video Converter and Upload Video(s)
Download and install this free video converter. Once installed, launch the program to access its suite of tools, all available for free. Click the Format Convert option and upload videos. You can upload multiple videos simultaneously as the software supports batch processing.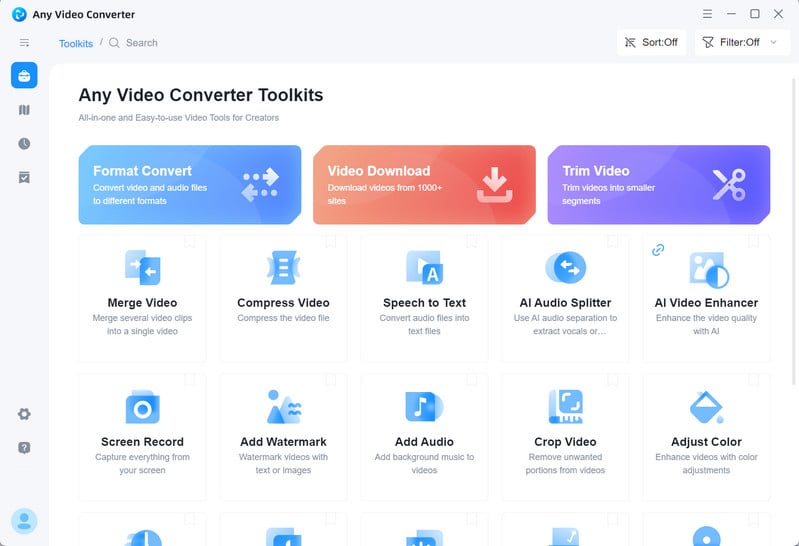 Step 2
Set Output Video Format
There are various video format settings on the right side. Click on the drop-down menu of video format under Output Options. Scroll through the options to locate the specific format to which you wish to convert your video. Furthermore, it offers advanced settings such as video resolution, frame rate,encoder, bit rate, and more.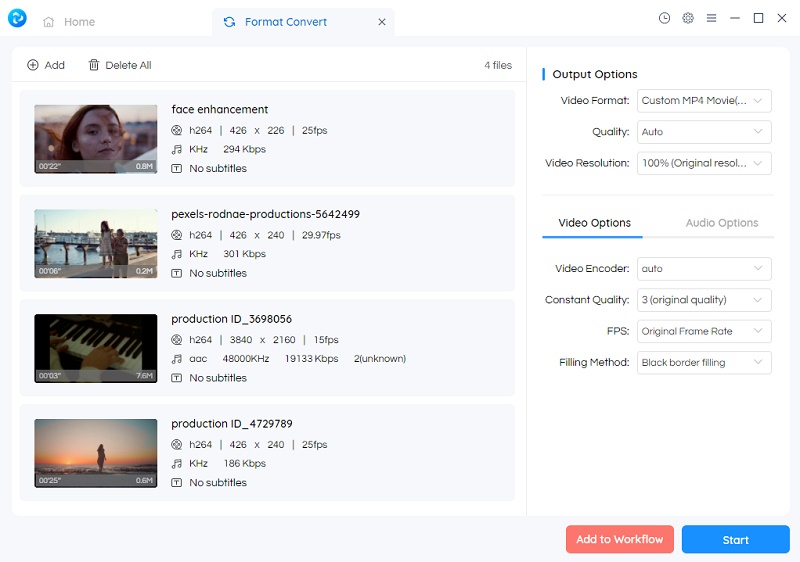 With all the settings configured according to your preferences, click the Start button to convert the video to your selected format.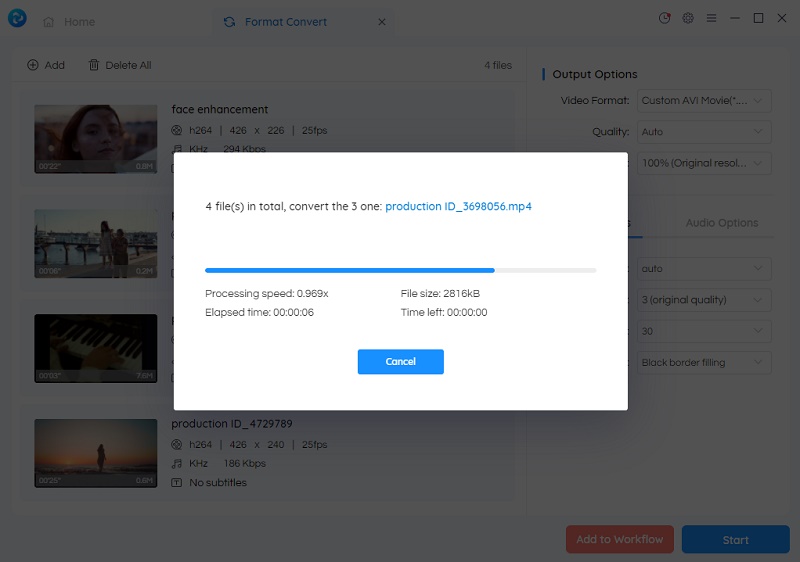 ---
Part 3: Frequently Asked Questions Related to Free Online Video Converters
1. How can I convert video online for free?
You can use the various online free video converters like Zamzar, CloudConvert,Veed.io, etc. These platforms typically offer a simple process: you select the original video format, choose the desired output format for conversion (such as MP4, AVI, etc.), upload your video file, and then initiate the conversion process. Once the conversion is complete, you can download the newly converted video in the chosen format.
2. What is a safe free video converter?
Reputable online video converters use secure HTTPS connections, have clear privacy policies, and have positive user reviews. It's important to choose converters from well-known sources and avoid those that request unnecessary permissions or installations, as these could pose security risks. If you are seeking a desktop solution, Any Video Converter is a safe free video converter that may suit your needs.
3. How does the video conversion tool work?
It uses algorithms to re-encode the video data while maintaining the video's visual and audio quality as much as possible. During the conversion process, the tool reads the original video's data, encodes it in the desired output format, and then creates a new file with the converted content. Some video conversion tools also offer additional features like editing options, allowing users to modify the video's content before conversion.
---
Conclusion
Free online converters are a game-changer, making the process easy and efficient. This guide introduced some well-preformed online converters. Plus, Any Video Converter is a powerful desktop tool, perfect for various needs. It's safe, user-friendly, and available for both Windows and Mac. Ready to try it? Download Any Video Converter and unlock a world of multimedia possibilities.
---
Highly Recommended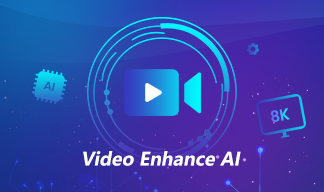 AVCLabs Video Enhancer AI
AVCLabs Video Enhancer AI is an AI-based video enhancement software to upscale video from 480p to 1080p, 1080p to 4K, and up to 8K. With AVCLabs Video Enhancer AI, you can upscale low-res videos to high resolution and bring your old videos a stunningly new look.
Learn More


Video Converter

DVD Converter

Video Editor

Enhance Video Quality

Enhance Image Quality

Remove Objects