3 Best Free MOV to MP4 Converters to Convert MOV to MP4 [Full Guide]
If you have ever tried to play a MOV video file on a device that doesn't support the format, you know how frustrating it can be to not have access to your favorite videos. MOV files are a popular format for video files, but they may not be supported by all devices. Thankfully, there are many free MOV to MP4 converters available online that allow you to convert your MOV files into MP4 format. This article will provide a comprehensive guide to the different types of free MOV to MP4 converters currently available, so you can easily convert your MOV videos to MP4 format and enjoy them on any device.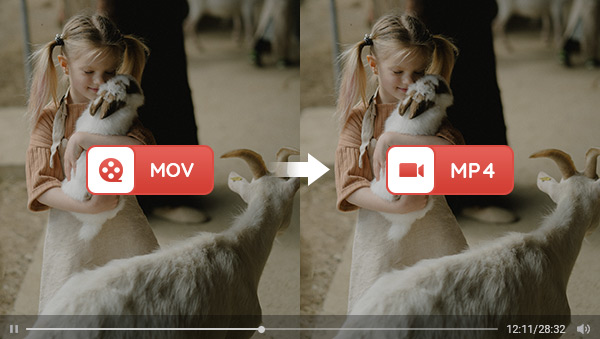 Part 1: Introducing MOV and MP4 - What are They and How Do They Differ
MOV and MP4 are two of the most popular video file formats in use today. Both are highly versatile and widely supported by various devices, operating systems, and media players. MOV was created by Apple and is mainly used on Macs, iPhones, and iPads, while MP4 is a standard created by the Motion Picture Experts Group (MPEG) and is compatible with both Mac and Windows platforms. The main difference between the two formats lies in their technical specifications, as MP4 generally has a smaller file size and is more compatible with a wider range of devices, while MOV is better suited for high-quality videos and editing purposes. Nevertheless, it's not uncommon to need to convert a MOV file to MP4 to make it more compatible or reduce its size. That's why having a reliable MOV to MP4 converter can be highly beneficial.
---
Part 2: 3 Types of MOV to MP4 Converters
2.1 Best MOV to MP4 Converter PC Free - Any Video Converter
When it comes to the best free desktop MOV to MP4 converter, Any Video Converter stands out as an excellent choice. With its user-friendly interface and robust conversion capabilities, this software allows you to effortlessly convert MOV files to MP4 format or convert between any formats with just a few clicks. Any Video Converter supports a wide range of input formats and ensures high-quality output with customizable settings for resolution, bit rate, and more. Additionally, it offers various editing features to enhance your videos before conversion, such as trimming, cropping, adding watermarks, etc.
Whether you're a novice or an experienced user, Any Video Converter provides a seamless and efficient solution for converting MOV to MP4 on your desktop, making it an ideal choice for your video conversion needs.
Features of Any Video Converter
Convert MOV to MP4 easily
Download online videos to 4K
Download videos and music from 100+ sites
Cut or trim a video into segments
Crop video file to delete unwanted portions
Merge multiple clips into one video
Adjust audio volume and add audio effects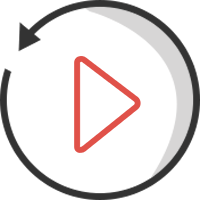 How to Convert MOV to MP4 Using Any Video Converter
Step 1
Install and Launch Any Video Converter
Download and install Any Video Converter. Once launch it, you will see an interface with various tools that are all free to use.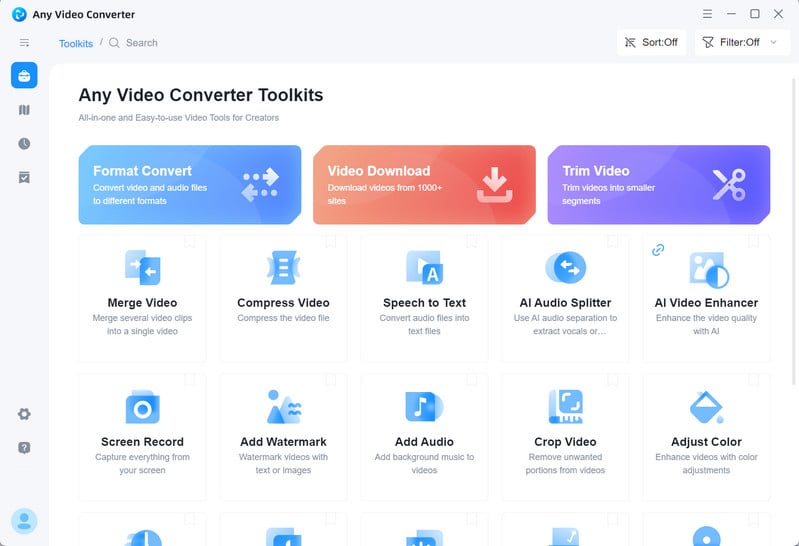 Click the Video Converter option and choose the MOV videos you wish to convert. It supports a wide range of input formats, and batch processing is available for uploading multiple videos at once.
Step 3
Set Output Format as MP4
Navigate to the Basic Options and specify the output format as Custom MP4 Movie(*.mp4) from the drop-down list of Video formats. You can customize the video resolution, bit rate, frame rate, encoder, and more as you need.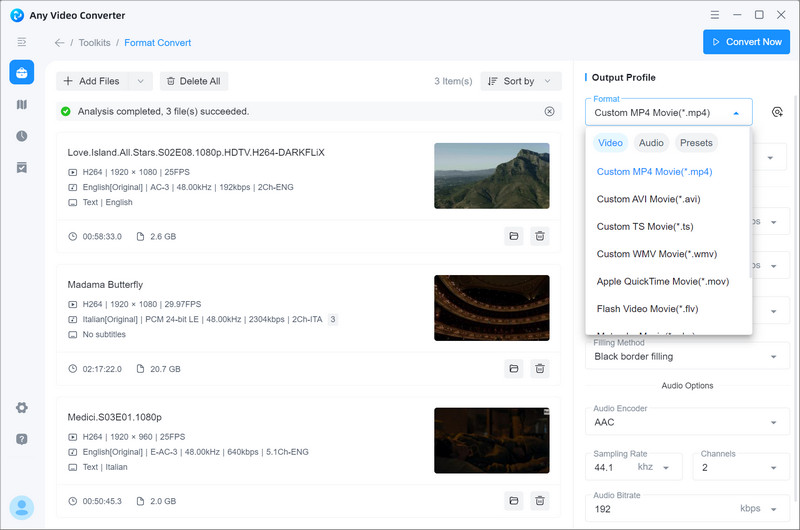 Step 4
Start Converting MOV to MP4
Finally, after finishing all the settings, click the Start button to convert MOV files to MP4.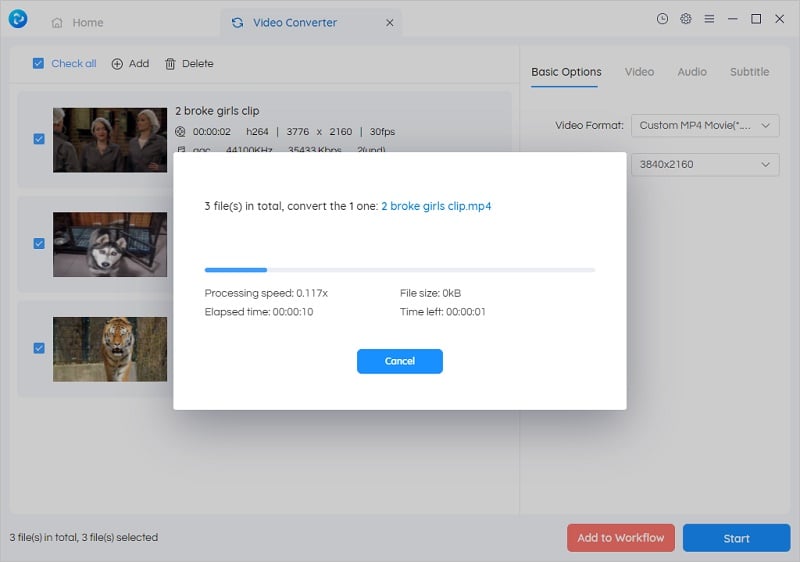 ---
2.2 Unique Free Desktop MOV to MP4 Converter - VLC Media Player
VLC media player is a highly popular and versatile multimedia player that supports a wide range of audio and video formats. It is free, open-source software that is available for Windows, Mac, Linux, and various other platforms. While VLC media player is primarily known for its playback capabilities, many users may not be aware that it also offers conversion functionality. By utilizing its built-in conversion feature, you can easily transform your MOV videos into a widely compatible MP4 format.
How to Convert MOV to MP4 with VLC Media Player
After installing and launching the VLC media player, click on the "Media" tab in the top-left corner. Choose the "Convert/Save" option from the drop-down menu.
In the "File" tab of the "Open Media" window, click on the "+ Add" button to browse and select the MOV file you want to convert. Once selected, click on the "Convert/Save" button at the bottom.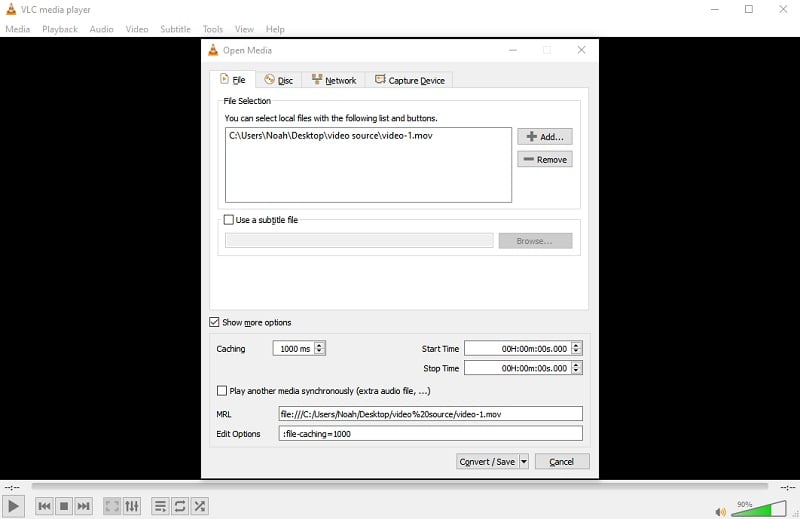 Step 3
Select the output format
In the "Convert" window, choose MP4 as the output format. Click on the drop-down arrow next to the "Profile" field and select "Video - H.264 + MP3 (MP4)" or any other MP4 profile that suits your needs.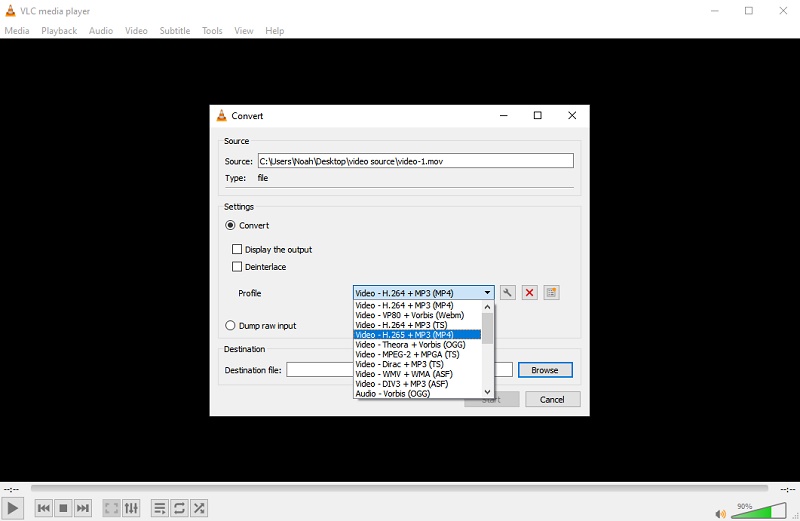 Step 4
Start Converting MOV to MP4
Click on the "Browse" button and select the folder where you want to save the converted MP4 file. Finally, click on the "Start" button to initiate the conversion process.
---
2.3 Popular Online Free MOV to MP4 Converter - Cloud Convert
Cloud Convert is a versatile online file conversion service that simplifies the process of converting various file formats, including MOV to MP4. Its user-friendly web interface lets you upload files to its servers and convert them directly in your browser. Cloud Convert supports a wide range of file types like videos, documents, audio files, images, and e-books, giving you comprehensive coverage. Additionally, it offers useful features such as compression, editing, and customization options for tailored results. With its cloud-based infrastructure, Cloud Convert is accessible from any device with an internet connection, ensuring convenience for all your file conversion requirements.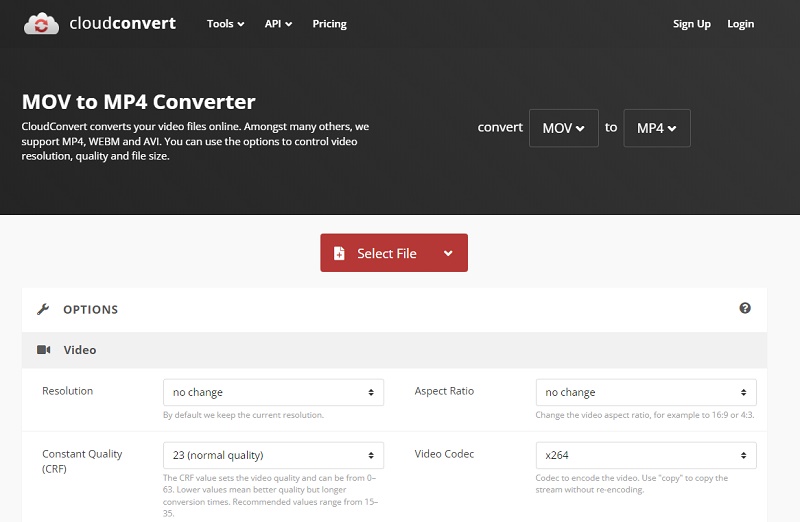 Converting MOV to MP4 with Cloud Convert is very easy. Simply upload the MOV file from your computer or cloud storage. Select MP4 as the output format. Optionally, customize the conversion settings. Click on "Start Conversion" to begin the process. Finally, download the converted MP4 file to your computer.
---
Part 3: Comparison of 3 MOV to MP4 Converters
Any Video Converter offers an extensive range of features to meet kind of needs and supports a wide array of formats for conversion, albeit requiring a software download for desktop use.
VLC excels at playing videos in different formats and providing conversion capabilities, albeit with limited supported formats for conversion.
CloudConvert offers remarkable convenience by allowing access from any device with an internet connection. However, it's important to note that the free version of CloudConvert does have limitations on file size and the number of conversions allowed.
---
Conclusion
Converting MOV to MP4 makes you to enjoy any videos without device limitations. Whether you choose Any Video Converter, VLC, or CloudConvert, each of these MOV to MP4 converters offers its own advantages and disadvantages. Simply choose the one that aligns with your specific requirements. With these options at your disposal, achieving compatibility and flexibility in video playback has never been easier.
---
Highly Recommended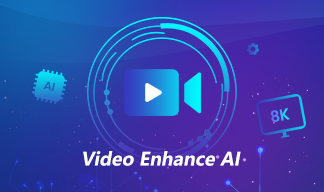 AVCLabs Video Enhancer AI
AVCLabs Video Enhancer AI is an AI-based video enhancement software to upscale video from 480p to 1080p, 1080p to 4K, and up to 8K. With AVCLabs Video Enhancer AI, you can upscale low-res videos to high resolution and bring your old videos a stunningly new look.
Learn More


Video Converter

DVD Converter

Video Editor

Enhance Video Quality

Enhance Image Quality

Remove Objects