5 Best AI Video Denoise Software to Denoise Video Effectively
"Can you denoise a video?" - Ankush Gupta
Videos are an essential part of our lives, from capturing beautiful memories to professional presentations. However, sometimes they can become noisy and distorted, making them less enjoyable to watch. Fortunately, with the advancements in technology, we can denoise videos with software that uses artificial intelligence. In this article, we'll introduce you to the 5 best AI video denoise software options available that effectively eliminate noise and enhance video quality.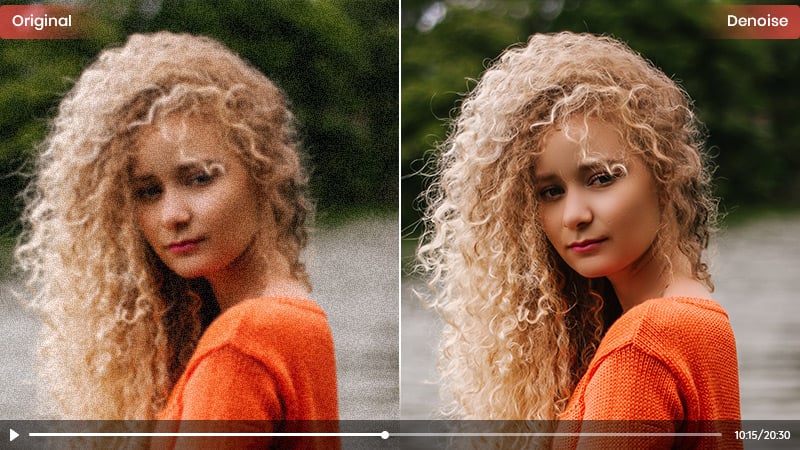 Part 1: What Is AI Video Denoise
AI video denoise is a technique used to reduce noise and artifacts in videos using machine learning algorithms. AI-powered video denoise software analyzes the video and identifies noise patterns, then removes them. AI video denoise software can be useful for both novice and professional video editors to enhance their videos' quality.
AI video denoise leverages advanced artificial intelligence algorithms to analyze and remove unwanted noise from videos. Traditional denoising techniques often produce subpar results, compromising video quality. However, AI-powered solutions utilize deep learning models to understand and differentiate between noise and actual video content, resulting in superior noise reduction.
---
Part 2: 5 Best AI Video Denoise Software
After we learned what is AI video denoise in part one. Now let's learn the 5 best AI video denoise software on the market that help you denoise videos automatically and effectively.
1. AVCLabs Video Enhancer AI
AVCLabs Video Enhancer AI is a top-notch video denoise software that uses advanced AI algorithms to remove noise and enhance video quality. This software supports both Windows and Mac operating systems, and it's easy to use. With its batch processing feature, you can denoise multiple videos simultaneously, saving you time and effort.
It offers a user-friendly interface, making it accessible for both professionals and beginners. With its powerful noise reduction capabilities, AVCLabs Video Enhancer AI can effectively eliminate noise while preserving video details. It supports various output video formats and provides customizable denoising options, allowing users to achieve optimal results.
Video Enhancer AI
Enhance the video quality to make them more aesthetically pleasing.
Deblur your footage by using machine learning.
Upscale videos from SD to HD, HD to 4K.
Upscale low-res videos onto a larger screen.
Trim your footage frame by frame.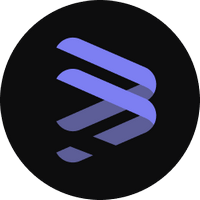 How to Denoise Video Using AVCLabs Video Enhancer AI
Step 1
Install and Launch AVCLabs Video Enhancer AI
Warm reminder: Before denoising video, simply click here to check the system and hardware requirements of AVCLabs Video Enhancer AI.
Download AVCLabs Video Enhancer AI from the link given above and then simply launch it after it has been installed on your computer.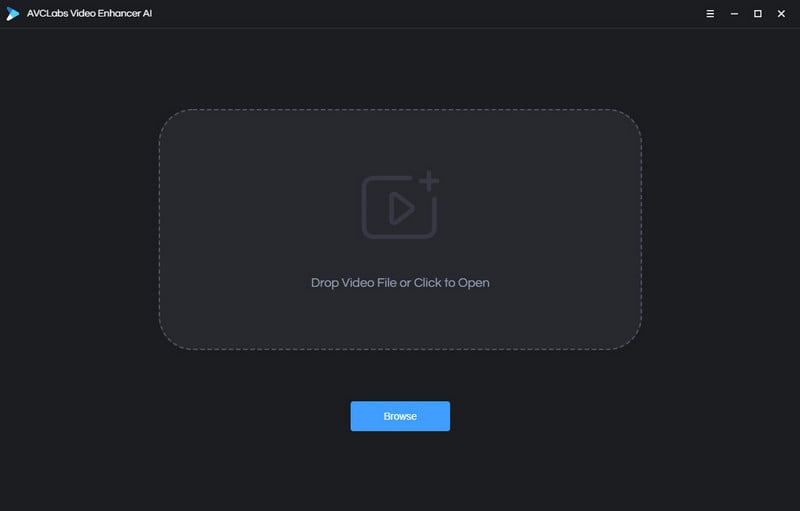 Step 2
Add Noisy Video Files to the Program and Select the AI Model and Set the Output Parameters
Import the grainy or noisy video from your computer to the program, then you need to modify some critical parameters like processing model, output resolution, output format and output path.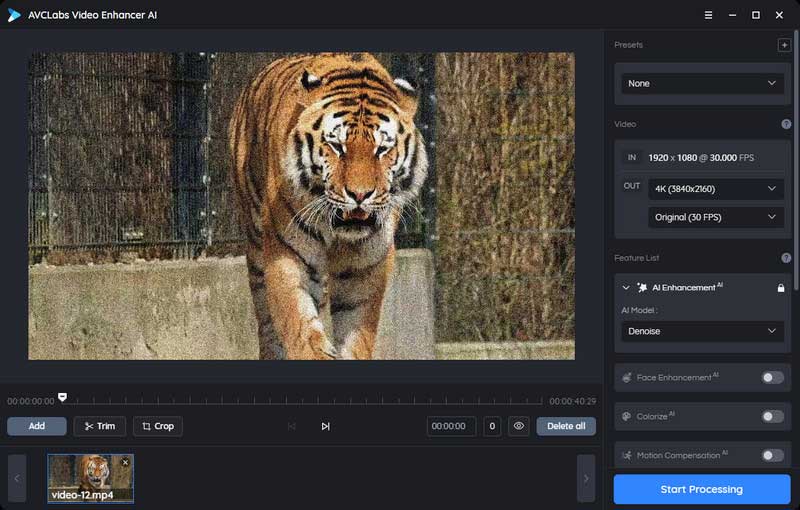 After importing the noisy video, you will see the options like Video Settings, Video Format, Feature List in the right panel. Here you can turn on the AI Enhancement and select the Denoise as the AI Model.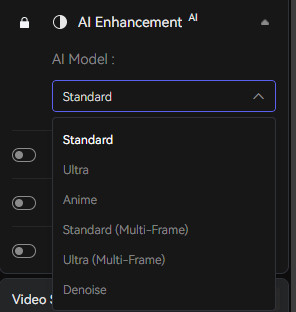 Step 3
Start Denoising Videos with AI
Once all the settings are done, click on the Start Processing button to begin fixing the noisy video. The final processing time depends on your computer's system configuration, video size. Please be patient.
After the AI video denoising process is completed, just open the file folder to check and enjoy the denoised video.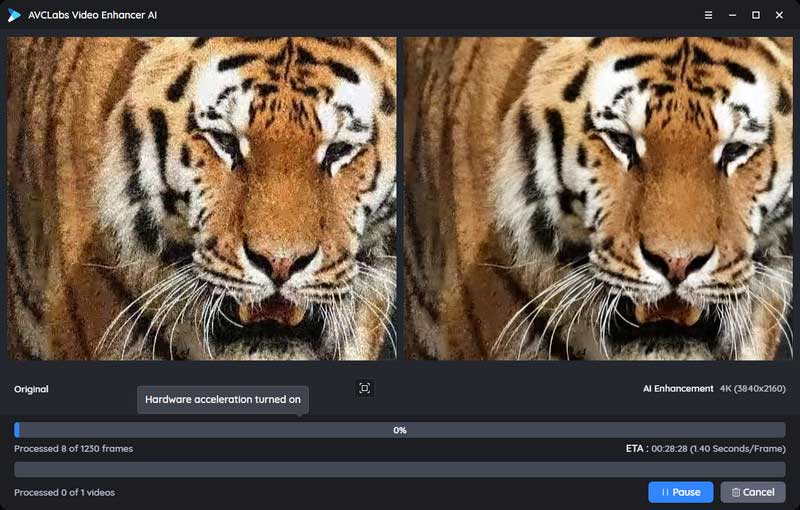 ---
Pros:
• User-friendly interface, easy to use
• Multiple AI models for different cases
• Support upscaling videos from SD, HD to 4K, 8K without compromising quality
• Multiple paid plans, with the lifetime plan being a good deal
• Available on Windows PC and Mac
Cons:
• Only the first 3 videos are free under trial version
---
2. Topaz Video Enhancer AI
Topaz Video Enhancer AI is renowned for its ability to transform low-quality videos into high-definition masterpieces. By leveraging machine learning technology, it removes noise from videos and enhances video details, resulting in impressive visual clarity. Topaz Video Enhancer AI boasts a simple and intuitive user interface, making it easy for users to denoise videos without compromising quality. It also supports batch processing, saving time and effort for bulk denoising tasks.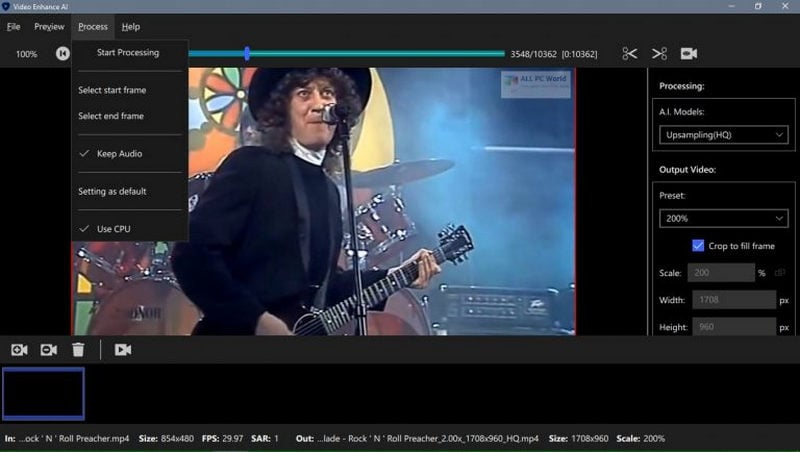 Pros:
• Cutting edge noise reduction algorithm
• Preserves and enhances detail
• 30-day refund guarantee
• Compatible with both Windows PC and Mac
Cons:
• High system requirements
• Slow processing speed
---
3. DVDFab Video Enhancer AI
DVDFab Video Enhancer AI is a comprehensive software solution designed to enhance video quality and reduce noise effectively. With its advanced AI algorithms, it can intelligently detect and eliminate noise artifacts while sharpening video details. The software offers a range of denoising modes, catering to different types of videos and noise levels. Additionally, DVDFab Video Enhancer AI supports hardware acceleration, ensuring fast processing speeds and efficient denoising.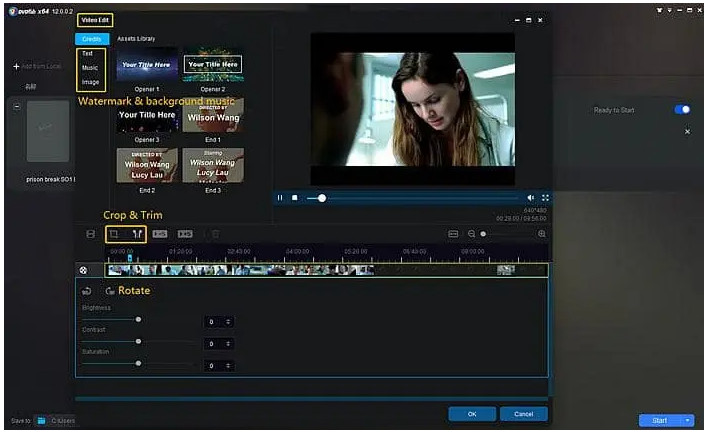 Pros:
• Powerful and robust AI features that constantly improve
• Simple-to-use interface
• Upscale videos up to 4K
Cons:
• Available on Windows only
• Limited upscaling options
---
4. Neat Video
Neat Video is a popular choice among professionals due to its powerful noise reduction capabilities. It employs advanced noise profiling and reduction techniques, making it highly effective in suppressing noise from videos. Neat Video supports a wide range of video editing software, including Adobe Premiere Pro, Final Cut Pro, and DaVinci Resolve, making it a versatile option for content creators. Its comprehensive set of tools allows for precise control over the denoising process.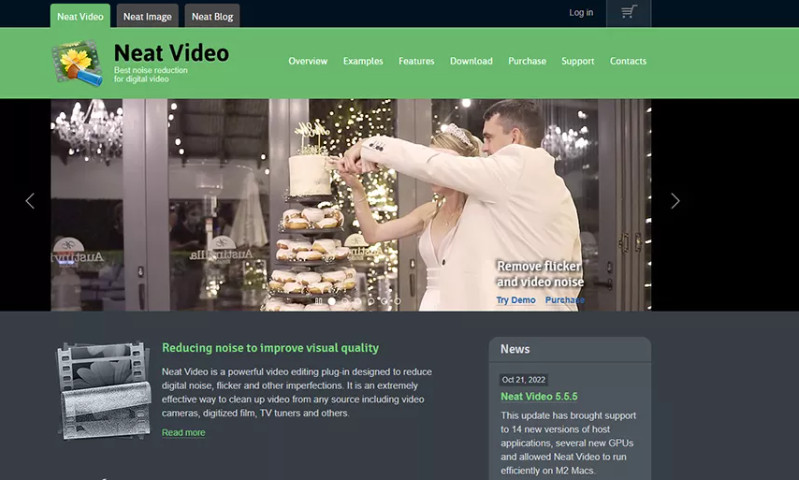 Pros:
• Effectively reduce video noise caused by low light conditions or high ISO settings
• Offer a wide range of settings and controls for fine-tuning noise reduction
• Can be used to improve the quality of older or low-quality footage
Cons:
• Can be costly, depending on the version and number of licenses you need
• Can introduce some loss of detail or softening of the image if not used carefully
---
5. Pixop Denoiser
Pixop Denoiser is a cloud-based AI video denoise software that offers exceptional noise reduction capabilities. With its cloud infrastructure, Pixop Denoiser can handle large video files efficiently. It utilizes advanced AI models to identify and remove noise while preserving video quality and details. The software provides customizable denoising options, allowing users to fine-tune the noise reduction process according to their preferences. Pixop Denoiser also supports real-time denoising, making it suitable for live video streaming applications.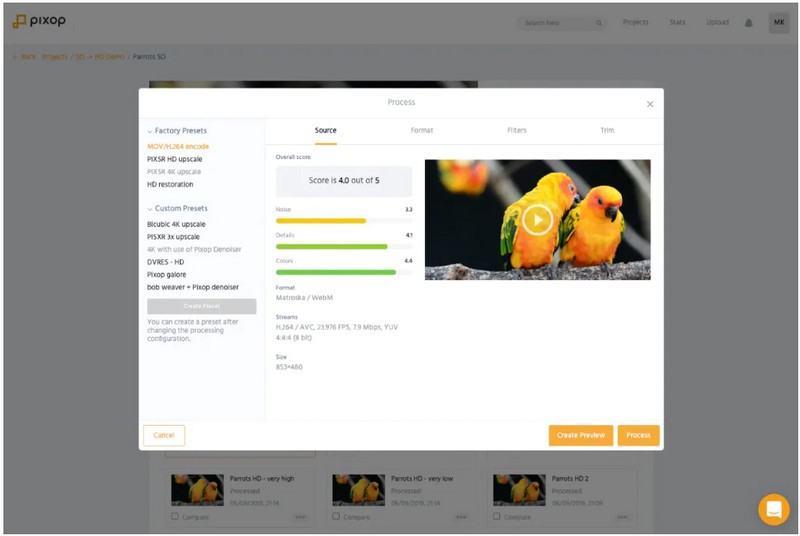 Pros:
• Offer high-quality video denoising results without compromising image fidelity or detail
• With automated AI-based advanced algorithms, Pixop can produce much better results than manual enhancement
• Easy-to-use interface
• Offer a truly cost-effective solution for improving videos
Cons:
• Pixop can be a bit laggy and slow when upscaling videos
• It can get expensive if you have many long videos to upscale
• Better for short videos
---
Part 3: FAQs of Denoising Video
Here are some of the most frequently asked questions about denoising video.
Q: Can AI video denoise software completely eliminate all types of noise?
A: While AI video denoise software can significantly reduce noise, it may not completely eliminate all types of noise in every video. The effectiveness of noise reduction depends on factors such as the quality of the input video, the type of noise, and the capabilities of the specific software being used. However, advanced AI algorithms can achieve remarkable results in reducing noise and enhancing video quality.
Q: Does denoising a video affect its overall sharpness and clarity?
A: Denoising a video aims to reduce noise without compromising its sharpness and clarity. The best AI video denoise software utilizes sophisticated algorithms to selectively remove noise while preserving important details and maintaining video sharpness. However, it's important to strike a balance, as aggressive denoising can sometimes lead to a slight loss of sharpness. It's recommended to experiment with different denoising settings to achieve the desired balance between noise reduction and video clarity.
Q: How long does it take to denoise a video using AI software?
A: The denoising time can vary depending on several factors, including the length and resolution of the video, the processing power of your computer or device, and the efficiency of the AI video denoise software. Some software options offer hardware acceleration, utilizing the power of GPUs or dedicated AI processors to speed up the denoising process. Additionally, batch processing capabilities allow for simultaneous denoising of multiple videos, further enhancing efficiency. It's advisable to check the specifications and performance details of the software to estimate the denoising time for your specific requirements.
Q: Can AI video denoise software enhance videos captured in low light conditions?
A: Yes, AI video denoise software can be particularly effective in improving the quality of videos captured in low light conditions. Such videos often exhibit higher levels of noise due to the limited amount of available light. By utilizing advanced AI algorithms, video denoise software can analyze the noise patterns and reduce them while preserving essential details, resulting in cleaner and more visually pleasing videos.
Q: Is AI video denoise software suitable for both professionals and beginners?
A: Yes, AI video denoise software is designed to cater to the needs of both professionals and beginners. The software typically offers user-friendly interfaces and intuitive controls, allowing users with varying levels of expertise to easily navigate and utilize its denoising capabilities. Beginners can rely on default settings or presets for quick and satisfactory results, while professionals have access to advanced customization options to achieve precise denoising outcomes according to their specific requirements.
---
Conclusion:
AI Video Denoise is an indispensable tool for modern video editors, providing a valuable service to eliminate noise from their shots. With the five best AI denoisers presented above and the answers to some FAQs on video denoising, editors can now begin their journey into polishing up their videos with ease. AVCLabs Video Enhancer AI stands out as a comprehensive tool that covers the other four's functions and its versatile suite of adjustment options make it ideal for editors looking to refine their workflows. It's easy to see why stunning quality footage free from distracting fades, smudges and scratches are in demand in modern media production. For those keen on experiencing the next level of video production, AI Video Denoise may just be the perfect solution.
AI video denoise software has revolutionized the way noise reduction is performed in videos. With their advanced AI algorithms and noise profiling techniques, these software solutions effectively reduce noise while preserving video details and enhancing overall visual quality. Whether you are a professional videographer or a beginner looking to enhance your videos, the five best AI video denoise software options mentioned in this article offer a range of features and capabilities to cater to your denoising needs. Embrace the power of AI technology and elevate your video content to new levels of clarity and professionalism.
Try AVCLabs Video Enhancer AI to breathe new life into your footage!
---

Video Converter

DVD Converter

Video Editor

Enhance Video Quality

Enhance Image Quality

Remove Objects