How to Convert Videos to MP4 Online for Free
Video is booming, and so are the number of video-based social media platforms and apps. Capturing video has never been easier, which is great news for marketers who can now take advantage of the visual medium to tell their brand stories in an engaging way. However, you'll likely struggle to find a video file that works with your website or blog unless you have special software to convert it first. The good news is that it's easy to convert most videos into an MP4 file that most websites and blogs will accept. You just need the right tools for the job!
With so many online tools claiming to offer free video conversion services, you may be wondering which ones are trustworthy. After all, what looks like a free service may have hidden costs once you factor in things like usage limitations. Fortunately, there are plenty of trustworthy sites that give users access to reliable tools for converting videos at no cost.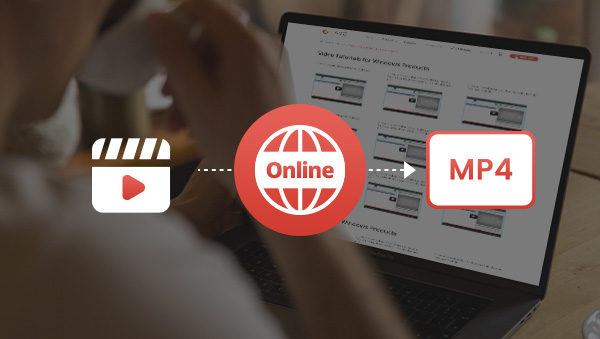 Now, this article will show you some excellent converters to help you convert videos online to MP4 for free.
Method 1: Convert Videos to MP4 with Zamzar
One of the most popular free online video converters is Zamzar. It supports a wide range of video formats, including MP4, AVI, WMV, and MOV, and more. In fact, the site is so feature-rich that it can be described as a big collection of various functions. It is not just limited to video conversion, but also conversion between various file formats, including documents, photos and so on. Not only that, it is now also supporting compression, namely, audio compression, video compression, document compression and image compression.
It's also very easy to use; simply select the video you want to convert from the local folder, choose MP4 as the output format, and click "Convert." The downside of Zamzar is that it has a file size limit of 50MB. In addition, if you want to remove ads from web pages, you need to download desktop software.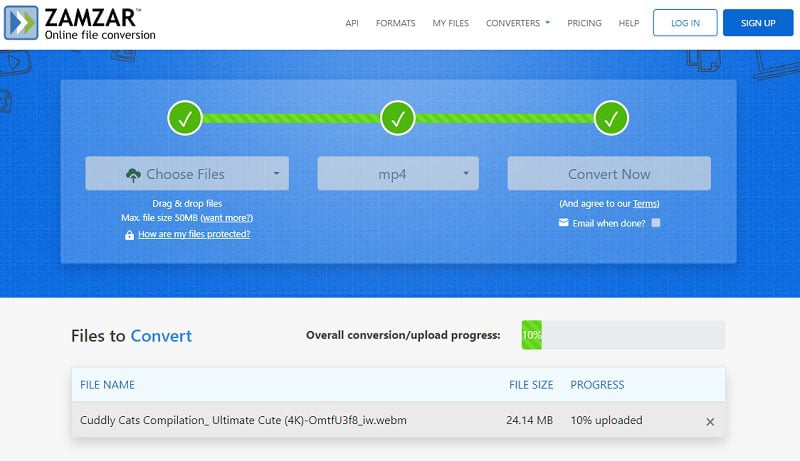 ---
Method 2: Convert Videos to MP4 with FileZigZag
FileZigZag is another free online file converter that allows you to convert files of different formats into each other. It is a convenient tool for those who need to convert files regularly, as it makes the process quick and easy. To convert with FileZigZag, what you need to do is just dropping your files, selecting format and then start converting.
However, there are some drawbacks to using FileZigZag – namely, that it can be slow, the free version has a file size limit of 50MB, and that it doesn't support all file types. Nonetheless, it remains a useful tool for many users.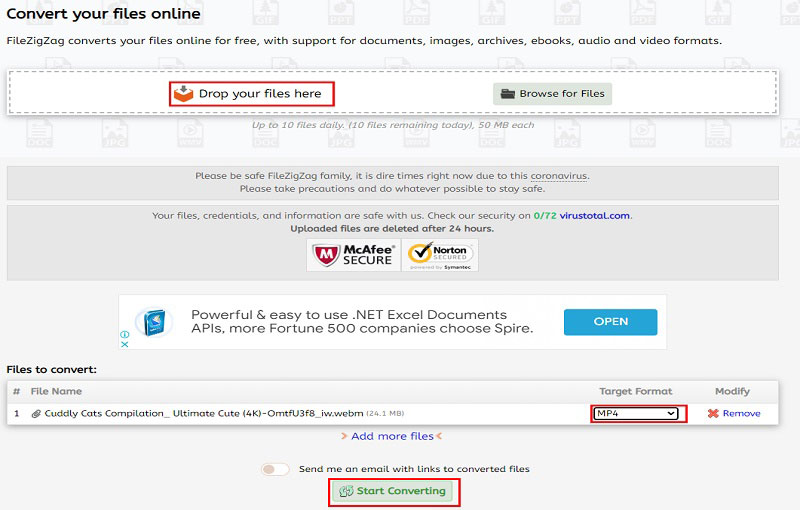 ---
Method 3: Convert Videos to MP4 with Any Video Converter
In fact, not only the above two online converters, most online converters have ads and restrictions on the size of the converted files (free version). If you want to convert Internet streaming videos directly online, desktop programs can do it too, and have much richer features.
Any Video Converter, as its name suggests, is a professional video conversion software. The supported formats of input and output videos, as well as output devices are extremely rich, covering almost everything that can be thought of nowadays, like iPhone, Google Android, Kindle Fire HD, iPad, TV console, social media, and more. It lets you effortlessly convert any video files to any format for FREE! Except for converting videos between any formats freely, it also supports burning video to DVD or AVCHD DVD, downloading videos from the internet and editing videos. Now let's see how to convert videos online to MP4 for free with Any Video Converter.
Features of Any Video Converter
Convert videos between any formats freely.
Download videos and music from 100+ sites.
Burn any video to blank DVD disc to create DVDs.
Edit video clips with cut, crop, and special effects.
Support NVIDIA NVENC hardware acceleration.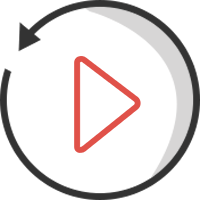 Steps to Convert Videos with Any Video Converter
Step 1
Launch Any Video Converter
Download and install Any Video Converter, then launch it.
The program provides two main channels to add videos. One is to add downloaded videos locally, i.e. directly by clicking the "Add Videos" button in the main interface. While this article focuses on how to add online videos. Click the "Add URL(s)" button, then click the green plus button to add links of videos. If you want to convert multiple videos, just repeat the above steps, the software supports batch download and conversion of online videos. Currently supported platforms include YouTube, Facebook, Vimeo, etc. The videos downloaded in this way are stored in .webm format by default.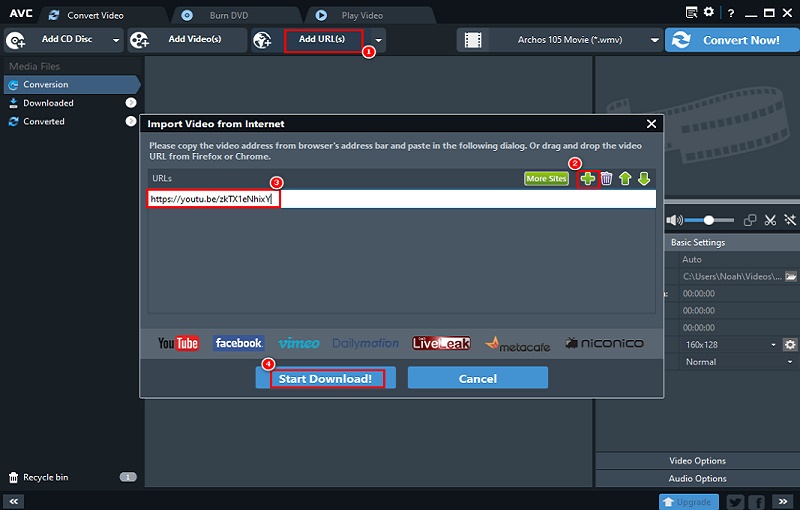 If you don't want to convert the whole video, you can also click the part circled by the red box to capture the clip to be converted, which will be displayed below the original video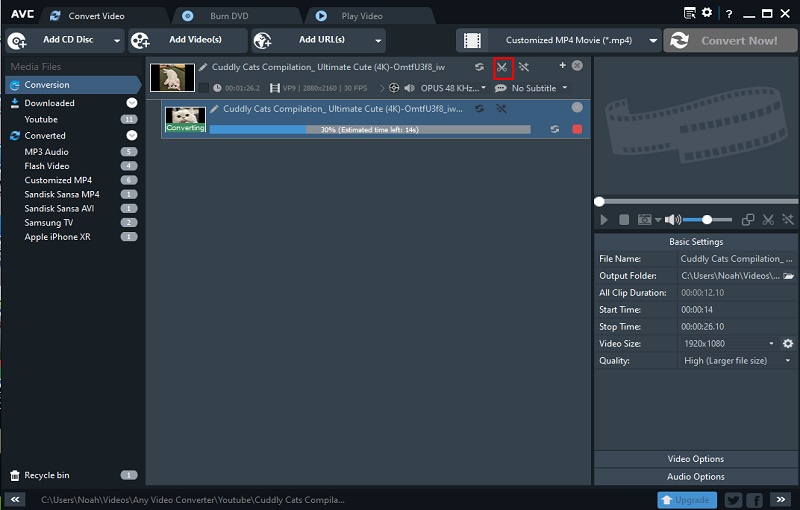 Please unfold the output profile, then scroll down to "Videos Files" and select "Custom MP4 Movie (*.mp4)" as the output format. Finally, lick on "Convert Now!"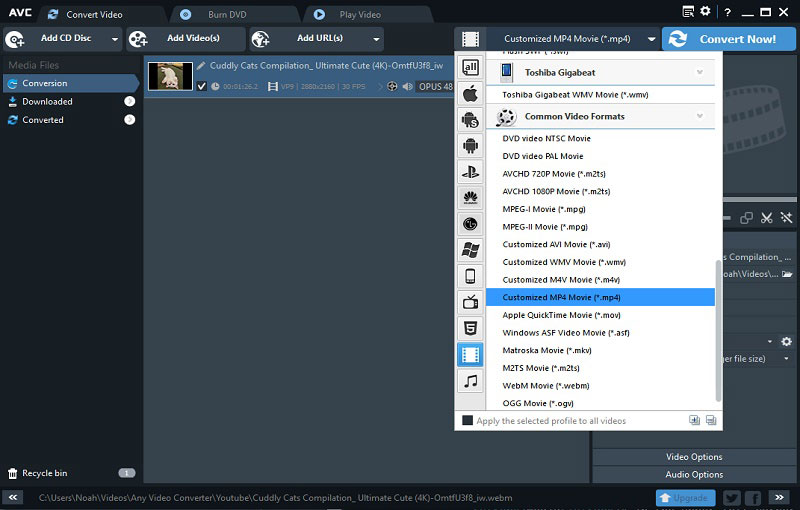 After the conversion is finished, the window where the converted videos are stored will pop up automatically. You can also find the videos of all converted videos in the customized mp4 subset of the Converted collection.
---
Conclusion
This article shows some great ways to convert videos online for free. You now know that any of these options can help you effortlessly upload your videos and convert them to MP4 for free. Online converters are handy, however, as mentioned in the article, you may be plagued by ads and file size limitations. If you mind these two points very much, then you can choose the last method, Any Video Converter, which requires a download (although the download and installation process is very fast) but can convert any video format for free without ads and without restrictions.
---
Highly Recommended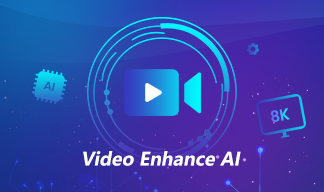 AVCLabs Video Enhancer AI
AVCLabs Video Enhancer AI is an AI-based video enhancement software to upscale video from 480p to 1080p, 1080p to 4K, and up to 8K. With AVCLabs Video Enhancer AI, you can upscale low-res videos to high resolution and bring your old videos a stunningly new look.
Learn More


Video Converter

DVD Converter

Video Editor

Enhance Video Quality

Enhance Image Quality

Remove Objects