3 Best AI-Based Video Clearer to Make A Video Clearer
"How do I make a blurry video clear? What app can fix blurry videos? Is there any video clearer recommended?" - Anthony Costa
Videos have become an integral part of our lives, from capturing precious memories to sharing content online. However, video clarity issues can often hinder the overall viewing experience. Blurriness, noise, and lack of sharpness can detract from the intended message and impact of a video. Thankfully, advancements in artificial intelligence (AI) have led to the development of powerful AI-based video clearer tools that can enhance video quality and make videos clearer than ever before. We'll also introduce you to the 3 best AI-based video clearer that you can use to improve the clarity of your videos.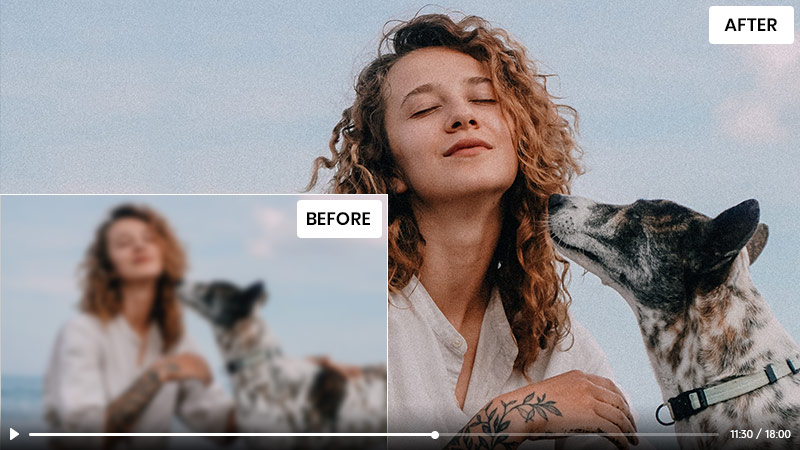 Part 1: Understanding Video Clarity Issues
Before delving into the best AI-based video clearer tools, it's crucial to understand the common video clarity problems and the factors that affect video quality. Blurriness, pixelation, and color distortion are among the most common issues that can diminish the visual appeal of videos. Factors such as low resolution, compression artifacts, shaky footage, and poor lighting conditions can all contribute to reduced video clarity. Various types of video clarity include Standard definition (SD), High definition (HD), and Ultra-high definition (UHD).
---
Part 2: 3 Best AI-Based Video Clearer
AI-based video clearer tools leverage the power of machine learning algorithms to analyze video content and detect and remove any blurs or noise effectively. Here are three top-notch AI-based video clearer tools that excel in making videos clearer:
1. AVCLabs Video Enhancer AI
AVCLabs Video Enhancer AI is a robust AI-based video clearer tool that uses advanced algorithms to improve the clarity of your videos by removing all video blur such as blurry faces in videos and video noise automatically and intelligently. It is compatible with both Windows and Mac operating systems .
Apart from making videos clearer, it also works pretty well as an AI video upscaling tool. AVCLabs Video Enhancer AI helps users to upscale low-res videos like SD (480p), HD (720p) to 1080p or 4K, even up to 8K and convert low-quality videos to high-quality with true details preserved. Driven by AI technologies and powerful algorithms. No advanced video editing skills are required.
Video Enhancer AI
Enhance the video quality to make them more aesthetically pleasing.
Upscale videos from SD to HD, HD to 4K.
Sharpen faces from blurry video and enhance facial details.
Support denoising and deinterlacing videos as well as cropping videos to fill frame.
Support GPU & TensorRT acceleration.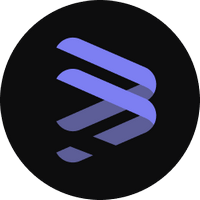 How to Make Videos Clearer with AVCLabs Video Enhancer AI
Step 1
Install and Run AVCLabs Video Enhancer AI
Warm tips: you can click here to check whether your CPU or GPU is capable of making a blurry video clearer with AI.
Download and install the AVCLabs Video Enhancer AI on your Windows PC or Mac computrt using the button provided above. Once installed, simply double-click on the icon to launch the software. Improve your video viewing experience with ease.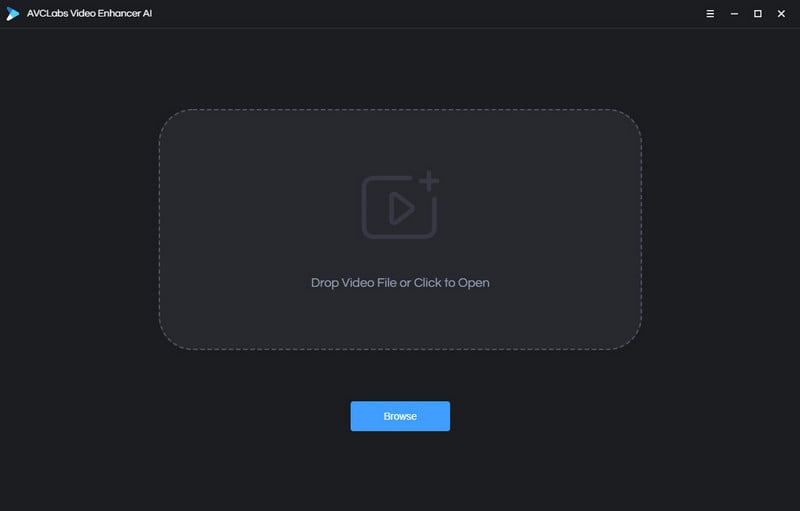 Step 2
Import One or Multiple Blurry Videos to AVCLabs Video Enhancer AI
Easily upload your blurry video by dragging and dropping it onto our program, or simply click on the Browse button located at the bottom of our user-friendly interface. With just a few simple clicks, you will be able to enhance and improve the quality of your video content.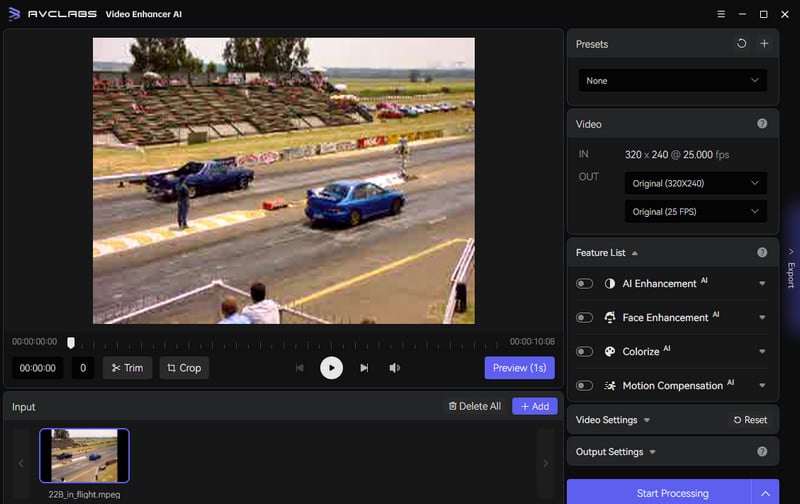 Step 3
Choose Your Processing AI Feature and Customize Output Parameters
Prior to fixing the blurry video, it is important to adjust key parameters such as processing model, resolution, format, and path for optimal results.
Choose your preferred AI feature and enhance every face detail with Face Enhancement in the right panel of the program. Get Portrait-Style Footage that will make your subject look great.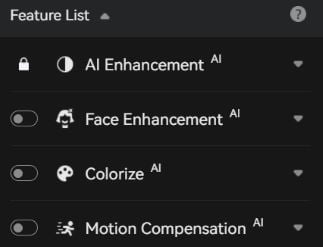 With the ability to easily expand the output preset, you can now adjust your output to a variety of resolutions including 200%, 400%, SD, HD, 4K UHD, 4K, and 8K.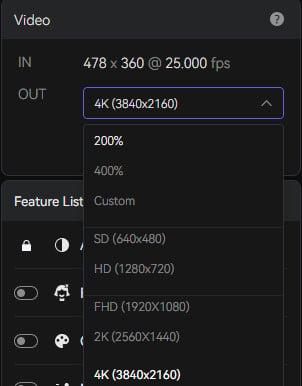 Before starting to enhance the blurry video quality, you can customize your output video format (MKV, MP4, AVI, MOV, WEBM), encoder (H.264, H.265, VP9 Good, VP9 Best, AV1), bitrate, audio preferences, and output directory.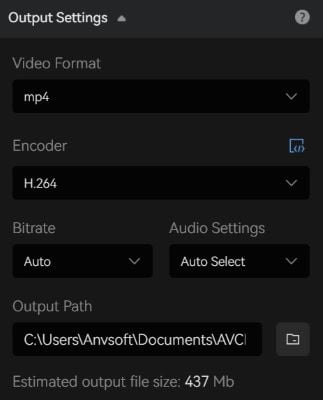 If you need to fix a blurry video clip, simply trim the unwanted portions to save time and resources. You can do this by dragging the slider bar at the bottom of the program to set your desired video length, or input start and end frames for a precise clipping point.

Step 5
Start Making A Blurry Video Clearer Automatically
Enhance your blurry videos with ease by clicking on the Start Processing button after completing necessary preparations. The processing time may be affected by your computer's system configuration and video size, so we appreciate your patience in advance.
Once the video unblurring process is finished, simply click on the Open Output Video button to view your newly enhanced, clear video.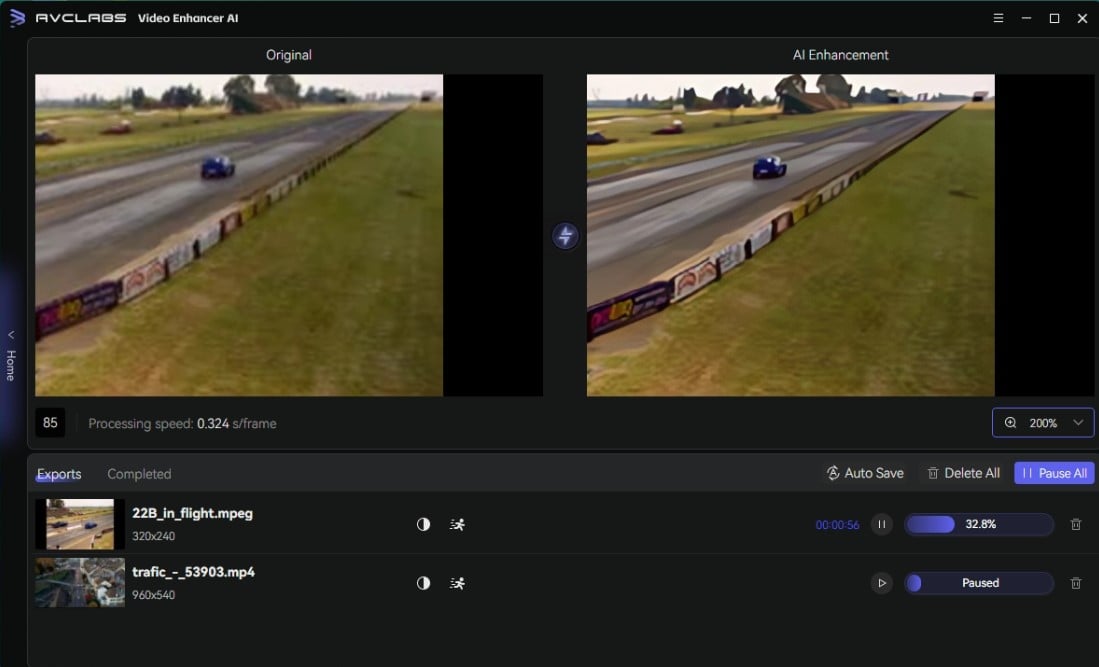 ---
Pros:
• User-friendly interface
• Improved video quality automatically
• Support fixing blurry videos in batch, time-saving
• Multiple paid plans, with the lifetime plan being a good deal
• Available on Windows PC and Mac
Cons:
• Relatively high requirement for computer configuration
• Only the first 3 videos are free under trial version
---
2. PowerDirector
PowerDirector is a popular video editing app available for both Android and iPhone users. It incorporates AI technology to enhance video clarity and offers a comprehensive set of editing tools.
How to Make A Video Clearer on Android and iPhone
1. To begin, simply download and install the app on your Android or iPhone. Then, create a project name that aligns with your desired aspect ratio. Let's get started.
2. After importing your file, click on the Edit icon and utilize the Stabilizer tool to correct any blurry areas from past footage with precision. This powerful tool ensures every detail is corrected to achieve optimal visual clarity.
3. Once you've made and approved your adjustments, easily export your creation directly to your gallery or share it instantly on social media platforms.
---
Pros:
• Easy-to-use interface
• One-click optimization
• Video stabilization feature
Cons:
• Limited customization options
---
3. Clideo Online Video Clearer
Clideo is an online platform that provides a free AI-based video clearer tool accessible through any web browser. It offers quick and convenient video enhancement options.
How to Make A Video Clearer Online for Free
Step 1
Upload Your Blurry Video Clip
Visit the Clideo Video Clearer website and select the Choose files button. You can effortlessly upload a video clip from your computer, Google Drive, or Dropbox that requires clearing of any blur.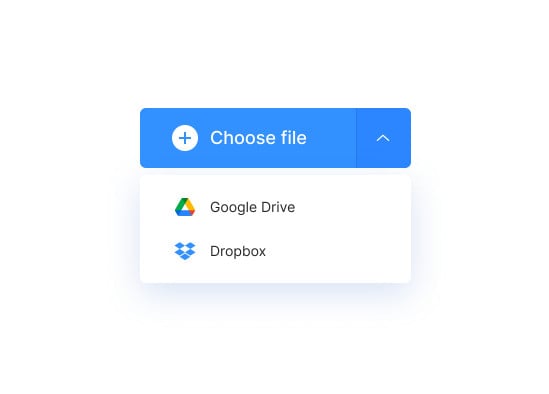 After uploading your blurry clip, you will have access to a range of tools to enhance your video quality. Adjust elements such as brightness, saturation, and contrast to improve clarity. Boosting brightness and reducing contrast can help mitigate the effects of blurry footage. Although not a remedy for severely out-of-focus videos, these adjustments can make a noticeable improvement in overall quality.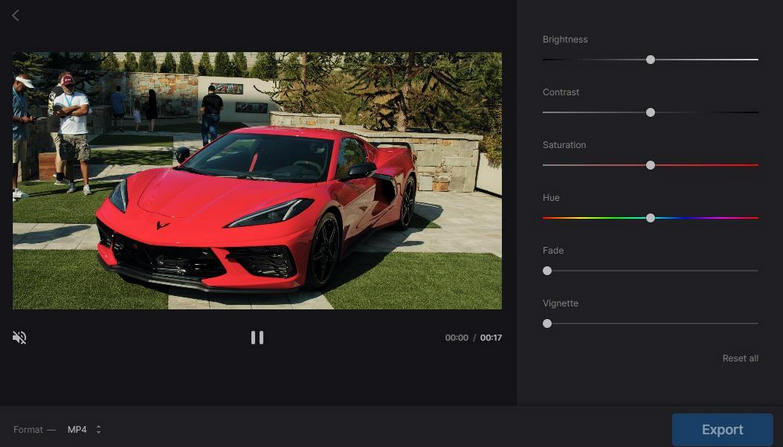 Step 3
Select the Output Video Format
Once satisfied with your adjustments, choose from a variety of output formats including M4V, MKV, MP4, MOV, M2TS, FLV, and F4V. For optimal playback on your phone, we highly suggest selecting the MP4 format.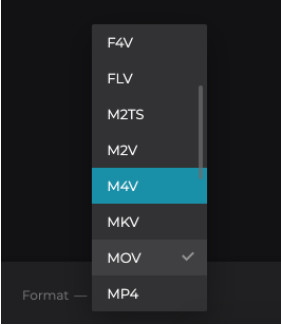 Preview your newly-adjusted video with ease. If you're pleased with the outcome, download it by clicking the Download button. Save the pristine video on Google Drive, Dropbox, or directly onto your computer.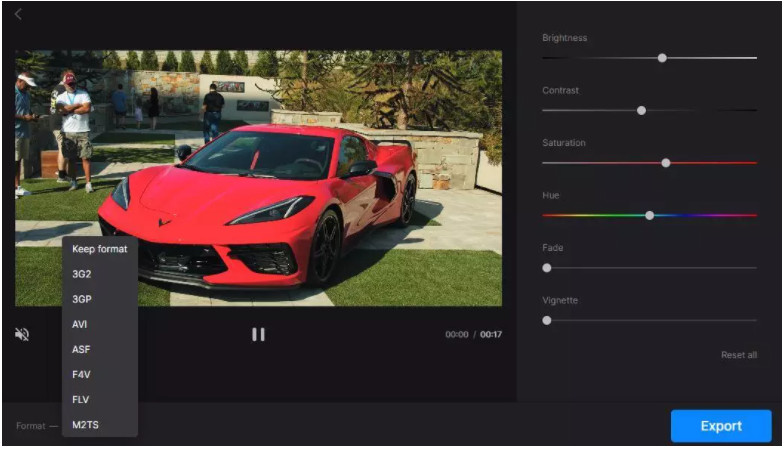 ---
Pros:
• User-friendly interface
• Fast processing speed
• Cloud-based storage
Cons:
• Limited customization options
• Can only handle limited video length
• Internet connection required
---
Part 3: FAQs About Making Videos Clearer
Here are some of the most frequently asked questions about making videos clearer.
Q: What is video clarity?
A: Video clarity refers to the visual quality of a video, including factors such as resolution, sharpness, color accuracy, and contrast.
Q: Why is video clarity important?
A: Video clarity is critical for producing high-quality video content that engages and entertains audiences. It can also affect the perception of a brand or product and impact the overall viewing experience.
Q: How can I make my videos clearer?
A: There are several ways to improve the clarity of your videos and fix the blurry videos, including using AI-based video clearer tools, using high-quality cameras and lenses, optimizing lighting conditions, and editing and enhancing the video in post-production.
Q: What is an AI-based video clearer?
A: An AI-based video clearer is a software tool that uses advanced machine learning algorithms to analyze video content and detect and remove any noise or blur effectively.
Q: Does improving video clarity reduce the file size of the video?
A: No, improving video clarity typically does not reduce the file size of the video. In fact, increasing the resolution or enhancing the video's visual quality can result in larger file sizes.
Q: Are AI-based video clearer tools expensive?
A: The cost of AI-based video clearer tools can vary widely, with some tools available for free and others costing several hundred dollars. It is essential to consider your budget and needs when choosing a tool.
Q: Can I use an AI-based video clearer on my mobile device?
A: Yes, there are many AI-based video clearer tools available for both Android and iOS devices. Some tools may have limited features or require a paid subscription.
Q: Is it necessary to use an AI-based video clearer?
A: While using an AI-based video clearer tool can significantly improve the clarity of your videos, it is not always necessary, particularly if you have high-quality footage to begin with. However, using an AI-based video clearer can help you achieve a more professional-looking final product.
---
Conclusion:
In conclusion, it is essential to have an understanding of video clarity issues and the various AI-based video clearer solutions available. With AVCLabs Video Enhancer AI, PowerDirector, and Clideo Online Video Clearer each offering specialized services for different devices, anyone can make their videos clearer. These tools come with a range of features which allow enhanced resolution, brightness and contrast correction, noise reduction, color correction and more. Moreover, if any further questions or doubts arise while making a video clearer – the FAQs section should be able to help provide the answers necessary. To sum up, with these tips and detailed information on how to make videos clearer with AI-based tools you'll be able to ensure that your videos capture all the details and nuances that you need captured perfectly every time!
---
Try AVCLabs Video Enhancer AI to breathe new life into your footage!
---

Video Converter

DVD Converter

Video Editor

Enhance Video Quality

Enhance Image Quality

Remove Objects